Arcade action Games #55
Search a Classic Game: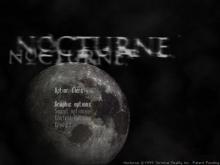 Nocturne 1999
Oh no, the Resident Evil series has competition and its name is Nocturne! It's true, Terminal Reality has created something that may just be considered the minimum standard for the year 2000 in terms of quality PC titles. The realism in this game just blows the cover off any other game...
---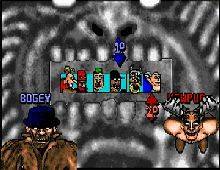 Noggin Knockers 1 1993
"Well, Here's Bloodlust Software's parody of PONG, the classic cheapo paddle game." Just as ugly as our first game, and just as stupid. Now the pong paddles have attitude and special moves, and the ball (now a severed head) bitches when you hit it. As odd as it seems, this...
---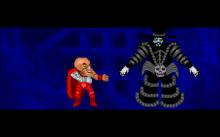 Noggin Knockers 2 1996
Upset at the injustices rendered upon legions of innocent midgets over the course of Executioners, the first Bloodlust Software game, the sinister French midget "Stumpy", leader of the Great Midget Rebellion, arranges the kidnapping of Lord ][ellbent Deathspew and Smegma, alter-egos of the game's developers. Still with me? Torn at devising...
---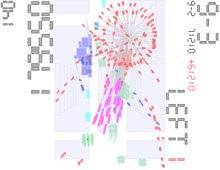 Noiz2sa 2002
RRootage and Noiz2sa are two unique and addictive vertical shooters that breath fresh air into the crowded, clone-proned genre of arcade shooters. What sets both games apart from other shooters are two very innovative design choices: cool abstract graphics, and pitting you against only 'boss' enemy ships without hordes of...
---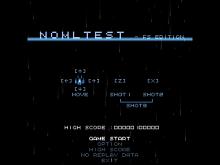 Nomltest FS 2005
Nomltest FS is one of the best Space Invaders clone you'll ever play, although you won't think it likely from looking at the screenshot. Although the graphics are nothing special (with "ripped" sprites from Space Invaders, no less), what makes Nomltest FS unique and addictive are the cool gameplay modes....
---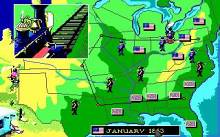 North & South 1990
Based on the Belgian comic book, "Les Tuniques Bleues", this strategy game allows you to replay the American Civil War from both the North and the South sides. In the strategy part of the game, you can move your troops on a map of the US. If two opposing armies enter...
---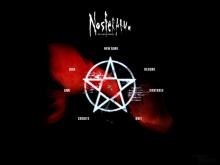 Nosferatu: The Wrath of Malachi 2003
Nosferatu: The Wrath of Malachi tells the story of the noble Patterson family who arrive at Castle Malachi in 1912 for the wedding of their eldest daughter. However, the groom is missing and, trapped in their rooms for the night, the Pattersons soon discover several unsavory secrets about their host,...
---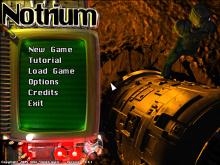 Notrium 2003
Notrium is yet another excellent release from Ville Mönkkönen, Finnish programmer best known for The Forge and Bikez II, as well as several other superb freeware gems. In his own words: "Notrium is a realtime single player survival game. You have crashed on a strange planet filled with aliens, and...
---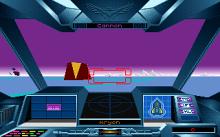 Nova 9 1994
Stellar 7 and its better sequel Nova 9 are two fun 3D action old games that combine furious action with resource management similar to the classic Spectre. Drive futuristic hovercrafts in missions against the evil warlord Drax and prevent him from-- what else?-- controlling the universe. They're fast and fun,...
---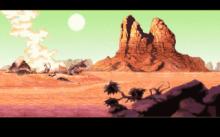 Nova 9: The Return of Gir Draxon 1991
It has been two years since the Stellar 7 war. Gir Draxon, the villain, has not been found. Nova 9 has just issued a distress call... Captain John Alex, takes the experimental Raven II tank to investigate the distress call... Nova 9 is the sequel to Dynamix's Stellar 7, a...
---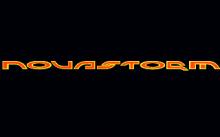 Novastorm 1994
When Cybertech Corp. first announced almost 50 years ago, that it had discovered a way to take human flesh out of the military equation, there was a monumental sigh of relief among many. The Star Corps Armored Response Battalions (SCARAB) were pitched to a generation ravaged by the scars of...
---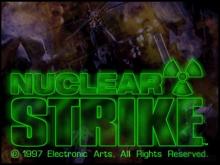 Nuclear Strike 1997
In the 1990s, the Strike series by Electronic Arts distinguished itself in the genre of helicopter action games. It combines a flashy, eye-catching form of presentation with a solid game engine. The series peaked with the release of Soviet Strike. The taut storyline and innovative full-motion video work of the...
---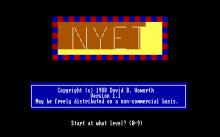 Nyet 1988
Nyet is a freeware Tetris clone using ANSI graphics. The following was taken from the game's readme file:Although I did not invent the game, I did write this implementation from scratch (using Turbo Pascal Version 4.0). I did it mainly for the hell of it, but I improved...
---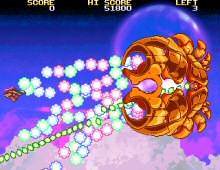 O-DEN2000 2003
O-DEN2000 is a fun, unassuming horizontal shooter from the designer of Akuji the Demon. Like in his better-known platformer, this game sports crisp graphics, smooth animations, and fluid gameplay that will delight G-Type fans. Your craft, as well as all the enemy ships, are well designed in stumpy-head "SD" anime...
---
Obake 2004
One of the most unique and fun platformers I have ever come across, Obake is a fun Japanese platformer that plays like what Messiah would probably be without the third dimension, religious/sci-fi overtones, and 'real-world' graphics. The gameplay is similar to Nintendo's Kirby console games, which allow you to use...
---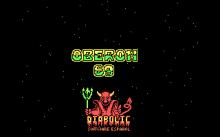 Oberon 69 1990
You find yourself in a world where the air has become unbreathable and Sun's light barely reaches planet Earth. With your planet almost desertic, many cities began to be built in other planets of the solar system. But... in Oberon, the fourth satellite, there appeared an strange life form, which...
---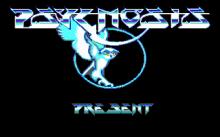 Obliterator 1989
You play Drak, the last of the Obliterators (genetically enhanced machines bio engineered for otherwise impossible missions.) Your mission is to save the Federation from an alien spacecraft. Obliterator is an arcade style platform action game. The game screens are static (instead of scrolling, though you can optionally turn on...
---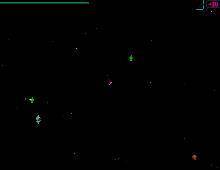 Obliterator (freeware) 1997
Obliterator is a fine, small and free 360 degree space shooter, with aim no more glorious than achieving a score as high as possible. Luckily, Obliterator plays well and fun indeed. By shooting multiple and distinctive types of enemies, such as the tiny Putput, the Blastor turret and cumbersome Robby...
---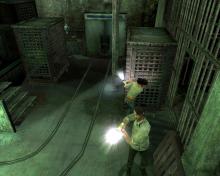 ObsCure 2004
The Breakfast Club meets Resident Evil, with this survival horror adventure set in a typical American high school; the first video game developed by the French studio Hydravision Entertainment. Players take the roles of five different students attending the run-down Leafmore High School, each representing a different social-clique stereotype. Kenny...
---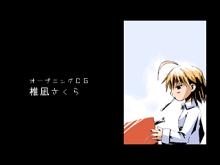 Ocean Mix 2001
Ocean Mix comes with probably the longest loading time I've ever seen for such a small game. While this isn't a good start, the rest makes up for this. The game is a "score-attack" shooter: you haven't lives or energy, but 120 seconds to make the highest possible score. By...
---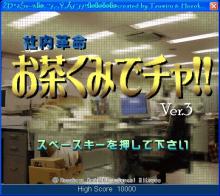 Ochakumi 2003
Ochakumi is a neat little arcade-style game from Japan that plays like an office version of Pac-Man. In the game, you play a cute anime-style secretary who has to collect various items that appear at random. But along the way, you must avoid bosses and other menacing office workers who...
---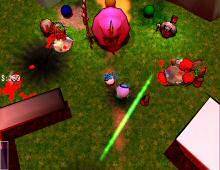 Ocular Ink 2005
Ocular Ink is hands down one of the most fun and unique freeware games I've played in the past few years. Just reading the official storyline will already give you a clue as to how wacky this game is: "...In a strange and twisted land where evil dismembered body parts...
---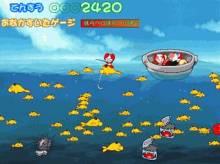 Odentodo 1997
This is the number one time-killer! I have no idea who made it, but it is now installed on every computer at my school. You play a little guy who is riding on the back of a fish, while his family is sailing in a wok behind him. The object of...
---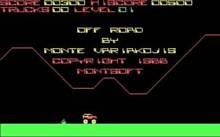 Offroad 1988
Offroad is an arcade action game in the style of Moon Patrol. You drive a four-wheel-drive truck across a one-dimensional desert. You can accelerate, decelerate, fire missiles and jump with your truck. On some levels you can also shoot bombs at enemies in the sky. The game has 8 levels, you complete...
---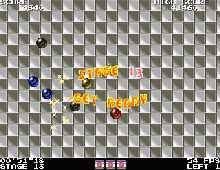 Oh! Hajiki 1998
Oh! Hajiki is a fun little roll-the-ball game that is reminiscent of Marble Madness and Macintosh classic Crystal Quest. The objective is simple: knock out all the balls on the board except your own to clear a level. Each knock, as in real life, has a strong force of impact...
---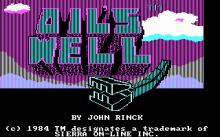 Oil's Well (1984) 1984
Extend your oil-mining robotic arm deep below the earth's crust to mine oil and line your pockets. But watch out for the monstrous bugs that lie in wait for you -- one touch of them to the robotic arm and you lose a life! ...
---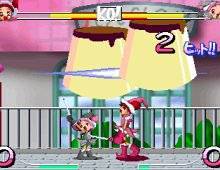 Ojamajo 2002
Ojamajo and Kakutuku are two excellent 2D fighting games coded by ASCII's Fighter Maker application. The games feature a good number of characters and moves, very fluid animations, and a well-balanced gameplay that is neither too easy, nor too difficult as to frustrate most people. Since both games were made with...
---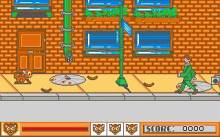 Oliver & Company 1989
You are Oliver, a cat from the Disney movie "Oliver & Company". The game is 3rd person perspective arcade scroller.Plot is same as in the movie. Oliver is homeless cat that teams up with a gang of dogs and their poor but good owner in New York. You control Oliver...
---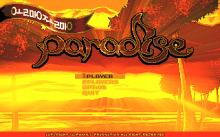 Olmangzolmang Paradise 1995
Olmang Jolmang Paradise is a Space Harrier-like arcade 3D shooter that allows one or two players to control characters from various Family Production. There are eight controllable characters in total: the two ships from Illusion Blaze; the two mechas from Iron Blood; the two anthropomorphic animal heroes from Pee &...
---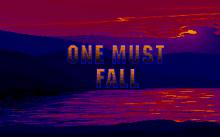 One Must Fall (Beta version) 1993
One Must Fall is an early beta version of the excellent fighting game One Must Fall: 2097. Interestingly, it is remarkedly different from the released version, it was originally developed as a side-scrolling karate game, with no signs of giant robots... hence, the absence of "2097" in the working title....
---