Arcade action Games #31
Search a Classic Game: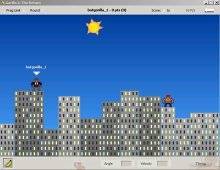 Gorilla 2: The Return 2002
Gorilla 2: The Return is a superb fanmade sequel to Gorilla, Microsoft's classic QBASIC game in which two gorillas fought to the death atop city buildings with explosive bananas. This unofficial sequel is packed with new additions, including different banana types, more gorilla characters, enhanced graphics, and the ability to...
---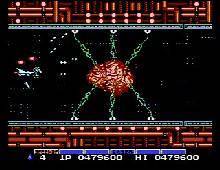 Gradius Deluxe Pack 1997
This is a faithful Windows 95 remake of Gradius I and II - two classic NES and Super NES shooters. Gradius I is still widely hailed as one of the best 8-bit shooters ever made, and it is easy to see why: both games are incredibly addictive, with a wide...
---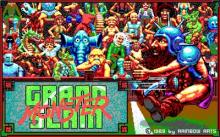 Grand Monster Slam 1989
Every five years the various races inhabiting the fantasy world of GHoLD meet for the Grand Monster Slam tournament to discover which is supreme. You must win a total of 9 matches to prove yourself, with two sub-games to negotiate (Revenge of the Beloms and Faulton Feeding - fortunately these...
---

Grand Slam Bridge 1987
Grand Slam Bridge is a bridge game that represents the rules of Contract Bridge. For both partners a set of bidding conventions, which include Cue Bid, Weak Two-Bid, 5 Card Major, 4 Card Major, Jacoby Transfer, Gambling NT, and Unusual NT, may be adjusted. The game progress may be saved/restored. Overall...
---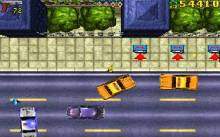 Grand Theft Auto 1998
In Grand Theft Auto, the player takes the role of a small-time criminal trying to make it big with the mob. Stealing cars, doing jobs for the gangsters and behaving generally anti-social are the way to success. The action moves through six levels spread over three different cities, each based on...
---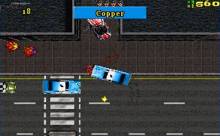 Grand Theft Auto London 1969 1999
Listen to a short story how unknown developers of studio Rockstar had released in year 1997 amazing, revolutionary game GTA, earned big money and tried to earn even more of them. How? By making a datadisk transferred from fictional city of today to the London in the end of 60's....
---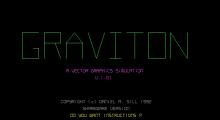 Graviton 1992
Graviton is a space shooting game with vector graphics, based on the arcade game Gravitar. The object is to conquer all planets spread out over four solar systems. The player controls a blue triangle space ship in a similar fashion as Thrust, and the game features simple physics with gravity...
---
Gravity Force 2000
A remake of the Amiga/Atari ST game from 1989 (see Gravity Force).With a similar control scheme and feel to Thrust, the aim is to make your way through a series of levels, collecting all cargo containers and returning them to your home base. As if controlling your own ship wasn't...
---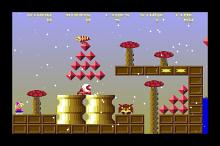 Great Giana Sisters X-Mas 98, The 1998
Christmas remake of the real Giana Sisters. Kick some bad monstes and find a magic gem which will bring you back to your real world. ...
---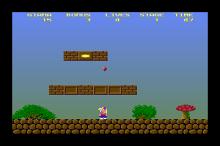 Great Giana Sisters, The 1987
The Great Giana Sisters is a 2D side-scrolling arcade game like Nintendo's Super Mario Bros. After a long and deep sleep, Giana finds herself in a mysterious and evil dreamworld where everything is strange and different. In 32 levels, Giana has to fight against bad monsters, huge spiders and lots...
---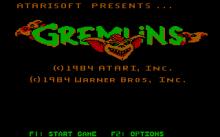 Gremlins 1984
Gremlins is an action game based on the Steven Spielberg movie of the same name. The game takes place just after midnight when there are Gremlins and Mogwai running around Billy's living room! You control Billy from a 3rd person point of view. On each level, your goal is to catch...
---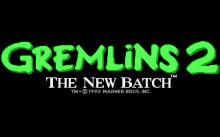 Gremlins 2: The New Batch 1990
As Billy, you set off to rescue Gizmo the Gremlin from Clamp Tower skyscraper, where Dr. Catheter plans to viciously experiment with him. Unfortunately, Catheter gets word of your plans, and mixes up a whole new batch of vicious gremlins. As a result, your mission is now one of destruction...
---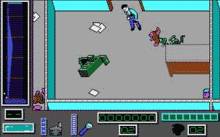 Gremlins 2: The New Batch (Hi-Tech) 1991
In the tradition of the game Beetlejuice, Gremlins 2 is an arcade game in which you have to go around a building shooting gremlins and collecting all sorts of items. The game's features include an alarm system, two types of weapons and various kinds of scenery. ...
---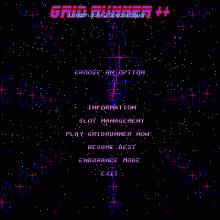 Gridrunner++ 2002
One of the best designers ever, Jeff "Yak" Minter is famous for designing numerous classic action games for early 8-bit systems such as the Atari 800 and Vic-20. Gridrunner++ is Yak's PC remake of his own Gridrunner, a very funny and addictive shooter featuring furious non-stop action and a lot...
---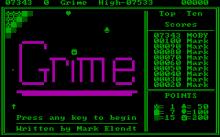 Grime 1984
A deadly, all-consuming mold has emerged from the polluted swamp, spawned from toxic chemical waste, and engulfing everything in its path with venomous grime. Go forth in your herbicide-spewing Herbmobile, and destroy the mold colonies which are threatening the town of Spudville.Similar in style to Centipede and its likes, but...
---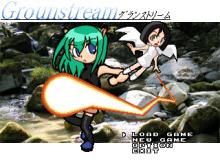 Grounstream 2003
Grounstream is another fun RPG/adventure/platformer hybrid from Japan. While it is not as good-looking or as addictive as Akuji the Demon, it is still a very fun game that succeeds in keeping you glued to the screen with one cool surprise after another. Similar to Zelda, you gain hit points...
---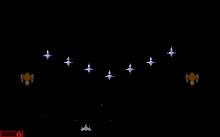 GUB 1996
The game is simple; move your ship (on the bottom of the screen) left to right to dodge the enemy ships, which descend in various patterns from the top of the screen - of course you've also got your rapid-fire atomic pea-shooter to blast the aliens with. You'll get some...
---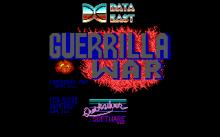 Guerilla War 1987
A tropical island (specified as Cuba in the Japanese original) is being oppressed by a dictator, but fortunately one or two brave US soldiers (Ernesto "Che" Guevara in the Japanese version) are on hand to restore justice. March through the rivers, swamps and forests to overthrow the dictator (specified as...
---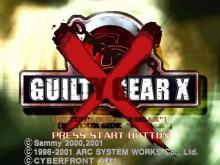 Guilty Gear X 2001
Guilty Gear X is a very interesting fighting game. It introduces plenty of new ideas to the genre, is the first high-res 2D fighting game ever released, and is probably the best 2D fighter outside of SNK and Capcom's games. Now, the first thing anyone would notice would be the...
---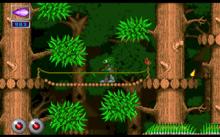 Guimo 1997
Guimo is a 2D platform game featuring several stages full of action. The story is situated in a parallel world called "Bitland", the Earth-brother world where inhabitants are under terrible danger after the invasion of Necterion and his army. To restore harmony between the two worlds, the best trained and...
---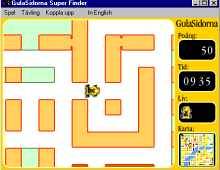 GulaSidorna Super Finder 1999
One of E-Game's earliest promotional freeware titles, GulaSidorna Super Finder is an okay action game sponsored by GulaSidorna, Sweden's premier Yellow Pages. Gameplay is simple, as the in-game instruction states: "Your mission is to visit some facilities in the city, marked with red stars on the big map and small,...
---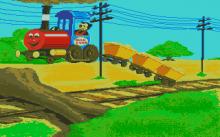 Guldkorn Expressen 1991
Produced as a product tie-in with OTA's honey puff cereal, Guldkornexpressen (or Kalaspuffsexpressen) revolves around the brand's bear mascot, who drives a train filled with honey puffs. His task on each level is to pick up boxes of the cereal, add honey and drive the train to the end of...
---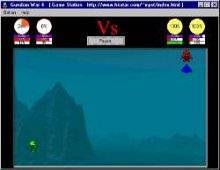 Gundam War 4 1999
A fun freeware fighting game based on the popular Japanese cartoons Gundam, Gundam Wars 4 is a fast-paced little game similar to Little Fighters, in which you try to defeat your opponent. What makes this game different is that your character (or characters, if you are controlling both of them...
---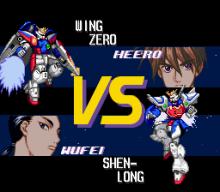 Gundam Wing: Endless Duel 1996
Endless Duel is the first and only game based on Bandai's popular giant-robot Gundam Wing anime/action figure series, part of the long-running Mobile Suit Gundam universe. The game is a 2D fighting game similar to Street Fighter, only with Gundam from the anime series. You can choose any of your...
---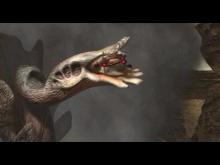 Gunman Chronicles (a.k.a. Half-Life: Gunman) 2000

---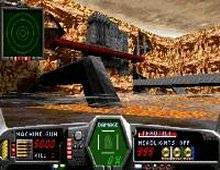 Gunmetal 1998
As the game begins, you are a proud new tank pilot for the Nataka Corporation's Imperial Armored Cavalry. A Nataka installation is suddenly attacked by forces from Network 53, a branch of the Argus Industrial Corporation and a long-standing ally. No explanation is given and a full-scale war erupts. All...
---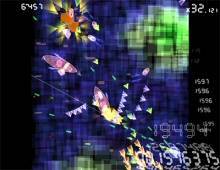 Gunroar 2005
Gunroar is a cool 360-degree top-down shooter from Kenta Cho, talented Japanese developer best known for rRootage and several other excellen shooters that feature abstract graphics, innovative gameplay, and nonstop action. Like Mr. Cho's other games, Gunroar features beautiful abstract art (both for moving units and background graphics), tons of...
---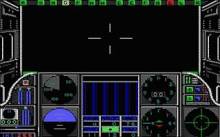 Gunship 1986
Gunship depicts the Western world's finest attack helicopter: The AH-64A Apache. This simulation recreates the weapons, flight systems, and performance of the real machine. You control an arsenal that includes laser-guided Hellfire missles, a 30mm cannon controlled by helmet gunsights, clusters of bombardment rockets--even air-to-air missles for duels with enemy...
---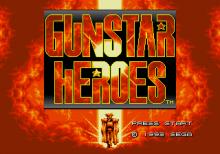 Gunstar Heroes 1993
Released in 1993, Gunstar Heroes for the SEGA Genesis is an amazingly addictive and original platformer that ranks as one of the best games of its kind ever made for any system. Treasurefan's excellent review for the sadly unfinished Treasure fansite says it all about this Hall of Belated Fame...
---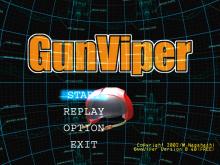 GunViper 2002
Yet another jaw-dropping, drop-dead gorgeous 3D shooter from Japan, GunViper takes the freeware 'scene' to the next level with true 3D weapons. You no longer fire flat, 2D laser beams, but full 3D bullets and rockets that spin towards their targets. Very pretty. There are dozens of enemy types, all...
---