Arcade action Games #7
Search a Classic Game: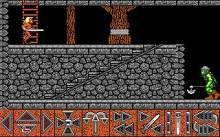 Barbarian (Mastertronic) 1989
In this game you play the role of a barbarian who must navigate his way through dangerous dungeons. The game is played from a third person side scrolling perspective and also has platform jumping parts to it. The barbarian is controlled by using left and right on the joystick to...
---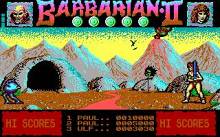 Barbarian 2 1989
In the sequel to Barbarian / Death Sword, the Wizard Drax is back after previous your defeat of him. But this time, you're not alone. The princess you saved back then has taken up a sword and joined your cause! Now, it's more than a death match. You have to...
---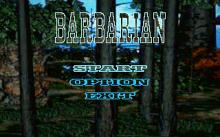 Barbarians 1996
Barbarians is a lackluster platformer developed by Teeny Weeny Games, who also developed Pocahontas, another lackluster platformer published by GT Interactive. Similar to Enix's excellent console game EVO, the idea here is to climb the evolution ladder, starting as a gorilla and working your way upwards. Unlike EVO, though, the...
---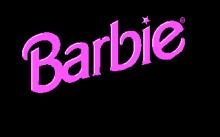 Barbie 1992
Barbie has a big day tomorrow, so she needs to get a good nights rest. She has strange dreams about all her planned activities. She must traverse five levels made up of a total of thirteen stages to make it through the night.Barbie travels through various location in...
---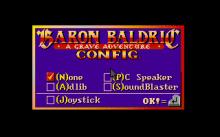 Baron Baldric: A Grave Overture 1993
Baron Baldric is quite known among Apogee fans - but the main character, Baron Baldric, was later reused for an isometric game called Mystic Towers. It is considered very rare since the registered version was only sold in the Australian territory.The story behind Baron Baldric: A Grave Adventure takes place...
---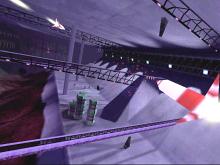 Barrage 1998
Barrage is an excellent but little-known 3D shooter created by small developer Mango Grits, the same team behind two outstanding "rail shooters/adventure hybrids" Cyberia and Cyberia 2, and published by Activision. While Cyberia fans will be delighted with the same well-designed action in Barrage, they will be disappointed to discover...
---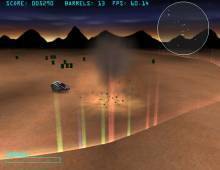 Barrel Patrol 3D 2001
Barrel Patrol 3D is a fun fanmade remake of Ripoff, a late 1970s Vectrex game in which you must defend your stash of fuel cells from invading pirates. In Barrel Patrol 3D, you must protect your barrels from enemy tanks by shooting them, running into them, or getting them to...
---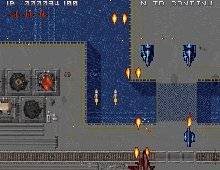 Baryon 1995
Baryon is a straightforward vertical shooter which features a smooth graphical engine, a short digital sound track and various types of enemies. There are two types of ships, each with its own weapon types, as well as missile upgrades (homing as well as regular, more powerful ones), bombs and shield.The...
---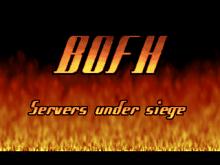 Bastard Operator from Hell: Servers Under Siege 2000
BOFH: SUS, tapping on the Bastard Operator from Hell legacy, is an overhead shooter game, very much like Tapan Kaikki, or older action "adventures" on 8- and 18-bit systems.To quote the story from readme file: "A group of insane activists called the "Internet Salvation Force" has invaded a school, taking...
---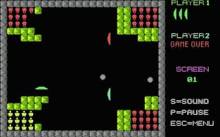 Bat 'n Ball 1995
BAT 'n BALL is a game that tests your reflexes as you attempt to guard a castle of sorts from a drug-crazed bouncing ball. You have at your disposal a crude but effective bat and (hopefully) nerves of steel. Your castle is surrounded by a brick wall which quickly crumbles...
---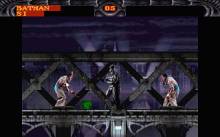 Batman Forever 1996
Batman Forever is the officially licensed game based on the 1995 movie. The bad guys this time around are The Riddler and Two-Face.This game is an usual hybrid of side-scrolling platformer and one-on-one fighter. You make your way through levels that include some platform jumping elements, but you typically take...
---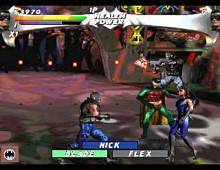 Batman Forever: The Arcade Game 1996
A Final-Fight/Double-Dragon style game which features the Caped Crusader and his sidekick Robin in a traditional beat-em-up. Based on the Batman Forever movie, this side-scrolling beat-em-up features the plot, several memorable characters, and quotes from its movie counterpart.The player gets to use batarangs, a bat grapple, and tons of other...
---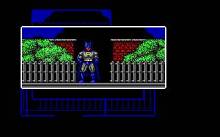 Batman: The Caped Crusader 1988
Batman: The Caped Crusader is a combination of an arcade and adventure game. The game is played with a side scrolling view, with each new location opening in a new panel similar to the appearance of a comic book. The game has two parts to it, and these can be...
---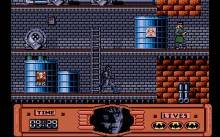 Batman: The Movie 1990
Based on the 1989-Batman movie. The game consists of five different parts, each resembling well known game types. Part one, the chemical plant: Hunt down Jack Napier who has raided the plant (typical platform action, climb ladders or use "Bat"-rope and shoot at some enemies...). Part two, "Batmobile" (...the car):...
---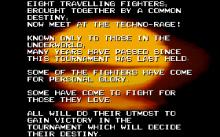 Battle Arena Toshinden 1996
In Battle Arena Toshinden eight world renown weapon fighters have been invited to a mysterious tournament. It is one of the first one-on-one beat-em-ups to feature the ability to sidestep a full 360 degrees around the opponent allowing one to strike from any angle. Aside from the 3d movement, Toshinden's...
---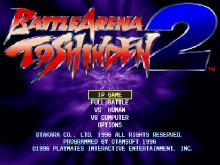 Battle Arena Toshinden 2 1997
Battle Arena: Toshinden 2 features graphics, sound, music, and action that makes its predecessor seem ancient! With updated moves and defense, the original cast launches back into battle! Newcomers join the fight as well. Gaia, the boss from the previous game, is now selectable. The camera angles in this game...
---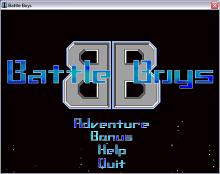 Battle Boys 2004
Battle Boys is a fun freeware vertical shooter that sports a novel idea: two players must collaborate in order to survive. Although you can play solo, it is much more fun to play with a friend in co-op hotseat mode, since each player has different skills: one can create a...
---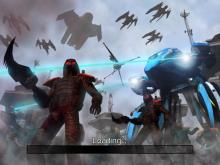 Battle Engine Aquila 2003

---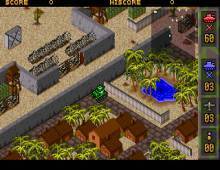 Battle Europe 1993
Battle Europe is a fun isometric shooting game set in World War II. Your objective: as either Allies or Axis, destroy all tanks of the opposing side on each level to advance to the next. In each level, you control only one tank as it moves through attractive tile-based VGA...
---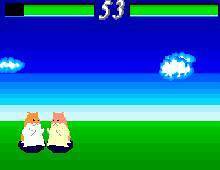 Battle Hamster 1995
Not much can be said about this game, really. It is a two-player battle to the finish with hamsters. There are no endings, no other backgrounds besides the one pictured, and only one character (the other shown is just a recolor). One repetitive song is all there is for background...
---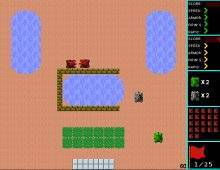 Battle Nation 2002
Battle Nation is a great fanmade game based on an arcade classic by Namco called Battle City, which is in turn based on Atari's Combat. The basic idea: control a tank to destroy all enemy tanks on each level (25, to be precise) to go to the next one. Enemy...
---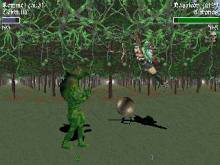 Battle Wrath 1997
During the span of history, there have been many great strategists that have lead their troops to victory. The greatest of these are known as Battle Lords and are respected greatly. In a tournament to discover the greatest of these battle lords, great warriors have been pulled out from different...
---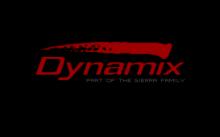 Battledrome 1994
Command giant HERCs in head-to-head combat over network / modem or against the computer. The two-player aspect of this game (network or modem) was ahead of its time as a predecessor to NetMech. It would run respectably on a 486-33 as well, which was a bonus for its time. Note...
---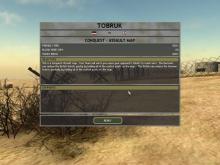 Battlefield 1942 2002

---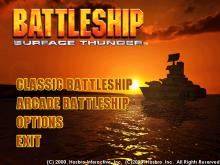 Battleship 2: Surface Thunder 2000

---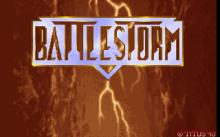 Battlestorm 1990
A top-down space shooter that was different from most others at the time in that it did not just scroll continuously in one direction, but could scroll at different speeds in all possible directions on the X and Y axis, on the player's whim.The game takes place above the surface...
---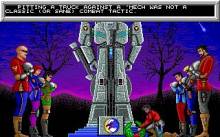 Battletech 1: The Crescent Hawks' Inception 1988
Jason Youngblood is a young cadet MechWarrior stationed on the Citadel of Pacifica in the Lyran Commonwealth. Jason is training hard to become a battle mech pilot, following his renowned father Jeremiah. One day, the Citadel is attacked by the forces of the Draconis Combine from a neighboring star system....
---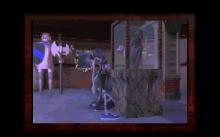 Battling Butlers 1996
Battling Butlers is a one-on-one fighting game, featuring five different playable objects as fighters.The roster includes 'Ace High' the playing card, 'Slammer' the door, 'Ringo' the phone, 'Jumpy' the spring and 'Tock' the clock. Each fighter has individual attack moves and a special attack....
---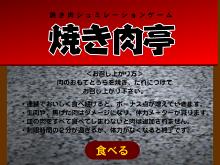 BBQ (a.k.a. Yakiniku) 2001
BBQ is a unique and amazingly addictive freeware Flash game from Japan. The premise is one of the most original I have seen in any game: you are eating Japanese BBQ ("Yakiniku") in the restaurant, and all you want to do is cook the beef correctly so it comes out...
---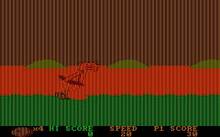 BC's Quest for Tires 1984
1) BC's Quest for Tires is a PC BOOTER game! This means that the archive doesn't include any executable files (such as *.exe or *.com). Therefore you need to mount the image within the DOSBox, otherwise you won't be able to run the game. At the bottom is a step...
---