Arcade action Games #42
Search a Classic Game: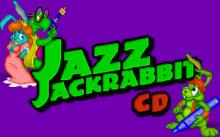 Jazz Jackrabbit CD-ROM 1994
This special CD-ROM edition of Jazz Jackrabbit contains the original six episodes, plus three new ones. These episodes ("Outta Dis World", "Wild Wabbit", and "Turtle Soup") has Jazz exploring planets with such names as Exoticus, Industrius, Deserto, Stonar, and several others. The episode feature new music, new graphics, more enemies,...
---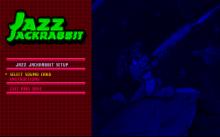 Jazz Jackrabbit: Holiday Hare 1994 1994
Jazz Jackrabbit: Holiday Hare 1994 is a side-scrolling platformer starring the titular hare. Jazz must survive three areas of Holidaius using his own weapons to fight mongrels, monkeys, hands, ski turtles, and devils. The graphics have a Christmas theme, meaning that the player will see snow, Christmas trees (with and...
---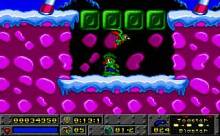 Jazz Jackrabbit: Holiday Hare 1995 1995
The Jazz Jackrabbit series takes place 3,000 years into the future, where our rabbit hero is doing battle with an evil tortoise in a fight for the galaxy. Jazz Jackrabbit: Holiday Hare 1995 is a free, stand-alone Jazz game with a Christmas theme. It is the second in the series...
---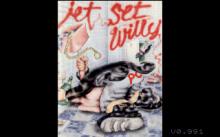 Jet Set Willy 1999
This freeware remake of the 8-bit classic from 1984 updates the graphics and sounds, adding a unique classical melody for each room, and more colors and details to the environment and characters. As in the original, the player controls Willy, the miner that became a millionaire in the previous game,...
---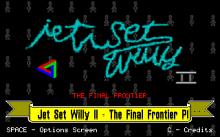 Jet Set Willy II: The Final Frontier 2001
Jet Set Willy II: The Final Frontier is the remake of the second chapter of Miner Willy's adventures. In the first game, Willy got a fortune with his exploits and treasure huntings. One night, he invites the jet-set to a superb and savage party in his huge mansion, and when...
---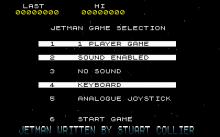 Jetman 1991
Remaking the classic Spectrum game 'Jetpac' from Ultimate Play the Game, the titular hero must fly around shooting aliens, initially to rebuild his craft, and then to collect enough fuel to fly off a succession of levels, picking up gold as he goes. The scoring is much lower in this...
---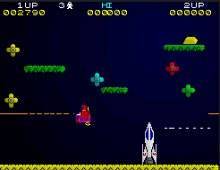 Jetpac PC 2002
Jetpac PC is an excellent PC remake of Jetpac, one of the best action games made for the Spectrum ZX computer. Similar to good old Atari classics of yore, your goal in the game is simply to score as many points as possible. You do this by finding parts of...
---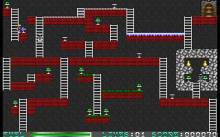 Jetpack 1993
You are an explorer trying to gather green gems from more than 100 small dungeons. You have a jetpack and an electric...tazer, phaser, whatever. Your jetpack consumes fuel and extra fuel can be found over the map. You can also pick up enemy freezers and invulnerability powerups. Your tazer thing...
---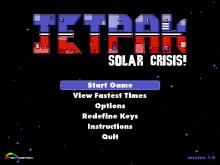 Jetpak: Solar Crisis 2004
Jetpak - Solar Crisis is a superb Jetpac remake from Richard Jordan, maker of Klass of '99, one of the best fanmade remakes ever made.The author said this is his fourth attempt at making the game, and the result is definitely worth the wait. First, some official words about the plot...
---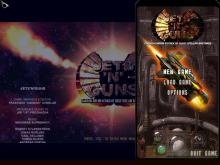 Jets 'n' Guns 2004
Jet's n' Guns is a campaign style side scroller, but I wasn't really taken by the story and half of the time I didn't read the mission's briefing anyway. I usually just went to the shop where I would look for the best guns to add to my jet and...
---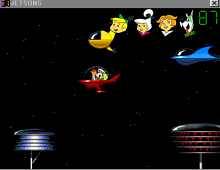 Jetsons Space Race 1996
A simple, slick side-scrolling platformer starring The Jetsons, everyone's favorite space age family. George is running late and there's bumper-to-bumper traffic on the intergalactic interstate. But he still has to drop off Elroy at the Little Dipper School, Judy at Orbit City High, Astro at the Galaxy K-9 School, and...
---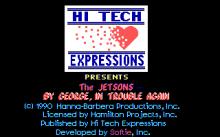 Jetsons, The 1990
A old and fun game from 90's. You need to survive a electronics rebellion.You can play with George and ask for Rosie help.Very simple commands and goals. ...
---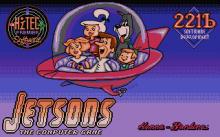 Jetsons, The: The Computer Game 1992
The famous animated TV series by Hanna-Barbera spawned a film, and ultimately this licensed game, which contains 8 levels alternating between side-scrolling dodge-and-manipulate and driving gameplay. All four members of the Jetson family have a themed level.The driving sections take place within George's Jetcar, and you must slow down for...
---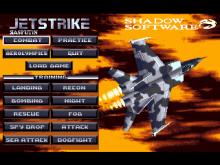 Jetstrike 1994
MIS, the FBI, NASA, the KGB, MOSSAD and even top secret agents from the North Beckinsdale Pigeon Fancier's Association swung into action immediately. They were swiftly halted in their tracks when they received a top level order warning of a massive campaign of bribery of government officials in all countries....
---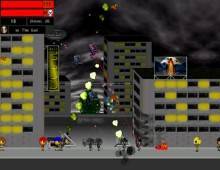 Jetz Fusion 2003
Jetz Fusion is the latest and best Jetz game in a long-run series of freeware action games from Shawn Noel, a talented designer known in the freeware cycle as "Shawn64." The game is a beat 'em up title similar to Little Fighter 2, except that you can fly around the...
---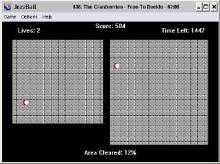 Jezzball 1992
Styx kinda game for the Windows platform. Nice for the kids. ...
---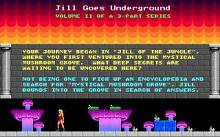 Jill 2: Jill Goes Underground 1992
Jill of the Jungle 2 is the second in the Jill of the Jungle trilogy. It follows the same concept, but includes new graphics, somewhat improved animation and completely new levels and musical soundtrack.In this particular game, after having explored the depth of the mysterious jungle, Jill proceeds into Montezuma's...
---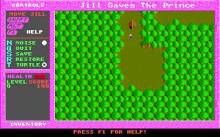 Jill 3: Jill Saves the Prince 1992
The final installment in the Jill of the Jungle trilogy features improved animations, new graphics, new music, new levels and a myriad of new enemies. It also features a map-based world which does not exist in the first two games.The story thus far: after having explored the jungle and defeated...
---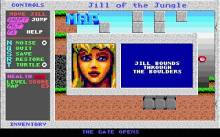 Jill of the Jungle 1992
Jill of the Jungle needs your help. She's looking for the mushroom grove, but must first defeat the crabs, ghosts, snakes, and giant ants bent on making her their dinner. You will guide Jill through 16 levels including "Castle," "Arg's Dungeon," and "Knight's Puzzle" to reach the fabled mushroom grove,...
---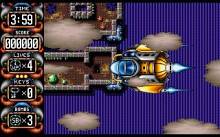 Jim Power 1993
Jim Power was a hero who one day while travelling through the forest, encountered a dimensional rift into a strange new world. Luckily Jim always travels armed and now he'll need to fight his way past several monsters into a monster stronghold to find his way back home.Jim Power is...
---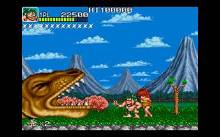 Joe and Mac: Caveman Ninja 1991
Joe & Mac: Caveman Ninja features the characters Joe and Mac as cavemen ninjas in a multi-level platform area where the player has to jump and club incoming enemies. They can also throw at them from distance using such weapons as boomerangs, bones, fire, flints, electricity and stone wheels. The...
---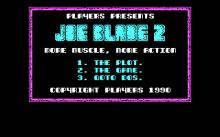 Joe Blade II 1990
As Players Software correctly predicted, London in 1995 is an unfriendly unsafe city ran by thugs. Innocent civilians who leave the house will almost certainly face violence. An acclaimed hero since his successes in the original, Joe Blade is the man to put things right - if he can kill...
---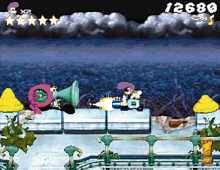 Johnny Bazookatone 1996
In this 3D scroller, Johnny Bazookatone and his band are the hottest group in the universe, spreading peace and happiness with their music. El Diablo, the Lord of the Underworld, sees this and being incapable of creating his own music, steals Johnny's guitar Anita and has his demons kidnap great...
---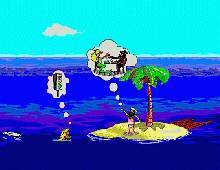 Johnny Castaway 1991
This is one of the most entertaining screensavers I've come across. Watch a castaway Johnny perform amusing antics while he struggles for daily survival on a tiny island. The program has numerous scripts that are randomized every time, and special skits for special days such as Christmas and New Year's...
---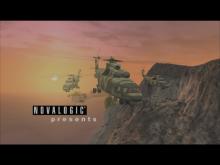 Joint Operations: Typhoon Rising 2004
Joint Operations is a squad-based shooter from NovaLogic, the creators of the successful Delta Force series and Black Hawk Down. The game is set in 2006 within a heavily populated country being torn apart as the nation's military splits into two factions. Violence between factions is a threat to the...
---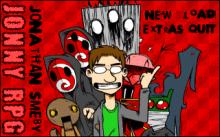 Jonny RPG 2004
Jonny RPG is a fun and varied freeware action game that offers a lot of cool mini-games, tongue-in-cheek humor, and pleasant graphics.The thorough review at KlikMe says it all: "You've probably never played a klik game quite like Jonny RPG before. This is because, despite what else can be said...
---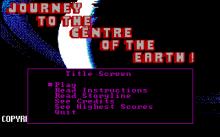 Journey to the Center of the Earth! 1994
Journey To The Centre Of The Earth! is a single player game which has nothing to do with the Jules Verne classic. This game, episode one in a trilogy, was released as shareware while the other games ; Episode 2 : Adventures at the Centre of the Earth, and...
---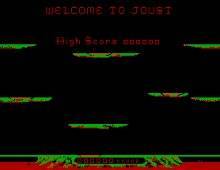 Joust 1983
In Joust, players take control of a knight with a lance who rides their flying ostrich (or stork, for Player 2) to do battle against computer-controlled evil knights who ride atop vultures. Players must flap their steed's wings to hit the enemy from a higher jousting point to destroy the vulture...
---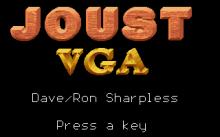 Joust VGA 1990
A colourful but resource-efficient unauthorised fan remake of an arcade classic, all of the salient elements remain from the absurd original: the bird-mounted knights jockeying for aerial superiority (literally: when two riders meet, the one in the lower position is dismounted), leaving eggs in their wake and avoiding additional threats...
---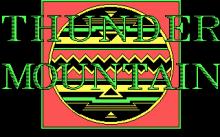 Jr. Pac-Man 1988
Jr. Pac-Man features gameplay similar to the original Pac-Man, but with a few changes. As Jr., you need to eat all of the dots in a maze without running into the four ghosts that are trying to get you. The maze is now much larger, and no longer fits on...
---