Arcade action Games #84
Search a Classic Game: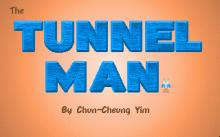 Tunnel Man, The 1994
It seems like you're caved in. Now you have to find your way out! TunnelMan is a story about a miner who experiences one of those bad days at work, in this case he has to find his way out of the mines. In order to do so, he must find...
---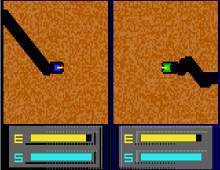 Tunneler 1991
Tunneler is an early two-player, split-screen tank game. Two players are randomly placed underground. The object is to destroy your opponent before your opponent destroys you. Unfortunately, you have to find your opponent first. Being underground, you must tunnel your way around in search of your opponent. If you happen to...
---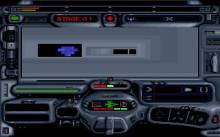 Tunnels of Armageddon 1989
Aliens threaten to destroy the earth via a huge bomb embedded deep within the planet. As a challenge to the human race, they have agreed to let Earth's finest pilot to get into a high-speed ship to get to the bomb before the timer runs out. Your ship has minimal...
---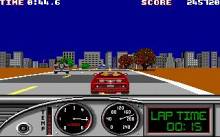 Turbo OutRun 1990
The sequel to OutRun features similar basic gameplay to the original, with the action viewed from behind the car, and the challenge being to complete each stage within the time limit. Contact can cause the car to spin, slow down or even flip; in each case you will lose time. There...
---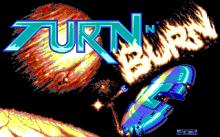 Turn 'n Burn 1991
Turn n' Burn is a simple space shooter. The player moves over the one-screen levels and shoots everything which moves. After all enemy formations (either a snake formation out of smiley faces or alien ships moving downwards) are killed, the next level is reached. Collecting power ups which are...
---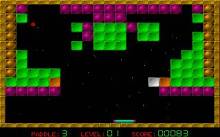 Turoid 1995
Turoid is an Arkanoid clone, where the point is - like in many other games like it - to bounce a ball with a paddle in order to destroy all the bricks on a given level. The paddle is controlled with a mouse (the mouse sensitivity can be adjusted with...
---
Turok 2: Seeds of Evil 1999
Turok 2: Seeds of Evil doesn't bring anything original to the crowded genre but it still manages to provide an okay gaming experience. Nothing about the game is bad but on the other hand not very much is overly good either. Let me start with the good: weapons, more weapons, and...
---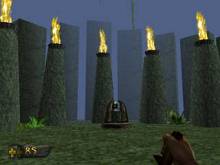 Turok: Dinosaur Hunter 1997
First and foremost, this game is gorgeous. Before I go rambling on about anything else, I'd like to tell you I was blown away by its looks. We're talking about year 1997 here, when mainstream graphics were around the quality of Blood. Yet here we have Turok, featuring sleek, sexy,...
---
Turok: Evolution 2003

---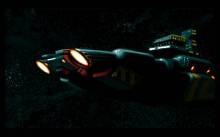 Turrican 2 1995
Turrican II: The Final Fight is a platformer/shooter as typically seen on consoles, but designed for home computers from the ground up.Its plot is - naturally - very simple: an evil mega-robot called The Machine attacks the United Planets Ship Avalon 1, slaughtering all who resist. All - except Bren...
---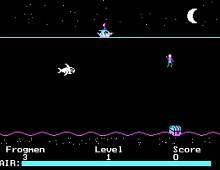 Twilight's Treasures (a.k.a. Treasure Dive) 1989
You guide your frogman down to the chest, grab it, and swim back to your boat. But there are sharks and eels who you should try to avoid. Sharks swim from the right side of the screen to the left side, and eels swim from left to right. On every...
---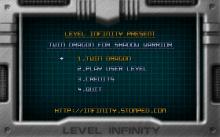 Twin Dragon 1998
Twin Dragon was one of two authorized add-on packs for Shadow Warrior that were canceled during development and later released as freeware.It features a completely new single player episode consisting of 13 levels, three new Wang-Bang levels and more.Lo Wang also had a twin brother, Hung Lo. Because his mother...
---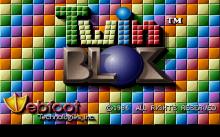 Twinblok 1996
The Time Spinners do not look kindly on failure. They'll yank your status, terminate your entity, and zap you into the netherest of the nether regions. Your journey begins when Executive Time Spinner (ol' T.S., you know) drops you ill-prepared and poorly armored into the fray, to fight off everything...
---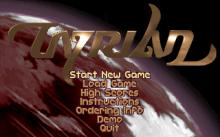 Tyrian 1995
Tyrian is a shoot 'em up with a complex plot. You play the role of Trent Hawkings, this galaxy's ace solo fighter-pilot, whose luck forces him to save the galaxy, one time after another. Again and again, Trent must fight off MicroSol, a company with the evil intent of taking...
---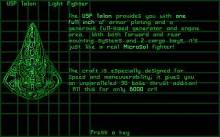 Tyrian 2000 1999
Tyrian 2000 is a direct re-release of the original action smash, Tyrian. It is essentially the same game with an additional new episode (Hazudra Fodder), a revised engine (less bugs and better controls) and added Windows support. It also adds another option called "Timed Battle".Tyrian is nothing like your run-of-the-mill...
---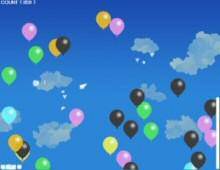 UFP 2003
UFP and SLD are two fun little arcade games from Japan from the same author. UFP is a cool shooter that lets you fly a paper airplane and shoots at balloons and other paper airplanes for points. The game mechanics is as simple as it gets: use your mouse to...
---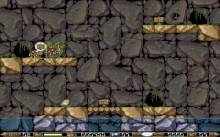 Ugh! 1992
His girlfriend had always had great expectations and one day, by an incredible chance an apple which has fallen right down our caveman's head creates a thought of an aircraft that he can use to earn money. So he makes the machine and uses it for the transport--for picking the...
---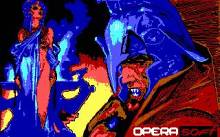 Ulises 1989
The witch Circe imprisoned twelve virgins for a ritual sacrifice. Ulysses, the Greek hero, recently washed away on the beach after a storm destroyed his ship and its crew, is summoned by the populace to rescue the kidnapped women. In exchange, they promise to help him return to Itaca, his...
---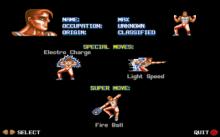 Ultimate Body Blows 1994
A compilation of the original fighting game "Body Blows" and its sequel, available only for Amiga, "Body Blows Galactic". The game combines everything from its predecessors and adds more colors, improved graphics and music, more backgrounds and endings, giving the player a total of 22 characters (including the invincible Max...
---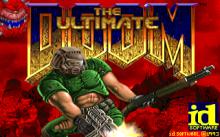 Ultimate DOOM, The 1995
For those of you (which is likely all of you) who have already played Doom, skip three paragraphs. The Ultimate Doom is 3/4 the same as its original namesake, with a fourth adventure tacked on to the end. So you haven't played Doom? Oh, you're the one. Anyway, Doom and The Ultimate...
---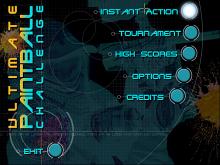 Ultimate Paintball Challenge 2001
Making non-violent computer games is an honorable goal. Though the link between video-game violence and the real kind, so often decried, is dubious and unproven, it is difficult to imagine that years of exposure to graphic depictions of death and dismemberment will not have some effect on young minds. And,...
---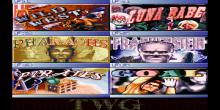 Ultimate Pinball 1996
Ultimate Pinball is an arcade-style pinball game. The game is almost identical in style to the pinball games by 21st Century Entertainment, such as Pinball Dreams.It includes six different pinball tables to play, all based on generic ideas such as sports, horror, Egypt, space, pirates, and the American west.The game...
---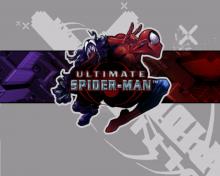 Ultimate Spider-Man 2005
After producing two successful movie-based games featuring the arachnologically augmented teen hero, the inventive Activision developer Treyarch spins a more comics-influenced yarn with Ultimate Spider-Man. While the 3D third-person action again takes place in large, freely-roamed urban environments, as in Spider-Man 2, this game has players taking control of two...
---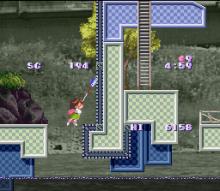 Umihara Kawase 1994
Umihara Kawase and its sequel Umihara Kawase Shun are two very innovative platformers that were sadly never released outside Japan. Which is a shame, because they are both unique and highly innovative game that will make you wonder why later games do not emulate their realistic grappling hook physics (actually...
---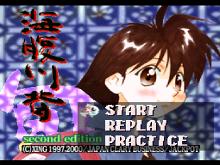 Umihara Kawase Shun 1997
Umihara Kawase and its sequel Umihara Kawase Shun are two very innovative platformers that were sadly never released outside Japan. Which is a shame, because they are both unique and highly innovative game that will make you wonder why later games do not emulate their realistic grappling hook physics (actually...
---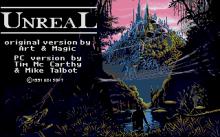 Unreal 1991
Unreal is a magical world where you must save Princess Isolde, your true love, from the evil Polymorphic, the Master of Darkness. It is an action game made up of eight levels and contains a mixture of 2D and 3D graphics. The environment is also completely interactive - you...
---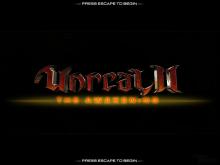 Unreal 2: The Awakening 2003
Unreal II: The Awakening offers gamers a new story that takes place in the universe introduced in the hugely successful original Unreal. Though the multiplayer-based Unreal Tournament enhanced the original game with fast action and customizable multiplayer gameplay, Unreal II is a full-fledged sequel to the popular 1998 first-person shooter,...
---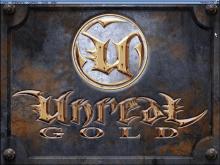 Unreal Gold 2000
This two-title compilation combines two previously released games in one budget-minded package. Included are the original Unreal and its add-on pack, Unreal: Return to Na Pali -- Mission Pack 1. ...
---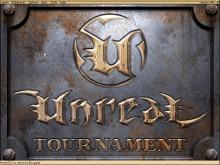 Unreal Tournament 1999
Unreal Tournament is a glowing, shining beacon in a sea of multi-player games. Beckoning wayward gamers from abroad, Unreal Tournament promises much more than just an eye candy experience. Unreal Tournament's visuals are second to none. Using a modified version of the Unreal engine, the game is smoother and slicker than...
---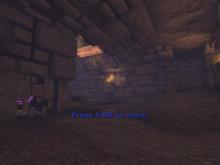 Unreal Tournament 2003 2002
Intense, violent, multiplayer combat competition returns to the PC -- and it is Unreal. This first full sequel to the lauded 1998 original Unreal Tournament is designed to deliver the defining Unreal style of first-person multiplayer combat at an unprecedented level of graphical detail and audio quality. Futuristic gladiators strive...
---