Arcade action Games #28
Search a Classic Game: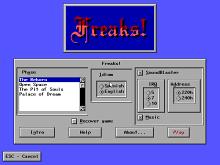 Freaks 1993
Freaks is a 3D game for MS/DOS written in 1993 by three Spanish guys - Angel Ortega, Manuel Zamora and Antonio Guerrero using a Wolf3D type of engine. It was released as shareware but now you can download it for free. It's a complete game with 4 big episodes and...
---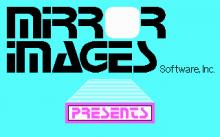 Freddy Fish 1983
Freddy Fish is an arcade action game where your goal is to become the biggest fish in the sea! On each screen, you need to eat all of the fish to proceed to the next level. You will only be able to eat fish that are smaller than you, but...
---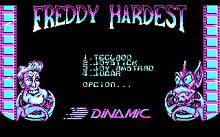 Freddy Hardest 1988
The most irreverent playboy of all the galaxy, heir of a great fortune, has a totally irresponsible life, given to uncontrolled drunks, endless celebrations and excesses of all kind. After one of his last "little" parties he decided to take the controls of his spaceship in not very appropriated conditions...
---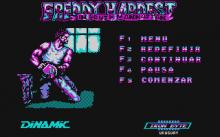 Freddy Hardest in South Manhattan 1989
In the future NYC has become inhospitable and depraved, with thugs lining every street waiting to pounce on ordinary civilians. Thankfully Freddy Hardest is on hand to face up to the baseball bats and knives, in a side-scrolling beat 'em up game.As with any Dinamic title, the difficulty level is...
---
Freddy's Rescue Roundup 1984
Freddy's Rescue Roundup is an action platform game where you need to collect all of the chickens on the screen within the available time limit while avoiding enemy robots. Within the maze besides chickens and enemy robots are some bonuses which will temporarily freeze the robots or replenish your supplies....
---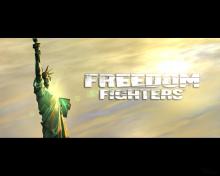 Freedom Fighters 2003

---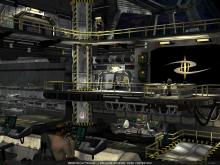 Freespace 2 1999
Undoubtedly one of the best 3D space combat games ever made, Freespace 2 by Volition is a superb space opera of epic proportions. The strong emphasis on plot development combined with spectacular graphics and story-based missions make Freespace 2 a worthy contender to Origin's more well-known Wing Commander games. In...
---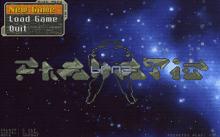 Frenetic Plus 2003
Frenetic Plus is a fun and addictive isometric shooter coded in Allegro. The official plot: "...Called upon to defend her nation in the midst of a civil war, [an android] Mercen 505 finds herself in deep space... alone, outnumbered, and lacking resources. Her three month trek will take her past...
---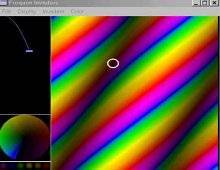 Frequon Invaders 2002
Frequon Invaders is no doubt the most unique Space Invaders clone I have ever seen. The gameplay is hard to describe, so here are the designer's own words: "...your mission is to destroy each invading Frequons by moving the cursor on top of it. What could be easier? Except for...
---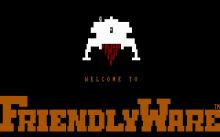 FriendlyWare P.C. Arcade 1983
A set of 8 games that are designed to be played on the original IBM PC computer of the time. Everything uses ASCII graphics, so it even works on the MDA adapter. An easy-to-access Boss Key is included, which pops up a histogram with Friendlysoft-related data.Most games are replicas of...
---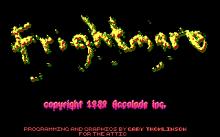 Frightmare 1989
This is a platform-game, where you play as a man who's experiencing a horrible nightmare. And if you die in it, you die for real...Your mission is to survive long enough to wake up. For every room you visit, another 6 minutes goes by, and at 8:12 the alarm clock...
---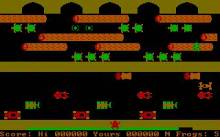 Frogger 1983
Your task in this arcade conversion is to guide a frog across a treacherous road and river, and to safety at the top of the screen. Both these sections are fraught with a variety of hazards, each of which will kill the frog and cost you a life if contact...
---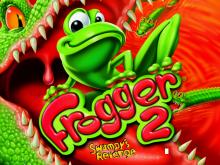 Frogger 2: Swampy's Revenge 2000

---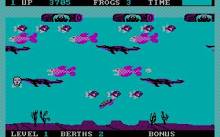 Frogger II: Three Deep 1984
In Frogger II, you need to guide your frog to safety in three different locations. Starting out underwater, reach the top of the pond while avoiding dangerous alligators and fish (you can ride a turtle for safety!). Once on top of the pond, hop across logs, birds, and even a...
---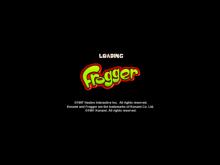 Frogger: He's Back! 1997

---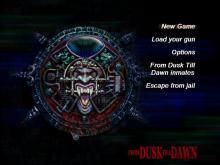 From Dusk Till Dawn 2001

---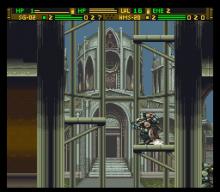 Front Mission: Gun Hazard 1996
Front Mission - Gun Hazard is a fun side-scrolling "mech" arcade/RPG platformer for the SNES console, set in Squaresoft's Front Mission universe. Although the game is not a turn-based tactical strategy game like others in the series, it retains a lot of highlights to set it apart from standard platformers....
---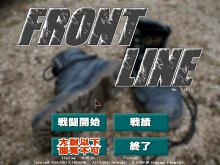 FrontLine 2003
FrontLine is a fun platformer that plays like Abuse with stickmen. The basic premise is simple: shoot all the enemy stickmen who appear on the screen. You start the game with a gun and a few grenades at your disposal, and you can use a shield to temporarily block enemies'...
---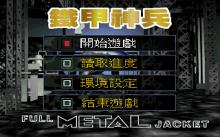 Full Metal Jacket 1996
Full Metal Jacket is a decent giant robot action game from Korean developer Mirinae. Viewed from a top-down perspective, the game plays like a cross between Zone 66 and Chaos Engine - although it is not as good as either game. First, the plot: at the end of 20th century,...
---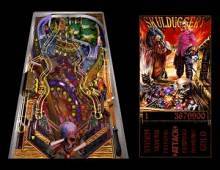 Full Tilt! Pinball 1996
Full Tilt! Pinball is an excellent pinball game from Maxis, a company best known for Sim games. The game will be familiar to anyone who has the Microsoft's Plus! Windows 95 companion pack, since one of the tables - Space Cadet - was included there as a bonus. All the...
---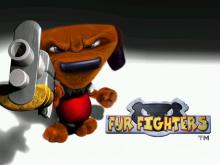 Fur Fighters 2000

---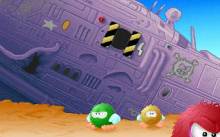 Fury of the Furries 1993
In Fury of the Furries, you control a cute, round creature called Tiny, who must defeat "the wicked one" who has captured the King, and turned all the Tinies into mindless monsters. Fortunately your Tiny has special powers. It can transform himself into a swimmer, rock eater, fireball spitter, or...
---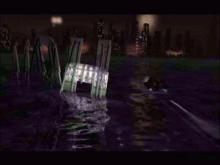 Future Cop: LAPD 1998

---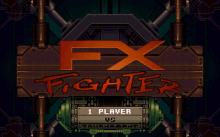 FX Fighter 1995
FX Fighter is a 3D fighting game similar to Virtua Fighter by SEGA. You choose one of the eight comic book style characters to become the greatest fighter in the universe.Each character has its own special / hidden moves as well as a planet of their own housing the gruesome...
---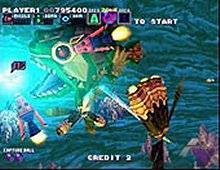 G-Darius 2000
G-Darius is an excellent PC port of the great PlayStation game of the same name, developed by Taito and published by THQ in the U.S. in 1998. This PC version was ported and released only in Japan by Cyberfront Studios. A fun shooter that truly lives up to the legacy...
---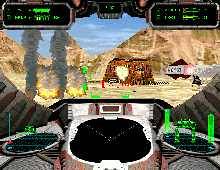 G-Nome 1997
One of the most underrated giant robots games ever made, 7th Level's G-Nome is an excellent first-person 'mech game similar to Sierra's Earthsiege series. Ty Brewer encapsulates both the high and low points of the game very eloquently in his review for Games Domain: "G-Nome represents an effort by 7th...
---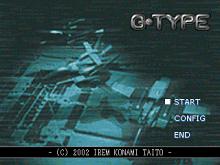 G-Type 2002
Now this DOES look familiar, doesn't it? Yeup, it's basically good ol' R-Type (intro screen even names Irem, the creators of that one, as copyright holder). This is sidescrolling spaceshooting at its best, great arcade feeling, graphics and sound just fit and the gameplay is fantastic. There's really nothing to...
---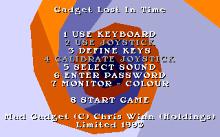 Gadget: Lost in Time 1993
The game is a combination of two genres, platformer and quiz game. Gadget, the main character, has invented a time machine and uses it to go back to the dinosaur age. In order to return, he must obtain a crystal to power the time machine. This allows him to go...
---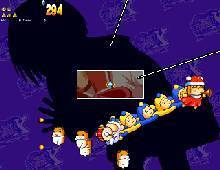 Gal Pani X 2005
Gal Pani X is a fun clone of Qix, Taito's famous arcade game with a simple gameplay: draw lines to create separate portions of the screen while avoiding nasties. Gal Pani X takes the concept one step further by introducing new twists and a lot of fun power-ups. Instead of...
---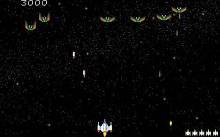 Galacta: The Battle for Saturn 1992
Gamplay is similar to Galaxian and Galaga, Galacta gives you a top-down space shooter just like the arcade games.Move back and forth along the bottom of the screen as you avoid the attacks from the enemy ships and launch your own attacks at them. You can be destroyed by...
---