Arcade action Games #30
Search a Classic Game: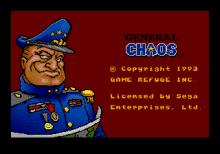 General Chaos 1994
One of the most underrated games for the SEGA Genesis console, General Chaos is a fun and funny arcade/strategy game. Think of crossing the zany action gameplay and humor of Cannon Fodder with wacky strategic elements of Nuclear War, and you'll have a good idea of what General Chaos is...
---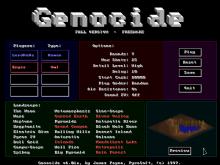 Genocide 1996
Genocide is a turn-based Scorched Earth style artillery game in 3D where you are fighting against others using your artillery. You choose a weapon, the bearing, power and height of your shot and fire. The last player alive wins. The 3D grid landscape is viewable from various angles, easily controlled by...
---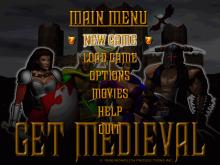 Get Medieval 1998

---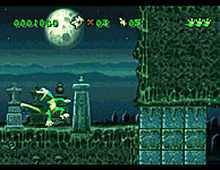 Gex 1996
Probably Crystal Dynamics' least successful release, Gex is a decent platformer that tries too hard to emulate Earthworm Jim in playability and humor... but doesn't quite get there. In Gex, you play a cocky 20th century gecko with an attitude who has been sucked into his television by Rez, an...
---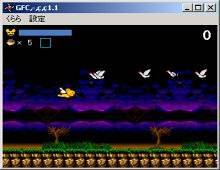 GF Captor Kurara 2002
We already knew that Japanese freeware developer CNC Darkside had a taste for bizarre fusions: G-Type (R-Type+Gradius), Super Mario XP (Mario+Castlevania)... This time, they took the characters of Card Captor Sakura, and put them in a horror setting, with Sakura's school transformed in a dark manor full of demons and...
---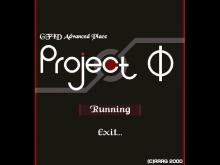 GFID Advance Place: Project Zero 2001
GFID Advance Place: Project Zero is a fun freeware vertical shooter from Japan. Although the ships (including your own) are smaller than in an avarage shooter, this makes the playing field quite large in comparison, thereby allowing awesome firefights with dozens of enemies on screen at a time. End-level bosses...
---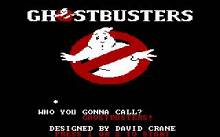 Ghostbusters 1986
Based on the 1984 film of the same name, the Ghostbusters are the ones to call to "bust" any ghost hauntings. They do this through the use of nuclear-accelerated "proton packs" and "ghost traps", whereby the ghosts can be captured and transferred to a secure storage facility at their Headquarters....
---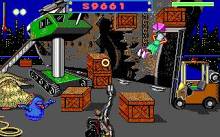 Ghostbusters 2 1989
Re-live the movie as you bust ghosts, collect slime, find the proper mixture, break outta jail and hunt down Vigo, the Scourge of Carpathia. ...
---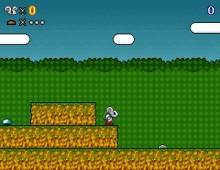 Ghosts 'n Goblins Exceed 2002
Ghosts 'n Goblins Exceed is yet another excellent freeware game inspired by 8-bit classics. Yes, this time CNC Darkside put fusions aside and made a remake of CAPCOM's classic. Be warned: the graphics are very dull, and the sprites are too small. Nice sound and playability, though. The original levels...
---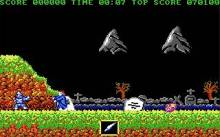 Ghosts'n Goblins 1987
Ghosts'n Goblins is a sideways scrolling action platformer spread over six levels, each of which must be completed within three minutes (or a life is lost), taking in forest, village, mountain and cavern settings with increasing difficulty.Arthur the brave knight must rescue his beloved Princess from the Demon King Astaroth...
---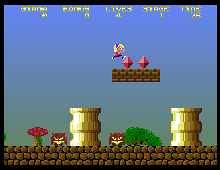 Giana Family 1999
Giana Family is a great PC version of the famous Rainbow Arts classic that never made it beyond the Commodore 64. Andreas Kahn has pulled off something very few people can do: create a PC conversion that is not only very faithful to original in looks and play, but also...
---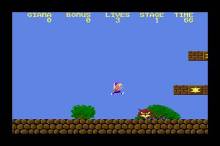 Giana Sisters 32k 1998
Remake of the real Giana Sisters. Kick some bad monstes and find a magic gem which will bring you back to your real world. ...
---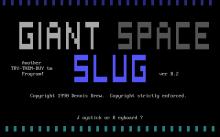 Giant Space Slug 1990
As a giant space slug your job is to guard your territory. Random hot-shot space-ship pilots insist on landing on your territory but don't know they're trespassing. As you devour their ships your body will get larger and larger but be careful not to go and eat yourself! Your territory...
---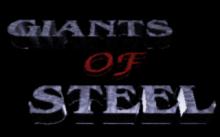 Giants of Steel 1996
Giants of Steel is a fun 3D giant robot action game from DIGITAL Nightmares, a small Germany-based developer who released the game into the public domain after selling it for a number of months as shareware. Games Domain's says it all about this unpretentious game: "Giants of Steel is a Mech...
---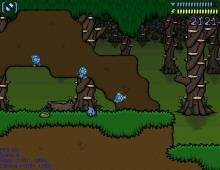 Glace 2004
Glace is a polished, long, and fun freeware platformer that harks back to the golden days of Super Nintendo. The story: in a strange galaxy inhabited by aliens, two made scientists named Dr. Frog and Dr. Slagg are trying to create a creature that will help them control the universe....
---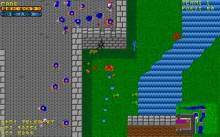 Gladiator 1995
Gladiator resembles Gauntlet, set in medieval times. You must travel the forest and kill off all the monsters, collecting treasures en route. You can select from seven different classes of characters, each with their own strengths and weaknesses in areas such as strength, dexterity and armor. ...
---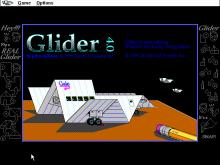 Glider for Windows 1994
Glider for Windows is an excellent PC port of a hit Machintosh title of the same name that started life as a small black & white shareware game in the late 1980s and went through several updates. The game's premise is simple, but makes for a very unique and interesting...
---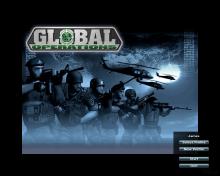 Global Operations 2002

---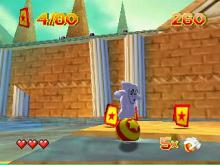 Glover 1998

---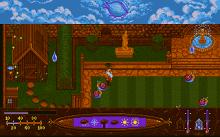 Gnome Alone 1992
Gnome Alone is a little-known PC conversion of a little-known Amiga game, developed by UK house Visionaires. In this unique action/strategy game, you play a gnome who, other than being alone, is trying to keep his garden and greenhouse free from pests and grumpy other gnomes who constantly sneak in...
---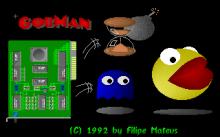 Gobman 1992
Gobman is a 90's clone of Pac-Man. Like in Pac-Man, you play a yellow circle going around a maze eating dots, except every time you advance a maze the maze changes its color and shape.There are also small items around the maze to help Gobman collect the dots like Hourglasses...
---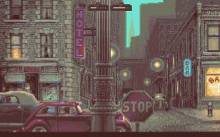 Godfather, The 1991
Following the movie series (and released in conjunction with The Godfather III)- work your way up the Corleone family ladder over the span of 50 years, and attempt to destroy the rival families.A walk-n-shoot game; each of the five levels represents a decade from the 1940s to the 1980s. ...
---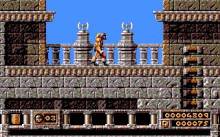 Gods 1991
Hercules is aiming to achieve immortality by completing the task the Gods have set him. His task is presented as a platform adventure set in ancient Greece, featuring a variety of enemies as you play it through.Of more significance, however, is the game's Artificial Intelligence system, in which creatures...
--- Goferpop 1991
Goferpop is a 2D 50K shooting game in which the player shoots gophers that pop out of the ground. The game field is a row of grass and the gophers will pop out anywhere on the field. The mouse is used to move a gun back and forth and when...
---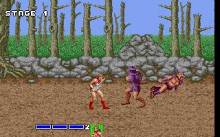 Golden Axe 1990
Sega's classic arcade beat-'em-up game, Golden Axe puts in the shoes of one of three heroes, each with his own reason for trying to overthrow the evil rule of Death-Adder, who - along with his forces of darkness - kidnapped and imprisoned the King and his daughter and stole the...
---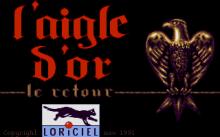 Golden Eagle 1991
The plot of Golden Eagle is a basic one: the evil priest Nahmur stole the Golden Eagle, severed it into five parts and hid them in the city. The player controls a special agent with the order (the employees are mutants) to find said parts.So the player walks through the...
---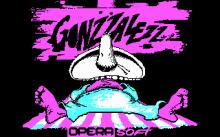 Gonzzalezz 1989
Gonzzalezz is a side-scrolling platform game from Spain. The main protagonist is a Mexican stereotype (complete with sombrero and huge mustache), that has an obsession with the traditional siesta. The game is divided in two loads: ? In the first one, Gonzalez must escape his own nightmare. He moves by...
---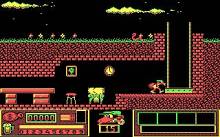 Goody 1987
In "Goody" you are a thief with a mission to break into a Spanish bank. For you need the appropriate tools, such as a torch and pincers. In your road toward the bank, you must avoid policemen, gorillas, kung-fu experts, women sweeping and paper airplanes... that is to say, the...
---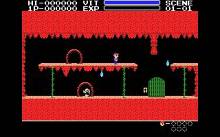 Goonies, The 1986
Does anybody remember Goonies? I won't say it was my favorite 80s movie, but I liked it nonetheless. Well, here's a game based on that movie. Actually this is an MSX game that Friends Software converted for DOS. It's a nice run'n'jump platfromer where you control a little character who went in...
---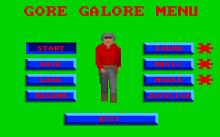 Gore Galore: The Breakout 1995
One of the many undistinguished Wolfenstein 3D clones that tried to make it commercially as shareware. It used the Pie 3D Game Creation System. An escaped homicidal maniac "BLOODY BOB", satisfies your sickest fantasies in a splatter fest of blood & gore. In addition to Ninjas, you'll also fight guys...
---