Arcade action Games #65
Search a Classic Game: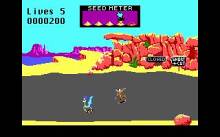 Road Runner 1989
Road Runner is on the run from Wile E. Coyote once again. However, instead of merely watching the antagonistic duo battle it out on your television set, you get to control the action via your home computer. Road Runner must run and jump through a barrage of mazes, sand traps,...
---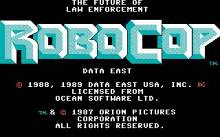 RoboCop 1989
Patrolman Alex Murphy was killed on the streets of Detroit. The major corporation there, Omni Consumer Products (OCP) saw an opportunity to sell a new kind of law enforcement officer to the troubled city. They took what was left of Murphy, encased it in titanium armor, wiped his memory and...
---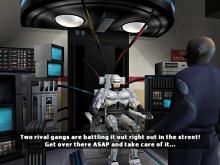 RoboCop 2003
Most of Robo's games are based around the original side-scrolling Data East arcade game, and accomplish this with varying success. This game, however, marks the only attempt at a first-person-shooter. An FPS based on the cyborg constable seems like such a great idea. Maybe it still is. That could explain...
---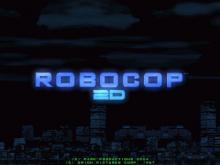 Robocop 2D 2004
RoboCop 2D is an excellent freeware remake of RoboCop, a fun arcade platformer game that was ported to PC by Data East (which you can download from this site). Like the original, you play RoboCop, a cyborg police. Your goal, like in all platform beat 'em ups, is to roam...
---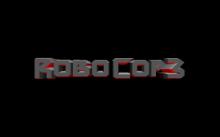 RoboCop 3 1992
F29 Retaliator authors DID developed this particular use of the Robocop license, and produced something different from most film licenses. While it featured a succession of levels based around sections of the movie, these were highly varied and presented in polygon 3D graphics. These can be played in any order...
---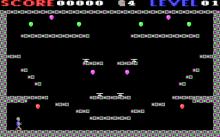 Roboman 1989
Lode Runner clone. Move Roboman to pop various balloons on the level to find a key that will trigger the exit door. You can gain bonus points by popping all the balloons on the level, and there are quite a few nice touches, such as hidden suprises inside the...
---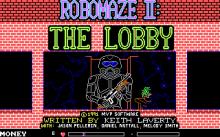 RoboMaze II: The Lobby 1991
You are a freedom figher, storming the giant tower of the dictator of your country. He has created robots with genetic parts to defend his tower. There are lots of levels split over three episodes. It is a platform game, with PC speaker sound effects and EGA graphics. You run...
---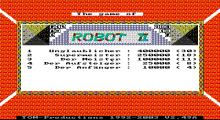 Robot II: Das Labyrinth im Wald 1990
While on a relaxing walk, the player receives a telegram from an old friend, who is calling for help from somewhere in the South Pacific. The way to the port however is full of danger and adventure.In the second part of the Robot series, there are 85 screens to explore...
---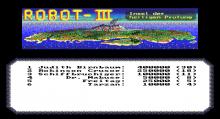 Robot III: Insel der heiligen Prüfung 1992
The third part of the Game of Robot series takes place on the fictitious island of Fana, where the telegram the player received in the second episode came from. His task is to find the friend who sent that call for help. Compared to the earlier episodes, there is a...
---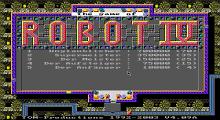 Robot IV: Operation ExtraTax 1993
After the third part of the Game of Robot series, the public has taken note of the hero's ability to endure adventures and solve dangerous tasks. That's why he is being sent on an official mission to investigate mysterious radio interferences caused by an old radar station.While still focusing on...
---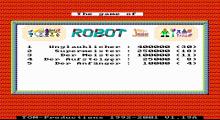 Robot Junior 1991
Robot Junior is a freeware episode of the Game of Robot series. It was released after the second game, in order to introduce new players to the series.As in every Robot game, the player has to explore the screens and solve the numerous puzzles they contain. In Robot Junior the...
---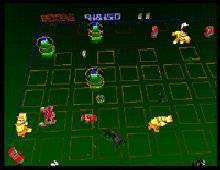 Robotron X 1997
Robotron X is a good revamp of the original coin-op hit Robotron: 2084. As one of the earliest attempts to revive arcade classics, Robotron X plays good and looks great, although the Playstation version, with its dual directional keypads on each controller, is a better platform for this game. The gameplay...
---
Robotron: 2084 1983
The year is 2084. In his search for ultimate mechanical mindpower, man made his biggest mistake ever in creating the Robotrons, a machine-like race of super beings guided by infallible logic. Using this cold, calculated reasoning, the Robotrons deemed humankind inefficient and set out to kill every man, woman and...
---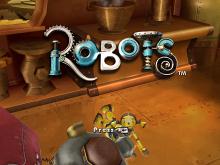 Robots 2005
Players take the role of reluctant robot hero Rodney Copperbottom, in this platform adventure based on the computer-animated Twentieth Century Fox feature film. Rodney's mechanical world is in danger of being taken over forever by an evil tyrant robot, so he must travel to the city, and somehow stop the...
---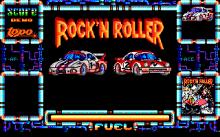 Rock'N Roller 1992
Rock'N Roller is a game similar to the game Rally X, in Rock'N Roller the player takes control of a buggy, that must find, in each of the 30 stages, the six parts of a prototype car, that are hidden in the stages. In each stage there are three enemy...
---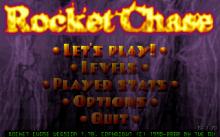 Rocket Chase 1997
A fast-paced shoot-em-up for two to four players. Fly through different levels in your small rocket and fight your enemies with several different weapons. The last man standing is the winner. ...
---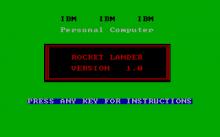 Rocket Lander 1982
Rocket Lander is a good - but very rare - conversion of the hit arcade game Lunar Lander. From Mobygames' description: "The object of the game is to land a space craft on the landing pad while avoiding the mountainous terrain. This is accomplished by adjusting the thrust and tilting...
---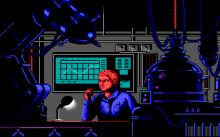 Rocket Ranger 1988
In the 1940s, the Nazis built a base on the moon and plan to use a mysterious substance called Lunarium to reduce people's intelligence. However, in the 21st Century time travel has been mastered, as have jet-propulsion backpacks, plus some cataclysmic weaponry and advanced code-breaking equipment. Thus, you are sent...
---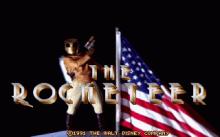 Rocketeer, The 1991
Based on the Dave Stevens' original comic book series and the movie made by the Walt Disney Company. Participate in several action sequences that mimic the same sequences in the movie, like racing a plane, a shootout in a warehouse, and hand-to-hand combat on top of a flying blimp. ...
---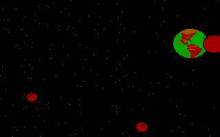 Rockets 1986

---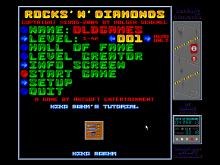 Rocks 'n' Diamonds 1998
Rocks 'n' Diamonds is a puzzle game, based on the concept of Boulder Dash. The player's goal on each level is to collect all the gems and reach the exit, avoiding hazards (such as falling rocks or hostile monsters) and solving puzzles (e.g. skillfully digging sand from under rocks so...
---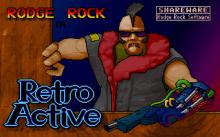 Rodge Rock In Retroactive 1995
Side-scrolling shooter. You are Rodge Rock and must collect power-ups and shoot everything in sight. ...
---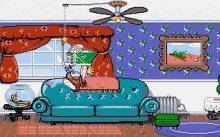 Roger Rabbit in: Hare Raising Havoc 1991
You need to help Roger Rabbit get out of each room he is stuck in so he can capture Baby Herman before Mommy returns home. You will want to try using everything around Roger. Make him pull, push, kick, slide, and jump on objects to see if they'll help him...
---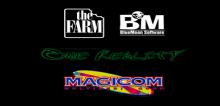 Roketz 1996
Roketz is a 360 degree scrolling shoot 'em up. It features gravity environment and thrust-and-turn gameplay similar to the likes of Thrust, Virus, and SubSpace. Selectable game modes are the usual deathmatch combat mode and a racing mode where the players have to pass given checkpoints as fast as possible. ...
---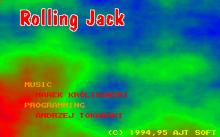 Rolling Jack 1994
Rolling Jack is a Boulder Dash clone. On each level, the protagonist (a smiling, red ball), who can move freely in 4 directions, must collect all the coins and then go into the exit. There are numerous dangers in the levels: rocks which fall when there is free space beneath...
---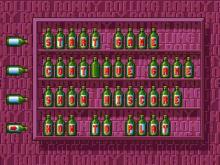 Rolling Ronny 1991
Who says being an errand boy is dull ? Take Rolling Ronny - he's the coolest dude in town. Help him rollerskate and shoot his way through nine levels of parkland, city streets, office complexes and even the underground sewers to his final destination at the other side of town....
---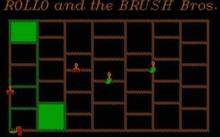 Rollo and the Brush Bros. 1984
STORY In this arcade game you play the role of "Rollo", where the aim of the game is to paint the entire section while evading the "Brush Brothers" in order to progress in the game. GAMEPLAY The "painting" process consists of you moving Rollo around the many "square-like" sections in the game (paint-the-lines)....
---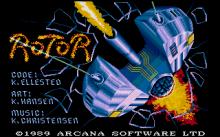 Rotor 1990
Rotor is an above-average multi-directional shoot 'em up that bodes well for the spiritual descendants such as Zone 66 years later. Good graphics, smooth gameplay, and an interesting mix of tactical options. The description at MobyGames explains the mechanics quite thoroughly thus: "You control a battle tank (the Rotor) which...
---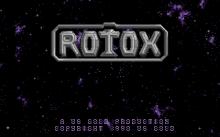 Rotox 1990
In this 3D Rotoscoped landscape the player controls Rotox the robot, which is required to to eradicate any form of mechanized existence on each of the levels. Each level is comprised of nine sectors, which are not all linked together. At the beginning of each level you drop in from...
---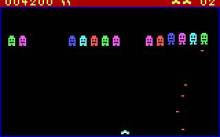 Round 42 1986
A traditional space shooter involving 42 rounds of battle against invading alien ships (hence the name). Each round of aliens has different movement and firing patterns. Against such odds, you are provided with two weapons: An auto-fire cannon, and a single-fire targeting laser. Extra ships and...
---