Arcade action Games #51
Search a Classic Game: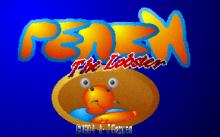 Peach the Lobster 1994
Norumbega was a peaceful land. But all is not well in Norumbega as, Fang Duck, the evil ruler of the Dark Quarter region decided to invade the rest of Norumbega. Fang Duck in his haste to fill the land with his duck minions overlooked the coastal home of Peach, our...
---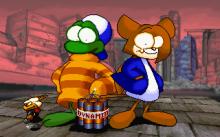 Pee & Gity Special 1994
Pee & Gity Special is a sequel to Pee & Gity. Visually, the game is nearly identical to its predecessor. The two heroes also retain their moves and abilities. However, the sequel allows players to move the protagonists through a scrolling stage step-by-step after all enemies on the screen have...
---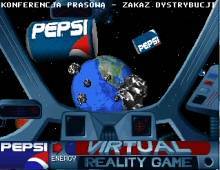 Pepsi Virtual Reality Game 1996
Pepsi Virtual Reality Game is a below-average 3D action game from Pepsi, the world's cola giant. Aside from the dubious merit as the first 3D promotional game ever made, there is little to recommend this obscure title. This is basically a simplistic arcade-style game where you use the mouse to...
---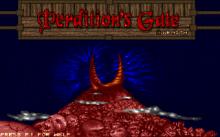 Perdition's Gate 1996
Perdition's Gate is an unofficial commercial add-on for DOOM II. It replaces all 32 original levels and features some new music and textures.There are no gameplay changes, new monsters or weapons, it is just a level set. It contains a new plot, changing the demons into an alien race from...
---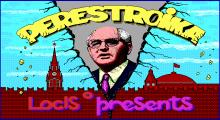 Perestroika (a.k.a. Toppler) 1990
Controlling a small frog, the player must jump across lillypads towards his goal. These lillypads gradually grow smaller and eventually sink into the water, new lillypads appear to replace them. Enemy bugs will also chase the enemy frog. Touching the bad bugs or the water results in death. The player...
---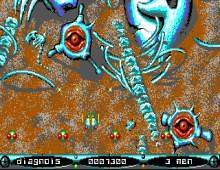 Phantom Fighter 1989
More of less a "beta version" of If It Moves, Shoot It!, Phantom Fighter is a one-year-older vertical shooter from Emerald Software that is identical to the better-known IIM,SI game in every respect, except for the lack of VGA mode and (as far as I can tell) a tougher difficulty...
---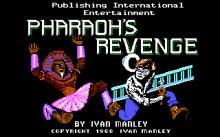 Pharaoh's Revenge 1988
Pharaoh's Revenge is a fast action computer game in the arcade tradition. Using the keyboard or joystick the player must attempt to evade an opponent (computer or human) while solving a complex maze that, when solved, leads to safety.There are 200 levels in the main game, with 50 advanced levels...
---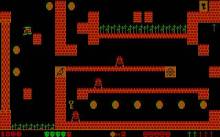 Pharaoh's Tomb 1990
As a lowly research assistant Nevada Smith believes he's finally going to get his big break into the pages of archeology by discovering a long lost tomb. His glory is soon stolen away from him by the professor he's assisting at the University. The same professor he's been assisting for...
---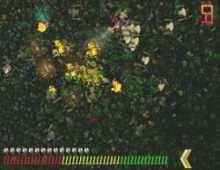 Phobia 2 1998
Phobia 2 is a simple but fun top-down shooter by the finnish Wah-Software. You are a space marine with a simple goal: survive as long as you can, and kill anything that moves. There is an neverending swarm of aliens coming towards you with bad intentions, and they will get...
---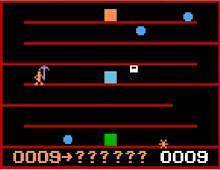 Pickaxe Pete! 1982
Pickaxe Pete! from Philips is a very addictive Donkey Kong variety of 2D climbing games. Originally released for Philip's own Videopac console system, the description from the manual says it all about this game:"As Pete, you start out in the center of a multi-tiered mine - not at the bottom...
---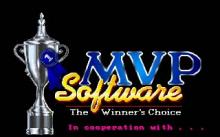 Pickle Wars 1994
Aliens that look like giant dill pickles are about to conquer the human colony of Arcadia. Five hundred years of continuous peace led to complete disarmament, and humans find themselves unprepared for war. Only a brave lad named Dave, armed with a Salad Shooter, can face the murderous pickles. His...
---

PicoShot 2001
PicoShot is potentially the world's smallest shooter ever made. At first, I hated this game. Really. I wondered what was the sense of making a game which takes a tiny, stamp-sized, 64x64 window, moving a ship three pixels wide and two high! My eyes hurt. Luckily, I found the option...
---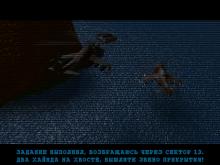 Pike: Operacija Gromoverzhec 1996
Mankind have always tried to break through the borders of solar system, but due to wars, economic and ecological crisis this dream for a long time remained unrealised. In the third millennium the required technological breakthrough happened, which allowed humanity to make a step toward stars. Long after, widespread colonies,...
---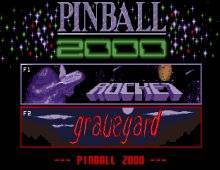 Pinball 2000 1995
A pinball game with two tables, Rocket and Graveyard. It was derived from an Amiga game by Digital Illusions called Pinball Dreams. Supports up to 8 players....
---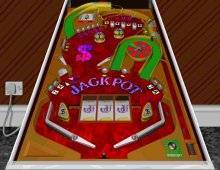 Pinball 3D-VCR (a.k.a. Total Pinball 3D) 1996
Total Pinball features the same slightly changed four tables as its predecessor Pinball Mania: Kick Off centres around soccer/football, Jail Break is set in a prison, Tarantula reflects Spidersoft's name and logo as it features a rampant spider, and Jackpot is based around gambling.The main difference is the optional presentation...
---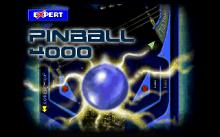 Pinball 4000 (a.k.a. Expert Pinball 4000) 1994
Yet another nice pinball game. Nice things about pinballgames is that it takes quite a time to know what you have to do on the machine. Just keep the ball in the playfield. Different fields to play on....
---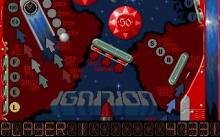 Pinball Dreams 1993
The first in a line of pinball games from 21st Century and Digital Illusions, with four tables covering themes such as the wild west for Steel Wheel, space rockets for Ignition, a haunted graveyard for Nightmare and pop music for Beat Box. The portable versions for the Game Boy and...
---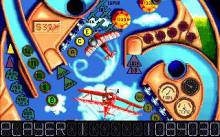 Pinball Dreams 2 1994
The sequel to Pinball Dreams with 4 entirely new tables:Neptune: with an undersea theme.Safari: with an obvious safari theme.Revenge of the Robot Warriors: with a sci-fi them.Stall Turn: with an aviation theme....
---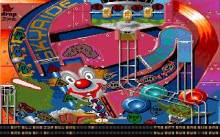 Pinball Fantasies 1994
After the success of Pinball Dreams on several systems, a sequel featuring four new tables was created. The gameplay is much the same as the first game, with realistic physics, multi-player options and a high score table to aim for. The tables are Partyland, Speed Devils, Billion Dollar Gameshow and...
---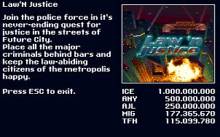 Pinball Illusions 1995
Pinball Illusions is the successor to the Pinball Fantasies, using an upgraded game engine. The tables are Babewatch, Law & Justice, Extreme Sports and (on PC CD versions) The Vikings. These contain ramps, bonus areas and combo sequences to set up. All the artwork were produced in true 256 colors...
---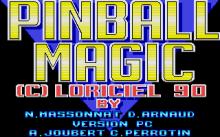 Pinball Magic 1990
Pinball Magic is for one or two players, working through a sequence of twelve tables. Each one has several letters on screen, usually in more than one place. Runnig the ball over each letter opens the exit; pass through this to reach the next screen. Completing a screen gives both...
---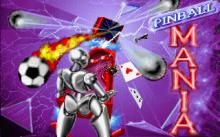 Pinball Mania 1995
Digital Illusions was not involved in the fourth title in 21st Century's pinball series, with this version instead being developed by veteran pinball game producers Spidersoft. Four tables are featured: Kick Off centres around soccer/football, Jail Break is set in a prison, Tarantula reflects Spidersoft's name and logo as it...
---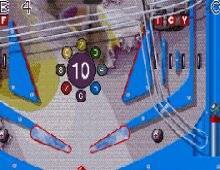 Pinball Prelude 1996
The central theme of the pinball game Pinball Prelude is time. The first table is set in the past and features a dinosaur setting, with table elements being not easily recognizable as such since they blend into the environment. The second table is set in the present and at the...
---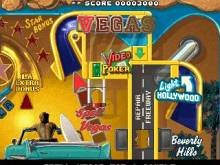 Pinball World 1995
Released after Pinball Illusions in the same year.As its namesake, "Pinball World" has nine pinball tables (rather then usual four), based on places around the globe - Africa, Australia, Far East, Germany, Hollywood, United Kingdom, New York, North Pole and South America. Players start the game at unique pinball table...
---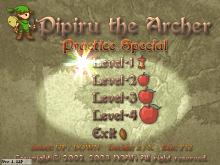 Pipiru the Archer Practice Special 2003
Pipiru the Archer Practice Special Pipiru the Archer Practice Special is a fun freeware gem from Japan's NOAH, an independent game development group. Released for free to promote their shareware title Pipiru the Archer, this Practice Special game stars Pipiru, a cute archer who is practicing his archery skills....
---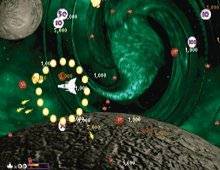 Piranha 1996
Piranha is your run-of-the-mill Asteroids clone, but features a vast range of weapons and enemies across 100 levels of gameplay. With improved graphics and (well, some of it) music by Eric Streidell (Zodiak / Cascada) and Prism / EMF, this is one of the more recent additions to the huge...
---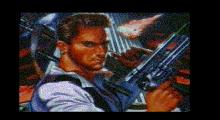 Piso Zero 1991
In "Piso Zero" the player takes the role of Mac, a hero that must rescue the people of 15 buildings that are now under the control of the evil Calawarr brothers and his army. To rescue the hostages, the player must find along every stage the hostages, and take them...
---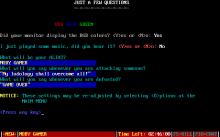 Pit, The 1990
As the backstory has it, King Reginald Hornbluff of Regal City revives his realm's sagging economy and restores order to streets torn by conflicts between predatory criminals and well-meaning but dangerous vigilantes by commodifying the chaos, containing the conflict by constructing an enormous gladiatorial arena with cash prizes to the...
---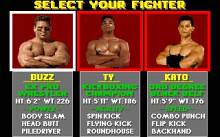 Pit-Fighter 1991
Pit-Fighter is a 3rd-person fight game that features digitized graphics of real fighters and zooming effects. Players select one of three fighters (Buzz, Ty or Kato) to take on anyone who dares. At the conclusion of a match, players are individually awarded a Knockout Bonus, Brutality Bonus, and a...
---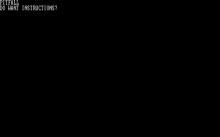 Pitfall 1983
How deep can you go? In Pitfall you manoeuvre your ship down a seemingly neverending shaft while avoiding the rock edges and disembodied faces. Use the left right keyboard keys to move your ship side-to-side and use the up and down arrows to slightly speed your ship up or slow...
---