Arcade action Games #26
Search a Classic Game: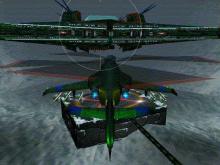 Extreme Assault 1997
Extreme Assault is an arcade shooting game in which the player takes control of two different vehicles: a fictional Sioux AH-23 Attack Helicopter and a T1 assault tank. Using these vehicles the player must fight alien forces who have set up secret operations on Earth.Players can blast their way through...
---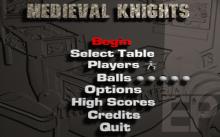 Extreme Pinball 1995
Extreme Pinball is Epic Megagames' successor to Epic Pinball. It contains four pinball tables: Rock Fantasy, Medieval Knights, Urban Chaos, and Monkey Mayhem, each with a different theme. Compared to Epic Pinball, it has a larger, 320x400 resolution, as well as taller tables, both allowing for more objects. It also...
---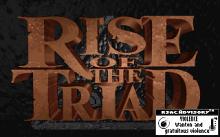 Extreme Rise of the Triad 1995
Extreme Rise of the Triad is an official add-on level pack to Rise of the Triad. The add-on features forty-two new levels, notable for their increased difficulty compared to those of the original game. Also included are several user-made level editors, a random level generator, and sound files....
---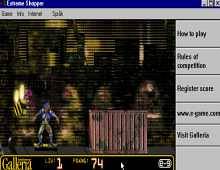 Extreme Shopper 2000
Yet another fun little gem from E-Game, promotional game developer extraordinaire. This time the sponsor is Galleria, an Internet shopping portal run by GulaSidorna, Sweden's premier Yellow Pages. In-game description goes as follows:"It's not always as easy as it sounds to shop on the Internet. There is a lot of...
---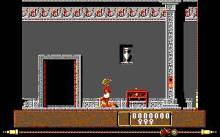 Eye of Horus 1989
As a mystical shaman, go through a pyramid in ancient Egypt to get the magical eye of horus. In a cool twist, by pressing the up arrow you turn into a birdy and can search through the levels. Just press the down arrow and voila! Human again. Many traps try...
---
Eye of Typhoon, The (Geuk Cho Ho Kwon) 1996
Many years ago, during the times of the Myoung dynasty, a martial art known as Geuk Cho Ho Kwon prospered. Gradually, it became forgotten and was considered a mere legend by most people. But lately this mysterious technique resurfaced, as Asian countries began to grow weak, and Western powers strived...
---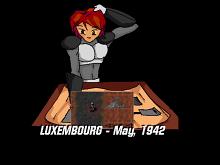 Factor X 2001
Factor X is a fun free-for-all top-down fragfest that is inspired by Virtually Real's cult classic Destruction Carnival. As the official site proclaims, the game is "...a massive compilation of a 23 level story mode with 4 bosses and 3 bonus levels, an arcade mode where you compete for highscores...
---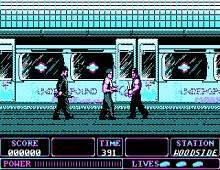 Fallen Angel 1989
Fallen Angel is a side scrolling fighting game similar to Double Dragon. You play the fallen angel, sent on a mission to locate the leader of a drug distribution network. Beginning in the London underground, each level will present you with two tasks to complete: find a plane ticket to...
---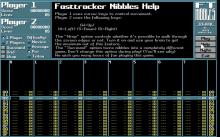 Fast Tracker 2 1994
FastTracker 2 was an early successful PC .MOD-tracking music composition utility, early competition for Future Crew's ScreamTracker but more clearly inspired by Amiga tracking software that preceded them both. When called upon to explain its success against such strong competition, some will mumble something about the mouse support, or give...
---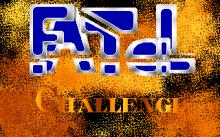 Fatal Challenge 1992
Fatal Challenge is a simple fighting game which takes place on an urban rooftop. The challengers Ken and Roc fight three rounds for seemingly a neverending number of levels. Both fighters are identical save for a grey vest and camo pants that Roc wears as opposed to Ken's skins and...
---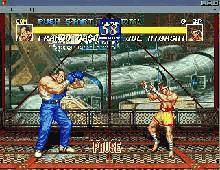 Fatal Fury 3 1996
There aren't many good fighting games for PC, in fact, I could count them with my fingers! there are only four of them (no, not Mortal Kombat). SSF2T, OMF, SS2, and finally, Fatal Fury 3. Fatal Fury offers crisp animations, great graphics, and easy-to-perform combos. The thing i really like...
---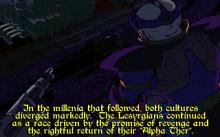 Fate (Canceled Game Beta Demo) 1996
A nice-looking game using the Build Engine (Duke Nukem 3D, Blood) for which a demo was made. Unfortunately, the full game was never completed, I guess it was "fate", but the demo is still worth a try. The beginning of the game takes place on Pymandros. You have been captured...
---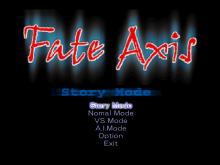 Fate Axis 2002
Powered by MatrixEngine, Fate Axis is an excellent - and free- 3D fighting game from Japan. The game sports excellent animations, 6 choosable characters, and plenty of attack moves. The graphics are excellent, although the frame rate is noticeably lower if you don't have a fast 3D card.In addition to...
---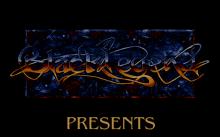 Fatman: The Caped Consumer 1994
One night, when Roy Fat was home, thugs from the evil Thindicate corporation kidnap Roy's old lady while she watches television, and the only way that Roy is going to get her back is to trade her for the Duplicator, and the complete documentation that came with it.There are seven...
---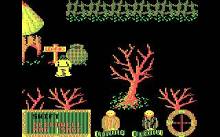 Feud 1988
Wizards Learic and Leanoric have a long-standing feud, and would do anything to see off their rival. As Learic, this is your task. Collecting herbs to cast spells is the main basis of the game. There are 24 herbs and flowers to be collected, which are used to make one...
---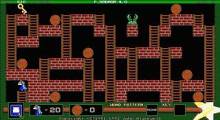 Fgodmon 1991
All the fairy godmothers are captured, and only you are left. You have to free them, by collecting all the tokens on a screen, grabbing the key and going to the exit, to the next challenge. You'll also have to survive the monsters, and for this you have only one...
---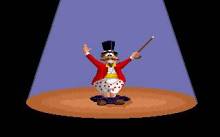 Fiendish Freddy's Big Top O'Fun 1989
In this game, you try to save your circus from Fiendish Freddy buying it out by preforming 6 circus acts which include...High Diving, Juggling, Trapeze, Knife Throw, Tightrope, and CannonballThese games are rather tricky, and watch out for Fiendish Freddy who has a fiendish trick up his sleeve every time....
---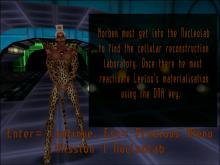 Fifth Element, The 1998
The Fifth Element is a decent first-person shooter from Kalisto, published by UBI Soft in 1998. Games Domain's review says it all about this marginally above-average game: "I'm happy to say that , a new game from Kalisto, based upon the film of the same name, is not a hastily...
---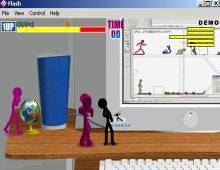 Fight Man (a.k.a. Xiao Xiao 9) 2002
Fight Man is the ninth entry in Zhu Zhi's popular Xiao Xiao series of Flash animation featuring kung fu-fighting stickmen that is fast becoming a modern cult classic. Zhu Zhi makes a game starring his characters once every few movies, and Fight Man is one of the better ones. It...
---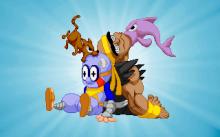 Fight'N'Jokes 1997
Fight'n Jokes tells the adventures of Jokes, a group of fighters who combat to free their planet from an evil entity.The game is a 2D beat 'em up with toon-style graphic and sound. It features ten playable characters (like Miopninja, a ninja with glasses, Arturo, a tribute to Ghosts 'N...
---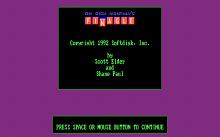 Finagle 1992
Finagle is a combination of Tetris and Poker. You Form 5 card hands by manuevering cards with the arrow keys as they fall from the top of the screen. Forming pais, three of a kind, and other poker hands will clear the cards from the playing area....
---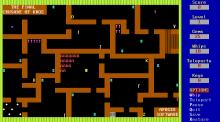 Final Crusade of Kroz, The 1990
The final part of the Super Kroz trilogy. Although the aims are the same as before (i.e. solve puzzles and kill monsters to solve levels), the ultimate aim of the Kroz series was achieved: to collect a certain amulet....
---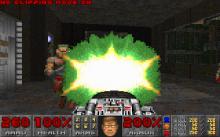 Final DOOM 1996
Final DOOM is the last ID-Tech 1 Doom game. It includes two separate 32 level episodes: TNT: Evilution and the Plutonia Experiment.Neither episode was made by ID Software themselves, but rather by two groups of individuals hired by ID; Team TNT (hence why Evilution has "TNT" in front of it...
---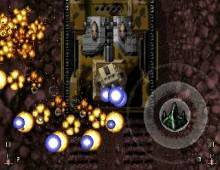 Final Impact 1998
In this game the player is the captain of the "Final Impact" squadron. As the Xarras, an alliance of hostile aliens, conquer the Core sector he accompanies the mothership and perfroms 11 important missions to defeat the Xarras.At the start of a mission the player has to choose one of...
---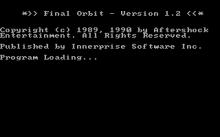 Final Orbit 1990
Final Orbit is a top-down giant robot action game. You pilot an egg-shaped robot, shooting everything in sight on each level. In the first three levels of this game, you man a walker. Once inside the main complex, however, you are stripped down to your combat armor and your basic...
---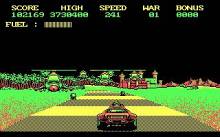 Fire & Forget 1988
Restore peace on earth and collect a high score while doing so in the first one of the Fire and Forget games by Titus. Fire and Forget is a racing game in which you have to complete courses by blowing up various enemies and avoiding obstacles on the road.The different...
---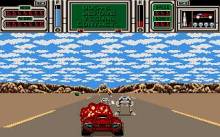 Fire & Forget 2 1990
Part two in the Fire and Forget series, best described as Crazy Cars (also by Titus) with weapons in a futuristic setting. This game combines the genres action and driving.In each of the five levels you need to blow your way to the front of the death convoy and shot...
---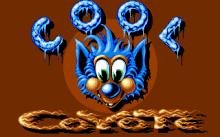 Fire & Ice 1993
The background story of Fire & Ice is quick to tell: A coyote (you) runs, throwing ice cubes, through various worlds. In the levels you must jump on platforms and kill your enemies. The enemies (for example, birds and penguins) can be shot with your ice cubes; they become frozen,...
---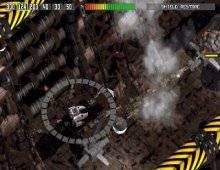 Fire Fight 1996
One of the most underrated shareware releases from Epic Megagames, Fire Fight is an excellent, very addictive isometric shoot em-up from Polish developer Chaos Works. Although the game did well enough to warrant a later retail release by Electronic Arts, it unfortunately did not do well in the market and...
---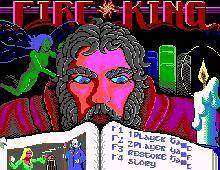 Fire King 1990
A cross between Gauntlet-style action and Ultima.The game covers a large '3D' land of forests, temples and dungeons, and a large array of monsters.The aim of the game is to solve the mystery of the Fire Kings and kill the Death Beasts! You do this by questing for magic items...
---