Amiga Games #32
Search a Classic Game: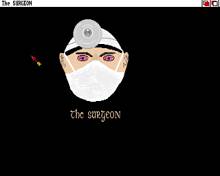 Surgeon, The 1986
Definitely not for the squeamish, Surgeon will test your skill at diagnosis and ability to use a scalpel. This is an absolutely realistic simulation where you must make quick, correct decisions to fix an aortic aneurysm. One wrong move and there's a scream followed by the demise of your patient....
---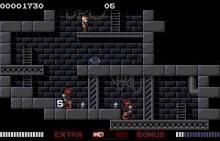 Switchblade 1989
This sequel to the classic Switchblade was drooled all over by the computer press and is still just as sexy today as it was way back then. The story goes like this. Havoc has been living up to his name and has decided to take over control of the Cyberworld....
---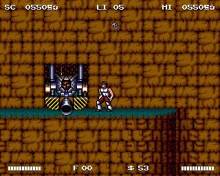 Switchblade 2 1991
Sequels to shoot-em-ups are generally to be taken with a pinch of salt. While they're often technical improvements over the original, it's a rare event when these games, upon close inspection, contain much more than some different levels and more power-ups. Switchblade 2, though, is a different matter altogether. It...
---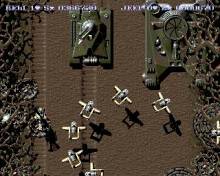 SWIV 1991
SWIV has a helicopter and jeep working together, providing cover for each other, penetrating the vastness of enemy the terrain. But it's just sheer coincidence that Silkworm involved much the same thing. And yeah, they might be programmed by the same team who brought you Silkworm, but that is, as...
---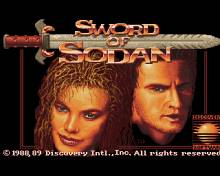 Sword of Sodan 1989
Right, now you have recovered from being amazed by the screenshots, let me tell you about the game. Soren Gronbench, Bakager Carsen, Julian Lefay and Rick Ross are the names behind it all, and as you may hare guessed by their names (and the quality of the game), Sodan was...
---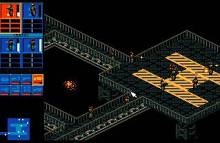 Syndicate 1993
Since Bullfrog burst on to the scene with Populous, they've gone from strength to strength building a reputation as one of the finest development houses this country has seen. With their latest game, Syndicate, they appear set to surpass all their previous achievements. Syndicate has been in development for over...
---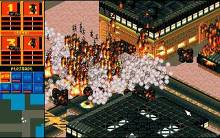 Syndicate: American Revolt 1994

---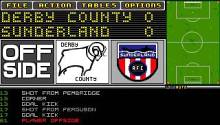 Tactical Manager 1994
With so many titles appearing every year, it amazes me that the football management simulation market is as strong as it is. This is a real fanatic's market, the punters who buy these games will, quite happily, buy every single one that comes out. Why? What's the attraction? I do...
---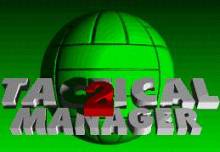 Tactical Manager 2 1995
Now don't get me wrong, because I'm as happy as the next guy to play a footy management game, but I feel I must object in no uncertain terms to the relentless barrage of the things that are being thrown in our direction. Surely there can't be any more variations...
---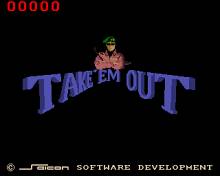 Take 'em Out 1989
Ordinary, simple game about shooting the bandits with a choosen gun. Arcade style, similar to Operation Wolf. Nothing special, downlod only if you are really bored. ...
---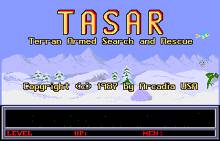 Tasar 1987

---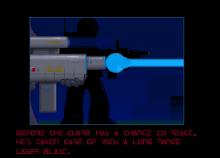 Task Force 1993
Action game, with simple graphics and sound. You have to control your team, equip them with various weapons, etc. ...
---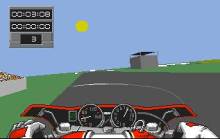 Team Suzuki 1991
Team Suzuki offers the player the chance to pit their simulated motorcycle prowess against some of the best riders in the world, racing around real tracks too. And thanks to some excellent programming and thoughtful control methods, it manages to be both easy to pick up and genuinely realistic. The game...
---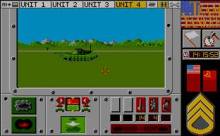 Team Yankee 1990
Based on the Harold Coyles book of the same name, the game is billed as being 'so real you can smell the smoke'. Well I don't know about that, but it is one of the best tank warfare games I have played. Taking the role of a US Army Captain...
---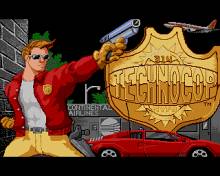 Technocop 1988
He's all human, just plain gristle, flesh an' blood like you and me, but he acts like a machine. He spends most of his time gunning down people with a machine rifle, turning them into puddles of slimy gunge right in the middle of the floor so you can't get...
---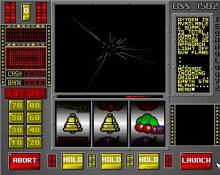 Technology 2 1994

---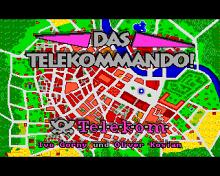 Telekommando 1992

---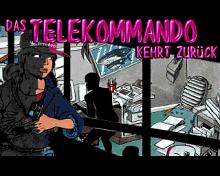 Telekommando 2 1993

---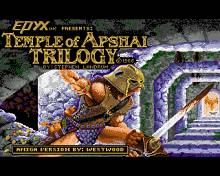 Temple of Apshai Trilogy 1986
Once there were no Amigas or Atari STs and in that bygone era was born an adventure program called The Temple of Apshai. It followed the general idea of Dungeons and Dragons, with lots of monsters to meet in battle and treasure to be found. TTA has stood the test...
---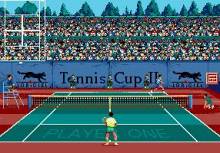 Tennis Cup 1990
Wimbledon is almost upon us, so what could bo more likely among this month's crop of software than a tennis game. Admittedly most software houses this year don't seem to be interested in sports sims unless the constituents include two teams of 11 men, a leather ball, several thousand trouble-dogged...
---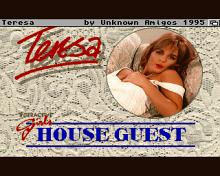 Teresa AGA 1995

---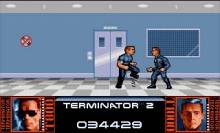 Terminator 2: Judgement Day 1991

---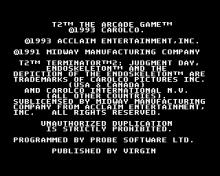 Terminator 2: The Arcade Game 1993
Nuclear fire. Three billion lives lost. A war against the machines. Well, I will go to the foot of the stairs. Lost Angeles in the year 2059 is not the happiest of all places (nor is it in 1993, apparently). The survivors of the war Judgement Day (the nuclear fire) live...
---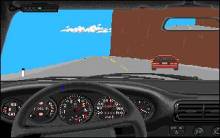 Test Drive 1988
If you usually go off to make a cup of coffee while waiting for games to load, get the kettle on well before you boot up Test Drive. You don't want to miss the loading screens on this one. Never have I encountered a program where the introductory screens made...
---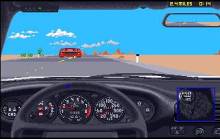 Test Drive 2: The Duel 1989
The Duel is the follow up to Test Drive, a game which aroused some of the most mixed opinions ever witnessed; "Yes, I know the scrolling's slow but look at the cars you get": "Well I think the scrolling's OK, it's the view from the car that spoils it..." Test...
---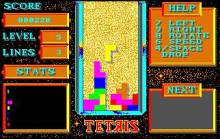 Tetris 1987
SIimple games are often the most addictive. Tetris is a 3am, just one more game, unbearably addictive product. It was devised and written for the PC by Vagim Gerasimov, a Russian computer programmer. Of course he didn't write the Amiga version - Russian's aren't allowed anything as high tech as...
---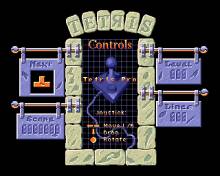 Tetris Pro 1993
I must have the world record for having played the most different versions of Tetris. Every month I get sent at least three of the things, and, to be frank, I can't fathom out why anyone would still want to produce more. It's not like anyone's come up with an...
---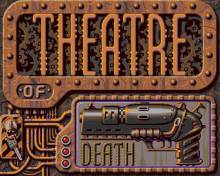 Theatre of Death 1993
Theatre of Death. Now if that's not a smart title for a game I don't know what is, it just sets the scene so well. Obviously there's going to be a sort of theatre and some sort of death taking place. And sure enough, that's precisely what happens. The basic idea...
---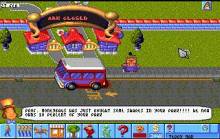 Theme Park 1994
Cards on the table. I am a complete rollercoaster groupie. I have scoured the world from Six Flags Magic Mountain in California to Sydney's Manley Park in an effort to attain the biggest high of all, the adrenalin fix of hurtling down a sheer drop on a driverless train, and...
---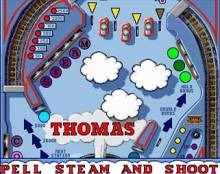 Thomas Tank Engine Pinball AGA 1995
Give kids anything to do with Thomas the Tank Engine and they'll happily play with it all day. Thomas has become the John Travolta of the toddler set. With a toot toot and a hi diddle hey. Thomas's enduring popularity with children of many different generations means that the acid...
---