Amiga Games #16
Search a Classic Game: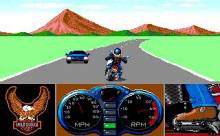 Harley Davidson 1990
Anyone involved in the world of Harley-Davidson motorcycles will undoubtedly be familiar with the biker rally in Sturgis, South Dakota. Like the Beetle owners' 'Bug Jam', the Sturgis rally is the place to be once a year for riders of these much-revered two-wheeled machines. In Mindscape's licence, you play a rider...
---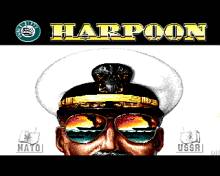 Harpoon 1991
A naval battle strategy-simulator based on Larry Bond's popular Harpoon board-game from 1980 about the cold war. ...
---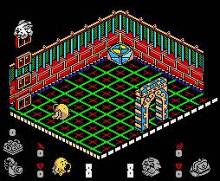 Head Over Heels 1989
We make no apologies for giving this more space than the normal budget reviews, as Ocean have set a new standard for cut-price titles. Listening to Joe Public's constant moaning about 'how the oldies are the best', Ocean have dipped into their impressive 8-bit back catalogue and have converted one...
---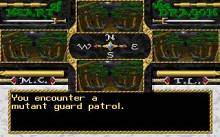 Heart of the Dragon 1990
Step into an oriental world of mysticism, magic and martial arts mania courtesy of this thump 'em up which has 192-colour arcade screens and 3-D graphics. Assuming the persona of Tommy Lee. Kung Fu expert and superstar, you have to overcome the nefarious sorcerer, Li-Kuan, which is a hard task...
---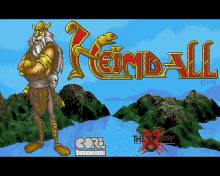 Heimdall 1 1991
The word classic is bandied around for virtually every new game that someone thinks is particularly good for its genre, and, as a result, has lost some of its meaning. Heimdall, on the other hand, has every right to claim the title, and represents a major move forward in the...
---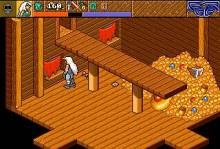 Heimdall 2 1994
Heimdall 2 is without a doubt the best of its kind. It's got just the right balance between action, adventure and puzzle solving. You won't have to plod around for long before finding a quest to solve, and there will without a doubt be puzzles in there somewhere with nasty...
---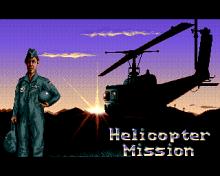 Helicopter Mission 1994

---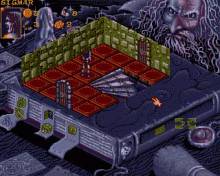 Hero Quest 1991
Of all the board game producers in the world, one is more notorious for its style, presentation and rules than any other - that company is Games Workshop. Just to underline this point, the rule book for the table-top version of Hero Quest would make any MicroProse flight simulator manual...
---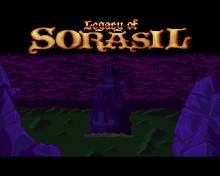 Hero Quest 2 1994
I don't know about you, but I thought Heroquest was a really good game Then again, I've always been a fan of that kind of small scale strategy adventures, going back to Laser Squad and back even further to games like Rebelstar Raiders on my ZX Spectrum. Games where you can...
---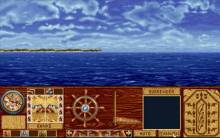 High Seas Trader 1995
Think of Elite, or indeed Frontier, but change the spacecraft to an old wooden boat and all that space to oceans' worth of salty sea water and you've got High Seas Trader. It's a trading sim, set in the 17th century (1651 to be precise), but unusually features a plot...
---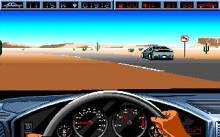 Highway Patrol 2 1989
The American Sherman tank and all its variants did sterling service for the allies during World War II, so for all those of you who've dreamt of getting to grips with one of the ugly brutes, here's your chance. It's a one player game containing three scenarios based on actual battles...
---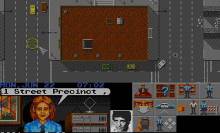 Hill Street Blues 1991
There's no doubt that TV police shows have come on a long way since the days of Dixon Of Dock Green, Z Cars and the like. Policemen are tougher and crooks are less likely to say: "you got me bang to rights copper" than: "come and get me copper, there's...
---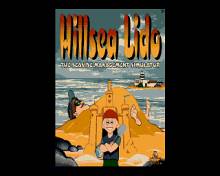 Hillsea Lido 1995
This is the ultimate seaside management game. Not that there are a lot about but this is the best. If you always fancied running a stretch of promenade, a pier and a bit of beach then this is the game for you. Personally I've never really thought about it. Running...
---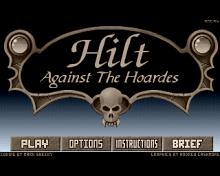 Hilt 1994

---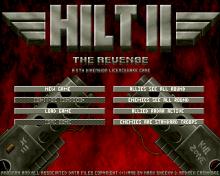 Hilt 2 1996

---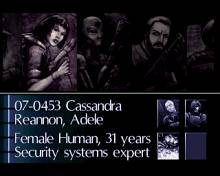 Hired Guns 1993
In our exclusive Playtest of Hired Guns, we were already full of praise for it, even though we'd only seen a few levels. And now the completely finished game has arrived it's anything but an anticlimax. Make no mistake about it, this is an instant Amiga classic... The high-tech world of...
---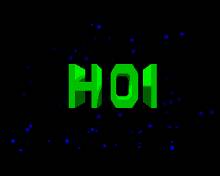 Hoi 1992
If you thought Saurs were the sort of thing you developed in your lower facial region after spit swapping sessions with an insufficiently vetted member of the opposite sex, prepare yourself for a shock. Saurs are, in fact, baby dinosaurs from a world strangely similar to our own. Unlike humans,...
---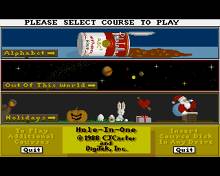 Hole in One 1988
Computer versions of Miniature Golf have appeared twice on the Amiga the first was Zany Golf by Electronic Arts, and the second game was Mini Golf by Gremlin. Although totally different in style, both games captured the basic essence of miniature golf, and added features to the courses that would...
---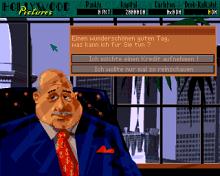 Hollywood Pictures 1995

---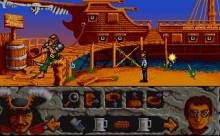 Hook 1992
This is the stuff that all adventure games should be made of. Great animation, great graphics, brilliant music, quick screen loading and a fast moving story, with plenty of puzzles. The only disappointments are that it is too short by far, and the puzzles are not really very tough. The...
---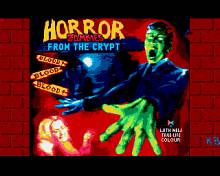 Horror Zombies From The Crypt 1990
A simple horror game, with action elements. You have to enter the gothic mansion, which is full of vampires and zombies, ghouls and you have to pass six levels. ...
---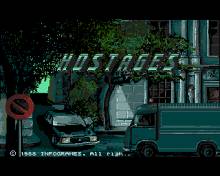 Hostages 1988
Most of the noteworthy games software for the Amiga now seems to be emanating from the continent, not the States. Obviously spending the last five years on Orics and MSX machines has stood them in good stead, now that they have proper machines to work on. In Hostages, you must free...
---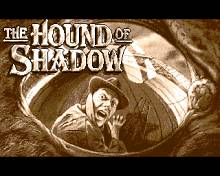 Hound of Shadow 1989
There were six people in all, seated at arms length from each other around the circular covered table. The room was dark, save for a small red lamp sat in the exact centre of the table. Stranger eyed them all, not sure of just why he was there. Was it...
---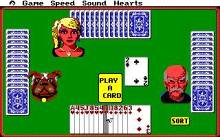 Hoyle's Book of Games 1990
Card games aren't everybody's idea of entertainment at the best of times -even less so when they don't actually feature real cards but come on a disk instead. I had certain reservations about this game before I'd even taken it out of the box. You can't blame me though. It's a...
---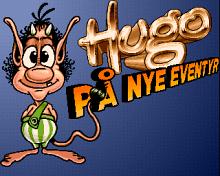 Hugo 1996

---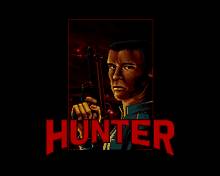 Hunter 1991
When you hear that a dictator backed by a huge army has invaded a small territory you may start to think, uh oh, they didn't take long to make a game out of that! Indeed, it does sound very similar to what a certain person did to a certain country...
---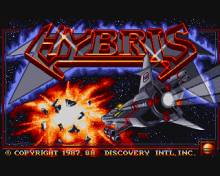 Hybris 1988
REALLY good shoot 'em ups are something of a rarity on the Amiga. Sure, there's Xenon and Zynaps and a few others, but when you consider the range of games of this type that exists for the 8 bit computers, it seems extraordinary that this situation has developed. Maybe it's...
---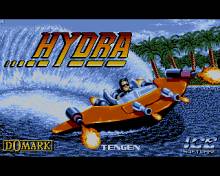 Hydra 1991
The future is bleak. We are doomed to live in a world where terrorists rule the seas and skies, killing anyone who dares to enter their domain. But there are a select few that dare to trespass on such dangerous ground. These are the group of men that courier special...
---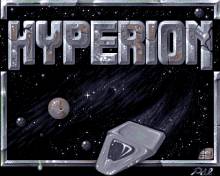 Hyperion 1993
You're the lost fighter pilot left to defend the planet against an unknown enemy. Sounds familiar? Well it is, but you're not going to get the complete works of Shakespeare, and they wouldn't be half as entertaining. You have four lives to complete 10 missions to seek and destroy enemy targets....
---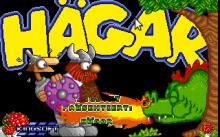 Hägar 1991

---