Amiga Games #28
Search a Classic Game: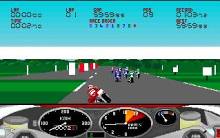 RVF Honda 1990
Microprose's new Micro Style label looks set to live up to its name with its first release RVF Honda is so good, it makes you wonder if Microprose are ever going to top it. Knowing them, they probably will quite easily. To shed just a little light on what is...
---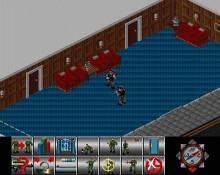 Sabre Team 1992
Commando game from 1994. Choose your team, arm them with the coolest weapons, and then go, kill the enemy. Good graphics, but a little bit complicated gameplay. ...
---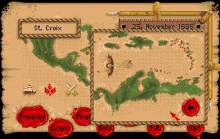 Saint Thomas 1993

---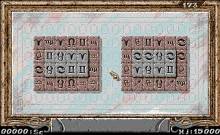 Sarakon 1990
A wise man once said: 'Beware of paving stones with mystic symbols.' Under the circumstances, I wholeheartedly agree with him. Virgin's Sarakon could become dangerously addictive for anyone who doesn't initially throw it out of the top window of their flat or office in a bout of frustration. Sarakon offers a...
---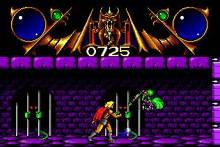 Savage 1989
They always say that true love runs deep. It would have to to get me to go down into those dark gloomy dungeons. Still, I expect that Romeo would have done it for Juliet, so what are you waiting for? Get on down there and rescue your maiden - When...
---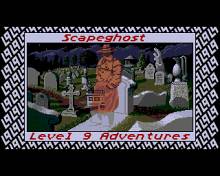 Scape Ghost 1989
It's not easy being a ghost. To start with, picking things up is extremely difficult, and even when you master the art, most everyday objects are just too heavy to lift. But it has its compensations. The company is great, for one tiling. Well, at least, the lot in my...
---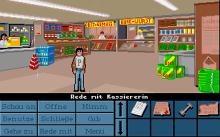 Schmutzige Erbe, Das 1993

---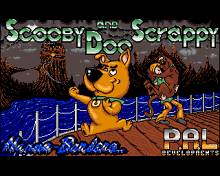 Scooby and Scrappy Doo 1991
Hi-Tec's range of Hanna-Barbera licenses haven't been anything to get worked up about before now. The average-to-OK Yogi's Great Escape was about as good as they got, with Top Cat, Ruff And Reddy, Defenders Of The Earth and Wacky Races all being a bit on the crap side. I wasn't,...
---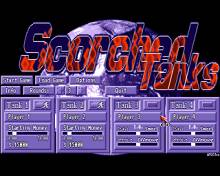 Scorched Tanks v1.90 1993
A nice classical tank shooter game. You have to choose the angle and the power of your shoot and try to blast your enemy. You can collect money and buy various shields and weapons. Very enjoyable, cool game. Especially with two players. ...
---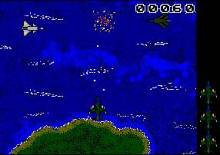 Screaming Wings 1987

---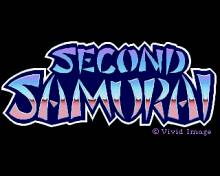 Second Samurai AGA 1993
Welcome to Gameblaster, and on the show tonight, we'll be finding out who is going to host the next series. Will it be veteran presenter Domingo Diamante, or the pretender to the crown, Flexter Deckchair? Our two contestants will be wearing oriental garments and doing battle in a fabulous new...
---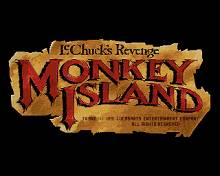 Secret of Monkey Island 2: LeChuck's Revenge AGA 1992
Young swashbuckler Guybrush Threepwood returns in this sequel to 1990's The Secret of Monkey Island. Unfortunately for him, evil ghost pirate LeChuck has returned as well. Fame and fortune seeker Threepwood sets his sights on the mysterious treasure of Big Whoop, which is rumored to have special powers -- powers...
---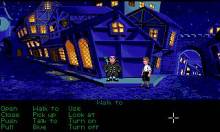 Secret of Monkey Island, The 1991
Help a scrawny lad named Guybrush Threepwood realize his lifelong dream of becoming a swashbuckling pirate in this tongue-in-cheek adventure from LucasArts. Starting in a place called Melee Island, young Threepwood must complete three trials before he can become a booty-seeking buccaneer: mastering the sword, mastering the art of thievery,...
---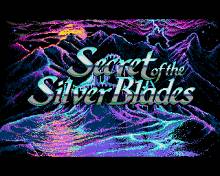 Secret of the Silver Blades 1991
The third entry in SSI's Advanced Dungeons & Dragons computer role-playing series continues the Forgotten Realms adventuring that began with Pool of Radiance. Transfer characters from the second game, Curse of the Azure Bonds, or create your own party of six heroes to conquer a new threat. Miners from the...
---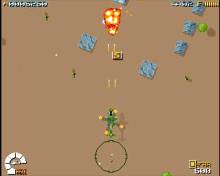 Seek & Destroy 1993
The helicopter has been something of a tour de force in 1993, what with the brilliant Desert Strike, the fantastic Gunship 2000, and the slightly less impressive Firehawk. Noel Edmonds has still got his, I think; and Leonardo Da Vinci almost invented it. And Guns 'n' Roses go to concerts...
---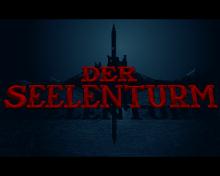 Seelenturm, Der 1995

---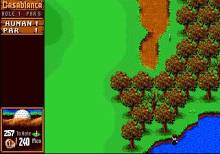 Sensible Golf 1995
Sensible Golf was always going to be a different kind of product, steering well clear of the traditional behind-the-golfer view, as used in every other successful golf game, and using instead the celebrated Sensible sprites. Early screenshots looked promising. The familiar little men, superbly drawn as ever and, trussed up...
---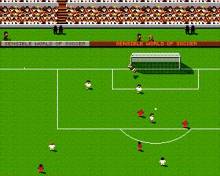 Sensible World of Soccer 1994
Disappointment. Not a word you'd expect to find in a review of one of the finest games ever created, but that was my initial impression on playing the original Sensible Soccer way back in 1992. The sound, and in particular the graphics, were basic even for over two years ago....
---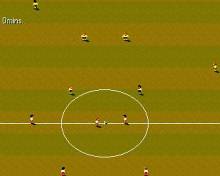 Sensible World of Soccer 95-96 1995
It's back. Not that it's ever been away. This time round, though, it's not bigger, 'badder' and better than before. It is, however, almost the same price as of old for minimal improvements. So, onward to the differences from SWOS 95. The first and most obvious change is the updated...
---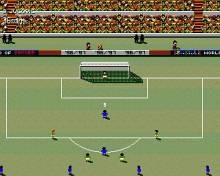 Sensible World of Soccer 96-97 1996
Oh, but this feels good! It's been too long since I wandered up to my Amiga room like some sad-but-happy old bloke trundling down to his allotment shed. It really is the only way to be, lock away the harsh realities of telephone bills and responsibilities, load up ye good...
---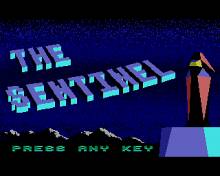 Sentinel 1988
Towards the end of 1986 that rarest of rarities, an original game, was released by Firebird. Called Sentinel, it was the latest masterpiece by Geoff Crammond, who earlier had proved that the BBC Micro could support top class software with such efforts as Aviator and later the excellent Revs, still...
---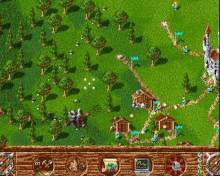 Settlers, The 1993
Ok, here is a puzzle for you to ponder on. What is the connection between a loaf of bread, a pig, and a lump of coal? Or have you heard the one about a load of old granite, a knight and a forest ranger? To complete the mix, how about...
---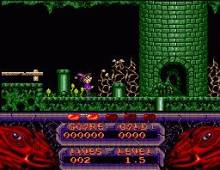 Seven Gates Of Jambala, The 1990
Everyone must know the story of the Sorcerer's Apprentice, of how the young student always caused trouble with his meddling. Dravion is a student similar to the one in the story. All he's ever wanted to be is a fully-fledged wizard, but he always manages to do something wrong and...
---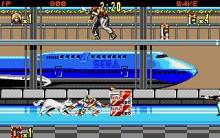 Shadow Dancer 1991
The original Shinobi coin-op introduced in the arcades several years ago was a sure-fire hit. That's not surprising really as it was an excellent blend of three popular game types: Shoot'em up, beat'em up and platform action. Predictably, the home computer conversion followed soon after but unfortunately, was a big...
---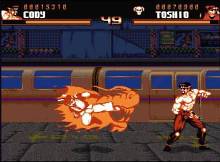 Shadow Fighter 1994
It's really heating up down here in the battle of the beat 'em ups. The best looking contender 'Pretty Boy' Rise Of The Robots was knocked out in the first round with duff playability, but the remaining two combatants, the son of last years' champion Mortal 'No Hype ... honestly'...
---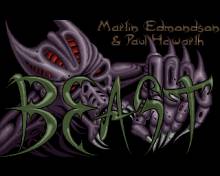 Shadow of the Beast 1 1989
Not content with the market they reside in, Psygnosis have decided to rock the packaging and marketing boats once more with the release of their most stunning product ever. Beast, or to give it it's full title, Shadow Of The Beast is packaged not only in an extraordinarily large box...
---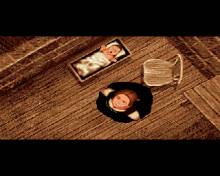 Shadow of the Beast 2 1990
In the strange and distant land of Kara-Moon, the lightning of a fierce storm crackles around a tall, forbidding tower. Within the tower, Zelek the Beast Mage is reflecting on his position. After Zelek's defeat by the warrior messenger, Maletoth the Beast Lord expressed bitter disappointment and ordered Zeleth to...
---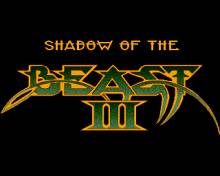 Shadow of the Beast 3 1992
Maybe you have heard about this title. One of the biggest in the game history. Adventure/Action stuff, with a little horroristic atmosphere. Using the AGA chip's capabilities. ...
---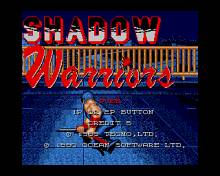 Shadow Warriors 1990
Our ninja hero has to fight masked men, thugs with clubs, sumo wrestlers, and (gasp) cross a busy road, to defeat the Oriental demon and his army of ghoulish assassins - yes it's walking along hitting people time again. Mind you, the superior graphics, animation and movement systems make this a...
---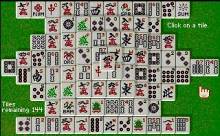 Shanghai 1986

---