Amiga Games #23
Search a Classic Game: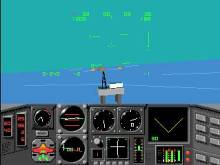 MIG-29 Fulcrum 1991
When Domark decided to go up, up and away, it opted to side with the Russians. With MicroProse fighting for Uncle Sam, with the likes of Ocean and EA at their side, the Putney boys plumped for Soviet MiG 29s - and it wasn't a bad choice. Most flight sims...
---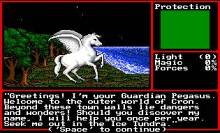 Might & Magic 2 1990
Fantasy - the stuff dreams are made of. Another computer swords and sorcery role-playing game hits the Amiga scene. The world of CRON (yes. CRON) is now all of 900 years old. For the first few centuries, elemental beings of pure force warred over it. The earth elemental managed to...
---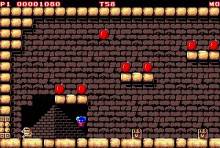 Mighty Bombjack 1990

---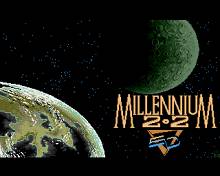 Millennium 2.2 1989
This is a game that Activision are not quite sure how to categorise. The fact that it is not easily fitted into a convenient commercial slot is in itself a welcome sign that this is a game completely out of the ordinary. An asteroid has collided with earth, and the catastrophic...
---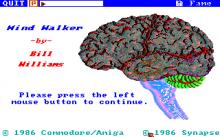 Mind Walker 1986

---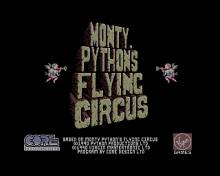 Monty Python's Flying Circus 1991
SOME PEOPLE would say that trying to produce a computer game based on a cult TV show is asking for trouble. When that show is Monty Python, it's more like asking for a dead parrot to bo stuffed in your ear. Despite this rather unwholesome possibility. Monty Python is indeed...
---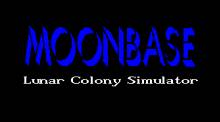 Moonbase 1991

---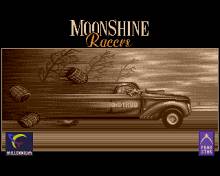 Moonshine Racers 1991
IKE AND BILLY-JOE are just two ordinary boys making a living for themselves by transporting home-stilled whisky across State lines for the local bar boss, Old Man Tucker. Things aren't all finger lickin' good though, Sheriff Fat Sam has taken it upon himself to stop this illegal traffic - whatever the...
---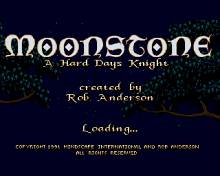 Moonstone: A Hard Days Knight 1991
Lightning flashed across the night sky, illuminating the twisted face of the head Druid as he uttered the last words of the spell. He glanced around at the circle of standing stones and as the full moon appeared between the two central silicon pillars he thrust his sacrificial knife downwards....
---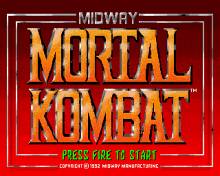 Mortal Kombat 1993
If you read my preview a couple of issues ago or even had only half an eye on the media over the past couple of months you can't have helped but notice that Mortal Kombat means big business. From its humble beginnings as an arcade machine through inadvertent promotion by...
---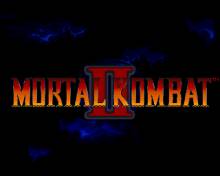 Mortal Kombat 2 1994
Let's face it, lovely though the Amiga may be, it's the consoles that steal all the limelight when it comes to games. When was the last time the tabloids printed a picture of a trusty A1200 with the caption "Ban this instrument of Satan now"? Well now all the joys...
---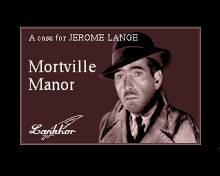 Mortville Manor 1988
And so you find yourself in the mountains, the snow covered manor in front of you gleaming in the morning sun. As you approach, a wolf howls, sending a shiver down your spine, and the bell on the chapel tolls, almost as if in warning. Entering the great building, you...
---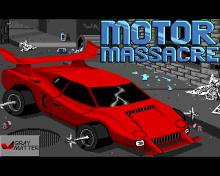 Motor Massacre 1988
The holocaust has come, laying waste to vast tracts of once beautiful countryside. Out of the devastation emerges a breed of survivors, barbaric in their thirst for power and dominance. To survive even a day is hell. You must compete in the most horrifying carnival of motor destruction ever conceived....
---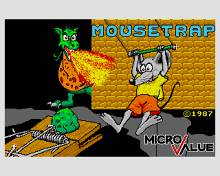 Mousetrap 1987
This is better. Mouse Trap has been around for donkey's years since it's original release by MicroValue (back in 1987, to be exact), and it remains now what It was then, a fun little game. It's a platform game very much in the tradition of Manic Miner, and it's simple...
---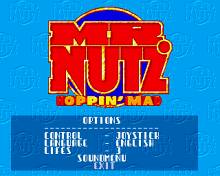 Mr. Nutz 1994
Ocean have been very quiet recently as far as the Amiga is concerned. Even though they hold in their hands two of the most awaited Amiga games to date (Inferno and TFX), for quite a while now we've had little cause to chase the cheeky Mancunans for review software. So...
---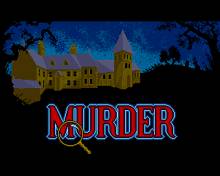 Murder 1990
A scream pierces the night air, penetrating every room of Ghastley Manor. The maid has discovered something rather chilling on the dining room floor, the crumpled (i.e. dead) body of Sir Stuart Wynne. Was it just an accident or suicide? Well not unless he battered himself to death and hid...
---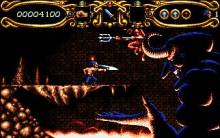 Myth 1992
For those of you who have upgraded to an Amiga from a C64 within the last two years, you will not fail to remember System 3's masterpiece, Myth. Although the game was also released on the Spectrum, much of the acclaim came from the C64 which set the standard of...
---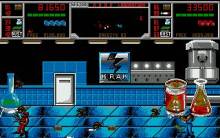 Narc 1990
As the battle for the Christmas number one slot reaches its climax (as we write), here's another contender from the Ocean stable. It's Narc, the conversion of the Taito coin-op, coded by the Sales Curve team (of Silkworm and SWIV fame). A Narc, as any school boy will inform you,...
---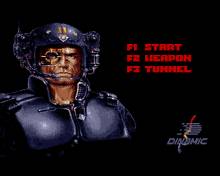 Narco Police 1990
Robocop meets James Bond in this horizontal/into the screen shoot 'em up. Drug barons are holed up in an island headquarters and you must lead three squads of Narcotics Police (Narcos to their chums) in an attempt to flush them out and then flush them away. Since the drug dealers...
---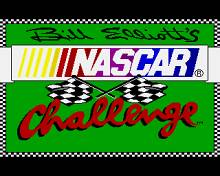 Nascar Challenge 1991
Ever eager to try and be a bit educational as well as witty, perceptive and generally rather fab (and even more eager to use up space). Amiga Action is very proud to begin this review by explaining just who Mr Elliott is, and why Nascar is so different to any...
---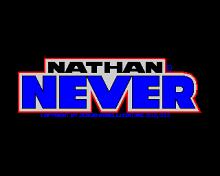 Nathan Never 1993
An avarage platform / adventure game. I don't like the movment and the scroll. The levels are a little bit empty, but the ingame screens, pictures looks cool (screenshot). Nothing special about that game, but if You need it, here it comes... ...
---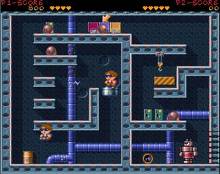 Naughty Ones AGA 1994
On the back of the box, it says 'One of the most spectacular platformers of all time'. What a load of old tosh. I mean, take a look - does the word 'spectacular' leap even anywhere near your mind7 No, it doesn't. Why do people write rubbish like this? Your...
---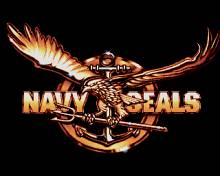 Navy Seals 1991
For the uninitiated among you. Navy Seals is the title of an all-action war film starring hunky, chunky ex-Brat-Packer, Charlie Sheen, and veteran of the Aliens battle on Acheron. Michael Biehn. Together with the likes of another of Aliens' Colonial Marines, Bill Paxton, they form part of a crack group...
---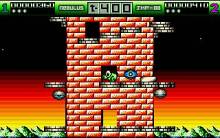 Nebulus 1988
Recently, Hewson have been assaulting the Amiga market with some great releases such as Zynaps and Cybernoid. This trend now continues with the release of Nebulus. When I first saw Nebulus it was on the Spectrum, and at the time I didn't thinks too much of it. But now after...
---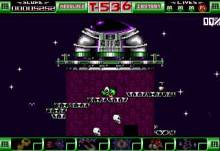 Nebulus 2 1991
The music was loud in the intergalactic bar, almost too loud to hear yourself think. But this suited the people who hung out at this seedy joint. Each of them could tell you a story, and all of them thought that they'd had the hardest time in life. Now they...
---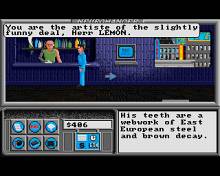 Neuromancer 1990
Rather than take the easy option of a straight translation of William Gibson's novel, Brian Fargo and his associates at Interplay have created a whole new scenario based on the cyberpunk plug in, tune out world of electronic mind hacking. Containing many of the features predicted by Gibson, Neuromancer is...
---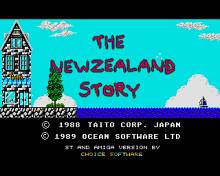 New Zealand Story 1989
The Japanese have some wacky ideas when it comes to coin-ops: take Bubble Bobble, the tale of two bubble-blowing brontosauruses that went down a storm in the arcades and converted very successfully to the computer. Another very wacky idea is to have a little yellow Kiwi, complete with white and...
---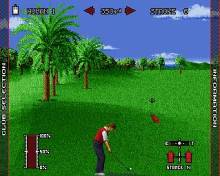 Nick Faldo Championship Golf 1993
Nick Faldo MBE is currently the Number One golfer on the Sony World Rankings, and has again won the European Order of Merit. Since this 36 year old Englishman turned pro in 1976, he's won the French Open three times, the Spanish, Scandinavian and European Opens once each, the US...
---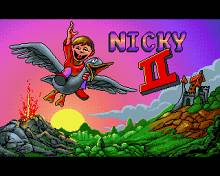 Nicky 2 1993
This one's got a bit of a strange story. After rescuing his grandfather in Nicky Boom, the sequel finds Nicky, with his magic goose, trying to rid the forest of the evil witch who has also taken all of Nicky's toys and scattered them everywhere. I suppose that's one excuse...
---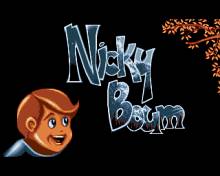 Nicky Boum 1992
Nicky Boom. That cannot be his real name. I think it must have something to do with his penchant for all things explosive. Quite why he spits apple cores and other assorted fruits is beyond me. Perhaps it is a funny French joke. No. You do not want to know the...
---