Sports Games #10
Search a Classic Game: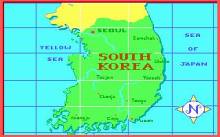 Games: Summer Edition, The 1988
You start as a member of the 1988 U.S. Olympic Team to compete at the Olympic Summer Games. You can play eight events, including Velodrome Sprint Cycling, Hurdles, Pole Vault, Hammer-throw, Uneven Parallel Bars, Rings, Archery, and Springboard Diving. You can practice each event separately or play the whole competition. The game...
---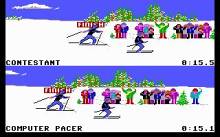 Games: Winter Edition, The 1988
Once again Epyx invites players to compete in winter Olympics. This time there are 8 events which can be played, which are: Figure Skating, Cross Country Skiing, Speed Skating, Ski Jumping, Slalom, Downhill Skiing and Luge. Up to 8 players can either play the complete Olympics, compete in one or...
---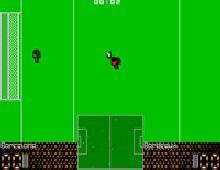 Gazza 2 1991
This edition of the second game licensed around England footballer Paul Gascoigne combines arcade action and management. A four-division Super League of top European clubs is featured, with the potential for multiple managers to play. You can buy, scout for and sell players, and set up individual tactical systems. The in-game...
---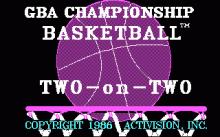 GBA Championship Basketball 1986
GBA Championship Basketball can be played as One or Two Player vs. the Computer or Two Player with Computer Teammates and includes Practice Play. Draft your Teammates from a list of ten players whose styles are patterned after real professional superstars. Practice with games like "Around the world" and "Horse",...
---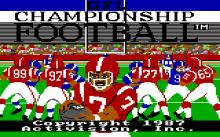 GBA Championship Football 1987
This must be one of the earliest team sport games to use a first-person view - the packaging mocks the Xs and Os used to represent players in contemporary Gridiron games. What you see is what the player sees - control and viewpoint passes from the kicker to the receiver...
---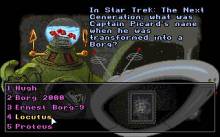 Geekwad Games of The Galaxy 1993
In Geekwad: Games of the Galaxy the player takes control of the Geekwad Gamer, the best gamer in the universe. To win the game one has to free a king by getting the high score at five video games and trivia. All the games are parodies of classic arcade games...
---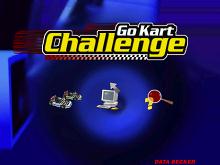 Go Kart Challenge 1999
Go Kart Challenge is a decent go-kart racing game from Data Becker. The game features a good range of options: three levels of difficulty (Hobby, Amateur, and Pro), three types of drivers (essentially different body weights), 4 original kart models with 8 paint jobs, support for up to 8 players...
---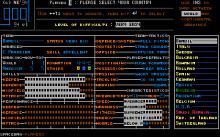 Goal 94 1994
Goal 94, the game of International soccer management, includes the new rule changes introduced in World Cup 94, along with the addition of several new features to the game: The updated team squads now allow player ages, goals, caps and skills to be changed by the user. Also, a printed...
---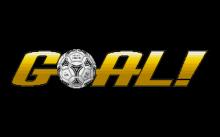 Goal! 1993
Goal! takes the basic gameplay of Dino Dini's previous Kick Off games, but updates most features in some way. Teams from various European countries are included, and you can customise these by moving players around, and changing the starting lineups and formations. An Arcade Challenge mode sees you play matches...
---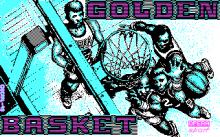 Golden Basket 1990
"Golden Basket" is a basketball simulator with many difficulty levels (including the usual NBA) and also the typical options like redefining the keyboard, possibility of playing against the computer or a friend, choosing the length of every match and even a demo mode to see how the game works. Also,...
---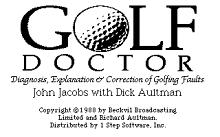 Golf Doctor 1988
Golf Doctor is a neat - and highly obscure - program that was essentially the DOS conversion of John Jacobs' best-selling book of the same name. The book has long been recognized as one of the best golf books ever written. The official blurb: "From tee to green, learn how...
---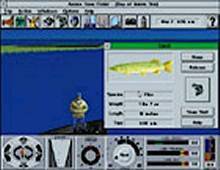 Gone Fishin' 1994
In this fishing simulator you are an angler with some luck, who travels to a river for fishing. Arriving to the docks you buy an equipment for fishing and listen to the tips given by Bill Saiff, himself. On the walls of Saiff's house lies the angler's greatest trophies for...
---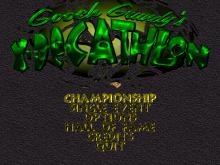 Gooch Grundy's X-Decathlon 1997
Adrenaline Vault's critical review says it all about this missed opportunity that could have been so much more: "Gooch Grundy's X-Decathlon takes the whole olympic theme and turns it on its ear. [You compete] in ten wacky events like Hippo Push, Crazy Climbing, Nice Doggy Jump, and Full-Contact Figure Skating,...
---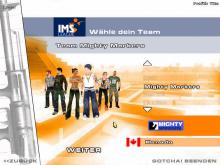 Gotcha! Extreme Paintball 2004
Players who can't afford the cost of pelting their friends with paint every weekend now have an alternative outlet in Gotcha! Extreme Paintball. Offline, single gamers choose from 28 global teams and then work their way through the tournament to win the championship. By connecting to the Internet, players can...
---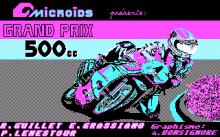 Grand Prix 500 cc 1987
Grand Prix 500 cc is a motorbike simulator viewed from behind your bike. It lets you ride on 12 circuits all around the world. You can play either alone or against a friend (with an unusual vertically-split screen), and in addition to the championship mode (9 laps with 6 competitors)...
---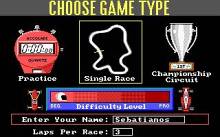 Grand Prix Circuit 1988
Formula One racing is recreated in detail in this simulation. You have the choice to drive a Ferrari 187/88C, a McLaren MP4/4 or a Williams FW12, each with different qualities. Rival drivers also have their own styles and strengths, and to win the World Championship you will have to master...
---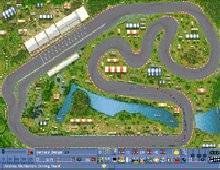 Grand Prix Manager 1995
Grand Prix Manager (GPM) is an excellent Formula One management simulation for Windows, one of the first commercial ones of its kind. GPM is not an F-1 driving game. Rather, it's an F-1 *management* game. You don't do the driving - you get other people to do it for you. What...
---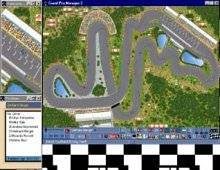 Grand Prix Manager 2 1996
Grand Prix Manager 2 was made in 1996, by a company called MicroProse, the same guys that made the series Grand Prix. I have to say, since the game came out until today, about 10 years later, I still play this game. Why? Because I love it. The game is...
---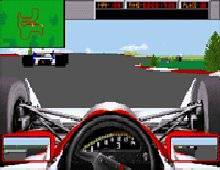 Grand Prix Unlimited 1992
Road & Track Presents Grand Prix Unlimited lets you cruise the twisting curves and high speed straightaways of 16 authentic Grand Prix courses using five different Formula One cars. Race for the winning teams of Williams-Renault, McLaren-Honda, Ferrari, Tyrrell and Benetton-Ford in Practice, Single Race or World Championship modes. Five...
---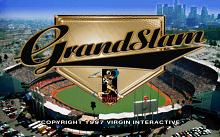 Grand Slam (a.k.a. Show, The) 1997
Grand Slam is a disappointingly average baseball game that promised much more than it delivers. Baseball guru Tasos Kaiafas of GameSpot says it all in his scathing but fair review: "A couple of years ago, Grand Slam started out as a baseball game with a lot of potential, but somewhere...
---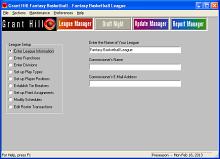 Grant Hill Fantasy Basketball 1997

---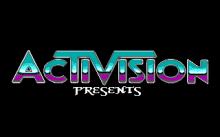 Grave Yardage 1989
Fantasy Football where monsters pummel each other and dodge landmines to make touchdowns! ...
---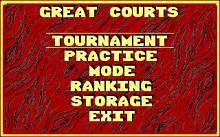 Great Courts 1991
The game Great Courts 1 was one of the first tennis games made for PC. It was created in the year 1989 by the company named Ubi Soft. This game was at first made for Amiga, but after its incredible success it was released for the PC too. Like the...
---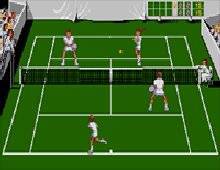 Great Courts 2 1991
Great Courts 2 is the sequel to Great Courts. This tennis simulation has some nice features. First you create your player. You can distribute some character points (for example: speed, forehand, backhand, etc.) like a role-playing game. These skills will raise after a few winning matches. Then you must select...
---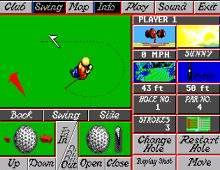 Greg Norman's Shark Attack! (Greg Norman's Ultimate Golf) 1989
Greg Norman's Shark Attack! drives majestically down the fairway in terms of options but manages only a wicked out-of-bounds slice when it comes to game play and results. The first clue that there is something wrong here occurs immediately upon opening the box. Seems the designers and the publisher couldn't...
---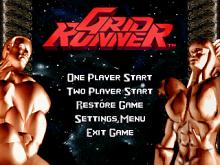 Grid Runner (a.k.a. Grid Run) 1996
Grid Runner (released as Grid Run in Europe) is a fun futuristic sport game that was much more successful on console systems. You play Axxel, a space investigator sent on a mission with your partner Tara to an asteroid field to find out why ships have been mysteriously disappearing. While...
---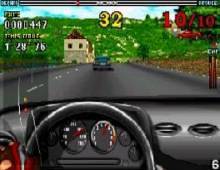 GT Racing '97 1997
GT style racing features in this racer, which tends more towards arcade than simulation. Cars include the Predator and the Hurricane, each with their own strengths and weaknesses. The action can be viewed from inside or outside the car. When starting the game for the first time you can take part...
---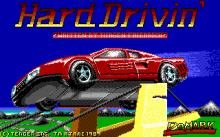 Hard Drivin' 1990
Hard Drivin' is a 3D arcade hit from Atari Games. You are in control of a high-performance sports car. Your objective is to race around the course as fast as possible and hit as many checkpoints as possible. If you hit a checkpoint you gain extra time to go farther....
---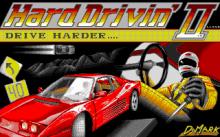 Hard Drivin' II 1990
Hard Drivin' II is the sequel to Hard Drivin' which featured bold 3D polygon graphics and a chaotic feeling of speed. Many of the bugs in the original, such as cars appearing through the hills, are gone in this game. The frame rate of the game increases slightly, with the controls...
---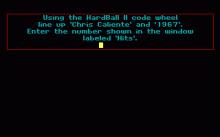 Hardball II 1989
Accolade's anticipated follow-up to 1987's top-selling computer baseball game features more teams, options, and features. Instead of the first title's modest selection of two teams, HardBall II offers a choice of ten fictitious clubs as well as a team editor for a custom league. Seven stadiums are included for a...
---