Sports Games #14
Search a Classic Game: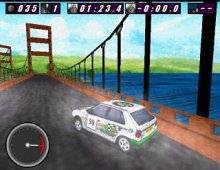 International Rally Championship 1997
International Rally Championship features nine licensed rally cars for play on more than 30 tracks. Travel the world for day and night races across snow, mud, sand, and ice. Battle up to 20 rivals per track while viewing the action from either a chase or dashboard perspective. Your car will...
---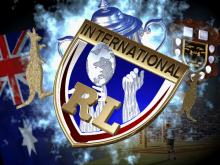 International Rugby League 1996
A rugby league game (rugby league is a sport is a ball sport similar to rugby union, but features set tackles rather than rucks and mauls - once a player is successfully tackled he plays the ball back to a team-mate behind him, with the team losing possession if tackled...
---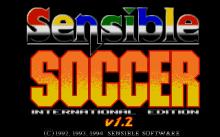 International Sensible Soccer 1994
Released alongside the 1994 World Cup, this was the first version of Sensible Soccer to feature teams from outside Europe. The World Cup tournament is featured in full, and you can adjust which 24 teams this features, a particularly crucial feature for English and French fans, as their nations failed...
---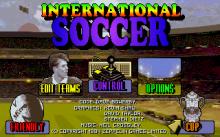 International Soccer 1994
Released to coincide with the 1994 World Cup, this one has an overhead view similar to Sensible Soccer. Real teams are provided at both club and national level - although, contrary to what the packaging claimed, the player names are invented. The players vary in speed, and in which skills...
---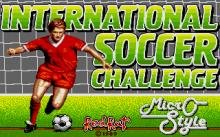 International Soccer Challenge 1990
International Soccer Challenge is loosely a sequel to MicroProse Soccer and it has many similarities to the original, including the way the ball sticks to your player's foot. The major difference is the visual perspective, which is in pure 3D, viewed just behind the ball as you move up the...
---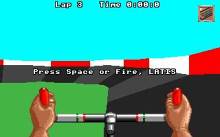 International Sports Challenge 1992
International Sports Challenge let you and up to 3 friends compete in 6 different sports and 21 separate events. You can choose from any mixture of individual events (over 2000 combinations) or play them in sequence with the 26-mile marathon. Sports available are: - Marathon, - Diving: one- and two-meter springboard,...
---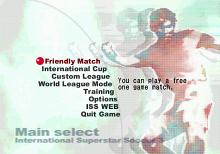 International Superstar Soccer 3 2003
By the turn of the millenia, the ISS franchise was split into two games: Pro Evolution/Winning Eleven and ISS/Jikkyou. While the first are native to the PSX formats, featuring a almost perfect and acclaimed gameplay, ISS carried the gameplay and options from the N64 versions (64, 98 and 2000), with...
---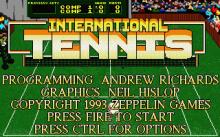 International Tennis 1993
International Tennis lets up to four players play tennis on three different courts (grass, clay and asphalt), each with their own ball bounce. The game can be played using different match variations. You can play singles with men (five sets) or women (three sets) or play mixed with both in...
---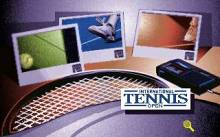 International Tennis Open 1994
More of a simulation than an action game, with a multimedia showcase (the game's got thousands of mini-videos, voiceovers, etc.). You select one of 9 nations to represent and get to play singles against a variety of opponents (no doubles play) in either practice mode, quick match, or tournament. Practice...
---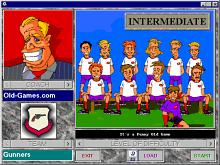 It's a Funny Old Game 1996
In this humorous soccer sim, your players are displayed as "cartoon like figures". Like many sports sims you can draft and trade players, control formations, and finances. ...
---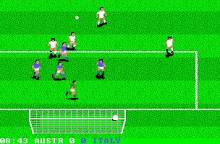 Italy '90 1990
Surely not the best soccer-game ever made. But I just tested it and after getting used to the controls (you can define them yourself, but you cannot use the arrow-keys) I really enjoyed it. I don't think I'll have to tell you what soccer is about? But then again, there...
---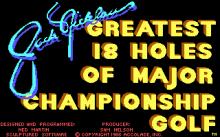 Jack Nicklaus 1988
Jack Nicklaus' Greatest 18 Holes of Major Championship Golf is a 3D golf simulation featuring an 18 Hole course created by Jack Nicklaus himself. Each of the 18 holes are from famous courses around the world and include number 8 at Pebble Beach, number 18 from Muirfield, number 12 from...
---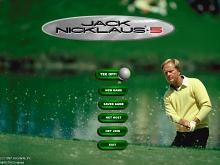 Jack Nicklaus 5 1997
When Accolade released Jack Nicklaus 5 in 1997 it happened without much prior notice and some surprise - afterall, it hadn't even been a year since Jack Nicklaus 4 had hit the shelves and announced Accolade's intentions to rejoin the world of viable golf computer simulations. As welcome as JN4 was...
---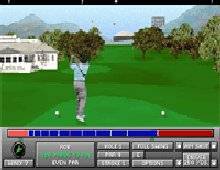 Jack Nicklaus Signature Edition 1992
Signature Edition is an improved version of Jack Nicklaus Unlimited Golf and Course Design. The game and course design interface are fairly similar so there is no learning curve if you've played the first, but now the graphics and sound are greatly improved. The Signature Edition could also play courses...
---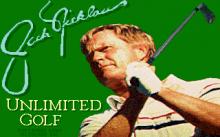 Jack Nicklaus' Unlimited Golf 1990
Another golf game, featuring an extensive course designer as a value-added feature. Similar to Links or PGA Tour Golf, both of which came out around the same time. ...
---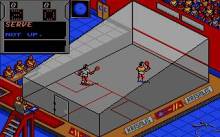 Jahanghir Khan's Squash 1991
Squash simulations are something of a rarity, and it was this niché that Krisalis aimed one of their many sports simulations into. The rules of squash are accurately recreated, with a realistic court layout (viewed isometrically) and a need to hit legal shots. Three different ball speeds, variable match lengths...
---
Jai Alai 1991
"Jai Alai" is a game based on the Basque handball (or Basque "pelota"), a sport original from the Basque country which is very popular in the whole Spain, but also to a lesser extent in some regions of the United States since the early XX century, the times of the...
---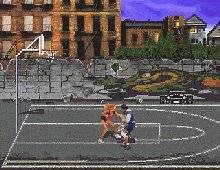 Jammit 1994
Jammit is a funky, irreverent one-on-one street basketball game. You can play one of three trash-talkin' players in an eight-round tournament, or you can challenge a friend. In the one-player mode, surviving the eight rounds of play gives you the honor of playing the court king, Judge, in a do...
---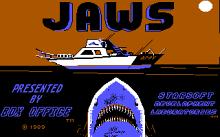 Jaws 1989
Jaws is an ambitious shark hunting simulation based on the Steven Spielburg blockbuster movie of the same name. In contrast to most fishing games, the goal in Jaws is very narrow: hunt for big sharks to earn money, so that you can better equipment to-- hunt for more sharks in...
---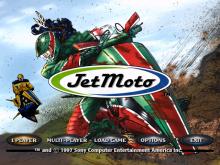 JetMoto 1997
JetMoto is a good PC conversion of a Playstation futuriastic bike racing game of the same name, developed by now-defunct SingleTrac for Sony Interactive. Despite the futuristic setting, the game boasts "true physics" model, and by and large this is apparent. The jetmotos handle much like bikes in the real...
---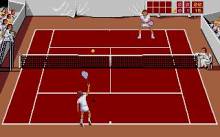 Jimmy Connors Pro Tennis Tour 1991
Jimmy Conners Pro Tennis Tour attempts to be all things to all people interested in a simulation of tennis. On many levels it succeeds admirably but more often than not it falls short of it's lofty goals. The most glaring and unfortunately the most important flaw in the game is...
---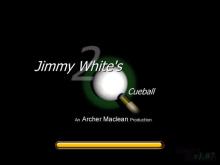 Jimmy White's 2: Cueball 1998
Snooker and pool games suffer from one major and obvious flaw: why pay tens of dollars for a computer simulation when you can play the real thing in a local bar for a dollar or so? Luckily, Jimmy White's 2: Cueball doesn't suffer from this limitation as the game is actually...
---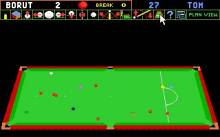 Jimmy White's Whirlwind Snooker 1991
A 3D snooker simulator. The table and cue can be turned through almost any angle, with shot strength and spin as required too. An on-screen dotted white line shows the path of your ball, including the next bounce. There is also a "trick-shot" mode, allowing you to recreate classic snooker trick...
---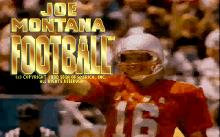 Joe Montana Football 1990
The license in this game is for famous player Joe Montana, but not for the NFL itself, so the teams represent cities rather than real-world teams, and the roster of players is fictional, although they can be fully edited. All the major rules of major league football are intact. The action...
---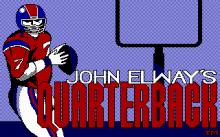 John Elway's Quarterback 1988
In John Elway's Quarterback, it's one player vs. the computer or two human players going head-to-head in single-game American football action. Select your team's home city (there is no NFL or NFLPA license, so there are no real teams or players) and then battle the opposing team for four 15-minute...
---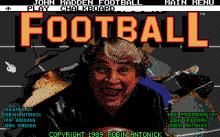 John Madden Football (a.k.a. John Madden American Football) 1989
Old american football simulation co-designed by famous sportscaster John Madden. The first game in EA's long-running Madden series. Different versions of this game have been available on almost every platform - with the Mega Drive version being the most famous of them all. The game concentrates more on tactics than...
---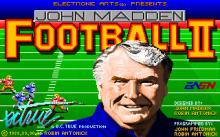 John Madden Football II 1991
Follow-up to John Madden Football, JMF II improves upon the classic with decent VGA graphics, ADLIB music, and overall much nicer presentation. Quite an in-depth sports sim for its time, although nowhere near as deep as Front Page Sports: Football years later. Still, a decent-sized playbook, competent AI, and fluid...
---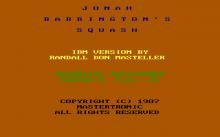 Jonah Barrington's Squash 1988
I'd always thought that squash was a silly game played by overweight and middle-aged executive types to burn off the worst effects of their business lunches. The obvious reason for playing it inside a big indoor 'box' is to stop the rest of us from seeing them at it and...
---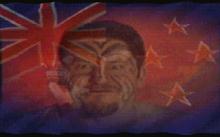 Jonah Lomu Rugby 1998
Based on the 1995 Rugby World Cup in South Africa and officially licenced by player of the tournament Jonah Lomu, this game plays as more of an arcade style of gameplay rather than a sports simulation. Players can compete in the full World Cup, a round-robin league, or a knock-out...
---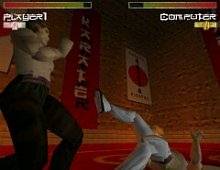 Karate Fighter 2000
Given the popularity of one-on-one fighting games, it is disappointing that PC games based on actual rules of oriental fighting sports such as karate or judo are few and far between. Since the days of EA's excellent Budokan and Epyx's World Championship Karate, there have been far more "unrealistic" fighting...
---