Sports Games #11
Search a Classic Game: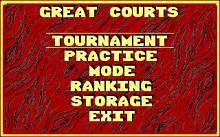 Great Courts 1991
The game Great Courts 1 was one of the first tennis games made for PC. It was created in the year 1989 by the company named Ubi Soft. This game was at first made for Amiga, but after its incredible success it was released for the PC too. Like the...
---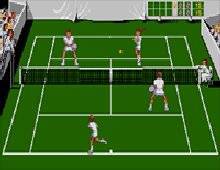 Great Courts 2 1991
Great Courts 2 is the sequel to Great Courts. This tennis simulation has some nice features. First you create your player. You can distribute some character points (for example: speed, forehand, backhand, etc.) like a role-playing game. These skills will raise after a few winning matches. Then you must select...
---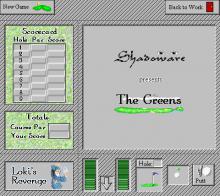 Greens, The 1993
The Greens is a shareware arcade style crazy-golf game for 1 - 4 players. The game consists of a single screen with all the information presented in a series of windows. The main window in the upper left shows the position of the ball and the topography of the...
---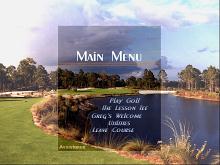 Greg Norman Ultimate Challenge Golf 1996
If you've ever stood out on the Par 3 4th Tee on a cool Saturday morning in July, waiting for the foursome in front of you to hole out, the crisp air invigorating you, then you've probably never been completely happy with golfing computer games before. Either the graphics are...
---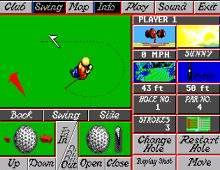 Greg Norman's Shark Attack! (Greg Norman's Ultimate Golf) 1989
Greg Norman's Shark Attack! drives majestically down the fairway in terms of options but manages only a wicked out-of-bounds slice when it comes to game play and results. The first clue that there is something wrong here occurs immediately upon opening the box. Seems the designers and the publisher couldn't...
---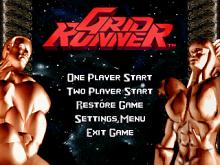 Grid Runner (a.k.a. Grid Run) 1996
Grid Runner (released as Grid Run in Europe) is a fun futuristic sport game that was much more successful on console systems. You play Axxel, a space investigator sent on a mission with your partner Tara to an asteroid field to find out why ships have been mysteriously disappearing. While...
---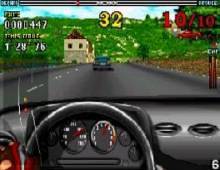 GT Racing '97 1997
GT style racing features in this racer, which tends more towards arcade than simulation. Cars include the Predator and the Hurricane, each with their own strengths and weaknesses. The action can be viewed from inside or outside the car. When starting the game for the first time you can take part...
---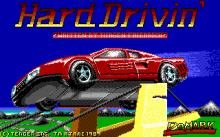 Hard Drivin' 1990
Hard Drivin' is a 3D arcade hit from Atari Games. You are in control of a high-performance sports car. Your objective is to race around the course as fast as possible and hit as many checkpoints as possible. If you hit a checkpoint you gain extra time to go farther....
---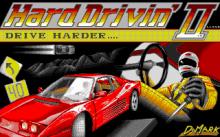 Hard Drivin' II 1990
Hard Drivin' II is the sequel to Hard Drivin' which featured bold 3D polygon graphics and a chaotic feeling of speed. Many of the bugs in the original, such as cars appearing through the hills, are gone in this game. The frame rate of the game increases slightly, with the controls...
---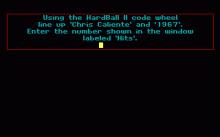 Hardball II 1989
Accolade's anticipated follow-up to 1987's top-selling computer baseball game features more teams, options, and features. Instead of the first title's modest selection of two teams, HardBall II offers a choice of ten fictitious clubs as well as a team editor for a custom league. Seven stadiums are included for a...
---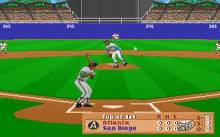 Hardball III 1992
The third game in the Hardball baseball series. This revision features 256 colour VGA graphics, and announcer Al Michaels provides running commentary while you play. ...
---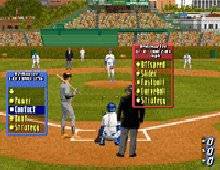 Hardball IV 1994
You walk towards the plate and the umpire wipes the dust from it, revealing the white surface. Lifting your cleates, you gently knock the dirt impaled on the stubby spikes with your Louisville Slugger. Bringing the massive wooden club to your shoulder, you stand at the plate and glare at...
---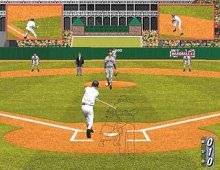 Hardball V Enhanced (a.k.a. Hardball 5 Enhanced) 1995
Accolade's HardBall 5 comes to the PC with a full MLBPA license. Based on the 1994 baseball season, the license gives players over 800 actual players, all of the major league teams (in addition to 12 of the all-time greatest dynasties), and 40 different stadiums modeled after their real-life counterparts. Gameplay...
---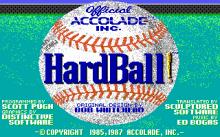 HardBall! 1987
Hardball is a baseball action game for one or two players. You can throw a variety of pitches from fast balls to curve balls, steal bases, select team members, and substitute players as the game is played. ...
---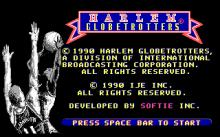 Harlem Globetrotters 1990
This game allows you to play as either the Harlem Globetrotters or their rivals, the Generals, in an exhibition basketball game. The player can choose to have the quarters last from one minute to twelve minutes. Also, if you are playing as the Harlem Globetrotters you are able to pull...
---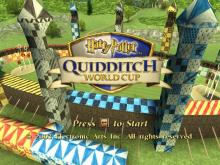 Harry Potter: Quidditch World Cup 2003
Boy wizard Harry Potter returns to video gaming with his broomstick in tow in Quidditch World Cup, an international version of the sport played at Hogwarts and abroad. Inspired by the Quidditch segment in Harry Potter and the Chamber of Secrets, World Cup features a choice of four Hogwarts Houses...
---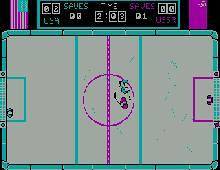 Hat Trick 1987
Hat Trick is a two-on-two hockey game based on the 1984 coin-op of the same name. Each player controls a goalie and a skater. The object is to shoot the puck into the opposing teams goal. Each game lasts two minutes. ...
---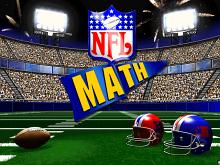 Head Coach: NFL Math 1996
The most exciting way to score better grades in math. Football is a game of numbers. And when kids guide their favorite NFL team down the field by answering math questions, it all adds up to better learning skills. Featuring 3D photo-realistic animations, NFL Math has real teams, real players,...
---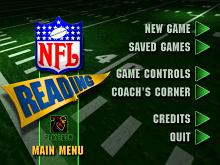 Head Coach: NFL Reading 1996
Most reading programs make a classic mistake. They use traditional works of literature. Now think about it for a minute. If the reading material isn't interesting, if it isn't relevant... to kids... how will they learn the difference between knowing what a sentence says and what it means? That's the problem NFL...
---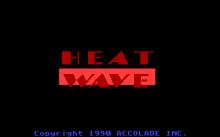 Heat Wave: Offshore Superboat Racing (a.k.a. Powerboat USA) 1990
Heat Wave: Offshore Superboat Racing puts you at the helm of two kinds of boats, Catamarans and Deep-Vs. Both types of boats ride on top of the water as opposed to plowing through it, reaching speeds of more than 100 mph. You'll race on open ocean, rivers and through city...
---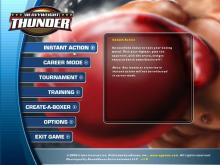 Heavyweight Thunder 2005
Better known for its bountiful compilations of casual mini-games, eGames takes a swing at sports action with this boxing title. A gamepad accessory is not required, as players can take complete control of their fighter with just the keyboard and mouse. From the default first-person perspective, players face off against...
---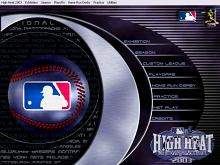 High Heat Major League Baseball 2003 2002
A recurring favorite among sports gamers, 3DO's pro baseball series returns to its native PC platform with new gameplay elements and enhanced presentation. High Heat Baseball 2003 features "signature" pitcher and batter animations, improved "TruPlay" artificial intelligence, and more effusive, situation-appropriate commentary, while retaining the accurate statistics and realistic play...
---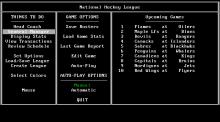 Hockey League Simulator 1990
Hockey League Simulator allows you to design and manage your own customized league or create current or classic leagues from the past. ...
---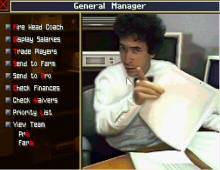 Hockey League Simulator 2 1992
Hockey League Simulator II is a hockey management simulator. The player becomes the manager and creates his own team. It deals with salaries and coaches can be hired or fired. ...
---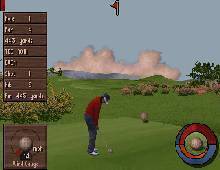 Hole in One 1995
In this Golf Simulator you can choose field, course, tournament, player and go outdoors. Here is ordinary golf equipment, as usually you can choose your power and direction. But camera may be placed everywhere. Background landscapes are pixel-video. ...
---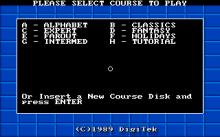 Hole-In-One Miniature Golf 1989
Hole-in-One Miniature Golf is a simulation of the popular and entertaining "sport" of miniature golf. The game features five complete 18-hole courses with different themes including a Tutorial Course that walks the player through every aspect of game play, a Classics Course which is patterned after the basic traditional miniature...
---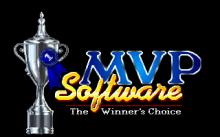 Home Run Derby 1995
Fantasy baseball Home Run Derby. It's you versus the best in the league in a Home Run Derby. ...
---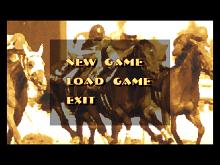 Hooves of Thunder 1995
Hooves of Thunder! is a remake of the DOS game QuarterPole. The game has been completely reworked as a DOS-to-Windows conversion. It has all new programming, completely new graphics and artwork in SVGA with 256 colors. Otherwise, the game is not changed from its predecessor and includes all of the features...
---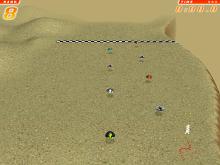 Hover 2000
Hover is an excellent freeware hover racing game that features excellent 3D terrain, fluid animaiton and physics, although unfortunately it only has one track since the promised "full release version" never came out. In Hover, you pilot futuristic hovercrafts over a challenging desert racecourse. Despite the fact that Hover cars...
---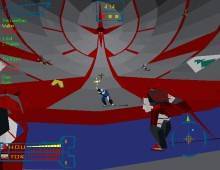 HyperBlade 1996
Hockey meets Doom in a game in which the object is to either score the most points or kill the opposing team before the end of three periods of play. It's futuristic sport in the Drome, with 3D environments and fast-paced, hack and slash action. HyperBlade is a game is played...
---