Sports Games #11
Search a Classic Game: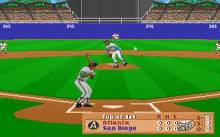 Hardball III 1992
The third game in the Hardball baseball series. This revision features 256 colour VGA graphics, and announcer Al Michaels provides running commentary while you play. ...
---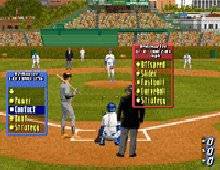 Hardball IV 1994
You walk towards the plate and the umpire wipes the dust from it, revealing the white surface. Lifting your cleates, you gently knock the dirt impaled on the stubby spikes with your Louisville Slugger. Bringing the massive wooden club to your shoulder, you stand at the plate and glare at...
---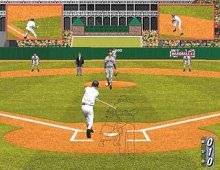 Hardball V Enhanced (a.k.a. Hardball 5 Enhanced) 1995
Accolade's HardBall 5 comes to the PC with a full MLBPA license. Based on the 1994 baseball season, the license gives players over 800 actual players, all of the major league teams (in addition to 12 of the all-time greatest dynasties), and 40 different stadiums modeled after their real-life counterparts. Gameplay...
---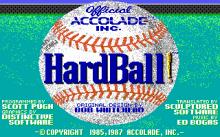 HardBall! 1987
Hardball is a baseball action game for one or two players. You can throw a variety of pitches from fast balls to curve balls, steal bases, select team members, and substitute players as the game is played. ...
---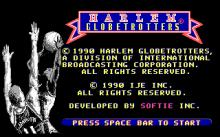 Harlem Globetrotters 1990
This game allows you to play as either the Harlem Globetrotters or their rivals, the Generals, in an exhibition basketball game. The player can choose to have the quarters last from one minute to twelve minutes. Also, if you are playing as the Harlem Globetrotters you are able to pull...
---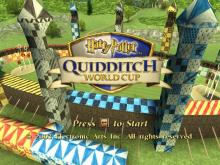 Harry Potter: Quidditch World Cup 2003
Boy wizard Harry Potter returns to video gaming with his broomstick in tow in Quidditch World Cup, an international version of the sport played at Hogwarts and abroad. Inspired by the Quidditch segment in Harry Potter and the Chamber of Secrets, World Cup features a choice of four Hogwarts Houses...
---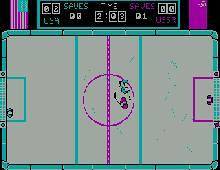 Hat Trick 1987
Hat Trick is a two-on-two hockey game based on the 1984 coin-op of the same name. Each player controls a goalie and a skater. The object is to shoot the puck into the opposing teams goal. Each game lasts two minutes. ...
---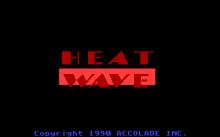 Heat Wave: Offshore Superboat Racing (a.k.a. Powerboat USA) 1990
Heat Wave: Offshore Superboat Racing puts you at the helm of two kinds of boats, Catamarans and Deep-Vs. Both types of boats ride on top of the water as opposed to plowing through it, reaching speeds of more than 100 mph. You'll race on open ocean, rivers and through city...
---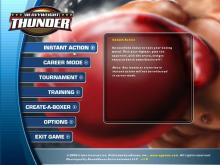 Heavyweight Thunder 2005
Better known for its bountiful compilations of casual mini-games, eGames takes a swing at sports action with this boxing title. A gamepad accessory is not required, as players can take complete control of their fighter with just the keyboard and mouse. From the default first-person perspective, players face off against...
---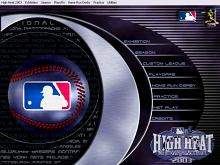 High Heat Major League Baseball 2003 2002
A recurring favorite among sports gamers, 3DO's pro baseball series returns to its native PC platform with new gameplay elements and enhanced presentation. High Heat Baseball 2003 features "signature" pitcher and batter animations, improved "TruPlay" artificial intelligence, and more effusive, situation-appropriate commentary, while retaining the accurate statistics and realistic play...
---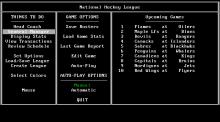 Hockey League Simulator 1990
Hockey League Simulator allows you to design and manage your own customized league or create current or classic leagues from the past. ...
---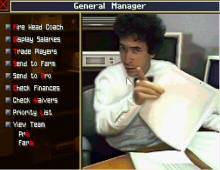 Hockey League Simulator 2 1992
Hockey League Simulator II is a hockey management simulator. The player becomes the manager and creates his own team. It deals with salaries and coaches can be hired or fired. ...
---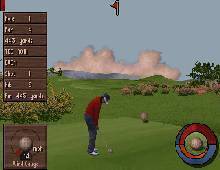 Hole in One 1995
In this Golf Simulator you can choose field, course, tournament, player and go outdoors. Here is ordinary golf equipment, as usually you can choose your power and direction. But camera may be placed everywhere. Background landscapes are pixel-video. ...
---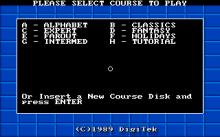 Hole-In-One Miniature Golf 1989
Hole-in-One Miniature Golf is a simulation of the popular and entertaining "sport" of miniature golf. The game features five complete 18-hole courses with different themes including a Tutorial Course that walks the player through every aspect of game play, a Classics Course which is patterned after the basic traditional miniature...
---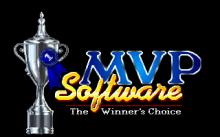 Home Run Derby 1995
Fantasy baseball Home Run Derby. It's you versus the best in the league in a Home Run Derby. ...
---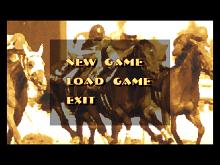 Hooves of Thunder 1995

---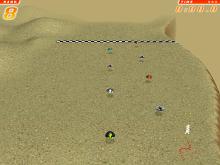 Hover 2000
Hover is an excellent freeware hover racing game that features excellent 3D terrain, fluid animaiton and physics, although unfortunately it only has one track since the promised "full release version" never came out. In Hover, you pilot futuristic hovercrafts over a challenging desert racecourse. Despite the fact that Hover cars...
---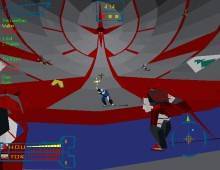 HyperBlade 1996
Hockey meets Doom in a game in which the object is to either score the most points or kill the opposing team before the end of three periods of play. It's futuristic sport in the Drome, with 3D environments and fast-paced, hack and slash action. HyperBlade is a game is played...
---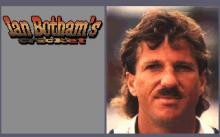 Ian Botham's Cricket 1992
The game uses the name of genuine cricketer and adheres to the one-day cricket 1991 rules interpreted by developers for the guidance. Contested by two teams of eleven players each, cricket is a very technical bat-and-ball game played on a grass oval-shaped field, in the centre of which are a flat...
---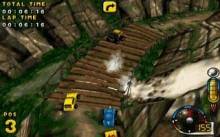 Ignition 1997
Ignition is an action packed racing game viewed from above and slightly behind the player. The cars on offer range from police car and VW Beetle to school bus and truck, each of which has its own strengths and weaknesses - trying to win with the bus, which involves blocking...
---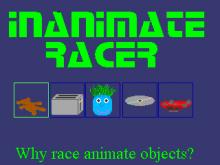 Inanimate Racer 1998
We've all heard the expression "going nowhere fast" but how often has it been simulated in a computer game? Strap yourself to the keyboard and get ready for indescribable excitement as the player selects one of five inanimate racers -- from a teddy bear to a toaster to the dark...
---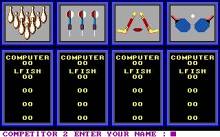 Indoor Sports Volume 1 1987
Four Indoor Sports are compiled in this entry to DesignStar's SportTime line of recreations. Ten-Pin Bowling, Air Hockey, Darts and (except on the Commodore 64) Ping Pong are featured. The menus and options screens have the same feel as Clubhouse Sports. Each game has computer opponents at multiple skill levels...
---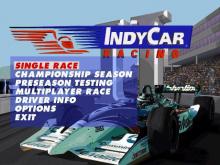 IndyCar Racing II 1996
This is, as you haved guessed, the enhanced version of IndyCar Racing. If you have never heard of it, this game is a very realistic racing simulation of the Indycar '95 season, including all the drivers, cars and bodywork layouts, and tracks of the past season. You can choose among...
---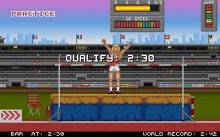 International Athletics 1992
International Athletics is an arcade track & field game by the Spanish developer True Emotions. It was initially published by Opera Soft in Spain in 1992 under the title Olympic Games '92, then licensed by Zeppelin in 1993 for their "International" series of sports simulations. ...
---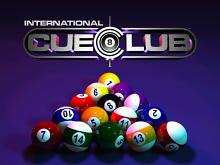 International Cue Club 2000
Interact with hundreds of characters in eight virtual chat rooms while building a solid reputation as the best pool shooter in town. Cue Club's various rooms feature photo realistic themes, various table fabrics, tougher opponents, and a boss you must defeat before advancing to the next level. While reputation and...
---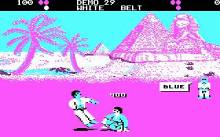 International Karate 1989
The objective of World Karate Championship is to get the highest possible dan (karate grade, determined by belt colour) and become the world champion - and of course, to get the highest score. Karate fighters compete against each other on side-view screens, the scenery representing real world locations (New York,...
---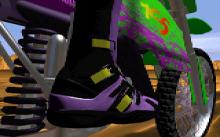 International Moto X 1996
International Moto X simulates off-road motorcycle races. The main part of the game is the championship mode in which the player controls a 125cc motorcycle. There are various different leagues on different continents. At first the player creates his rider and sets the colour of his bike. More important is the...
---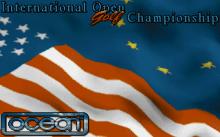 International Open Golf Championship 1993
Ocean presents in association with Pringle of Scotland an international open golfing experience. The game features many and varied forms of golf including skins, foursomes, matchplay, strokeplay, practice and fourball with the action taking place over a wide variety of terrain and locations. All of the expected levels of difficulty...
---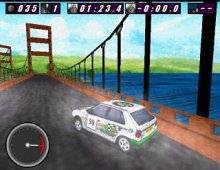 International Rally Championship 1997
International Rally Championship features nine licensed rally cars for play on more than 30 tracks. Travel the world for day and night races across snow, mud, sand, and ice. Battle up to 20 rivals per track while viewing the action from either a chase or dashboard perspective. Your car will...
---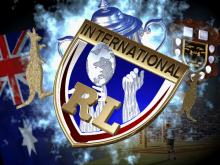 International Rugby League 1996
A rugby league game (rugby league is a sport is a ball sport similar to rugby union, but features set tackles rather than rucks and mauls - once a player is successfully tackled he plays the ball back to a team-mate behind him, with the team losing possession if tackled...
---