Sports Games #31
Search a Classic Game: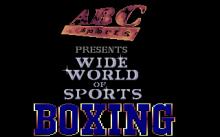 TV Sports: Boxing 1991
Welcome to the world of customizable boxing, where you create your own boxer, match him up against thirty computer opponents, and see how he stands up to the opposition over an entire career. Boxers have a number of different customizable stats, such as power, hand and foot speed, killer instinct,...
---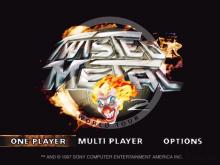 Twisted Metal 2 1997
Originally released on the Sony Playstation, SingleTrac is back with the revamped Twisted Metal 2: World Tour. The Windows port is very much like the Playstation version, only having a few differences. Any one who has played the original Twisted Metal knows that the concept is a competition in which homicidal...
---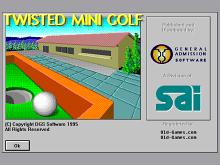 Twisted Mini Golf 1995
Twisted Mini Golf is a mini golf game for 1 to 4 players. In the game there are five different courses each with its own theme. Each course has nine holes. The courses' themes are Easy as 123, Four Winds, Imagination, War Games and Water Works. The game is played...
---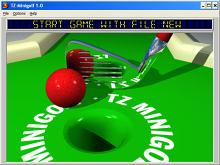 TZ-Minigolf 1996
TZ-Minigolf is a shareware, top-down, golf game for up to four players. The game was released in full on a 'try before you buy' basis. Only the first six holes were playable until the player purchased a registration code. Once entered this code gave access to the full eighteen hole...
---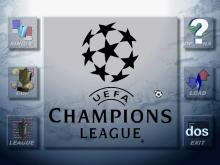 UEFA Champions League 1996/97 1997
UEFA Champions League 1996/97 is the first soccer game licensed by UEFA. Released to coincide with UEFA's 1997 Euro Cup, this 3D soccer game from Krisalis is a fun, highly underrated game that was slightly better known on the Playstation. The game features all 16 teams in the 1997 tournament,...
---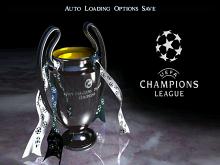 UEFA Champions League 1998/99 1999
Second in the UEFA Champions League line, UEFA Champions League 1998/99 is the second soccer game licensed by UEFA. It's essentially 1996/97 version, improved with new graphics and some coaching options. The game features all 16 teams in the tournament, as well as a bonus of 32 international teams to...
---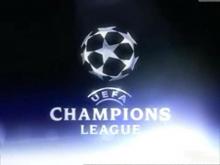 UEFA Champions League 2004-2005 2005

---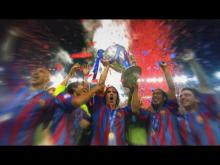 UEFA Champions League 2006-2007 2007

---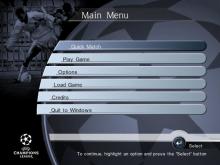 UEFA Champions League Season 1999/2000 2000

---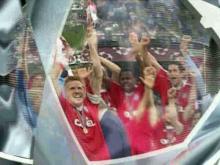 UEFA Champions League Season 2001/2002 2002

---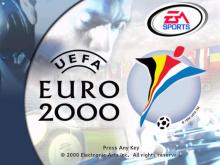 UEFA Euro 2000 2000

---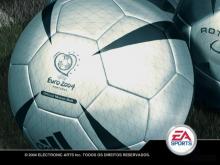 UEFA Euro 2004 Portugal 2004
Sharing the field with the publisher's perennially popular FIFA games, EA Sports' UEFA Euro 2004: Portugal is designed to deliver the pride and competition of the title tournament to futbol fans in North America. The 2004 Union of European Football Associations (UEFA) finals matches, held in a selection of Portuguese...
---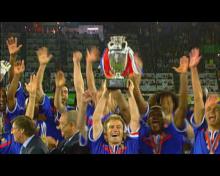 UEFA Euro 2008 2008

---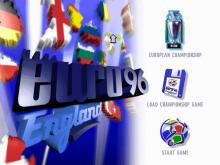 UEFA Euro 96 England 1996
An official licensed game of the European Championships held in England in 1996. All 16 teams are available to choose from and the following Game Types: European Championship, Friendly Game, Practice Penalties and Practice Match (only the opposition's goalkeeper is on the pitch). A couple of options of note are...
---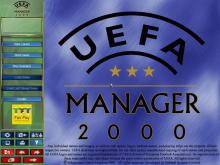 UEFA Manager 2000 2000

---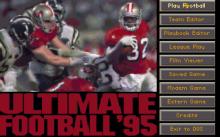 Ultimate Football '95 1995
Relive the 1994 National Football League season or draft your own teams and create a personalized league with Ultimate Football '95 by MicroProse. Guide your favorite team against computer or human opponents as you play an entire schedule or individual games. Make trades, design plays, make on the field decisions,...
---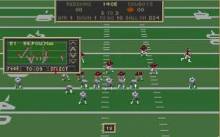 Ultimate NFL Coaches Club Football 1994
Ultimate NFL Coaches Club Football puts armchair quarterbacks at the helm of their favorite teams as they guide them through the season, into the playoffs, and on to a Super Bowl victory. Every NFL team from the 1993 season is here with every player represented based on their actual season...
---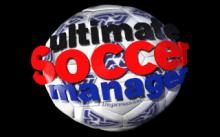 Ultimate Soccer Manager 1995
Ultimate Soccer Manager is football manager based on the 4 top English leagues. It includes a full icon-driven interface, where instead of clicking the option buttons, each screen is seen as the office in question (manager, president, bank, etc), and to access the screens the player has to click in...
---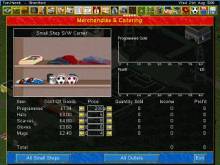 Ultimate Soccer Manager 2 1996
Ultimate Soccer Manager 2 is the followup of USM and mostly a graphical improvement over the DOS and Amiga AGA versions. Now sporting a 640x480 resolution, all of the offices menus (from where all options are selected) are crisper and some of them were merged together to simplify navigation. New features...
---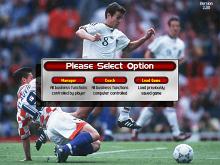 Ultimate Soccer Manager 98-99 1999
One of the most underrated soccer simulation series of all time is back, and this time is arguably a better game than venerable Championship Manager 2. USM 98 contains data for the 7 biggest Euroepean Leagues: England, Scotland, Italy, France, Germany, Spain and the Netherlands. That's over 400 clubs and...
---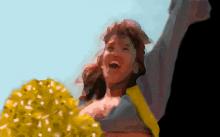 Unnecessary Roughness 1993
Unnecessary Roughness is a football game featuring Super VGA graphics, multiple offensive and defensive sets, customizable audibles, blitzes, head butts, high fives, NFL teams, and play-by-play announcer Al Michaels. The NFLPA license allows the inclusion of real NFL players like "Neon" Deion Sanders, Junior Seau, Thurman Thomas, Michael Irvin,...
---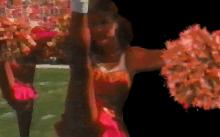 Unnecessary Roughness '95 1994
UR95 is your average football game featuring both single plays against the computer or a friend, and full-fledged seasons, including playoffs and Super Bowls. The main attraction to the game however is a "Construction Set" option which allows you to create everything for your own team, to your playbook and tournaments....
---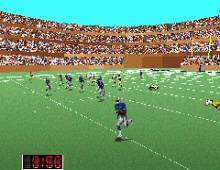 Unnecessary Roughness '96 1995
Unnecessary Roughness '96 is the 1996's incarnation of Accolade's series of American football games. Updates in this version attempt to correct the "arcadish" feel the previous had with a much bigger emphasis on team management and coaching. You can buy entire teams, make any trades, set salary caps, manage rosters...
---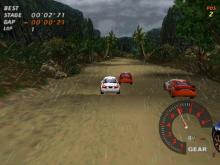 V-Rally Edition 99 1999

---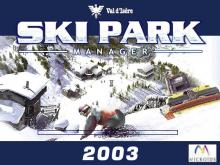 Val d'Isère Ski Park Manager: Edition 2003 2003

---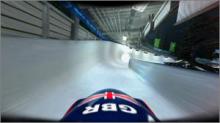 Vancouver 2010 2010
Fans of cold-weather sports find international competition in Vancouver 2010, a high-def generation video game based on the 21st Winter Olympics. Focusing on individual events with elements of speed and danger, the game makes 14 separate cold-weather sports are available for play, including multiple modes of skiing and snowboarding, speed...
---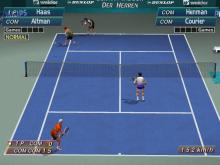 Virtua Tennis 2002
Hitmaker brings the popular Sega Dreamcast title Virtua Tennis to the PC and serves up seven international stars competing in four gameplay modes: Arcade, Exhibition, World Circuit, and Multiplayer (up to four players via LAN or on a single machine). Players can maneuver stars Jim Courier, Yevgeny Kafelnikov, Cedric Pioline,...
---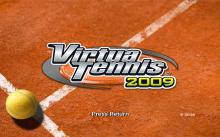 Virtua Tennis 2009 2009
Building on its high-def debut in 2007, Sega's respected Virtua Tennis game returns to the virtual courts on PlayStation 3, Xbox 360, and in a PC download. The series' simple control scheme and realistic action are bolstered with refinements to serving, volleying, and net play, and the added possibility for...
---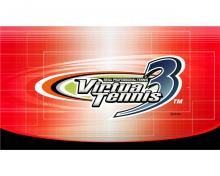 Virtua Tennis 3 2007

---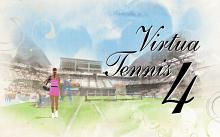 Virtua Tennis 4 2011
Sega's longest-running sports series returns to the courts, with new control options and an expanded roster, in 2011's Virtua Tennis 4. In addition to high-profile Virtua Tennis veterans such as Nadal, Federer, and Murray, gamers can play as or against series newcomers including Juan Martín Del Potro, Fernando Gonzalez, Laura...
---