Sports Games #26
Search a Classic Game: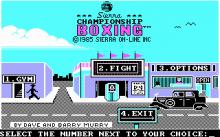 Sierra Championship Boxing 1985
One of the early Sierra On-Line releases, this game lets you design your own boxer before taking him/her/it to the ring. You can play as a black or a white guy, a cartoonish character or a kangaroo (!). Three play modes exist: Completely interactive: You control your fighter's every move Coaching: You tell...
---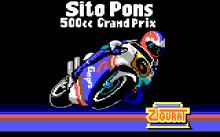 Sito Pons 500cc Grand Prix 1990
"Sito Pons" is a popular motorcycle game based on the same named Spanish motorcycle driver. It was the Zigurat's second fruitful game dedicated to a national pilot (the first game was Carlos Sainz). In this game, we will pilot as Sito Pons -obviously- on the 500cc World Championship, through 14 exciting...
---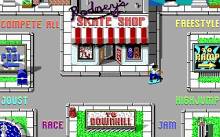 Skate or Die 1988
Skate or Die incorporates five distinct styles of skating, which can be attempted individually or in turn. You skate around a menu room to choose which one to attempt. Before taking off you can visit Rodney's skate shop to buy equipment. The first event is freestyle, in which your aim is...
---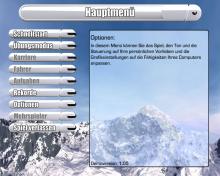 Ski Alpin 2005 2004

---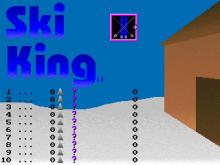 Ski King 1996
Ski King is a downhill ski game. The player can choose between four means of transportation: skis, snowboard, tractor tier and little sledge. The player has to race as quickly as possible down the hill and at the same time avoid all of the trees on the hill. The game...
---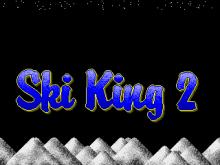 Ski King 2 1997
Ski King 2 is a downhill ski game and sequel to Ski King. You have to race as quickly as possible down the hill and at the same time avoid all of the obstacles in the hill. The trees from the first game are not the only obstacles, there are...
---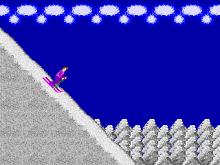 Ski King 3 1997
A new sideview ski jumping variant of the Ski King franchise. This only got as far as a prototype, but it was getting there, give it a whirl! You can hit enter to start skiing, then you can hit up or down arrows to do a couple tricks,...
---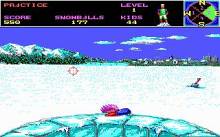 Ski or Die 1990
The snow-covered sequel to Skate or Die, Ski or Die has you shredding the slopes in a choice of five extreme-themed events. On the "Snowboard Half-pipe," you'll perform tricks to earn as many points as possible before time expires. "Innertube Thrash" has you competing against an aggressive rival as you...
---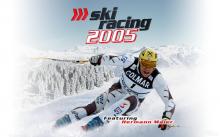 Ski Racing 2005 - Featuring Hermann Maier 2005
Austrian ski champion Hermann Maier puts his name on JoWoods latest Skiing game, which could attract the skiers out there, but just how fun can a ski game be? Ski Racing 2005 is neither an arcade game, nor a hardcore simulator but falls somewhere between. The game is not deadly...
---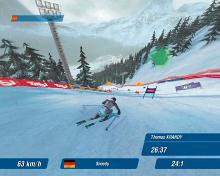 Ski Racing 2006 - Featuring Hermann Maier 2005
Sports games, you either love them or hate them. Ski Racing 2006 takes you to the actual locations of the Ski World Cup, all the runs are modeled from GPS data and all the events are included. The aim is to win the Crystal Trophy but the game offers much...
---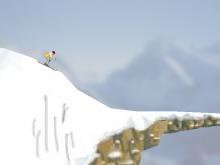 Ski Stunt Simulator 2002
One of the best "physics-based" games I have ever played, Ski Stunt Simulator is a great game that superbly emulates the physics involved in performing acrobatic ski stunts. In addition to a very authentic physics engine, the game boasts an ingenious and very intuitive 100% mouse-driven interface. The Rocket Download...
---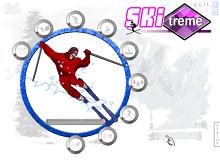 Ski Xtreme 2004
Ski Xtreme is a superb skiing game by Danny "danjo" Boyd of Apocalyptic Coders. Circy's concise review for Klik-me.com says it all about this modern "klik" classic: "Summer is drawing to a close, and winter seems to be quite a long way off yet. But get yourself immersed in this...
---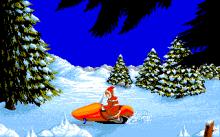 Skidoo 1989
The game represents Ski-Doo, a 6-month length trek set in the snowy woods of North Eastern Canada. Riding snow scooters, participants try to survive in this white desert, hunting for the wild animals and finding warm places following the routes to the cities. Visiting 25 cities along the way, 10...
---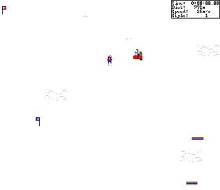 Skifree 1991
SkiFree is the standalone version of the game originally included as a part of the Microsoft Entertainment Pack 3 (1991) for Windows 3.x, and later made available separately for Windows 3.x. It was then re-compiled for 32-bit Windows systems when the author found back the source code and released it...
---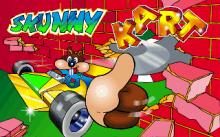 Skunny Kart 1993
Mario Kart clone. Race around a quasi-3D track as one of the characters from the series of Skunny games. Many tracks to choose from that take place all over the world. Also includes a battle mode in which you may fight off the computer or a friend. ...
---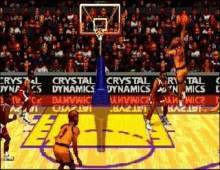 Slam 'n Jam 1997
A fast paced 5-on-5 basketball game very similar to the Run and Gun series from Konami. This game features no real NBA license but two real legends: Earvin "Magic" Johnson and Kareem Abdul-Jabbar. There are player stats and skills for each player which are modeled to be similar to their...
---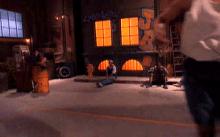 Slam City with Scottie Pippen 1995
Slam City with Scottie Pippen is a Full-Motion-Video basketball game. It uses proprietary technology to allow switching from one scene to another without lag, which allows for smoother interactive video. Gameplay is relatively simple, using little more than arrow keys, and is very different from any other basketball simulation. Basketball is...
---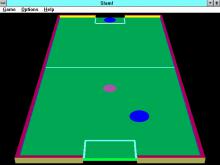 Slam! 1993
Slam! is a Windows-based simulation of the popular table game of air hockey. Players can customize opponents skills with the ability to change aggressiveness and quickness from 1 to 99, change view angle from zero to 90 degrees, turn sound on/off and have a choice of default color or monochrome...
---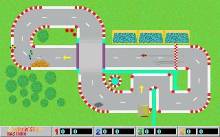 Slicks & Slide 1993
Slicks 'n' Slide is an overhead racing game where you try to drive your vehicle as fast as possible in available tracks. You can also use weapons to slow down your opponents. The idea of the game can look simple but Slicks 'n' Slide has very detailed options giving you...
---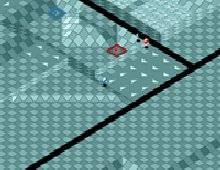 Sliders 1991
Sliders is a simple futuristic sports game that isn't a world away from Marble Madness. You control a ball over a futuristic landscape, the idea being to find the puck that's hidden somewhere in the level and "herd" it back to your starting point. Sounds simple enough, except for one...
---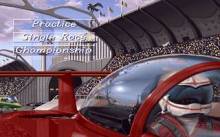 Slipstream 5000 1995
Take over control of one of many futuristic racers which fly through courses all over the world. A very nice feature is the ability of picking up weapons during fight to keep your opponents under control. You're able to upgrade your racer after every track. ...
---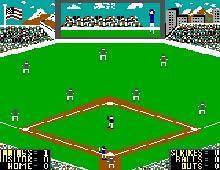 Slugger, The 1986
In this early UK-developed baseball simulation, one or two player matches can be played over 3,6 or 9 innings, with 3 different computer skill levels. The rules are explained by some introductory screens, and the game is fully faithful to these. Gameplay is in an arcade/action style, so you don't...
---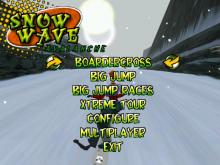 Snowboard Racer 1998
An arcade-oriented snowboarding title from Spanish developer Hammer Technologies, Snow Wave Avalanche challenges players to compete in and excel at "Boardercross," "Big Jump," "Big Jump Race," and "X-treme Tour" disciplines. The "Boardercross" event takes place on a series of progressively harder slopes. Here, players must cross a series of checkpoints...
---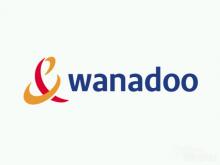 SnowCross 2000
Polaris SnoCross offers virtual recreations of top-selling Polaris brand sleds and ten varied tracks on which to open them up. Long, winding cross-country courses require skilled handing, while icy oval tracks are designed for speed and SnoCross circuit runs encourage outrageous tricks. Races can be played from a first- or...
---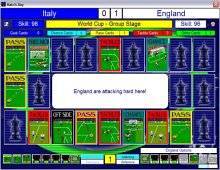 Soccer Cards 2003
Soccer Cards is a unique football (soccer) game from Michael Douglas, an amateur game designer. Basically a football game that is played by cards, you play the game by using a set of "match cards," each of which depicts a situation in play such as a goal, shot, pass, tackle,...
---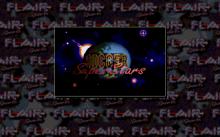 Soccer Superstar 1996
"Soccer Superstars" is a 2D side-scrolled football game in which you can chose from 32 international teams to take part in either friendly games or cup tournaments. They can be played against the computer or against both computer and a friend, but there is also a "demo mode" in which...
---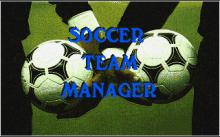 Soccer Team Manager 1994
Your primary role is to manage a soccer team, and watch as they develop after each match, which earns or loses you money, without ever seeing or taking part in on field action. Chose from British and Italian football leagues to custom your own team from selection of top players to...
---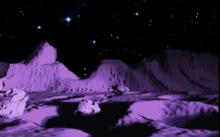 Space Jam 1996
Legendary athlete Michael Jordan lends his talents to a basketball team comprised of Looney Tunes characters in Space Jam for PC. Based on the 1996 movie, Space Jam is closely modeled after the NBA Jam series of arcade-style hoops action. As a member of the TuneSquad, your goal is to...
---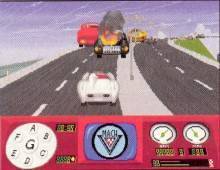 Speed Racer: The Challenge of Racer X 1993
This Speed Racer-licensed racing game is based on the American remake of 1960s classic Japanese anime TV series. All the main characters are presented in the game: Speed Racer, his big brother Racer X, his father Pops, his mother, his girlfriend Trixie, and his little brother Spritle along with the...
---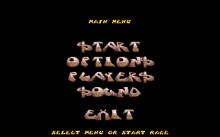 Speed Rage 1996
SpeedRage is an arcade racing game with shooter elements. You can choose between two different racing types (water and land): Speed Boat or Dune Buggy. As in many earlier racing games, you view your vehicle from behind. The game is multi-player capable and the box includes a second CD-ROM for this...
---