Sports Games #29
Search a Classic Game: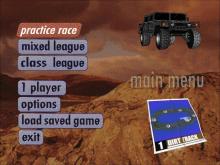 Test Drive: Off-Road 1997
Test Drive Off-Road is yet another in the long-running Test Drive series by Accolade. This time around the series takes an arcade look at off-road racing with some impressive results. In fact the game features 12 well-designed tracks all up (only six to start with) and eight off-road vehicles, such...
---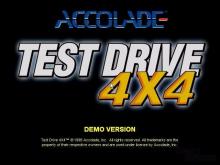 Test Drive: Off-Road 2 1998
From Accolade comes Test Drive: Off Road 2, a sequel to a game of the same name. This off-road, rally style game features many authentic cars, as well as real bands for it's soundtrack. Even with these extras, this game still falls very flat. You can play in a single race,...
---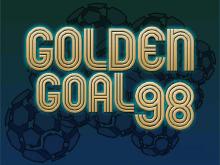 Three Lions 1998
When World Cup time rolls around one can always expect to see a rash of soccer games hitting shelves throughout the world, and this year's round of titles was kicked off with Three Lions, the latest game to be published by Take 2 Interactive. While this is the company's first...
---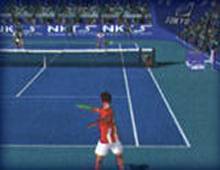 Tie Break Tennis '98 1998
Tie Break Tenis 98 is a tennis game developed in 3D (with 3Dfx support). It gives you the possibility to choose a player and the type of track you prefer (gravel, rapid or synthetic). You can also choose between the modalities of men's or women's tennis, to take part either...
---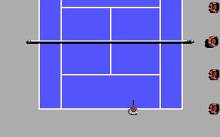 Tie-Break 1991
This tennis simulation uses a top-down scrolling perspective. You are not in control of the player's motion, but once he gets close to the ball, shot selection is down to you. Standard shots plus topspin, lobs and stop volleys are available, by pushing the joystick in the right direction as...
---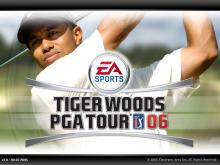 Tiger Woods PGA Tour 06 2005
Golf superstar Tiger Woods invites gamers back to the links in this "06" edition of EA's exclusive pro golfing game. Once again, players can use EA Sports' "Game Face" tools to create their own custom golfer, and then prove their skills on the virtual links against stars of the sport...
---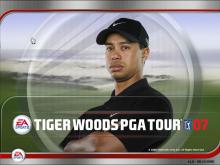 Tiger Woods PGA Tour 07 2006
Putt, swing, and slice with some of the biggest names in golf as you travel to various real and fantasy courses in Tiger Woods PGA Tour 07. Practice your swing, play against human opponents online, or gather a team of golfers and go head-to-head against Tiger Woods and his team...
---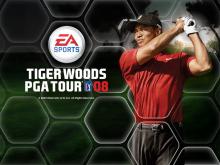 Tiger Woods PGA Tour 08 2007
Intended to capture the attention of the MySpace and YouTube generation, EA Tiburon has upgraded the character customization and online play in Tiger Woods PGA Tour 08. Utilizing the GamerNet online community, players can view, create, and play user-created content. Both offline and online gamers can use the "Game Face"...
---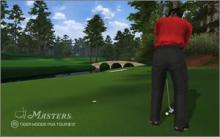 Tiger Woods PGA Tour 12: Masters 2011
The "2012" edition of Tiger Woods PGA Tour is the first in the long-running golf series to feature a virtual re-creation of the famous Augusta National Golf Club, and allow players to compete for the coveted green jacket. The game's new "Tiger at the Masters" mode re-creates each of Woods'...
---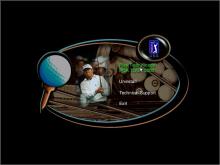 Tiger Woods PGA Tour 2000 2000
Many sports game manufacturers, such as Midway, work hard to provide arcade style games that provide the most enjoyable experience for the user but in turn sacrifice some of the realistic quality of the game. Conversely, Electronic Arts focuses instead on making software games as realistic as possible, hoping customers...
---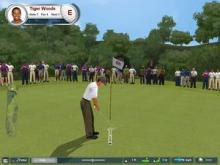 Tiger Woods PGA Tour 2002 2002
Tiger Woods is back in this 2002 edition of EA Sports' golf game. The release uses a new 3D game engine for a new look and feel on featured links, such as Pebble Beach, Poppy Hills, and Spyglass Hill. In addition to internationally renown prodigy Woods, gamers can also play...
---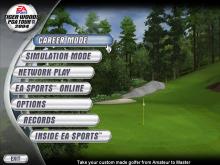 Tiger Woods PGA Tour 2004 2003
Tiger Woods and the PGA Tour continue their exclusive relationship with EA SPORTS for a sixth game in the best-selling professional golf series. Nineteen courses are available in this version, ten of which are based on authentic venues in Pebble Beach, Sawgrass, the Royal Birkdale Golf Club, Princeville, Torrey Pines,...
---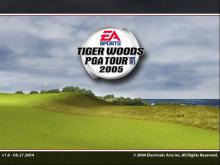 Tiger Woods PGA Tour 2005 2004
Tiger's back and EA's got him. This "2005" edition of the best-selling golf series will challenge the superstar prodigy like never before, however, with its new "Tiger-Proofing" course editing tools. Course can be altered, with longer tees or narrower fairways for example, to take away some of the advantages the...
---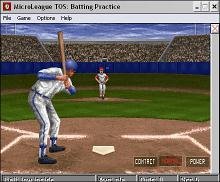 Time Out Sports Baseball 1994
A nice entry in Micro League's short-lived "Time Out Sports" series, designed to provide bite-sized sporting entertainment for short coffee breaks between your spreadsheet or word processing. TOS Baseball is a simple and fun look at baseball via four quick, easy-to play mini games that are diverse, although some are...
---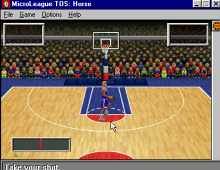 Time Out Sports Basketball 1994
In this game you have to train yourself as basketball player. You may choose some positions to throw the ball. If you want you may take part in competition. So if you don't like team play, you may enjoy this one to show your own ego in several elements of...
---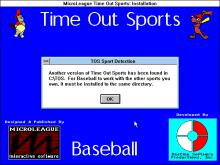 Time Out Sports: Baseball 1994

---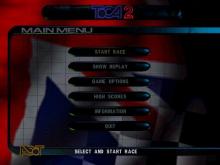 TOCA 2 Touring Cars (a.k.a. Touring Car Challenge) 1998
Stacking up against games such as NASCAR Rumble or even Need for Speed III: Hot Pursuit, Touring Car Challenge: TOCA 2 has the potential to finish in third, but unfortunately it misses by a mile due to one lousy criteria that can brake any game, racing or not: bad controls....
---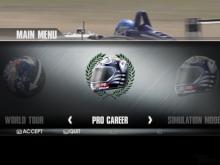 TOCA Race Driver 3 2006
Enduringly popular in Europe, Codemaster's premier auto racing series returns to North America with the release of ToCA Race Driver 3. Designed with a focus on accuracy and detail, the game features six different styles of racing -- GT, Touring Cars, Off-Road, Open-Wheel, Track, and Classic -- all based on...
---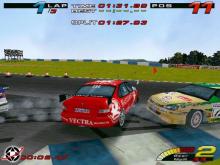 TOCA Touring Car Championship 1997
TOCA Touring Car Championship is a great racing game from Codemasters that remains relatively unknown to many racing fans. A passionate and wonderfully comprehensive review at MobyGames says it all: "TOCA Touring Car Championship is the official game of the BTCC, which stands for British Touring Car Championship. I doubt...
---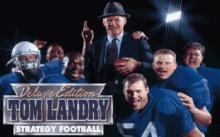 Tom Landry Strategy Football 1993
Tom Landry Strategy Football is easily one of the worst sports. It's a shame that venerable coach Tom Landry's expertise was wasted on such a lousy effort. The first tip-off that this game isn't very good comes on the box, where a screen shot of the Dallas Cowboys' roster shows that...
---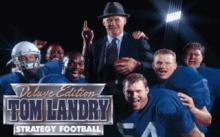 Tom Landry Strategy Football Deluxe Edition 1993
This Deluxe Edition of Tom Landry Strategy Football brings new features to the strategy football game. The new features include: A league editor which allows the player to edit league and team attributes, offensive and defensive playcalling tendencies and individual players names and abilities. Season play options which allows the player to...
---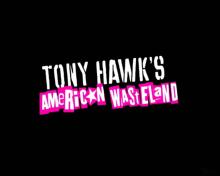 Tony Hawk's American Wasteland 2006
Since first rolling onto PlayStations in 1999, the Tony Hawk skateboarding titles have lead the way for an entire subgenre of "extreme sports" video gaming. American Wasteland is designed to pull away from the pack, by offering a wide selection of customization choices and bringing its environments to life with...
---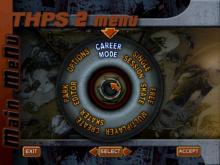 Tony Hawk's Pro Skater 2 2000
Take your skateboard and hit the international hot spots of Marseille, New York, and Venice Beach as you compete against a full roster of the top pro skaters in the world. Players are free to customize clothes, trick sets, and the personal appearance of their favorite skaters, or create a...
---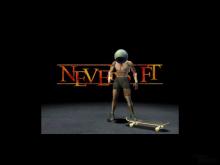 Tony Hawk's Pro Skater 3 2002
Skating fans and gamers of all sorts will spin, flip, grind, and sky their way to glory with more control and realism than ever before in this third full version of the explosively popular series of Tony Hawk skateboarding games. The Tony Hawk Pro Skater games established developer Neversoft as...
---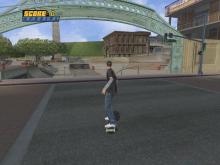 Tony Hawk's Pro Skater 4 2003
Tony Hawk's Pro Skater 4 includes larger, more expansive levels and in-depth goals integrated into a revamped Career Mode that eliminates the time meter. Each of the 14 available professional skaters has been remodeled from 3,000 to 4,000 polygons, allowing for more realistic looking characters. Worlds are also designed to be...
---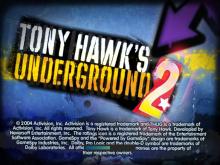 Tony Hawk's Underground 2 2004
The Birdman goes back underground for his sixth foray into video games, this direct sequel to 2003's RPG-style on-board adventure. As in the original Tony Hawk's Underground, THUG 2 centers on a player-created character, who must work his or her way up from suburban obscurity to extreme sport stardom. As...
---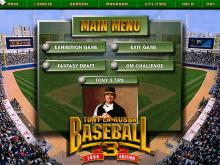 Tony La Russa Baseball 3 1995
The third edition of the Tony La Russa baseball computer franchise features a Major League Baseball Player Association license, several modes of play, and a point-and-click interface. Players can engage two MLB clubs immediately through the Exhibition Game mode, conduct a fantasy draft, or test their skills as a general...
---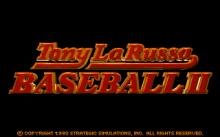 Tony La Russa Baseball II 1993
Play/Manage a team of either some of the greatest teams ever from 1901-1968, or the best of the best on each team, with a total of 2000 players to choose from, each ranked in 134 different categories. If that's not enough, you can create your own teams/leagues and set how...
---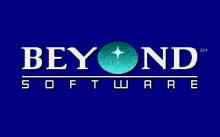 Tony La Russa's Ultimate Baseball 1991
Tony LaRussa's Ultimate Baseball is in a class by itself among baseball games from the early 90s. While the arcade mode of play is passable, it's the simulation mode where this game really shines. Whether you replay the 1990 season, use all-time greats such as the 1927 or 1961 Yankees...
---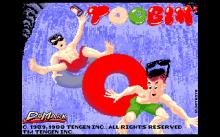 Toobin' 1989
Toobin' involves Biff and Jet racing their way down the rapids of a river, riding on tires. You rotate your tyre left or right, and drift as the current sends you, making sure to avoid the banks of the river, and the dividing lines in the middle. Hazards include crocodiles,...
---