Sports Games #5
Search a Classic Game: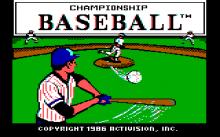 Championship Baseball 1986
In this traditional baseball simulation, gameplay takes place mainly on a split screen. One side shows an overview of the field, the other showing the batter, with the latter view disappearing when the ball is hit. The game requires you to "draft" a team before play, composing the best possible squad...
---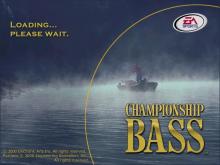 Championship Bass 2000
Championship Bass for the PC allows anglers to compete in online fishing tournaments, as well as hitting fishing spots with up to eight friends in one game. The online fishing community is a virtual lake where the fish are hungry, and the tall tales get taller with each new conversation....
---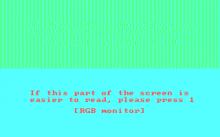 Championship Golf: The Great Courses of the World - Volume I: Pebble Beach 1986
Championship Golf: The Great Courses of the World - Volume I: Pebble Beach is a golf game which features the American course Pebble Beach. For every hit the game shows a 3D and overhead view of the situation, so the player can plan the next steps accordingly. The golf game...
---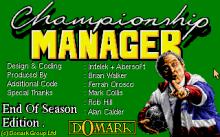 Championship Manager '93 w/ 1994 data disk 1994
This End of Season Edition is an updated version of Championship Manager 93/94. It adds new team data for the 93/94 season and adds all the foreign players that came to England during the season. One new background picture is also included. ...
---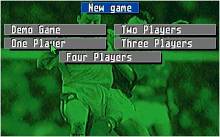 Championship Manager 1 1992
Championship Manager starts a successful series of football management games, which means that you don't actually control your players during matches, but you're in charge of choosing the starting lineup and tactics. Matches are played out through a running commentary, with the chance to interrupt it to make substitutions or...
---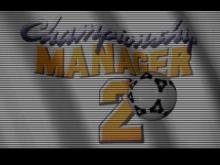 Championship Manager 2 1995
CM2 is a football (known as soccer to some of you) management sim. Released fall 1995 as the successor of a fine line of various versions of the original Championship Manager, CM2 soon established itself as the benchmark game for football management sims. And it's still highly popular. Despite the...
---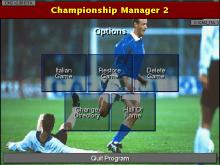 Championship Manager 2: Italian Leagues 1996
Championship Manager 2: The Italian Leagues Season 96/97 is a stand-alone updated version of Championship Manager 2, featuring two playable leagues: Italian "Serie A" and "Serie B". The database features over 4000 real player stats and history; transfers and team rosters are updated to the start of 96/97 season. ...
---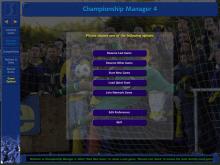 Championship Manager 4 2003
Whoever said Championship Manager was the most addictive gaming experience known to man was sage-like in their wisdom. And probably divorced, friendless, jobless, and living in an Internet Café, having been evicted from the home they once occupied. After a period of enforced abstinence, there was almost a feeling of...
---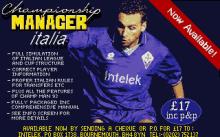 Championship Manager 93/94 1993
Championship Manager 93/94 is the successor to Championship Manager. The text-based interface remains the same, but several new features have been added to the game. Included now are reserve squads, transfers with international players and injury time. Also, the match engine has been slightly changed to give more information. As...
---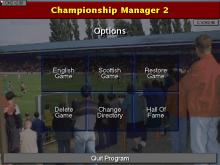 Championship Manager 96/97 1996
Championship Manager 96/97 is a re-release of Championship Manager 2 with seasonal updates for the 1996/1997 season. The game starts with the new season, and players, managers and teams have been brought up to date, with revised histories for the English and Scottish players. It also includes bug fixes, gameplay...
---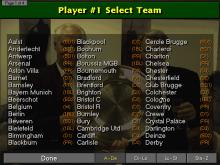 Championship Manager 97/98 1997
This was the final update to Championship Manager 2, and it was fully debugged and had the AI tidied up in several areas. The team and player data was updated for the 97/98 season, meaning that Michael Owen has emerged at Liverpool and Emmanuel Petit has joined Arsenal, for example....
---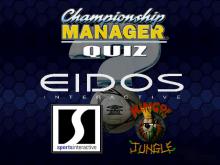 Championship Manager Quiz 2001
Championship Manager, the most exciting spreadsheet in the world. Or so it would appear, certainly if sales figures are to be believed. By that standard playing with virtual Barbies is the height of computer entertainment, but as usual, I digress. Before Champ Man 4 gets released later this year, Eidos...
---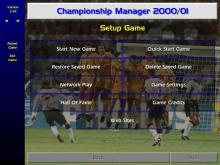 Championship Manager: Season 00/01 2000
This is without doubt the most successful football management simulation on the PC, constantly outdoing and improving over its closest competitors. So can you expect to see a completely new menu system, enhanced graphics, and maybe even FIFA style in-game footage? Not on your life mister! CM00/01 is not a brand...
---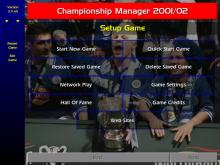 Championship Manager: Season 01/02 2001
Championship Manager 01 / 02 marks the latest and final update to the Championship Manager 3 engine, and at the time of going to press has already broken UK PC game sales records, shifting well over 100,000 copies within a day or two of launch. It's quite popular then, and...
---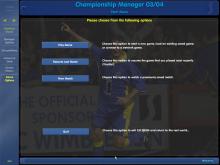 Championship Manager: Season 03/04 2003
Graphics Championship Manager games have never been about the graphics. Critics condemn them for looking like glorified spreadsheets and they will not push that latest graphics card you splashed out on into even the mildest sweat. This version is no different. The graphics are entirely functional and do what they need...
---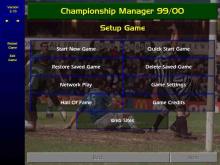 Championship Manager: Season 99/00 2000
Picture the scene - a crowd of lads in the pub, beers in hand, loudly discussing Saturday's full-time football scores. One of them bemoans the recent misfortunes of his lifelong supported team. During his scathing analysis he mentions how it's really not any of the player's fault, but it's all down...
---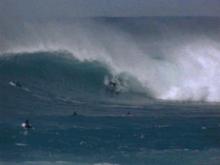 Championship Surfer 2000
Championship Surfer is developed by a team consisting of some avid surfers, plus they have received assistance by Australian National Surfing Champion Mark "Richo" Richardson. Eight members of the O'Neill World Championship surf team will appear in the game including Cory Lopez, Shane Beschen, and Rochelle Ballard. The in-game waves,...
---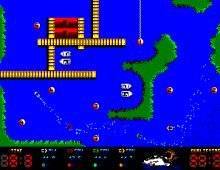 Championship Wave Racer 2003
Championship Wave Racer is a fun boat racing game that is strongly reminiscent of classic Super Sprint and Micro Machines games. Despite taking place on water, the game looks so similar to Codemasters' classics that it might as well be titled "Micro Machines at sea": the tiny cars are now...
---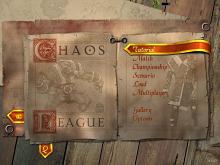 Chaos League 2005
Chaos League is different. After producing Pro Rugby Manager 2004, a game based on a well known sport, developers Cyanide Studios have decided to give us another sports title, except this time it's based on a sport they created themselves. Coming as a sort of cross between the worlds of...
---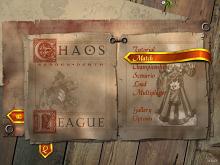 Chaos League: Sudden Death 2005
Chaos League: Sudden Death isn't entirely a new game - Chaos League (no subtitle) came out around a year ago, and Chaos League: Sudden Death adds content to the original, with new teams and plenty of new game features as well as gameplay tweaks, but in my mind it's not...
---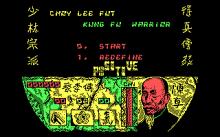 Choy Lee Fut Kung Fu Warrior 1990
He raised from the Hell and sighed. On his face the wrath of a demon and the ambition of thousand devils. He sprouted like a bad seed in the temple of Shaolin, whose walls lodged the best fighters of all times. The destiny has decided that the last hour for...
---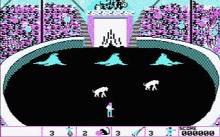 Circus Games 1987
A small and fun CGA action game similar to Big Top o' Fun with a simple goal: perform 4 circus events individually or in the International Competition where judges will induct you to the Hall of Fame if your score is high enough. The events (tightrope, trick horseriding, trapeze, and...
---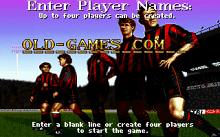 Club Football: The Manager 1994
Club Football: The Manager is a decent simulation of England's soccer league. As manager of a Division 2 team (which you can select at the beginning), your job is to lead the team to Division 1 and finally to win the Premier Cup. The game is reminiscent of Match Day...
---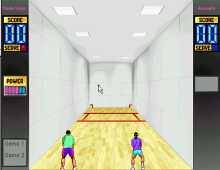 Club Racquetball 1991
No doubt one of the most obscure Macintosh games ever made, Virgin Mastertronic's Club Racquetball is a solid computer version of one of the world's "niche" sports -- racquetball, a distant cousin to squash. For anyone who is not familiar with the sport, racquetball and squash are almost identical games,...
---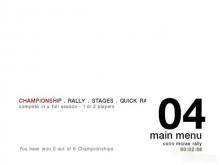 Colin McRae Rally 04 2004
Colin McRae Rally series has been the king of the rally genre. But does 2004's edition still rule the roast? One of the things you'll immediately notice is that CMR04 isn't as big a step up from it's predecessor as CMR3 was. For a start, although the graphics are certainly...
---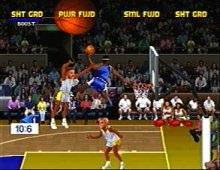 College Slam 1996
Part of the NBA Jam series of basketball games, College Slam allows you to choose from over 40 real college teams and take part in head-to-head games, tournament games, and season-long play. The gameplay is arcade-style two-on-two fast action featuring backboard shattering wild dunks, power-ups and other crazy moves. The...
---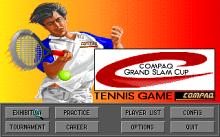 Compaq Grand Slam Cup 1992
A relatively rare version of Mindscape's classic tennis game 4D Sports Tennis, Compaq Grand Slam Tour is identical in every respect except for digitized photos of real-world courts that make up the Grand Slam (Wimbledon, US Open, and French Open) as well as the trophies. The game also seems to...
---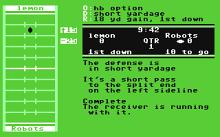 Computer Quarterback 1981
One of Dani Bunten's early classics, Computer Quarterback, published in 1979, in Brian Moriarty's tribute, "was originally designed to support exactly two players. It was ported to Apple BASIC from a mini-computer simulation written in Fortran. In an amusing reversal of recent industry practice, it was the single-player mode that...
---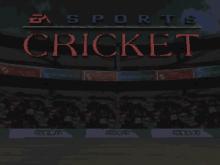 Cricket 96 1996
Beam know that the game of cricket converted to a video game would be plain stupid since it would essentially take at least five days of play to get a result, hardly what gamers want. Ian Botham's International Cricket 96 therefore plays more like a baseball title with fast scoring,...
---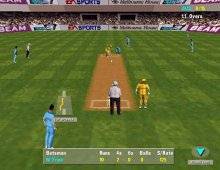 Cricket 97 1997
Cricket 97 brings the English sport to PC with four modes of play: Test Match, One-Day Internationals, the World Challenge, and Fast Match. The television-style presentation includes motion-captured athletes and umpires as well as play-by-play commentary from broadcaster Richie Benaud and pitch reports from Ian Botham. Create a custom team,...
---