Simulation Games #25
Search a Classic Game: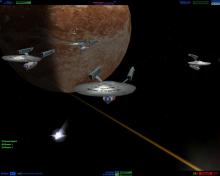 Star Trek: Starfleet Command 1999
Usually, in the realm of electronic gaming, when the words in the title include "Star Trek," you usually have a game that is synonymous with "crap." While there have been some great games for the series, like Interplay's Star Trek: 25th Anniversary and Judgement Rites, for every game that gets...
---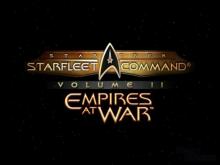 Star Trek: Starfleet Command 2 - Empires at War 2000
In the ever growing world of computer titles encompassing the Star Trek universe, Star Trek: Starfleet Command Volume II: Empires at War makes a nice counterpart to the ground based, multi-planet Star Trek: New Worlds, released just a few months previously. You can choose any one of eight races and...
---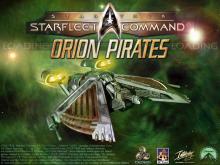 Star Trek: Starfleet Command 2 - Orion Pirates 2001
Virtual captains again venture out to the vast reaches of Federation space through this next episode in the Starfleet Command series. Though billed as an expansion pack, this is a stand-alone release that does not require any of the original games to play. In Star Trek: Starfleet Command - Orion...
---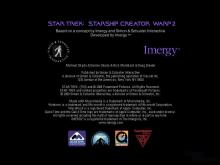 Star Trek: Starship Creator Warp 2 2000
Star Trek: Starship Creator Warp II encompasses both design and tactical combat. You begin with a standard ship, one of seven provided, and redesign it using various parts and attachments. Once completed, use the rebuilt ship to perform various missions and gain money for improvements or buy more ships and...
---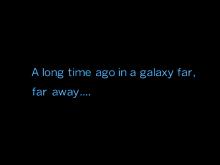 Star Wars Episode I: Racer 1999
Star Wars: Episode I: Racer for Windows is essentially a straight port of the Nintendo 64 version, and I'd have to say it doesn't handle nearly as well as its home videogame system cousin. Of course, this isn't a game which I've really enjoyed on either platform, so it might...
---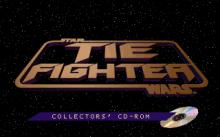 Star Wars TIE Fighter (Collector's CD-ROM) 1995
From the first mission to the last, TIE Fighter has you firmly bolted into your pilot's chair. As you take an X-wing into your sights and blast it to nothing, you can't help but grin with evil glee. This is TIE Fighter. Armed with a Gravis gamepad, it is quite easy...
---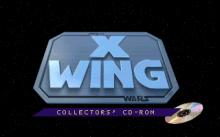 Star Wars X-Wing (Collector's CD-ROM) 1994
If you love Star Wars, then you will really enjoy Star Wars: X-Wing Collector's CD-ROM -- about as close as you can get to actually joining the Rebel Alliance. The game accurately represents the Star Wars universe as you pilot a variety of Rebel starfighters through mission after mission. Each craft...
---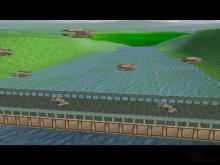 Star Wars: Battle for Naboo 2001
Take to the skies above Naboo and protect the planet from the onslaught of a greedy invasion by the domineering Trade Federation. This is the call to arms in Star Wars: Episode I: Battle for Naboo. Though most of the action takes place in a fighter or defense vehicle high...
---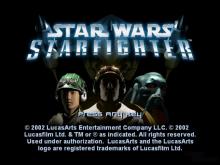 Star Wars: Starfighter 2002
The infectious arcade-style gameplay of Star Wars: Rogue Squadron returns in Star Wars: Starfighter. Pilots won't have to waste much time with strategy since the shooting and explosions begin immediately. Fortunately, the point-and-shoot missions are mostly well planned and fun, so the absence of tactics and story can be forgiven. Learning...
---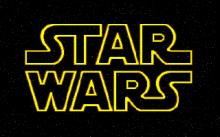 Star Wars: TIE Fighter 1994
The Empire wants YOU. Join the ranks under Emperor Palpatine and fight on the dark side for a change. LucasArts launches the space combat simulation Star Wars: TIE Fighter, the sequel to Star Wars: X- Wing. Start with flight training then move on to simulated dogfights before jumping into pitched battle...
---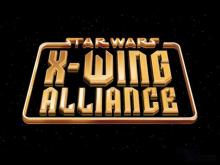 Star Wars: X-Wing Alliance 1999
Putting Star Wars: X-Wing Alliance into the Star Wars timeline, it takes place at the same time as The Empire Strikes Back and continues through Return of the Jedi. You play the part of the youngest son of the Azzameen family, owners of a shipping and storage company. Before beginning,...
---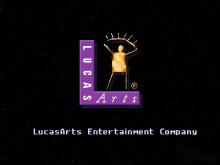 Star Wars: X-Wing Collector Series 1998
X-Wing and TIE Fighter have such an elevated place in the hearts of so many gamers that they have passed beyond mere computer games and into the realm of legend. Other games are compared with them, usually unfavorably, and the gameplay is so strong that people still return to them...
---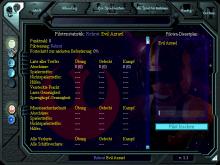 Star Wars: X-Wing vs. TIE Fighter 1997
Enemies to the left, enemies to the right, enemies behind and in front of you! The chaos is mind boggling and the action never stops. Star Wars: X-Wing vs. TIE Fighter is a space dog fighting game like no other. Fly a multitude of different ships and destroy as many...
---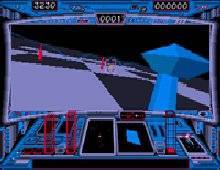 StarGlider 2 1989
More space combat and strategy in this sequel, which challenges you to collect the elements to form a bomb to destroy a resistance force, before delivering them through heavy fighting. Each planet has its own characteristics, with differing inhabitants and features. As well as flying through space, you must dart...
---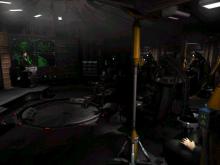 Starlancer 2000
If ever there were a perfect combination of the action of Star Wars and Star Trek, Starlancer would fit the bill. The game, in addition to being a non-stop thrill ride through the universe of the future, is fiercely competitive! Not only can you fight in space like in Star...
---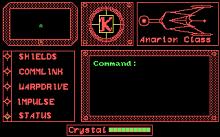 Starlord (Freeware) 1990
Starlord is a fun early spaceship simulator similar to EGA Trek, but with a much less complex gameplay. You control a spaceship on a long voyage through space, fighting evil Imperial ships, repair and refill your ship at starports, and buy and sell commodities for profit. Although the basic gamplay is...
---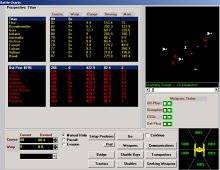 Starship Tactical Combat Simulator 1999
War Encounter and Starship Tactical Combat Simulator are two excellent fanmade space combat games set in the Star Trek universe. STCS is more of a tactical simulation while War Encounter an action game similar to the melee combat mode in Star Control 2. As commander of the starship Enterprise in War...
---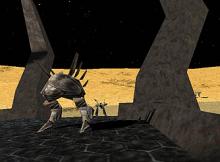 Starsiege 1999
You sit at the helm of a finely tuned robotic fighting machine, pummeling all that stands in your path with both energy weapons and shells. Do you fight for the Martian rebels, thwarting the plans of the Emperor, or join the ranks of the robotic Cybrids, who are set on...
---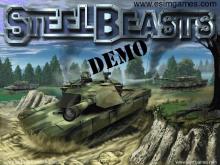 Steel Beasts 2000
Steel Beasts gives you the chance to command the US M1A1 and German Leopard 2A4 tanks without having to obsess about every gauge, dial and scope, nor does it force the strict policies and procedures of the military on you. Add to this the varied battlefields of Europe, Asia and...
---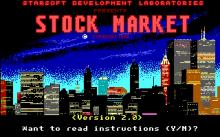 Stock Market: The Game 1990
Up to four players compete on the Stock Market to make their fortune, by investing in a portfolio of stocks. There are oil companies, car companies and airlines, all with graphs of performance to predict trends from. Bear in mind economic trends as they unfold. You can take out a...
---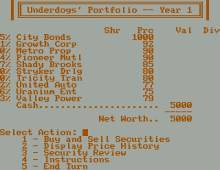 Stocks & Bonds 1982
PC conversion of the board game. Try to make money at the stock market. Invest in stocks when their exchange price is low and when the price rises sell them to make profit. You have $5000 in cash at the beginning of the game and 10 different securities to choose from. ...
---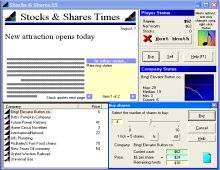 Stocks & Shares 2001
Stocks & Shares is a fun and free bite-sized stock market simulation - meaning that a complete game won't take you more than a few minutes to complete. The realism can't be compared with true simulations like Wall $treet Raider, but as a "light" simulation, Stocks & Shares is more...
---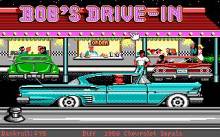 Street Rod 1989
Year is 1963 and you're one of the hotshots aspiring to be king of the county. You're given a small sum of money to buy your first car. Tune it for maximum performance and off you go. In the diner where other hotshots are waiting to take your prized possession,...
---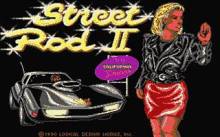 Street Rod 2 1991
Interface is thankfully the same as the first but that's where the similarity ends. More is the name here, more cars and parts to buy giving you every edge to regain your crown. Gameplay is it's most significant thing that you will ever remember in this classic. Gameplay control is...
---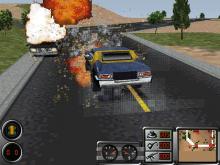 Streets of SimCity 1997
Explore the streets of a city imported from a SimCity 2000 save or one of the more than 50 included in Streets of SimCity. The single player game is presented as a series of four mission packs each with a different theme. In each mission you play as a different...
---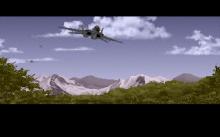 Strike Commander 1993
This sim is unique due to the fact that you are not playing a the role of a military pilot like in other combat flight sims. Instead, you play as the commander of the Wildcats, a struggling mercenary squadron operating out of Turkey, flying F-16 fighters. Although you are based...
---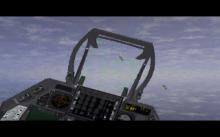 Strike Commander (CD-ROM Edition) 1993
The CD-ROM release of Strike Commander includes the following: Strike Commander Strike Commander: Tactical Operations An additional opening cinematic and menu to choose between these two products digitized speech for every character, a feature which expands on what was available in the Strike Commander Speech Pack ...
---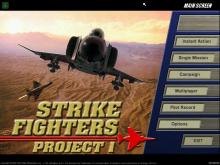 Strike Fighters: Project 1 2002
Strike Fighters: Project 1 is a combat flight simulation game featuring the famous and versatile McDonnell Douglas F-4 Phantom II. The setting is the 1960s, a primitive but rapidly changing period. Players will engage in dogfights with enemy planes and undertake search and destroy missions involving ground targets....
---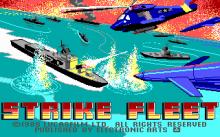 Strike Fleet 1988
Strike Fleet is the unofficial sequel to PHM Pegasus which was developed by Lucasfilm Games in 1987. But instead of simulating hydrofoils you can now command a complete fleet of war ships into several missions. These missions are related to political events that were of interest when the first version...
---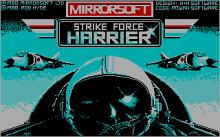 Strike Force Harrier 1988
A decent flight sim by Mirrorsoft featuring the Harrier jet, released at the time when the fighter was hailed as hero of the just-over Falklands war. Strike Force Harrier simulates the world's only vertical take-off and landing aircraft quite competently, although it doesn't have extensive campaign/career mode to keep armchair...
---