Simulation Games #34
Search a Classic Game: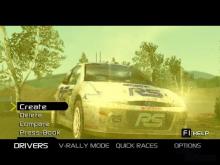 V-Rally 3 2003

---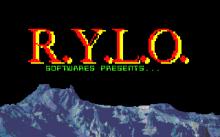 Veritech 1994
Veritech: Variable Flight Simulator is a flight simulator based on the Veritech/Valkyrie fighter featured in the Robotech/Macross anime series. In this game you are able to fly a Veritech fighter. You are unable to transform into the giant robot Battleoid mode, you are only able to transform into only the...
---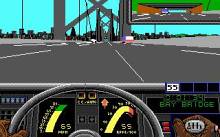 Vette! 1989
Vette! puts players behind the wheel of one of four Corvettes as they race through the city of San Francisco, which features accurately mapped real world streets and landmarks. The included Corvettes are a 1989 stock model, ZR1 King of the Hill, Callaway Twin Turbo, and the Callaway Sledgehammer. Races...
---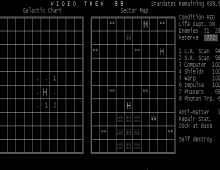 Video Trek 88 1982
One of the rarest Windmill Software game, Video Trek 88 is a fun text-based game that has the honor of being the very first commercial PC game based on Star Trek series-released way back in 1982. Coded entirely in BASIC, the game is similar to the mainframe Star Trek games...
---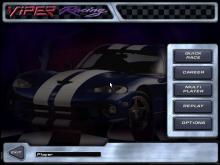 Viper Racing 1998
Sierra claims that Viper Racing is "the world's first true sports car simulation." Some may dispute this statement, but this game certainly has enough detail and playability to keep the ardent racing enthusiast happy. Compared to other racing games, the first difference noticed about Viper Racing is that every car in...
---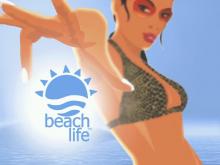 Virtual Resort: Spring Break 2002
As with television shows and movies, one often finds that the more racy and suggestive a game's theme, the less likely it is to offer complex, substantive content. Yet in spite of subject matter that seems hand-picked to stir controversy and grab attention, Virtual Resort: Spring Break is a solid...
---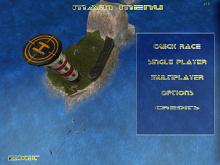 Virtual Skipper 2 2002

---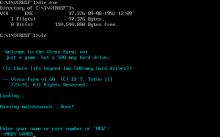 Virus-Farm 1992
This game simulates a dumb terminal intrusion into a remote computer system and navigation of its file system via an MS-DOS-like (DorkSoft's VF-DOS, "the operating system that is more susceptible to a viral attack than any other") command line interface. Players are given free rein to investigate directories, display the...
---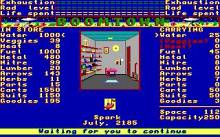 Visions of The Aftermath: Boomtown 1988
2D, post-apocalyptic RPG It is the not-so-distant future, after the Great Apocalypse. Only the strongest and smartest have survived. It has been several months since The Day Time Stopped... several months since The Bomb... several months since you've seen the sun or felt its warmth. You can't last too much...
---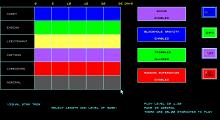 Visual Star Trek 1990
Definitely one of the best and most faithful Star Trek simulation game I've ever come across, Visual Star Trek is a perfect example that bigger doesn't necessarily mean better. Almost every system on the Enterprise is accurately modelled, down to the status reports. You can choose the universes ranging from...
---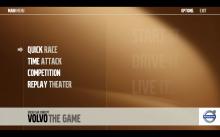 Volvo: The Game 2009
Six Volvo racing cars from the past and present are featured in this racing game, available as a free download for the PC platform. Swedish developer SimBin Studios included the following models, each designed to be as authentic to its real-world counterpart as possible: Volvo S60 Concept, Volvo C30, Volvo...
---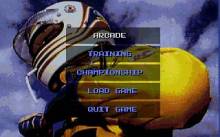 Vroom 1994
Vroom is a Formula 1 car racing game that can be played either in arcade or simulation mode. The main options screen allows you to select manual or automatic transmission, number of laps, and training, single race, or full season. The multiplayer option allows two players to race against each...
---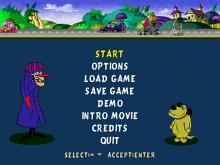 Wacky Races 2000
Wacky Races presents you with the chance to take some of the lesser-known Hanna-Barberra creations out for a spin. Naturally the racers who are gunning for the title of "World's Wackiest Racer" are going to be driving strange vehicles and wielding even stranger weapons to keep themselves ahead of the...
---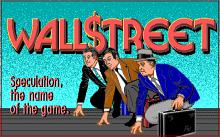 Wall$treet (a.k.a. Börsenfieber) 1990
Wall$treet is a fun but very obscure stock market simulation developed by German publisher Falken Verlag, who was better known as a book publisher (and now owned by Random House). Published only in Germany and a few other European countries, Wall $treet was not commercially successful - most likely because...
---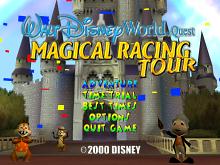 Walt Disney World Quest Magical Racing Tour 2000
At first glance, Walt Disney World Quest: Magical Racing Tour appears to be a very exciting game that both young and old will enjoy. After all, most people enjoy Disney World and a game based on the theme park should be equally interesting. Unfortunately, the optimism soon disappears. First, the gameplay...
---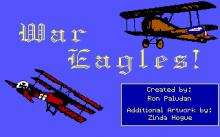 War Eagles 1989
War Eagles is a World War I aerial combat simulator set in the time prior to America entering the war. You'll portray a British or German pilot through 10 missions of flying ace action, including battles with the Red Baron (Rittmeister Manfred Freiherr von Richthofen) and the White Knight (Billy...
---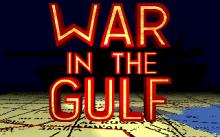 War in The Gulf 1993
A third game in the tank combat series, following from Team Yankee (whose story and setting came from a book) and Pacific Islands (set in an imaginary 1995 war). The third game imagines a situation in which Iraq invades Kuwait for a second time. The series' main distinguishing feature was the...
---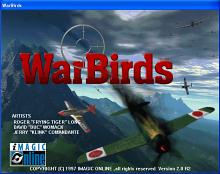 Warbirds 1997
John Wilbur Stealy Senior, aka 'Wild Bill', isn't exactly the most likely of candidates for a senior position at a games company. He founded Microprose alongside Sid Meier in 1982, managed, financed and tested games like Civilization and F-15 Strike Eagle and has since become the CEO of iEntertainment. He's...
---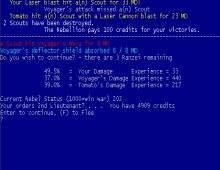 Wasteland Rebels 1994
Wasteland Rebels is a fun little ASCII-based battle simulator based on Japan's popular Macross (called Robotech in the West) universe. In this Rebellion (your side) vs. the Ranzei (enemy side) galactic conflict, the gameplay is deceptively simple: you control a ship and 2 wingmen, engaging in one battle after another...
---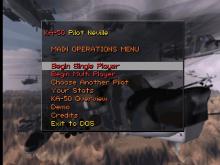 Werewolf vs. Comanche 2.0 1995
Werewolf vs Comanche is one of the newest titles from Novalogic, the creators of Comanche Maximum Overkill (and its add-ons). This time, in addition to the Comanche, you also fly the Comanche's arch rival, the Werewolf. Unfortunately, Novalogic has done little to improve their Voxel technology used to render low...
---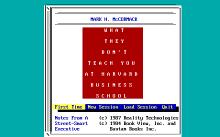 What They Don't Teach You At Harvard Business School 1987
One of a handful of games ever made about sports management, What They Don't Teach You At Harvard Business School is an excellent business simulation based on Mark McCormack's classic book. In case you are not familiar with the man, Mark McCormack is the founder of International Management Group (IMG),...
---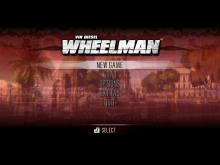 Wheelman 2009
Wheelman is an automotive-action video game built on the framework of a Hollywood movie, starring Vin Diesel in the lead role. An open-world interpretation of Barcelona, Spain, is the setting for the violent driving adventure. Players take control of the character Milo Burik, an expert wheelman, modeled after Diesel. Burik's...
---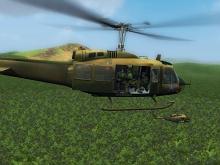 Whirlwind over Vietnam 2006
Caught up in the Whirlwind Over Vietnam, players must take the controls of the UH-1 chopper and navigate their way through the events happening in Ia Drang Valley during 1965. Designed for both casual and dedicated digital pilots, the 'copter controls of Whirlwind Over Vietnam can be altered to reflect...
---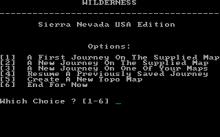 Wilderness: A Survival Adventure 1986
Your small plane has crashed in the Sierra Nevada mountains. You are all alone in the snow and cold, but you manage to pull a topographic map from the wreckage of your plane. The map shows the location of a ranger outpost, your only hope for survival. But you could...
---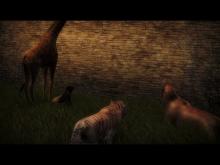 Wildlife Park 2 2006
Wildlife Zoo involves the fun and responsibilities that come with running a successful zoo, including animal care, landscaping, staffing, and keeping visitors happy. Terraforming options allow zoo keepers to create dry savannahs, mountain peaks, looming waterfalls, or swampy wetlands, and with over 100 available buildings, items, enclosures, and decorative extras,...
---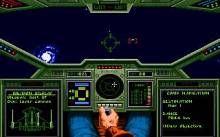 Wing Commander 1 1990
Wing Commander, first released in 1990 by Origin Systems, is a flight combat game interwoven with a cinematic storyline set in the 27th century. Rather than modeling real-world physics with a completely accurate simulation of space flight, the game is designed to provide a fun, intense, first-person space dogfighting experience....
---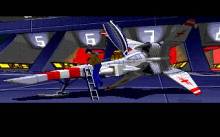 Wing Commander 2: Vengeance of the Kilrathi 1991
The sequel to the immensely popular Wing Commander, you are once again placed into the battle against the Kilrathi. Gameplay is very consistent with the original. The story begins with the Tiger's Claw being destroyed by three Kilrathi stealth fighters, and you are accused of allowing the carrier to be...
---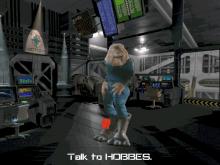 Wing Commander 3: Heart of the Tiger 1994
The year is 2669. After four decades, a war spanning the universe has still been going on between the Terran Confederates, and the Kilrathi, causing millions of casualties on each side. You are Colonel Christopher Blair; a veteran of the Confederate Space Force, who has just been relocated to the...
---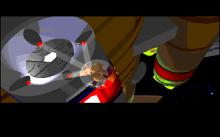 Wing Commander II: Deluxe Edition 1992
This is a compilation of the entire Wing Commander II saga on a single CD. The compilation includes: Wing Commander II: Vengeance of the Kilrathi Wing Commander II: Vengeance of the Kilrathi - Special Operations 1 Wing Commander II: Vengeance of the Kilrathi - Special Operations 2 Wing Commander II: Speech Accessory Pack ...
---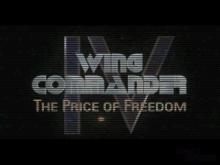 Wing Commander IV: The Price of Freedom 1996
The Wing Commander series takes a turn for the dramatic, bringing itself closer and closer to interactive movie status. Nowhere is this more evident than in Wing Commander IV: The Price of Freedom with its many CDs and overabundance of full motion video (FMV). The game gives you choices of...
---