Simulation Games #10
Search a Classic Game: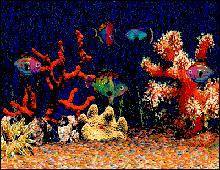 El-Fish 1993
Co-designed by the creator of Tetris, El-Fish is an aquarium simulator that lets players catch, breed, and evolve their own fish. Aesthetics such as gravel, backgrounds, ornaments, animated objects, and plants can be selected to customize the aquarium. Randomly generated fish are first "caught" from a pond, then bred with...
---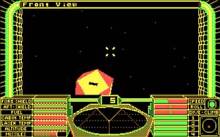 Elite 1987
Developed by David Braben and the rest of the Firebird Software team, this influential home computer game involves space combat and interstellar trade. Players begin as the captain of a bare-bones ship, who must earn money for fuel, repairs, and improvements. Some money can be made through trading runs between...
---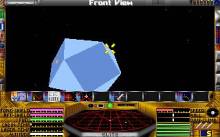 Elite Plus 1991
Elite Plus is a VGA re-make of Bell and Braben's space trading flight simulator, Elite. It is an updated conversion of the original that features new graphics and sounds/music. The novella included with this package is different from the one that came with the original Elite releases. This version includes the...
---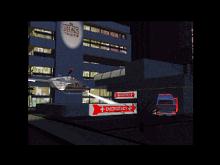 Emergency Room 1995
Being a doctor in the real world takes steel and a steady hand, but in this cyber-sick ward all it takes is a lot of patience. As a rookie med student, you review a patient's chart and use simplistic procedures (checking blood pressure, taking pulse) to diagnose and treat a...
---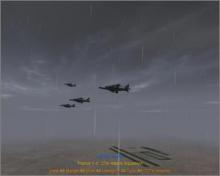 Enemy Engaged 2 2007
Gamers find themselves embroiled in combat above the skies of Lebanon, Taiwan, and Korea when they climb into the cockpits of Enemy Engaged 2. Designed to improve upon the high standards of the original release, the game includes two updated missions from Enemy Engaged as well as a level created...
---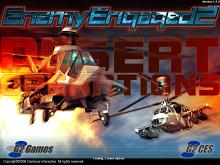 Enemy Engaged 2: Desert Operations 2008

---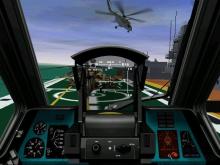 Enemy Engaged: Apache vs Havoc 1998
Apache Havoc: Enemy Engaged is a game with killer graphics and amazing sound. Unfortunately, it fails to deliver in the game play department. Apache Havoc touts itself as a war game and a helicopter flight simulator. This is where it falls apart. Even on the novice settings, the helicopters featured in...
---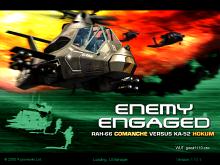 Enemy Engaged: Comanche vs. Hokum 1999
You are in a command center where war is unfolding before you in real time, depicted through an intricate virtual battlefield display. Frenzied communications stream in through your helmet radio; battle reports, requests for assistance and the ever-present guidance of Forward Air Control. Missions begin to appear on the onscreen...
---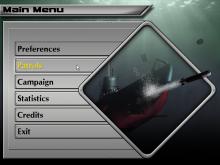 Enigma: Rising Tide 2003
Enigma: Rising Tide offers an alternate history where three giant factions -- the United States, Imperial Germany, and the League of Free Nations -- fought for supremacy on and under the oceans of Earth. Players take command of deck guns, launch torpedoes, and drop depth charges in furious naval combat....
---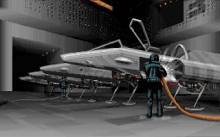 Epic 1992
The sun is about to go supernova and humanity must find a new home. All the population is packed into a huge fleet of ships and they set off for a suitable planet. Unfortunately the route goes straight through the territory of a hostile alien race, the Rexxons. The game...
---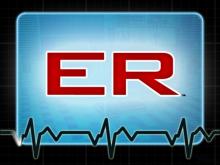 ER 2005
After a successful run of original Emergency Room medical simulation games, highlighting the life-and-death dramas faced by doctors and nurses, Legacy Interactive sets this medical adventure in the emergency room of Chicago's County General Hospital, the fictional home of the hit NBC television series ER. Players take the role of...
---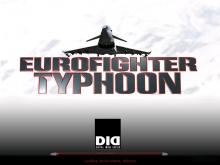 Eurofighter Typhoon 2001
Rage Software's Eurofighter Typhoon takes to the bogey-filled skies of a tumultuous near-future in this high tech combat flight sim. The title is based on the next-generation fighter plane developed jointly by Germany, Italy, Spain, and the UK and it has been endorsed by the test pilots that were among...
---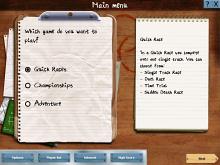 Europe Racer (a.k.a. Europe Racing) 2001

---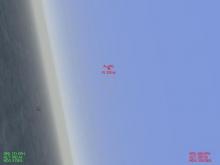 European Air War 1998
Although the point and overall objectives of European Air War may be reminiscent of other games, the way in which the flights and scenery are portrayed is impressive, especially when played with a 3dfx graphics card and a good quality joystick. The rousing animation and use of genuine newsreel footage...
---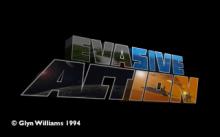 Evasive Action 1993
An interesting flight sim that takes you through four world wars. This sim allows you to flight historically accurate planes from WW1 and WW2, modern day fighters from present day for WW3, and space ships for WW4. ...
---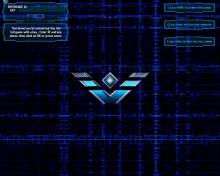 Evochron Mercenary 2010

---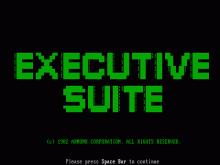 Executive Suite 1982
Executive Suite is a game of office politics at a computer company, and compared to other 1980s life sims -- say, Romantic Encounters at the Dome -- it has aged pretty well. After passing an initial interview and starting as a lowly mailroom clerk or junior engineer, you see how...
---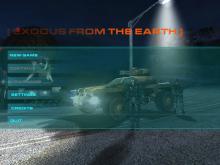 Exodus from the Earth 2007
This first-person shooter combines elements of science fiction with conspiracy theorist paranoia and soap opera intrigue. Exodus From the Earth tells the story of Earth in the year 2016, when the sun suddenly and surprisingly begins growing into a Red Giant and rapidly transforms the surface of the planet into...
---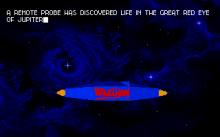 Eye of The Storm 1993
It is 2124, and alien life has been found in our own solar system. The location of this life is just as surprising as its existence; There is a whole ecosystem living within the incredibly hostile atmosphere of the gas giant, Jupiter. When these findings became public, and the hostile nature...
---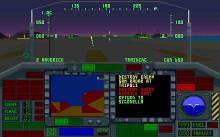 F 117 1991
F-117A is a flight simulator featuring the U.S. Air Force's Stealth Fighter. Although you only fly one aircraft in the game, there are numerous mission options. There are nine different areas of conflict which each vary in difficulty (Persian Gulf, North Cape, Libya, Central Europe, Middle East, Desert Storm, Vietnam,...
---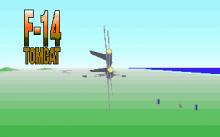 F-14 Tomcat 1990
F-14 Tomcat is a flight simulator / action game. You get to fly an F-14 in a variety of combat situations, either in a single battle at a time or create a career. Graphical enhancements that were new for the time period include full 256-color support and gradiated ground/sky/horizon. ...
---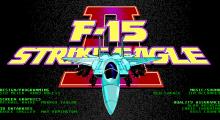 F-15 Strike Eagle II 1989
F-15 Strike Eagle II is a flight simulator for MS-DOS designed by MicroProse Software that puts players in the cockpit of a warplane over Iraqi skies. Players can engage the enemy in dogfights, fly missions, and take part in Operation Desert Storm while flying over more than a million square...
---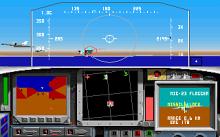 F-15 Strike Eagle II (Deluxe Edition) 1992
A compilation of the original F-15 Strike Eagle II, and the Operation Desert Storm Scenario Disk. The second in the series features campaigns in Lybia, the Persian Gulf, The Middle East and Vietnam, making for a total of 250,000 miles of potential action and danger. Primary and secondary aerial and ground-based...
---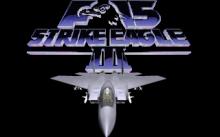 F-15 Strike Eagle III 1992
To shortly resume F-15 Strike Eagle III (also known as F-15 Strike Eagle 3), it's about simulation and shooter, flight. It was done by MicroProse Software, Inc. in 1992. Feel free to download and try it! Micropose released in 93 one of the most advanced combat flight simulator on PC. After...
---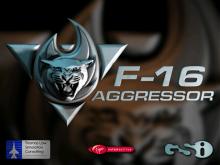 F-16 Aggressor 1999
The Lockheed-Martin F-16 has been historically proven to be a highly durable and capable fighter planes in modern warfare. More than 20 countries either utilize the F-16 now or have them on order. In the last quarter-century, more than 4,000 F-16's have been manufactured with continuous upgrading of weaponry and...
---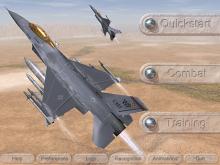 F-16 Fighting Falcon (a.k.a. iF-16 Fighting Falcon) 1996
Because Interactive Magic's iF-16 was released after iF-22, you may be expecting the same graphics engine, right? Wrong! iF-16 does not run on the same flight engine as Interactive Magic's iF-22. Rather it uses the same aging engine that powered HIND and Apache. This is because of the fact that...
---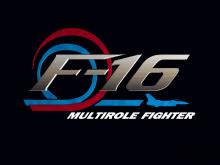 F-16 Multirole Fighter 1998
This game is for all of you who like your hamburgers medium. Not medium rare, not medium well, not rare, and certainty not well done. This is for all of you average Joe's out there. All of you who like the looks of our Nation's deadly flying machines but don't...
---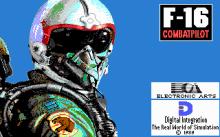 F-16: Combat Pilot 1989
True to the aircraft's flexibility, you pilot the F-16 in assignments as diverse as dogfights, bombing raids or reconnaissance missions. It is up to you to plan your flight route by setting waypoints on the tactical map prior to take-off; you can also (but need not) select the armament of...
---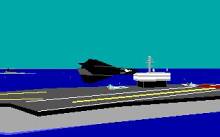 F-19 Stealth Fighter (a.k.a. Project Stealth Fighter) 1988
Rule the night! Take the pride of American Stealth technology and take on the best the Warsaw pact technology can offer! Dodge between radars, sneak under enemy fighters, and take out your primary objectives and secondary objectives with your limited weapons onboard, then make your way home. Can you survive...
---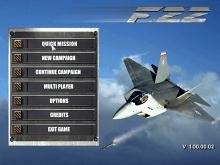 F-22 Lightning 2 1996
For those who aren't avid readers of Jane's publications, F-22 Lightning II isn't a sequel, it's the name of the U.S. Air Force's newest "air superiority weapon" -- what in simpler times was called a "fighter." It's also the latest flight simulator from NovaLogic, the people who brought us Comanche;...
---