Simulation Games #9
Search a Classic Game: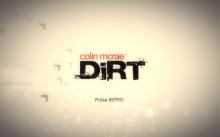 DiRT 2007
Codemasters re-christens its Colin McRae Rally series with "DiRT," an off-road circuit racer that incorporates a wide assortment of events and more than 40 licensed vehicles in 12 car classes. A custom graphics engine dubbed "Neon" was specifically created to take advantage of each format's advanced features, allowing for more...
---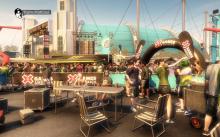 DiRT 2 2009
Codemasters' acclaimed off-road racing series continues with Dirt 2, which offers enhanced visuals, controls, and play mechanics over its power-sliding predecessor. A revamped single-player mode finds you starting out in the humble confines of an RV, where you'll begin your racing career. It's there where you'll meet driver Travis Pastrana,...
---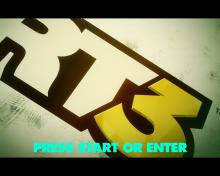 DiRT 3 2011
Promising more vehicles, venues, routes, and events than in any previous game in Codemasters' acclaimed off-road series, Dirt 3 also features revamped car handling and physics that more accurately incorporate weight shifting. Compete in rally stages across Europe, Africa, and the United States as you race over gravel, tarmac, and...
---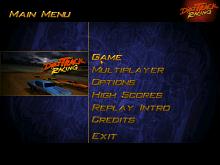 Dirt Track Racing 1999
Build your Dirt Track Racing fame by capturing championship points from grass roots local competition to nationals as you fight and claw your way up through a dozen progressively more prestigious and difficult competitive events. You'll test your dirt track skills at 30 tracks ranging in configuration from Figure 8s...
---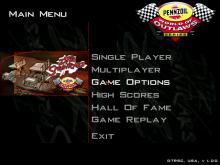 Dirt Track Racing: Sprint Cars 2000
Dirt Track Racing: Sprint Cars allows players to choose from 16 officially licensed "World of Outlaw" winged sprint cars featuring 800 horsepower engines, or modify vehicles to their personal specifications. A variety of tuning options include car (toe, right rear spacing, tire size, pressure and compound, brake strength, steering lock),...
---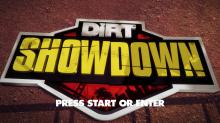 DiRT: Showdown 2012
Dirt Showdown takes Codemasters' rally racing series on an arcade-style detour as players drive cars, trucks, vans, and even hearses through full-contact races, high-flying stunt events, and explosive demolition derbies. Frenzied crowds and pyrotechnics add to the atmosphere as gamers take on more than 50 events and four championships set...
---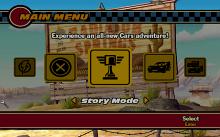 Disney/Pixar Cars 2006
In this video game adaptation of Pixar's Cars, you begin as Lightning McQueen, a rookie race car looking to win fame and fortune at the Piston Cup Championship. A racing adventure game with ten playable characters from the film, Cars offers more than 30 races and mini-games through open environments....
---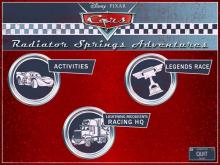 Disney/Pixar Cars: Radiator Springs Adventures 2006
Cars: Radiator Springs Adventures is based on the 2006 film about a crazy group of automobiles that help Lightning McQueen get to the Piston Cup Challenge. This racing adventure features ten mini-games, including the chance to help Mater the tow truck collect junk cars and tow them away, and an...
---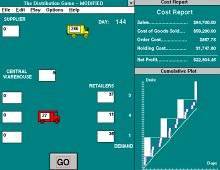 Distribution Game, The 1995
More of an educational tool than an entertaining "game," The Distribution Game is a good simulation game of a two level distribution system - the warehouse and the retailers. As owner of a "middle man" company, you control both levels by deciding when to order and how much to order...
---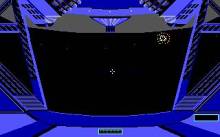 Dive Bomber 1988
In World War 2, the Bismarck battleship has been dominant thus far. Armed with torpedoes and a machine gun, can you destroy the Bismarck with a well-aimed torpedo and turn the tide of WW2 in the Allies' favour? Find out is this flight simulation and strategy game. How you complete the...
---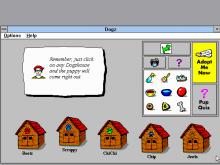 Dogz: Your Computer Pet 1995
Dogz is basically a pet for your desktop. When you first start the program, you are given previews of five different dogs available for adoption. These run the gamut from hound through terrier up to bulldog. Once you've selected a dog to adopt, you go through a registration process. Once you've...
---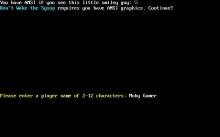 Don't Wake the SysOp 1995
This BBS door game has a misleading name: rather, it should be called "See how much you can get away with bugging the SysOp before he wakes up", the SysOp being (for those of you who weren't online at the time) the system operator of a bulletin board service the...
---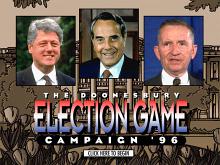 Doonesbury Election Game - Campaign '96 1995
The Doonesbury Election Game is a Presidential election simulation in which the player chooses a candidate and runs his or her campaign in a race for the White House. The game is geared towards political junkies and policy wonks as much as towards fans the Garry Trudeau comic strip. Though...
---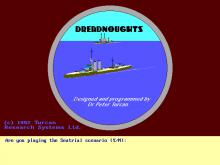 Dreadnoughts 1992
Dreadnoughts is a turn-based surface fleet battle simulator. It accurately recreates the looks, specifications and tactics of fleets of major naval engagements in the 'Great War' of 1914 to 1918. The game starts by promoting the player to Admiral, placing them on the bridge of a great flagship, and then resets...
---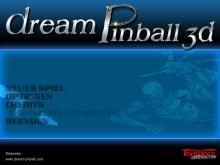 Dream Pinball 3D 2006
Dream Pinball 3D offers players a choice of six multi-level tables, seven camera angles, and four difficulty settings. The themed tables are as follows: Knight Tournament, Spinning Rotors, Monsters, Dino Wars, Aquatic, and Two Worlds. The latter features artwork from the action role-playing game of the same name, released on...
---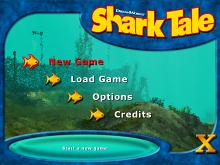 DreamWorks' Shark Tale 2004
This interactive underwater adventure is based on the 2004 feature film of the same title, which tells the tale of two misfits -- a kind-hearted shark and a fast-talking fish -- who swim into trouble together when each tries to be something he is not. Players take the role of...
---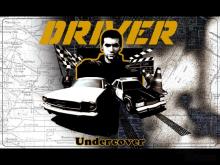 Driver (a.k.a. Driver: You Are the Wheelman) 1999
If you've been saving your pennies for what could rival Gran Turismo as the greatest driving game of the '90s, look no further than Driver: You Are The Wheelman. Man, does it rock! Driver is the type of game that makes you wish you had a seat belt on the...
---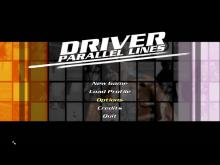 Driver: Parallel Lines 2007
Step back in time as you take the role of wheelman in Driver: Parallel Lines. Beginning in the late '70s, your character enters prison for 28 years and is released into the world in 2006. You must work your way through 35 missions as you explore present day New York...
---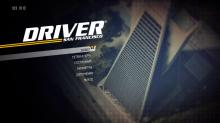 Driver: San Francisco 2011
Just a bit player in the 1999's mission-based racing title Driver, the City by the Bay takes on the title role as gamers once again assume control of race car driver-turned-detective John Tanner as he continues to hunt crime boss Charles Jericho in Driver: San Francisco. However, the developers at...
---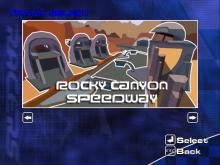 Drome Racers 2002
Select one of 18 playable dragsters, F1 cars, and off-road vehicles, and race through the realm of LEGO brand toys. Players take the role of Max Axel to compete in the Drome Championship, a series of nine tracks, 36 routes, and three terrains set in city, mountain, and canyon areas....
---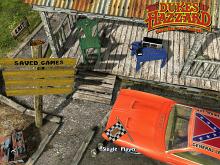 Dukes of Hazzard, The: Racing for Home 2000
The Dukes of Hazzard: Racing for Home is an exciting, action-packed, mission-based game featuring the dynamic cast of the 1980s television classic The Dukes of Hazzard. Featuring the voices of several original cast members, the game is broken up into nine episodes involving fast driving, sharp eyes, and problem-solving skills. Essentially,...
---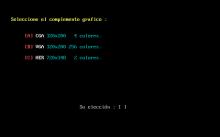 E.S.S. 1989
E.S.S. (European Space Simulator) challenges the player to manage a space shuttle trip starting with 200,000 coins in cash. Successful actions will lead to an increase of the cash, while unsuccessful and preparation actions will lead to its decrease. Set in the future, events of the game start on New Year's...
---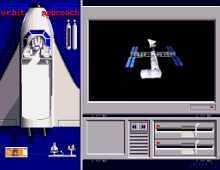 E.S.S. Mega (a.k.a. European Space Simulator Mega) 1991
E.S.S. Mega (European Space Simulator Mega) is a space shuttle simulation that strikes a balance between realism and playability. There is a lot of eye-catching 3D-modelled graphics. There's a wealth of information in the in-game space database, and quite a lot of gameplay depth. E.S.S. Mega is one long campaign...
---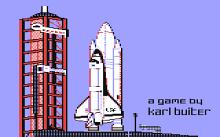 Earth Orbit Stations 1987
Karl Buiter's first, and most underrated, design, Earth Orbit Stations is a classic space program simulation that was one of the first of its kind. It is also probably the only space station simulation that focuses on the commercial aspect of running a private-owned space station, as opposed to controlling...
---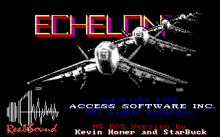 Echelon 1988
Echelon is a space combat simulator with wire-frame graphics. Fly around an alien planet, looking for clues to a "mysterious event" in the planet's past. The game has a feature that allows people to play without concerning themselves with battle, or turn off the "exploration" and concentrate solely on combat. ...
---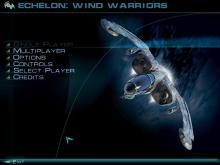 Echelon: Wind Warriors 2002
This futuristic flight combat sim challenges aces to save humanity from the genocidal intentions of an invading alien race. Players take the role of a crack pilot in a desperate time, and climb into the virtual cockpits of advanced, heavily armed aircraft to take out marauding aliens both on land...
---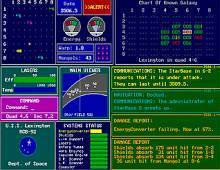 EGA Trek 1989
This is a 16-color DOS PC shareware clone of the classic "Star Trek" game of 1970's mainframes. However since Star Trek is a license, several names have been changed to avoid infringing the copyright, but the gameplay remains intact. The game itself is simple. Each sector of the universe is an...
---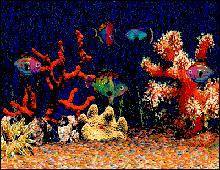 El-Fish 1993
Co-designed by the creator of Tetris, El-Fish is an aquarium simulator that lets players catch, breed, and evolve their own fish. Aesthetics such as gravel, backgrounds, ornaments, animated objects, and plants can be selected to customize the aquarium. Randomly generated fish are first "caught" from a pond, then bred with...
---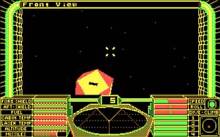 Elite 1987
Developed by David Braben and the rest of the Firebird Software team, this influential home computer game involves space combat and interstellar trade. Players begin as the captain of a bare-bones ship, who must earn money for fuel, repairs, and improvements. Some money can be made through trading runs between...
---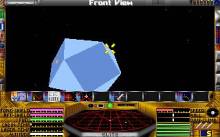 Elite Plus 1991
Elite Plus is a VGA re-make of Bell and Braben's space trading flight simulator, Elite. It is an updated conversion of the original that features new graphics and sounds/music. The novella included with this package is different from the one that came with the original Elite releases. This version includes the...
---