Simulation Games #20
Search a Classic Game: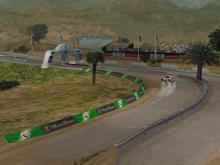 Michelin Rally Masters: Race of Champions 2000
Rally racing can be fun, especially when experienced from the comfort of your own home in front of a computer. Digital Illusions does a nice job of transforming the Race of Champions event into a viable and fairly exciting rally simulation. While it's not the absolute best in the genre,...
---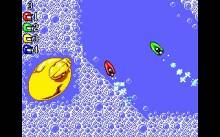 Micro Machines 1994
If you're bored of racing Formula 1 cars, rally cars or MotoGP bikes in their natural habitats, the Micro Machines series could be for you. It involves racing miniatures representing particular vehicle types across a particular terrain found around the house. The Sports Cars race on the desktop, 4x4s in...
---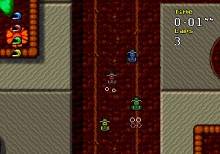 Micro Machines 2 1995
The second game of the Micro Machines series. Like in its predecessor, you behind the steering wheel of an extremely small car. You race around on interesting places, like a table, a treehouse and many more. The control of the cars is sometimes quite difficult, especially if you don't know...
---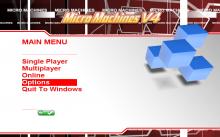 Micro Machines V4 2006
Former toy manufacturer Galoob's miniature car series races onto the PC with multiplayer support, hundreds of vehicles, and a zany selection of offbeat environments. Instead of racing on traditional courses, the tiny cars skitter across breakfast tables, kitchen floors, pool tables, bathtubs, science labs, and other unlikely venues. The diverse...
---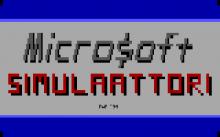 Micro$oft Simulator 1994
Have you ever wondered what a day in the life of Bill Gates is like? Some cynical Finnish programmers decided to cobble together this little program to illustrate the big business decisions coming across Mr. Gates' desk. Starting with a pile of cash, the player needs to decide how to...
---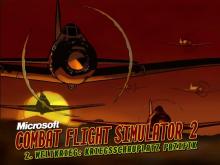 Microsoft Combat Flight Simulator 2: WWII Pacific Theater 2000
The second WWII flight simulation in the series, Microsoft Combat Flight Sim 2: WWII Pacific Theater focuses on the action between Japanese and U.S. fighter pilots in the Pacific. Like the earlier Microsoft Combat Flight Sim WWII Europe Series, extensive effort was devoted to making all aspects of this game...
---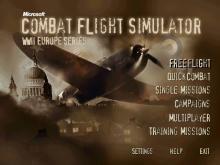 Microsoft Combat Flight Simulator: WWII Europe Series 1998
World War II rages in the skies over Europe. Pilots leap at the chance to show off their skills for the Royal Air Force (RAF), the United States Army Air Force (USAAF) or the Luftwaffe. In Microsoft Combat Flight Simulator: WWII Europe Series, you have the chance to fly for...
---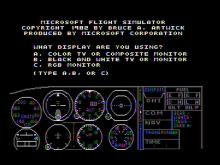 Microsoft Flight Simulator (v1.0) 1982
Even back in 1982, Microsoft's first release of Flight Simulator was advanced enough to meet FAA regulations, giving players full control of the instrument panel. The sim is loaded with features, configurable for any experience level, and includes more than 20 airports with varied terrain. ...
---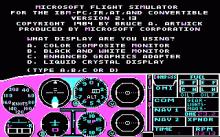 Microsoft Flight Simulator (v2.0) 1984
The second version of Microsoft's flight simulator. Just like the ones that came after, it was a very sophisticated simulator for its time. Major added features included more hardware support, more simulation variables, and many overall tweaks. ...
---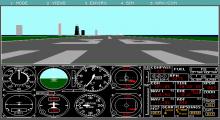 Microsoft Flight Simulator (v3.0) 1988
A flight simulator featuring three different planes, over 100 different airports and maps for major U.S. cities. Microsoft Flight Simulator also includes formation flying, a NAV system and a few other bells and whistles. ...
---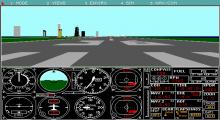 Microsoft Flight Simulator (v4.0) 1989
Version 4 of Flight Simulator was released just 15 months after version 3. The changes include: Makeshift airplane designer, which allowed for wing adjustments and weight, speed, and color changes. New aircraft: Sailplane Random weather patterns Dynamic scenery (e.g. air traffic) Like the previous release, version 4 included scenery for five cities (New York, Seattle,...
---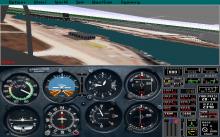 Microsoft Flight Simulator (v5.1) 1993
PC gaming has had it's fair share of dynasties over the years. The King's Quest Series, The Bard's Tale, and Hardball are a few examples. But perhaps the oldest and most renowned of these is Microsoft's Flight Simulator. In it's fifth incarnation, Flight Simulator has gotten another facelift. Sporting advanced...
---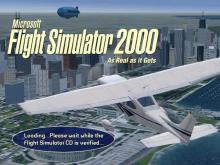 Microsoft Flight Simulator 2000: Professional Edition 1999
In a series that got its start in 1982, Microsoft has continually updated, enhanced and improved their Flight Simulator on a fairly regular basis. With the release of Microsoft Flight Simulator 2000: Professional Edition, the companion game to Microsoft Flight Simulator 2000, the simulation carries its legions of fans and...
---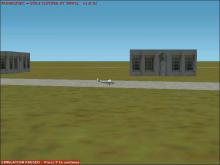 Microsoft Flight Simulator 2002 2001
Building upon success developed through a half-dozen releases over the past 20 years, Microsoft returns to the skies with a new degree of realism and potential for customization in Microsoft Flight Simulator 2002. The series has become the standard for PC flight sims, with many third-party developers creating add-ons and...
---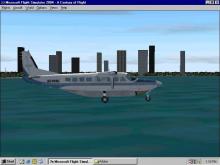 Microsoft Flight Simulator 2004: A Century of Flight 2003
Microsoft Flight Simulator 2004: A Century of Flight is the 20th anniversary release in the Microsoft Flight Simulator Series. Released in a hinged tin box, A Century of Flight includes an additional 2,000 functioning airports and nine new aircraft, including Charles Lindbergh's Ryan NYP Spirit of St. Louis, the Douglas...
---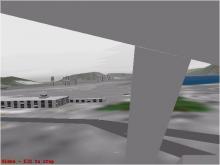 Microsoft Flight Simulator 98 1997
Microsoft Flight Simulator 98 lets armchair pilots take the controls of authentic aircraft including the Boeing 737, the Extra 300S, the Cessna Skylane 182S, the Learjet 45, the Bell 206B JetRanger III helicopter, and the Schweitzer 2-32. Players can fly over the 3D cities of Hong Kong, San Francisco, London,...
---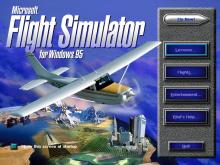 Microsoft Flight Simulator for Windows 95 1996
Microsoft Flight Simulator for Windows continues the Microsoft Flight Simulator series with six real airplanes: the Boeing 737-400, the Extra 300S, the Cessna 182 RG, the Learjet 35A, the Schweitzer 2-32, and the Sopwith Camel. Players can fly over the 3D cities of San Francisco, London, Tokyo, New York, Paris,...
---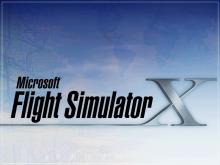 Microsoft Flight Simulator X 2006
Take to the skies with one of the longest running flight franchises in Microsoft Flight Simulator X. Featuring 55 missions that range from 15 minutes to over an hour, you can wrap your hands around the controls of 20 aircraft including the Airbus 321, the Boeing 747-400, the Bell 206B...
---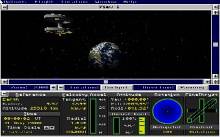 Microsoft Space Simulator 1994
Explore the farthest reaches of space from the comfort and gravity of your home with the Microsoft Space Simulator. Get up close and personal with the Milky Way Galaxy as you tour realistic moons, planets, and stars based on data from NASA. Space walk with the Manned Maneuvering Unit, or...
---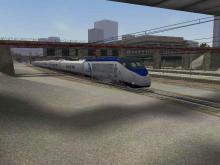 Microsoft Train Simulator 2001
Microsoft Train Simulator is intended to provide the same kind of engrossing and authentic experience for railroad aficionados that the successful line of Microsoft Flight Simulators has created for aviation enthusiasts. Gamers can choose to take the role of engineer on one of several finely detailed recreations of actual trains...
---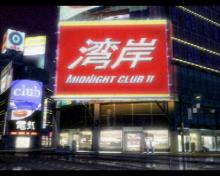 Midnight Club 2 2003
Developer Rockstar San Diego returns to the gritty urban streets for their sequel to the PlayStation 2 launch title Midnight Club: Street Racing. Players once again assume the role of an underground street racer as they embark on a potentially profitable career spanning the world, with events held in Paris,...
---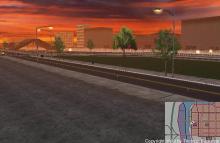 Midtown Madness 1999
What? I can't hit the pedestrians? Midtown Madness puts you in the driver's seat, straps you in, and lets you know you're in for something special. Once the funky bass-laden music strums across your speakers, you'll be tapping your toes and grooving through the streets of Chicago. The fourth in Microsoft's...
---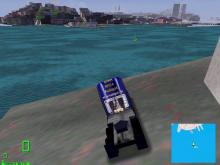 Midtown Madness 2 2000
The world has its share of crazy drivers but most of them aren't tearing up the lawn of Buckingham Palace with a big red fire truck or launching an Austin Mini over the hills of San Francisco. The craziest of drivers, no doubt, are those who drive the wrong way...
---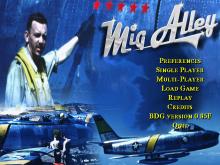 Mig Alley 1999
Mig Alley is Rowan Software's latest foray into the simulator market. Their last sim, Flying Corps Gold, set the standard for WWI Air Combat Simulations, and is still played by many people today, myself included, years after its release. Mig Alley tackles a topic rarely covered in the anals of...
---
MiG-29 Fulcrum 1990
The MiG-29 plane, nicknamed Fulcrum by the West, features in this flight simulation, professionally modeled by former British Aerospace flight simulator designers. You are armed with cannons, rockets and Air-to-Air and Air-to-Ground missiles. Aerodynamics, blackouts and physics are all recreated. There are six missions to take on, starting with your...
---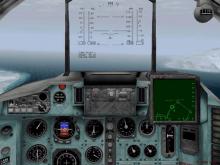 MiG-29 Fulcrum 1998
MiG-29 Fulcrum is a gorgeous game. The texture maps on all of the planes are very highly detailed, the terrain is attractive and exaggerated in height so that its more fun to fly low on your ingress to target. Your own plane is a sight to behold though. I have...
---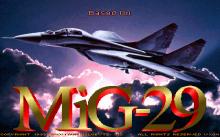 MiG-29: Deadly Adversary of Falcon 3.0 1993
MiG-29 packs all the graphics, realism and sophistication of detail that has made Falcon 3.0 so popular. Based on the famous Mikoyan-Gurevich fighter, a jet known for its agility and sophisticated weaponry, MiG-29 lets the flight sim enthusiast know what it's like to fight for the "other side." Falcon 3.0...
---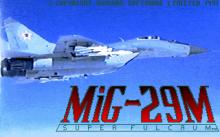 MiG-29M Super Fulcrum 1991
Taking off from where MiG-29 Fulcrum left off, Simis created a new simulator based around the top-modern MiG-29M. The M model has been equipped with modernised avionics, a fly-by-wire system and stronger engines. As opposed to its predecessor, Super Fulcrum takes place in one big scenario instead of single missions. Your...
---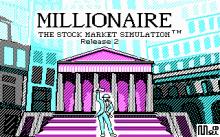 Millionaire Release 2 1987
In Release 2 of Millionaire: The Stock Market Simulation, where margin and short sales are added to gameplay, you are starting a session at U.S. stock market with Net Worth equal to $10,000. Three companies from Automobile, Computer, Oil & Gas, Aerospace, and Food Industries are present on this market....
---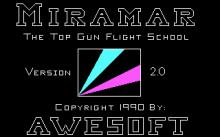 Miramar: Jet Fighter Simulator 1990
Jump into an F-18 fighter jet and take on enemies as you cruise over the ocean in Miramar, Jet Fighter Simulator. You'll take off with your jet from a carrier and once you cruise to a required altitude face fierce opponents who want nothing but to shoot you down into the...
---