Adventure Games #27
Search a Classic Game: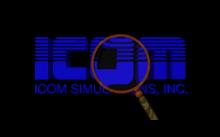 Sherlock Holmes: Consulting Detective Volume I 1991
Sherlock Holmes. No other fictional detective is more infamous, beloved, and parodied. Created by Sir Arthur Conan Doyle, the character has earned a place in popular culture that is rarely bestowed. It is therefore of little surprise that there have been many computer and console games loosely based on the...
---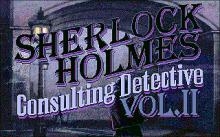 Sherlock Holmes: Consulting Detective Volume II 1992
"What they said about Sherlock I, you'll say about Sherlock II"...reads the advert in the box, based on the nice critics about Volume I. - The same video technology (this is 1992), keeps offering true interactive environment: actually letting you "feel" the traffic in the streets of the old London... - The...
---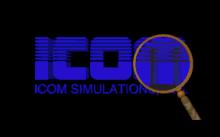 Sherlock Holmes: Consulting Detective Volume III 1993
In this third installment of Sherlock Holmes Consulting Detective your task is to solve three separate crimes by visiting various locations, listening to the dialogues and reading the in the package included mock London newspapers. Once you have gathered enough evidence, you have to present your case in court and...
---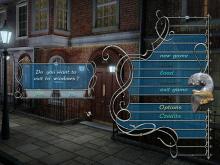 Sherlock Holmes: Secret of the Silver Earring 2004
Despite what its main character might say, this point-and-click Sherlock Holmes mystery adventure from Ubisoft is anything but "elementary." Players begin by guiding the quintessential detective (and his faithful companion, Dr. Watson) through a large, interactive re-creation of a late-19th century mansion. It seems the mansion's owner has just turned...
---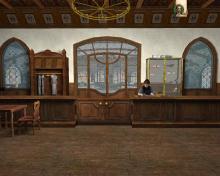 Sherlock Holmes: The Awakened 2006
Logic and reason are stretched to the limit as the world's most famous detective takes on a shady cult with a penchant for making people vanish in Sherlock Holmes: The Awakened. The third in a series of Sherlock Holmes games from Ukrainian developer Frogwares, Ltd., The Awakened sees Holmes and...
---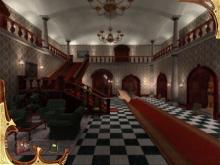 Sherlock Holmes: The Mystery of the Mummy 2002
Ukraine-based developer Frogwares, Ltd. presents a Sherlock Holmes mystery, in its first title published by The Adventure Company. Riddles and puzzles await players in a turn-of-the-century Victorian mansion located in England, as they search for a missing archaeologist and his Egyptian mummy. Artifacts, sabotage, robbery, murder; interaction with NPCs in...
---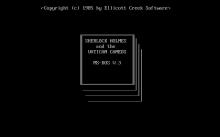 Sherlock Holmes: The Vatican Cameos 1986
Text adventure based on Arthur Conan Doyle's famous character. You play as Sherlock and must solve a mystery using interrogation and investigation in order to catch your suspect. The game features some real-time elements, seldom found in adventures, such as NPCs with agendas (used over a decade later in Westwood's Blade...
---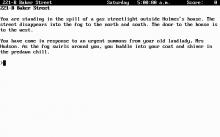 Sherlock: Riddle of The Crown Jewels 1988
In The Riddle of the Crown Jewels, you play the role of Doctor Watson. You have received an urgent summons to the rooms of your good friend Sherlock Holmes by his landlady, Mrs. Hudson. Normally you are not up and about so early on a Saturday. But here you are,...
---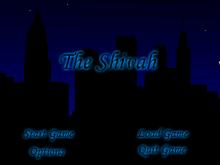 Shivah, The 2006
Let's get the pronunciation of this game out of the way first. The correct way to say it is "Shiv-ah", not "Shee-va". It's not a Hindu god, despite what some gaming magazines may have in print. Shivah is actually part of the Jewish mourning tradition. Appropriately, then, The Shivah deals...
---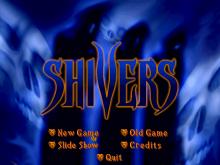 Shivers 1995
Shivers is a bit of a departure for Sierra. Rather than doing another traditional point-and-click graphic adventure game, they opted to try a Myst like puzzle/adventure game filled with lots of mystery, intrigue and, well, shivers. And while it's not an entirely bad game, it's sorely lacking in a few...
---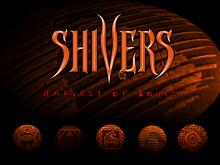 Shivers Two: Harvest of Souls 1997
In Shivers Two: Harvest of Souls, Sierra has struck just the right cord between rewarding puzzle gaming, detective adventuring and plot. The vehicle for this is an eerie, tight little mystery surrounding your character that has come to Cyclone, Arizona to meet up with his friends, members of a band...
---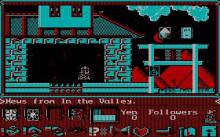 Shogun (Mastertronic) 1988
Wait, you say, wasn't this an Infocom title? Actually, this one came out first on the budget publisher Mastertronic's catalog. It's a vastly different game than the Infocom one - you wander around as one of a number of characters trying to build up your rapport with the people, doing...
---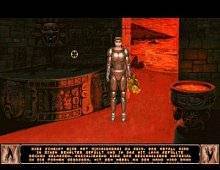 Sign of the Sun 1997
In the future, a series of nuclear disasters have devastated the Earth and forced it into an orbit nearer the Sun. The increased temperatures have formed vast deserts and transmogrified the planet into a barren wasteland. All hope seems lost for humanity until the discovery of a metal ore that...
---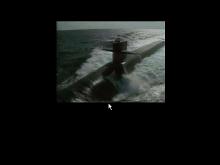 Silent Steel 1995
The problem with most of the new interactive movies is that their dialogue is so incredibly lame: shallow comic-book exhortations punctuated by wheezy gumshoe tough talk. This is decidedly not the case with the "cinematic strategy adventure" Silent Steel. In spades. Penned by Hollywood screenwriter Chuck Pfarrer (Navy SEALS, Hard...
---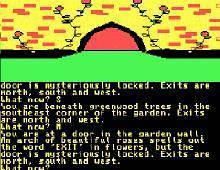 Silicon Dreams Trilogy, The (a.k.a. Snowball, Eden, Worm in Paradise) 1987
This interactive fiction game is a trilogy of the Level 9's adventures Snowball, Return to Eden, and Worm in Paradise. These had previously been released for some but not all of these systems. Silicon Dreams can be played as three separate games, but to obtain the maximum number of points, you...
---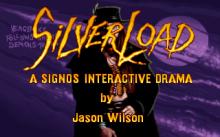 Silverload 1995
Somewhere in the Old West lies Silverload, an old mining time. It has once been a vibrant, silver boom-town, but now it has become a ghost town, surrounded by perpetual storms. The town's decline has started with a disastrous earthquake, but it may also be caused by an Indian curse,...
---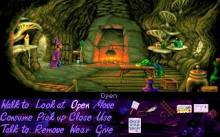 Simon the Sorcerer 1993
Simon is just an ordinary boy in an extra-ordinary world. A world in which he must rescue Calypso the Wizard by embarking on a long challenging quest. The game is a point-and-click adventure, using a typical interface with words such as 'Use', 'Open', 'Walk To' (unlike Lucasarts' SCUMM games a simple...
---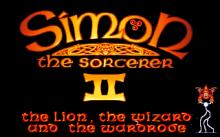 Simon the Sorcerer 2: The Lion, the Wizard and the Wardrobe 1995
So if you were Adventuresoft, what would you do? You have a successful first part of a series that has become popular with people all over the world, you have already hyped up the sequel with the end sequence of the first game, and you probably have a far more...
---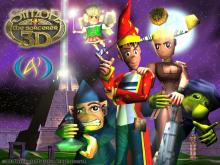 Simon the Sorcerer 3D 2002
This third Simon the Sorcerer adventure moves the series to 3D, serving up polygonal representations of the under-appreciated pointy-hatted teenage wizard and the worlds he lives in. In spite of the new look, this release stays true to the gameplay that made preceding games popular, featuring lots of puzzles, character...
---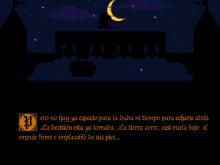 Sir Fred 2005
Sir Fred is an excellent SVGA remake of one of the best Spanish games ever made for the 8-bit MSX platform.This version for Windows-based PC features great graphics and the same addictive gameplay as the original arcade-adventure. From the website: "In classic arcade-adventure style, Sir Fred has to collect object...
---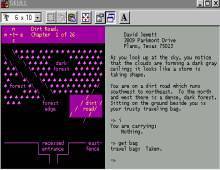 Skullduggery 1986
Skullduggery is a decent IF game that offers a novel combination of ASCII graphics and text, but unfortunately bogged down with a simplistic parser. Carl's succinct review says it all about this so-so old game that doesn't quite stand out from the crowd: "[Skullduggery is] ...a game with an old-school feel,...
---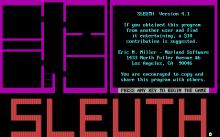 Sleuth: A Murder Mystery 1983
Sleuth is a simple, but fun and memory-challenging ASCII-based murder mystery written by Eric N.Miller, the man behind the well-made Norland Hangman series. In the author's own words: "Sleuth is an interactive murder mystery. As a game of Sleuth begins, a murder has just been committed. It is your job to...
---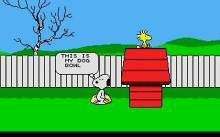 Snoopy and Peanuts 1990
A simple adventure game for young players where you play Snoopy as the main character solving various puzzles in the area. The basic idea is manipulating objects by picking them up and dropping them at certain areas, which will result in a new sequence to the plot. You can use either...
---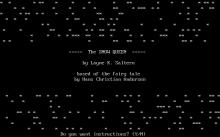 Snow Queen, The 1993
This game, an adaptation of Hans Christian Andersen's 1845 faerie tale Sneedronningen, puts the player alternatingly in control of the story's two protagonists, little girl Gerda and her friend the little boy Kay in an attempt to reunite them from dangerously wintery mutual alienation. The game author has made a...
---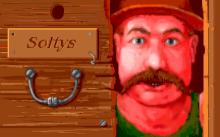 Soltys 1995
(In)famous for jokes about it, the Polish city of Wachock is the place where the story of the Polish adventure game Soltys takes place. You play the head of the village of Wachock and your aim is to find the missing husband of your daughter (who apparently isn't very attractive if...
---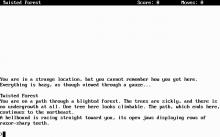 Sorcerer 1984
Your close friend and mentor Belboz is missing. Before his disappearance you noticed that he wasn't quite the same. Belboz could possible be the most powerful Enchanter in the land, and this worries you. You must find out what has become of your good friend. Hopefully his powers won't be...
---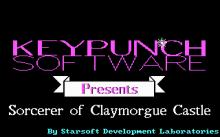 Sorcerer of Claymorgue Castle 1987
Number 13 in the Adventure series from Scott Adams, and the first which was never released in all-text format (except for BBC, Electron, Dragon and TRS-80 versions). Solon, the Master Wizard has lost the 13 Stars of Power. It is up to you, his faithful apprentice, to retrieve them from...
---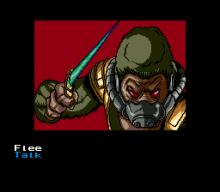 Space Adventure Cobra 1994
One of the best games to ever grace the Sega CD system, The Space Adventure is unlike anything you have ever played before. More of an interactive comic book than a game, it will get anyone interested in good sci-fi stories and/or Japanese animation interested in the adventures of Cobra. The...
---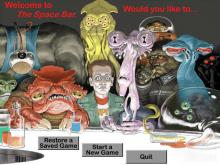 Space Bar, The 1997
Become a psychic space cop to solve a crime of interplanetary industrial espionage in The Space Bar. The solution to the crime sits in a seedy tavern on the edge of the galaxy -- the trick is figuring out which of the strange alien barflies holds the key. Luckily, as...
---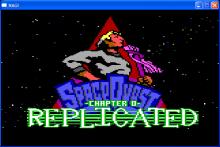 Space Quest 0: Replicated 2003
Space Quest 0: Replicated is an excellent fanmade Space Quest game that in my humble opinion is even more fun than The Lost Chapter, another fanmade SQ game reviewed on this site a few years ago. Set in a time before all SQ games (hence the name Space Quest 0),...
---