Adventure Games #27
Search a Classic Game: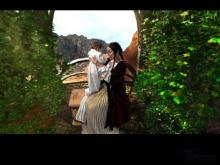 Myst 3: Exile 2001
After solving the mysteries of Myst and Riven: The Sequel to Myst, the universe was seemingly brought into a state of peace. Unfortunately, the newfound harmony would only last so long. An enraged individual is seeking out vengeance on Sirrus and Achenar, the two men responsible for destroying his homeland....
---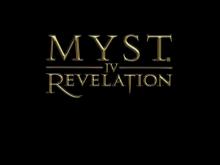 Myst IV: Revelation 2004
After adventuring through the ages, gamers return to the original realms of Myst in Revelation, the fourth full title in the series. Since the breakthrough release of the first Myst game in 1994, fans have visited countless alternate dimensions and surreal realms. Yet despite their many discoveries, one question has...
---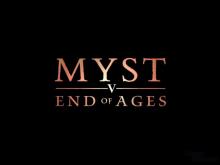 Myst V: End of Ages 2005
Billed as the final chapter in the influential graphic adventure series, End of Ages is designed to bring Myst full circle, by offering contemporarily impressive graphics and a return to (relatively) straightforward exploration-based gameplay. Beginning right where the 1994 original left off, the game leaves players alone on the surreal...
---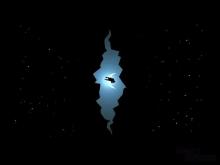 Myst: Masterpiece Edition 1999
One of the computer industry's best-selling games at over five million copies sold, 1993's influential Myst receives a modern update with this "Masterpiece Edition." The first-person graphic adventure, largely credited with ushering in CD-ROM technology, features the same cryptic puzzles, eerie locales, and minimalist interface found in the original computer...
---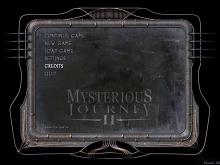 Mysterious Journey 2: Chameleon (a.k.a. Schizm 2) 2003
Mysterious Journey II: Chameleon puts players in the shoes of Sen, a young man who wakes up in a cryogenic storage pod with no memory of how he got there. Sen is on a space station orbiting a deserted world named Sarpedon. Players will explore several new worlds with the...
---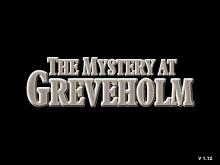 Mystery at Greveholm, The 1997
The Mystery at Greveholm is a simple adventure game for kids, based on a popular Swedish kids' Christmas television show made in 1996. The game is the first in a series of games for kids based on the show. You are in castle Greveholm, where the legend says that a spaceship...
---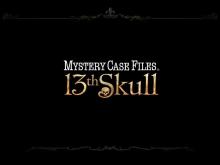 Mystery Case Files: 13th Skull 2011

---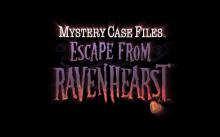 Mystery Case Files: Escape from Ravenhearst 2011
The seek-and-find adventures continue in Escape From Ravenhearst. Here, the haunted manor is home to more than 150 original hidden object scenes. As in earlier Mystery Case Files, players search each location for hard-to-see items, some of which may be used for further interaction in the scene (and progression to...
---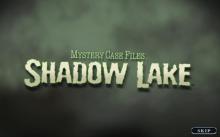 Mystery Case Files: Shadow Lake 2012
Big Fish Games's long-running hidden object series returns as gamers head to the fictional town of Bitterford, Maine (not to be confused with the real town of Biddeford, Maine) to investigate a disturbing legend in Mystery Case Files: Shadow Lake. Players join psychic Cassandra Williams, played by actress Lea Thompson,...
---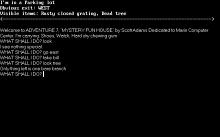 Mystery Fun House 1981
Number 7 in the original Scott Adams adventure series. This one takes place at an amusement park. The first puzzle is how to get in past the turnstyles! Once inside, you must solve the mystery of the place, going through a house of mirrors and so forth. It is an...
---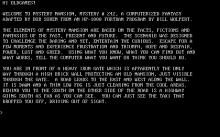 Mystery Mansion 2001
An early (late '70s) HP minicomputer text adventure game, this one begins with the player dropped off by a taxi outside the locked gate of an estate containing an eponymous mysterious mansion, at the end of an endless "hideous highway". The grounds are surrounded by dense and difficult-to-navigate (even with...
---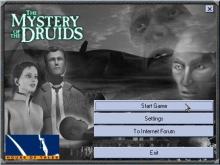 Mystery of the Druids, The 2001
The Mystery of the Druids' box cover is definitely a contender in the "worst design" category. A wide-eyed man in a hood stares at you with mouth wide-open and top teeth showing -- whether he's trying to scare you, is scared himself, or is preparing to floss, is unclear. The...
---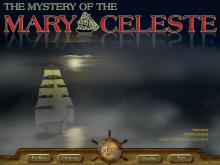 Mystery of the Mary Celeste, The 2009
Gamers climb aboard the ill-fated Mary Celeste II and search 16 different locations in this hidden object game based on one of the maritime world's greatest mysteries. The original Mary Celeste left New York in November of 1872, carrying a cargo of 1,700 barrels of commercial alcohol bound for Genoa,...
---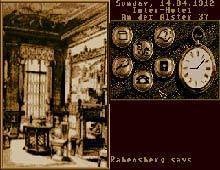 Mystery of the Mummy! 1988
In this solid PC version of an underrated Amiga adventure, you are a detective tasked with finding a missing mummy in Hamburg within 5 days. Hundreds of locations, characters, objects, and authentic 1912 atmosphere are high points of the game, which is challenging due to the myriad of clues and...
---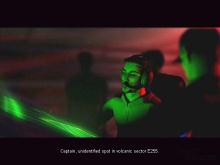 Mystery of the Nautilus, The 2002
Explore one of literature's most memorable sea vessels in this modern tale inspired by Jules Verne's 20,000 Leagues Under the Sea. The player takes the role of a young, modern-day researcher who makes an almost unbelievable discovery. High-tech sonar readings indicate an enormous metal structure resting on the sea floor...
---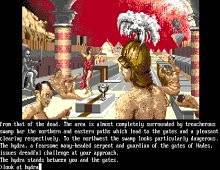 Myth 1989
Magnetic Scrolls' last adventure before the introduction of their 'Magnetic Windows' format, Myth is classic interactive fiction. Myth is set in Ancient Greece, place of myth and legend. Hence the title. You are are Poseidon, the Sea God. You have to journey to the Underworld to get the Dark Helment of...
---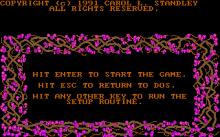 Myth Master 1991

---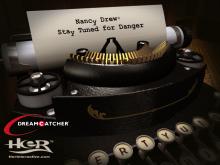 Nancy Drew 2: Stay Tuned for Danger 1999
HerInteractive has created another point-and-click graphic adventure, and that means Nancy Drew has another mystery to solve. This time, dreamy soap opera star Rick Arlen is receiving death threats. Strange, bizarre, scary death threats. To get a better look at this mystery, Nancy goes undercover as an extra on Arlen's...
---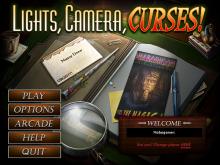 Nancy Drew Dossier: Lights, Camera, Curses! 2008
Mixing classic graphic adventure and hidden object gameplay, Nancy Drew Dossier: Lights, Camera, Curses! puts players in the shoes of the precocious sleuth as she tries to uncover a saboteur creating havoc on the set of a Hollywood movie. Each scene features a number of hidden objects that, when combined,...
---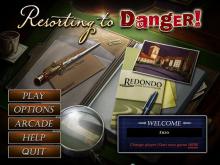 Nancy Drew Dossier: Resorting to Danger! 2009
Her Interactive's prolific Nancy Drew series continues as gamers join the teenage detective while she goes undercover at a posh resort to track down the culprit behind a series of bombing pranks. Nancy Drew Dossier: Resorting to Danger combines mild hidden object elements with traditional graphic adventure gameplay as players...
---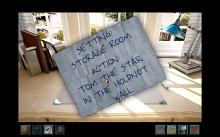 Nancy Drew: Alibi in Ashes 2011
Spunky teenage super sleuth Nancy Drew finds herself on the wrong side of the law when she is blamed for burning down the River Heights Town Hall in Alibi in Ashes. All the evidence and town gossip points to the young detective, so it's up to players to join Ned,...
---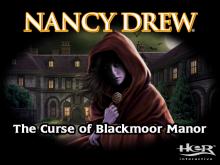 Nancy Drew: Curse of Blackmoor Manor 2004
The resourceful teen sleuth visits an old castle of the English moorlands in this point-and-click mystery -- Nancy's first computer game set in Europe. Something has been spooking the residents of old Blackmoor Manor lately. Many fear the return of an old witch, said to have haunted the manor many...
---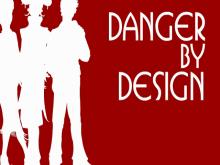 Nancy Drew: Danger by Design 2006
Summer in Paris may be a dream vacation, but for Nancy Drew it's another case that needs cracking. In Nancy Drew: Danger by Design, leading fashion designer Minette is acting weird and investors are worried it may delay her spring collection and potentially bankrupt the fashion empire. Play as Nancy...
---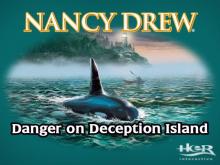 Nancy Drew: Danger on Deception Island 2003
This second 2003 release in Her Interactive's highly respected point-and-click adventure series finds the famous young sleuth on a trip to the San Juan islands, invited for a whale-watching excursion by an acquaintance named Katie. Soon after her arrival, Nancy finds the small local village alive with excitement over lone...
---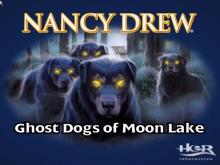 Nancy Drew: Ghost Dogs of Moon Lake 2002
The seventh title in Her Interactive's amateur sleuth series, Nancy Drew: Ghost Dogs of Moon Lake finds the heroine involved in a mystery rivaling the classic Sherlock Holmes caper, The Hound of the Baskervilles. Instead of a single dog from Dartmoor, though, Nancy has her hands full tracking a pack...
---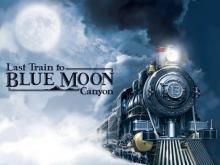 Nancy Drew: Last Train to Blue Moon Canyon 2005
In this point-and-click adventure, Nancy Drew joins her old friends, Frank and Joe Hardy, to solve the century-old mystery of a haunted train. A well-known socialite has invited the greatest sleuths of the day to take a ride on a famous old passenger train with a disturbing history. The train...
---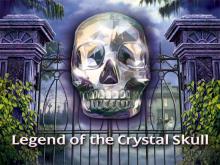 Nancy Drew: Legend of the Crystal Skull 2007
A crystal skull known as the "Whisperer" is rumored to have powers that protect its owner from all causes of death except murder. The once proud owner of the skull, Bruno Bolet, is now dead and the skull has gone missing. Nancy must help Bruno's nephew find the skull before...
---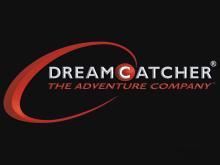 Nancy Drew: Message In A Haunted Mansion 2000
There is nothing particularly original about Nancy Drew: Message in a Haunted Mansion, as it plays very similar to other mystery adventures of this type. Players simply use the mouse to move a cursor around the screen and click on various objects or people. This is not a drawback, as...
---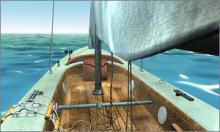 Nancy Drew: Ransom of the Seven Ships 2009
Teenage sleuth Nancy Drew can't avoid a good mystery, even when she's in the middle of a vacation to the Bahamas. When a group of treasure hunters kidnap her friend Bess Marvin and demand the treasures of the sunken "Seven Virtues" fleet as ransom, only Nancy can decipher the clues...
---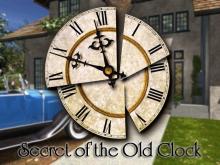 Nancy Drew: Secret of the Old Clock 2005
Supernatural abilities are inherently controversial. A person can't really prove he has ESP, for example, but it's pretty difficult to prove that he doesn't, as well. Add in a contested will, a Depression-era economy, and a town full of strangers, and Nancy Drew has some big challenges in front of...
---