Adventure Games #30
Search a Classic Game: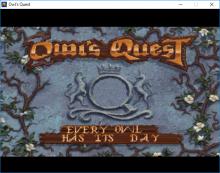 Owl's Quest: Every Owl Has Its Day 2007

---
---
---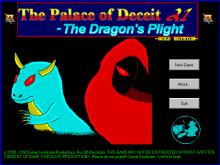 Palace of Deceit: Dragon's Plight, The 1992
In this adventure game the player directs the actions of Nightshade, a dragon of unusual coloration, as he escapes from a dungeon in Castle Lockemoer, "the Palace of Deceit", and attempts to revenge himself and his people against the sinister Garth, a wizard attempting to rid the world of Salac...
---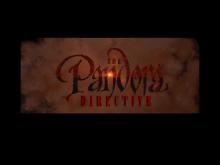 Pandora Directive, The 1996
The Pandora Directive follows on from Under A Killing Moon in providing an entertaining and absorbing interactive movie. Unlike many interactive movies that have a lot of video footage, The Pandora Directive gives the player plenty of opportunity for interaction. Access Software's virtual world engine allows the player to explore the...
---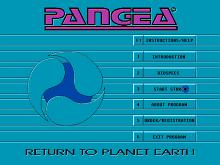 Pangea: Return to Planet Earth 1994
Not a "computer game" per se but more of an "interactive comic book," Pangea: Return to Planet Earth is one of the earliest releases of its kind prior to the rise of CD-ROMs. Other than Infocom's short-lived Infocomics series released in late 1980s, no developer has revisited the niche genre...
---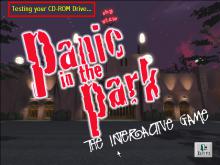 Panic in the Park 1995
The Skyview Amusement Park has been recently plagued with problems, so your editor wants you to investigate them in order to help shut it down. This is troubling, since you grew up with the twin sisters (both played by former ...
---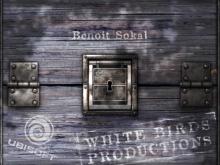 Paradise 2006
Ann Smith is going on an adventure -- whether she likes it or not. After her plane crash-lands on the border of an African country called Madargane, she finds herself missing most of her memories. Luckily, she also finds herself in the hospitality of the country's royal family. In Paradise,...
---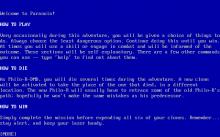 Paranoia 1993
A choose-your-own-adventure text game set in West End Games' dementedly Orwellian Paranoia dystopian sci-fi universe, this sardonic romp casts the player as Philo-R-DMD (and, as easy death prevails time and again, his six clones), Troubleshooter for the Computer. The assignment this time is a holiday season hum-dinger: GREETINGS TROUBLESHOOTER. YOU HAVE...
---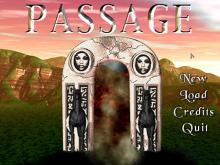 Passage: Path of Betrayal 2001
Passage: Path of Betrayal is a 3rd-person fantasy adventure in the tradition of the Sierra King's Quest games, totally controlled by mouse. During the opening movie, we get to know, what it's all about: Our hero Riff is dreaming a prophetic dream about an assault of dark and evil powers...
---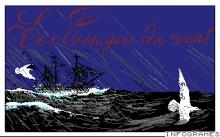 Passengers on the Wind 1989
Based on a French comic series from the 80's, by François Bourgeon, the game follows the series very closely. When the French Revolution is about to begin, Hoel and Isa find themselves in Brittany after a series of unfortunate events. They will face a thousand dangers, travel from the European to...
---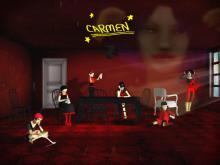 Path, The 2009

---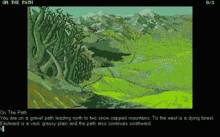 Pawn, The 1986
The aim of this interactive fiction with graphics is to escape from the land of Kerovnia, where strange occurrences are routine. The Roobikyoub dwarves have been banished from the kingdom, which is not good as they produce high-quality whisky. King Erik is not popular for this decision, as some feel...
---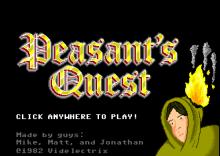 Peasant's Quest 2004
Peasant's Quest is a humorous, hugely entertaining 2D adventure that plays like Sierra's classic King's Quest games. Here is the official plot: "A real long time ago, in the peasant kingdom of Peasantry, some people lived... in fear. You are Rather Dashing, (a peasant wearing short pants) who returns from...
---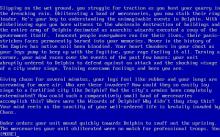 Pentari: First Light 2003
Pentari: First Light is a text-based adventure in the spirit of Infocom's Zork series. Players are challenged to reclaim the city of Delphin from a group of evil wizards, who plan on overthrowing the once peaceful Kingdom of Pentari by capturing its nobles. Yet the quest will not be easy,...
---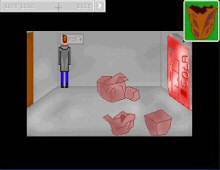 Perils of Poom, The 2003
One of the better and longer amateur adventure games in recent years, The Perils of Poom is a funny, atmospheric, and well-written freeware adventure game. The review at Adventure Gamers does a great job of convincing adventure fans why they should play this game: "Perils of Poom, by Michael "-M-"...
---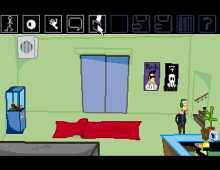 Permanent Daylight 2001
Yet another game coming from the fruitful AGS community. Lately a lot of good games have appeared from this engine-- and this old game is no exception to that. Permanent Daylight is a lighthearted adventure which will please almost every adventure gamer out there. The plot then. The game takes place...
---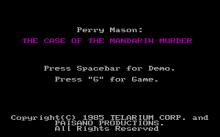 Perry Mason 1985
Interactive text adventure with graphics. Very much influenced by infocom whodunnit type games. A woman is in jail after her rich husband is found dead. Prove her innocence! ...
---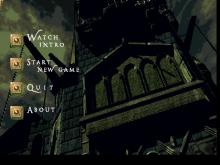 Phantasmagoria 1995
Roberta Williams' Phantasmagoria spans seven CD-ROMs of full-motion video adventuring. Acclaimed for her King's Quest series and a major influence on modern graphic adventures, Williams employs live actors and a dark, disturbing theme throughout this adventure. Through a point-and-click interface, you'll assume the role of Adrienne, who must uncover the...
---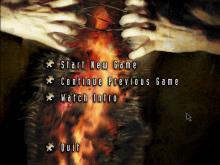 Phantasmagoria 2: A Puzzle of Flesh 1996
Phantasmagoria 2: A Puzzle of Flesh is the second game in the Phantasmagoria series and is part of Sierra's turn to more mature themes in adventure games. Mature themes can be great and releases such as the Gabriel Knight series use them to create very compelling gaming experiences. But, unfortunately,...
---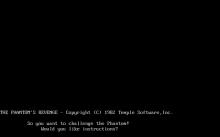 Phantom's Revenge, The 1982
A simple crawl where you have to explore a strange old, mostly abandoned and rumouredly haunted prison to find some presumably fabulous treasure. As with the other Temple Software games, this is a simple text adventure, with most puzzles simply consisting of giving the right item to the right person. You...
---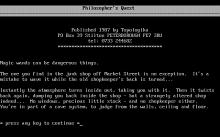 Philosopher's Quest 1982
Philosopher's Quest is a frustrating game. You want to like it because it has some ingenious puzzles and solutions but you'll also be frustrated by the sadistic nature of some of the more difficult ones. Philosopher's Quest's entire construct is nicely mirrored by the first two puzzles. The first is almost...
---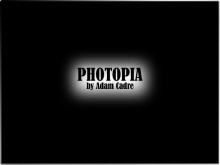 Photopia 1998
Photopia starts off with a short dialogue: "Will you read me a story?" "Read you a story? What fun would that be? I've got a better idea: let's tell a story together." This quote reverberates very strongly throughout the game for a variety of reasons. The game plays itself out through...
---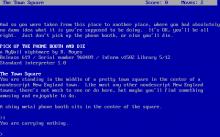 Pick Up the Phone Booth and Die 1996
A paragon of minimalist gaming, this debut piece of interactive fiction compounds the increasingly-popular "one-room game" sub-genre with a further elegant restriction -- the room ("the middle of a pretty town square in the center of a nondescript New England town") contains only a single object, the titular phone booth...
---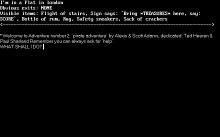 Pirate Adventure 1978
This is adventure #2 in Scott Adam's text adventure series. In this adventure, you shuffle between three locales: an unremarkable (at first) London flat and two islands littered with dangerous critters and people. The goal of the game is to find the two pirate treasures on the treasure island. You...
---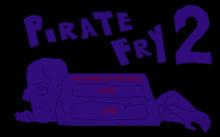 Pirate Fry 2: The Hand of Anturus 2004
Pirate Fry 2: The Hand of Anturus is a funny and well-crafted amateur adventure game that is reminiscent of Monkey Island in many ways, not least of which is the pirate-y setting. Curiously released after Pirate Fry 3, the game is the best in the series, offering solid graphics, plenty...
---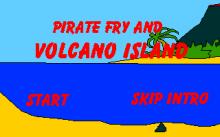 Pirate Fry and Volcano Island 2001
Enter the world of Pirate Fry as you go forth in his journey across the island of Volcano Island to face daring obstacles, new challenges and interesting situations. This is the start of the series of games starring our hero Pirate Fry, so far we can see with the first...
---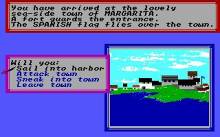 Pirates! 1987
One of Sid Meier's earliest computer games, Pirates! combines role-playing adventure with simulated overtones of sailing 17th century seas. The adventure takes place in the Caribbean and simulates the economics, sea-based technology and politics of the era. You begin the game as a humble seafarer with little in the way...
---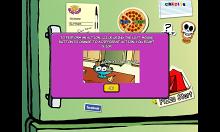 Pizza Morgana: Episode 1 - Monsters and Manipulations in the Magical Forest 2009

---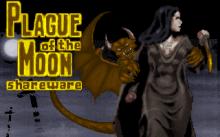 Plague of the Moon 1994

---