Adventure Games #18
Search a Classic Game: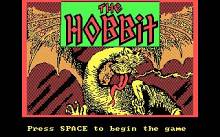 Hobbit, The 1983
Relive Tolkien's The Hobbit as Bilbo Baggins. A piece of Interactive fiction (with graphics to illustrate locations), you follow the plot of Tolkien's book (before the Lord of the Rings trilogy), starting with an encounter with Gandalf and Thorin. The implementation is rich enough that you can play entirely without pictures...
---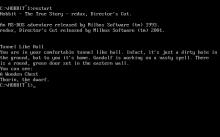 Hobbit: The True Story 1993
Hobbit: The True Story is a tiny adventure, spoofing Tolkien's classic children's book. The game also is one of the first text adventures implemented completely using DOS batch files. You enter your commands at the trusty "C:\>" DOS prompt. Each verb corresponds to a batch file with objects passed as arguments,...
---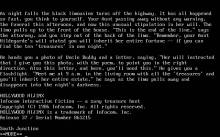 Hollywood Hijinx 1986
As a child, you spent most of your summers with your Aunt Hildegarde and Uncle Buddy. What memories! Uncle Buddy was a Hollywood big-shot, Aunt Hildegarde his loving (and very rich) wife. They had no children of their own, but you and your cousins loved their house, their parties, the...
---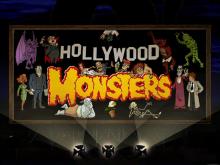 Hollywood Monsters 1997
Hollywood Monsters is a traditional type of point-and-click adventure game, with no dying, no timed puzzles, lots of inventory items, and lots of locations. Not only that, but it is cartoon-style animation and you get to play as two different characters. Sounds pretty good, right? Well, maybe ... You start the...
---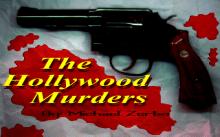 Hollywood Murders, The 1997
The Hollywood Murders is an interactive text / graphic shareware adventure designed for gamers who are new to this type of game. The game is set in Hollywood in the 1950's The player takes the role of Jim Novak : private detective, hard-boiled and down on his luck, in the classic...
---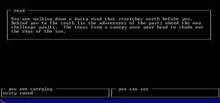 Holy Grail, The 1984
A decent game from a company famous for oldie strategy games, The Holy Grail has a strong plot but very primitive parser compared to the likes of Infocom games. As the name implies, your task is to find the legendary holy grail. It's not a very long game, and most...
---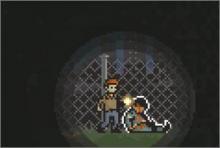 Home 2012

---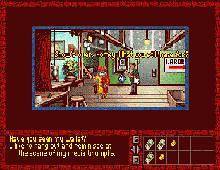 Homey D. Clown 1993
The smart aleck character Homey D. Clown was created in the early '90s, on the sketch comedy series In Living Color. In this adventure game from Capstone, players get to live out a day in his life. As the story goes, "Artopos Productions" needs a clown for a new television...
---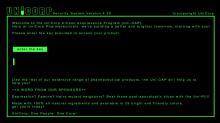 Hoodwink 2012

---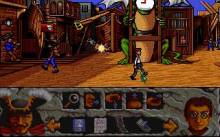 Hook 1992
Peter Banning is an ordinary suburban dad with two kids - or so everyone thinks. What not even his family know is his past as Peter Pan, scourge of Captain Hook in JM Barrie's children's fiction. Captain Hook gains revenge on Banning by stealing his two children, so Peter must...
---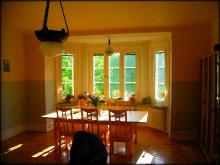 Hope Springs Eternal 2005

---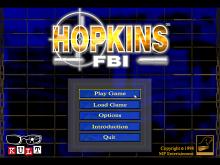 Hopkins FBI 1998
Hopkins FBI is a very strange little game from England that's virtually unknown in North America. This is a shame, for although it's certainly not for everyone, it's a twisted little gem that could be a real guilty pleasure for a lot of players. Hopkins is a third-person point and...
---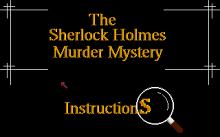 Hound of Baskerville 1993
One of the most sought-after adventure CD-ROM titles in existence, Hound of Baskerville is unfortunately a game for which there is good reason for its rarity: it is terrible. There are not enough 'game' elements to capture any gamer's attention for long: it is little more than a dressed-up "electronic...
---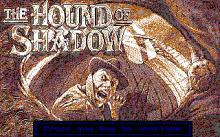 Hound of Shadow, The 1989
A text adventure game set in HP Lovecraft themes in 1920's. The game's character generation routine was unusual. It was an ambitious project that was meant to carry over to a game series called "Timeline" which never happened. You had to guide the character's career through WWI, professions, as he...
---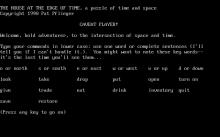 House at the Edge of Time, The 1990
When your eccentric uncle dies he leaves behind his vast fortune to you. The catch? You've gotta spend one chilling night at his Pseudo-Tudor-Greco-Gothic-Byzantine mansion. The other catch? Well it seems that the laws of space and time don't really apply within its walls. As you roam around his house...
---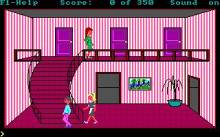 Hugo 2: Who Done It 1991
This time help Hugo and Penelope solve a murder mystery in Hugo's uncle's mansion. ...
---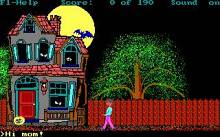 Hugo 3: Jungle of Doom 1992
Hugo III: Jungle of Doom is the third and final installment in the EGA adventure series Hugo. The game features the existing engine in previous Hugo games along with some new features. These include a turbo button, and a "hints" feature. In this game Hugo and his girlfriend Penolope crash...
---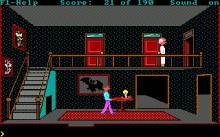 Hugo's House of Horrors 1990
You are Hugo and you have to save your girlfriend, who had went to babysit a baby in a haunted house. Gameplay is similar to traditional Sierra-style adventures. ...
---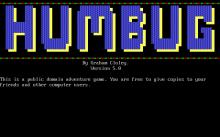 Humbug 1990
You might be mistaken for thinking that the "treasure hunt in a mansion full of secrets" theme had been played out -- if not in text adventures, then surely in interactive CD-ROMs. And yet here is a text adventure that puts us squarely in that familiar setting, but one which...
---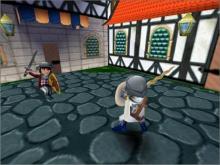 Hype: The Time Quest 1999
Hype is a brave and noble little knight. As this game is set in a world based on the popular PlayMobil toys and dolls, Hype is also a cute little action figure. The trouble begins when the malicious Black Knight casts a spell to send Hype back in time. Plenty...
---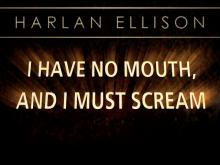 I Have No Mouth and I Must Scream 1995
A giant war computer in the center of the earth has been turned on. It can think and more importantly, kill. It causes a war. The final war. It was built to destroy the enemy. The enemy is us. The only problem with the war-happy computer god is that it destroys...
---
---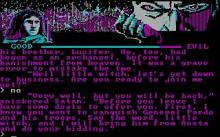 I, Damiano 1985
An interactive fiction game based on a Bantam fantasy novel by R.A. MacAvoy, this was released at a time when book publishers were dipping their toes into the text adventure game market. You play as a young warlock named Damiano Delstrego in a fantastical version of the Italian Renaissance. The...
---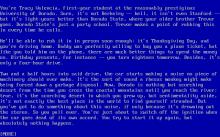 I-O: Jailbait on Interstate Zero 1997
When I first started up I-0, I didn't know what to think of the game. It starts in the front seat of your fantastic new car, which has broken down on the way home to celebrate Thanksgiving. The game has a gimmick, or rather, two gimmicks. The first one would...
---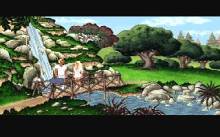 Igor: Project Uikokahonia 1994
Igor, a college student, wants to date the most beautiful girl of his school. Instead he discovers a criminal plot he has to investigate. The game offers classic 2D point-and-click adventure gameplay. There are actions buttons near the bottom of the screen, as well as an inventory. ...
---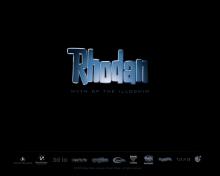 Immortals of Terra, The: A Perry Rhodan Adventure 2008
The Immortals of Terra is a classically styled point-and-click adventure game with contemporary graphics, starring the German pulp-fiction hero Perry Rhodan. Expanding upon the character's original storylines, the game is set nearly 3,000 years in the future, when the people of Earth have joined together to take their place among...
---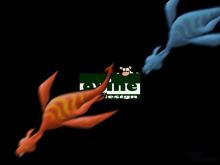 Imogen 2003
"One of the best fanmade remakes ever made, Imogen is a great Windows version of a huge, and highly underrated, adventure/puzzle gem from Michael St. Aubyn of Micro Power. As the remake authors describe, ""Imogen is an animated adventure game in sixteen sections; Each section contains a number of puzzles...
---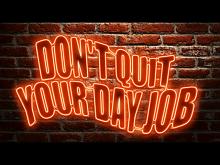 Improv Presents, The: Don't Quit Your Day Job 1996
Philips Media Home and Family Entertainment gives you The Improv Presents: Don't Quit Your Day Job. In this game, you are treated to a 3-D rendered version of the Improv in Los Angeles where you interact with various characters and Hollywood "celebrities" in order to get your chosen comic up...
---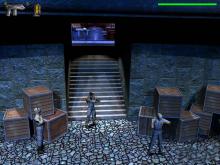 In Cold Blood 2001
In Cold Blood is a three-CD adventure into a world of political intrigue and conspiracy set in Volgia, USSR. You take the role of Britain's MI6 agent John Cord, who, at the request of the CIA, is searching for a missing agent. Gameplay is designed to take about 60 hours...
---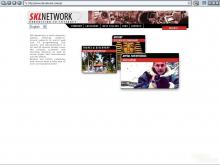 In Memoriam (a.k.a. Missing: Since January) 2003
Missing is a graphic adventure that invites players into the mind of a serial killer. The game's story begins with Jack Lorski, a journalist who had been investigating a series of gruesome murders but who has recently disappeared. The only useful trace of the missing man is a CD-ROM delivered...
---