Adventure Games #29
Search a Classic Game: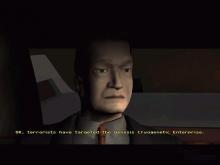 Nightlong: Union City Conspiracy 1998
Prepare for mysteries, puzzles, and intrigue in Nightlong: Union City Conspiracy. This release from Team 17 and Dreamcatcher puts the player in the role of the slick-talking, fast-thinking private detective Joshua Reev. The year is 2099 and you have been summoned by an old friend to aid him in investigating a...
---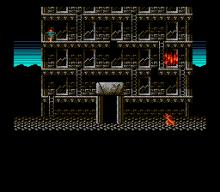 Nightshade 1992
As with most games that rely more on mind than might, the fighting sequences in Nightshade are the weakest part of the game. Nightshade jumps awkwardly, the sound effects of the punches connecting are weak, and the limited number of fighting moves are unimaginative. But fighting is not the reason...
---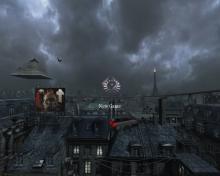 Nikopol: Secrets of the Immortals 2008
Nikopol: Secrets of the Immortals is a classically styled point-and-click adventure in which players must use cunning, logic, and puzzle solving skills to navigate a dark world filled with conspiracies and political intrigue. Based on the trilogy of French science fiction graphic novels, Secrets of the Immortals transports gamers to...
---
Nine Lives of Secret Agent Kat, The 1991
The Nine Lives of Secret Agent Katt is a role playing game with adventure and action elements mixed in. Your team consists of 4 spies, each with their own talents, tools and weapons: Kat (the leader), Tia, Roco and Mad Dog. Your primary mission: to recover stolen documents from a...
---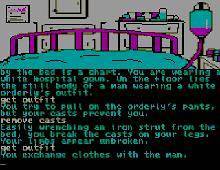 Nine Princes in Amber 1987
This interactive fiction game is based on Roger Zelazny's fantasy novels Nine Princes In Amber (1970) and The Guns of Avalon (1972). The game begins with you as Prince Corwin forced to compete against your eight scheming noble brothers and sisters for the throne of Amber at the center of the...
---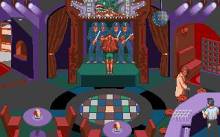 Nippon Safes, Inc. 1992
Nippon Safes, Inc. is the predecessor to Big Red Adventure, both being cartoon adventure games by Italian developer Dynabyte. As in its followup, here players take the role of three different heroes (though, opposite to Goblins series, one at time). They are Doug, the smart safe cracker; Dino, the strong,...
---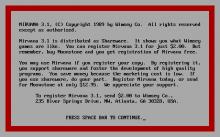 Nirvana 1989
The village of Lostwithiel, nestled at the foot of Bald Mountain, is fighting a curse put upon the land by Nirvana the Ice Maiden. At the end of every month one poor young man is bewitched by her and is never seen again. Arriving into the World of Wimsey, it...
---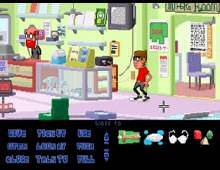 No-Action Jackson 2004
A freeware masterpiece that no adventure gamer should ignore, No-Action Jackson is a superb point-and-click freeware adventure game that could have been packaged in a box, stamped with LucasArts' logo, put on retail shelves, at which point I would gladly pay a full retail price for it. Yes, the game...
---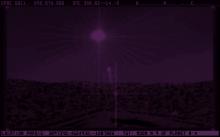 Noctis 2001
Noctis is a game that is very similar to Frontier: Elite II and its sequel, but it is also very different at the same time. While the Frontier series is focused on combat and trading, Noctis is more geared towards space exploration. Considering that Noctis seems to have been conceptualized...
---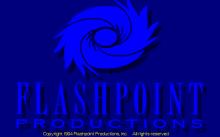 Noctropolis 1994
Noctropolis is an adventure game, with game mechanics that will be familiar to anyone who has ever played LucasArts' classic games or any other representative of the adventure game genre. You play the part of a character in a piece of "interactive fiction," and it's up to you to solve...
---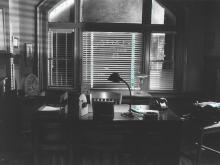 Noir: A Shadowy Thriller 1996
Let me tell you boys and girls, black is where it's at. It's taken us a while to get to this title, and am I ever sorry. This is a truly unique and stylistic adventure game. The game play is not extraordinary but the visuals certainly are. There is a...
---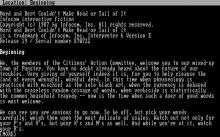 Nord and Bert Couldn't Make Head or Tail of It 1987
See if you can cut the mustard with your use of idioms, those commonly-used expressions that don't really make any sense on their own. Or try to hit the nail on the head with the right cliche. Be nimble and be quick when you come across a gadget that's jacketed...
---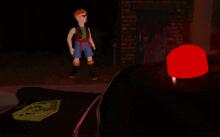 Normality 1996
At first glance, Normality looks like an "idiotic" or "dumb" game. The box features a teenage punk, Kent, on it and it's littered with immature remarks and phrases. It just doesn't appear to be a serious game at all. But all these ideas are thrown out the window once you...
---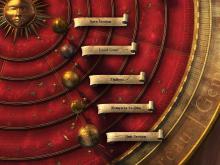 Nostradamus: The Last Prophecy 2007
A classically styled mystery adventure set in Renaissance France, Nostradamus: The Last Prophecy tasks gamers with solving a series of murders that have targeted the famous Medici family. With Nostradamus himself too old and frail to assist his queen, he sends his daughter Madeleine in his stead. Society, however does...
---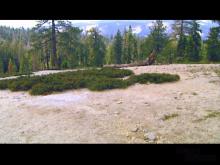 Obsidian 1997
A classic. That's what it is. Obsidian may be the most innovative, imaginative puzzle adventure ever conceived. It will plunge you into an Orwellian dream of bureaucratic lunacy. All its elements contribute to a coherent, high satire that might just elevate the game into the realm of art. People either...
---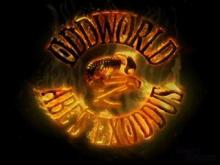 Oddworld: Abe's Exoddus 1998
It doesn't take long to figure out that Oddworld: Abe's Exoddus, the second installment in the cross-platform sensation known as Oddworld, was made by some very bizarre people. But, that's a good thing. Abe's Exoddus is weird -- really, really weird -- and for that very reason is a lot...
---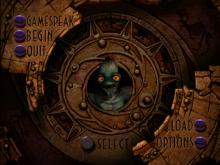 Oddworld: Abe's Oddysee 1997
As might be intuited by the very name of the game, Oddworld: Abe's Oddysee expresses the intent of the designers to create something a little bit different than the normal run of side scrolling epics. For anyone who thought that there wasn't anything new to add to this type of...
---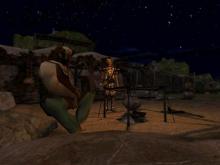 Odyssey: The Search for Ulysses 2000
Remember those text-based adventure games like Zork? Well, they live on! With 3D computer animations so accessible, it's relatively simple to wrap a graphic interface around a basic storyline, as evidenced by the multitude of DreamCatcher Interactive games. Case in point: Odyssey: The Search for Ulysses follows the adventures of...
---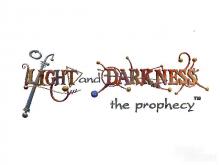 Of Light and Darkness: The Prophecy 1998
Of Light and Darkness is a real-time surrealistic adventure in which the player must take action to redeem the collective souls of a multitude of famous (or infamous) historical figures. More than 30 entities, ranging from Quechua, Mythic Godking of the high Andes (5000 B.C.) to the modern day mass...
---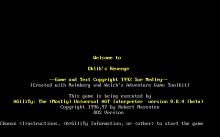 Oklib's Revenge 1992
Sergeant Oklib himself "volunteered" you to find the King's missing staff. You are off on a classic quest vowing that you'll find your way back and show Oklib just what you think of him for doing this to you! A fun, tongue-in-cheek IF that features a few funny lines and...
---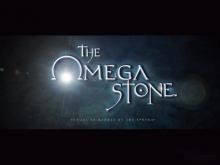 Omega Stone, The 2003
The sequel to Riddle of the Sphinx, The Omega Stone casts you as aide to noted archeologist Sir Gil Blythe Geoffreys, as you attempt to unravel the mystery surrounding an ancient scroll and the apocalyptic portent contained therein. To do so, you will have to visit mysterious sites spread across...
---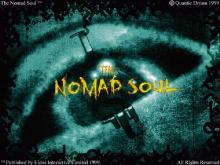 Omikron: The Nomad Soul 1999
It's curious to think about how often we see genuinely new, interesting things in the development of PC games these days. How many cliché titles there are that just redo that which has been done a few dozen (at best) times before, while adding absolutely nothing new to the genre....
---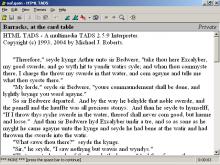 Once and Future 1998
Private Frank Leandro is killed in action in Vietnam but wakes up on the isle of Avalon in the days of King Arthur. There he is sent on a quest to retrieve famous artifacts from Arthurian legend and use them to save the future in this text-adventure game. ...
---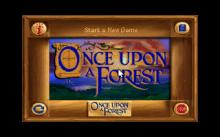 Once Upon a Forest 1995
Lots of games are made from movies and also movies made from games, neither often turn out very well in the translation though. Once upon a forest was first made as a movie but I never saw it so I can't really judge it. The game is about a number...
---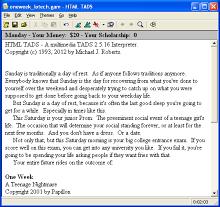 One Week 2001
Mark Silcox, competition organizer, says it all about this fun Choose-Your-Own-Adventure game that was entered in the 2001 the LOTECHComp: "[One Week is] a nicely-written rendering of the week in a teenaged girl's life leading up to the prom and a college entrance exam. Papillon gets the idiom of a fairly...
---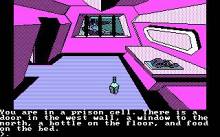 Oo-Topos 1987
While transporting a load of precious cargo for your homeworld of Earth, hostile aliens cause your ship to crash land on the planet of Oo-Topos and take you captive. Your goal is to bust out of prison, reclaim the ship's cargo, and perform the impromptu ships repairs necessary to get...
---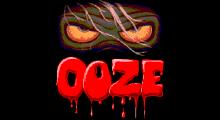 Ooze 1989
Ooze - a illustrated text adventure: Your uncle Chez Burger left you a house called Carfax Abbey, placed in a little town in the southeast of Salom's Lot. As Ham Burger you are heir to something evil and sinister on a frightening and exciting journey into the world of ghosts...
---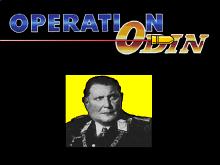 Operation Odin 1996
Berlin 1945, just before the end of the war. The German forces are defeated, the allied troops on the advance. Ordered by Reichsmarshal Goering, Captain Wuerger is supposed to hide away the gold treasure of the Nazis in a Berlin apartment house in a haste. But Wuerger is carrying on...
---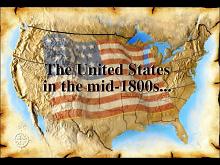 Oregon Trail II 1995
What sets Oregon Trail II apart from similar Mecc games such as Amazon Trail and Africa Trail? For one thing, the game is much easier than the more modern-day games. Oh, there is still a better than normal chance your character will die en route to Oregon but the game's...
---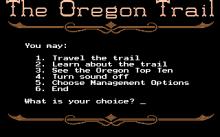 Oregon Trail, The 1990
As a covered wagon party of pioneers, you head out west from Independence, MI to the Willamette River and valley in Oregon. You first must stock up on provisions, and then, while traveling, make decisions such as when to rest, how much food to eat, etc. The Oregon Trail incorporates...
---