Adventure Games #29
Search a Classic Game: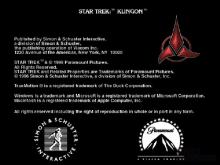 Star Trek: Klingon 1995
Simon and Schuster's Star Trek: Klingon deals heavily with Klingon culture. It is nice to see Gowron back again, as he makes for the perfect Klingon mentor. The game is actually quite addictive despite its poorly implemented graphics and game engine, which can be quite frustrating at times. The Immersion Studies...
---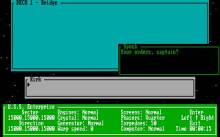 Star Trek: The Kobayashi Alternative 1985
This is an interactive fiction game based on the Star Trek Universe. The game features dialog and input boxes in addition to the traditional single command-line IF interface. Your mission is to solve the Kobayashi Alternative Command Performance Evaluation. You play as Captain Kirk and command your crew through numerous...
---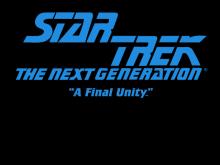 Star Trek: The Next Generation - A Final Unity 1995
Generally considered by the gaming community as one of the first Star Trek titles to "get it right," Star Trek: The Next Generation -- A Final Unity combines quality voice acting from original cast members with tightly meshed QuickTime movies to advance the story. Solving the mystery of A Final...
---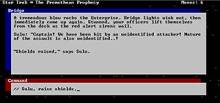 Star Trek: The Promethean Prophecy 1986
The Enterprise came under sudden attack, sustaining major damage to virtually all decks. Leaking coolants contaminated the entire stock of raw protein substance, the base material of all the galley's synthesized foods. Chief Engineer Scott estimates that repairs to our warp engines will take eight or nine constant days at...
---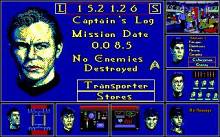 Star Trek: The Rebel Universe 1988
The first Star Trek game to feature full-color graphics and digitized portraits of the U.S.S. Enterprise's key officers, Star Trek: The Rebel Universe is a point-and-click adventure set in a quarantined region of space, where Klingons are believed to be turning Federation starships against Starfleet Command. You'll control Captain James...
---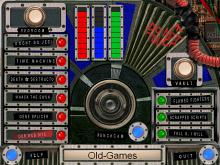 Star Warped 1997
"Be seduced by the power of the Dork Side," reads the cover of Star Warped. For a diehard Star Wars follower and a fan of satire in general, this game represents the best of both worlds. From Mad Magazine parodies, to Hardware Wars and Weird Al's "Yoda" song; no Star...
---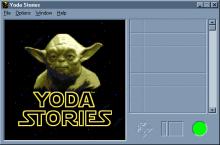 Star Wars: Yoda Stories 1997
Star Wars: Yoda Stories is a fun little game which runs windowed on your desktop as you control Luke Skywalker, Rebel swashbuckler extraordinaire. The game starts innocently enough as you land on Dagobah to find everyone's favorite green Muppet (with the possible exception of Kermit), Yoda. From there, the game is...
---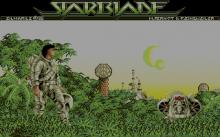 StarBlade 1990
StarBlade is an epic space-opera, set in the vastness of the Orion galazy, the year 3001. The human race has been decimated to a series of small hi-tech colonies by the ruthless, insectile Cephalhydras. To finally wipe out humanity, Cephalhydras geneticist have produced Genolyn, a hideously mutated Queen brood-mother, who...
---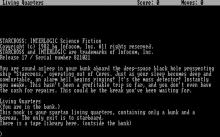 Starcross 1982
The year is 2186. Humanity has established colonies on the moon, Mars, and several of the larger asteroids. Earth's sky is dotted with space habitats, and the spaceways are always busy. As usual, there is the urgent need for energy to power this advanced civilization; one of the primary sources...
---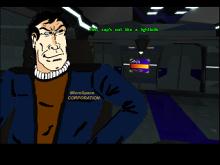 Starfight VI: Gatekeepers 2000
StarFight VI: Gatekeepers is an incredible spaceflight adventure game that saw over 15 months in development. Aside from the amazing fact that this game is freeware, StarFight VI also ranks as one of the largest freeware games ever made despite some cheesy names and cartoon characters. The compressed file comes...
---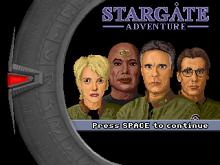 Stargate Adventure 2005
Stargate Adventure is a fun fanmade adventure game based on Stargate SG-1 TV series.Despite some awkward sentences due to the fact that the designer is not a native English speaker, plenty of neat how-does-this-alien-artifact-work puzzles and cool storyline more than outweigh this downside. The game lets you switch between three...
---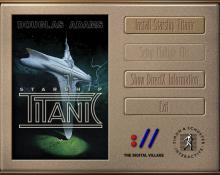 Starship Titanic 1998
While watching one of the countless documentaries on the sinking of the Titanic, I learned a very curious fact: the ship that was considered unsinkable went down thanks to a series of small gashes that totaled just over 20 square feet in area. Just like its namesake, Starship Titanic also sinks...
---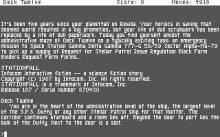 Stationfall 1987
After the fall of the Second Galactic Union in 1716 GY, a ten-thousand-year dark age settled upon the galaxy. Interstellar travel was nonexistent, and many star systems descended into a near-barbaric state, buring coal and gas for energy, and growing food directly from exposed topsoil. In 11,203 GY, a treaty...
---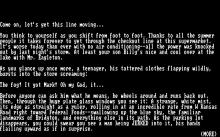 Stephen King's "The Mist" 1985
This adventure is adapted from the 150-page novella "The Mist" by Stephen King. While you are on a routine visit to the supermarket, a sinister, thick mist rolls into town, swallowing up everything in its path and trapping you. Can you escape amidst the ensuing panic, and make it out of...
---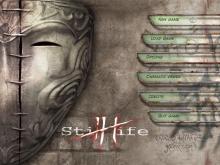 Still Life 2005
Still Life is a 3D point-and-click adventure that garners its "M" rating due to its gruesome subject matter. Players take the role of a gifted young FBI detective named Victoria McPherson, who is assigned to a difficult case in modern Chicago involving the apparent serial killings of (at least) five...
---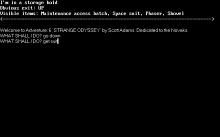 Strange Odyssey 1981
Strange Odyssey is the sixth game of the Scott Adams text adventures series, marketed by Scott's company, Adventure International. It is an old-style text adventure sporting a two word parser and split screen interface. You play a space traveller whose space ship breaks down while orbiting a remote asteroid. Starting with...
---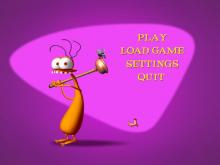 Stupid Invaders 2001
The prospect of a sci-fi comedy adventure game is intriguing, especially when the tag line on the box states "Stupid Idiots Need Your Help!" Perhaps, though, in this case the statement should be considered a warning, not a cry for help. Stupid Invaders is, unfortunately, built on a foundation of...
---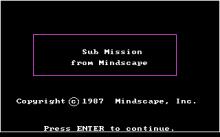 Sub Mission 1987
An evil alien warlord has kidnapped two Earthlings, Peter and Sigourney. He agrees to free them only on one condition: somebody must defeat him in a dangerous game that consists of piloting submarines with a remote control. Who is brave enough to stand up to this challenge? And who can...
---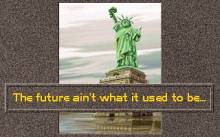 Superhero League of Hoboken 1994
The humor in Superhero League of Hoboken is continuous and comes at you in many forms including sight gags, puns, absurd weaponry and a cast of bizarre characters with special abilities you've never seen before in any computer role-playing adventure game. With such lovable superheroes to call on in dire...
---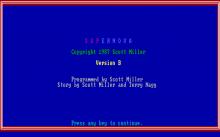 Supernova 1987
Supernova is a text based adventure where you must find another life to live, after years of working your life away in some dusty, mucked up mine. The mines main source, barren metal, is running low, so it's time find another way of bringing in the profits. ...
---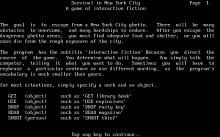 Survival in New York City 1986
Survival in New York City is a marginally above-average interactive fiction title, included in Keypunch's Swords and Sorcery package. Given Keypunch's notoriety as the company that kept stealing other people's games (mostly public domain works released via BBS's), it is no surprise that designer credits are nowhere to be found...
---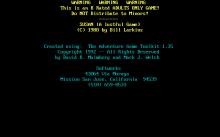 Susan (A Lustful Game) 1988
Susan is a text adventure created with the Adventure Game Toolkit. The aim of the game is for the player to score in bed with their girlfriend Susan. The character starts the game outside Susan's house, virtually empty-handed of anything useful toward fulfilling several of Susan's requests, all of which...
---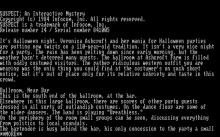 Suspect 1984
Suspect is Infocom's third murder mystery. Police Sgt. Duffy, from Deadline and Witness, is back, but this time he thinks you are the killer. You're a newspaper reporter invited by your rich friend Veronica Ashcroft to a costume ball. You arrived dressed as a cowboy, but your lasso is found...
---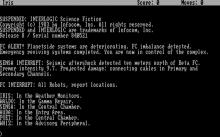 Suspended 1983
You are the Central Mentality on an advanced semi-automated planet. You were supposed to sleep - in limited cryogenic suspension - for the next 500 years, 20 miles beneath the surface of the planet, while the great Filtering Computers maintained all surface systems. But the computers have taken you out...
---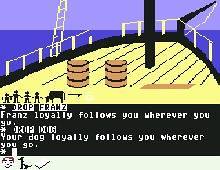 Swiss Family Robinson 1984
Swiss Family Robinson is a computer game based on the 1812 novel by Johann David Wyss. Players take the role of Fritz, the eldest brother of a Swiss family that has been shipwrecked in the oceans of the East Indies en route to Port Jackson, Australia. As the game begins,...
---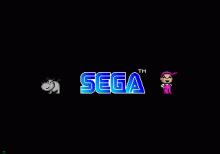 Switch (a.k.a. Panic!) 1993
Switch (Panic! in the US) is quite possibly the oddest game I've ever seen, and I've seen a lot of decidedly odd games. The story, so much as you need one: in the future, all the appliances in the world are hooked up to a central computer. (If that's not the...
---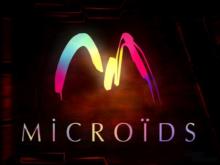 Syberia 2002
The point-and-click adventure game, a staple of PC gaming since King's Quest, gets a fresh coat of paint and a new variation in Syberia from The Adventure Company. With a charming, straightforward story and a genuinely interesting protagonist, Syberia breathes new life into a tired genre. Unfortunately the adventure ends...
---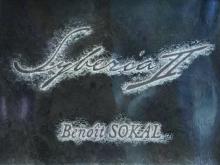 Syberia II 2004
Picking up right where Syberia left off, Syberia II continues the story of Kate Walker, a young attorney on a quest to find the mythical land of Syberia, a place where mammoths still roam the earth. Syberia II has exactly the same gameplay, graphics, and voice talent as the first...
---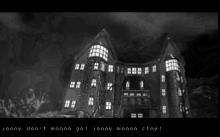 Synnergist 1996
Thunder crashes, lightning flashes, and howling rain beats vehemently against the fortified walls of a ghastly mental institution looming high above the docks. Chilling screams of terror shriek through the darkness from a room within where a doctor has apparently gone mad. Despite the nurses' objections, he lets nothing hinder...
---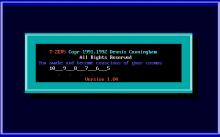 T-Zero 1991
T-Zero is a highly unusual piece of epic interactive fiction, playing in a Lewis Carroll-like surreal surrounding, with a strong emphasis on word puzzles. The game starts with you awakening in a River Bed. You have to explore your surroundings to find six objects, "scattered across ages and landscapes", to transport...
---