Adventure Games #43
Search a Classic Game: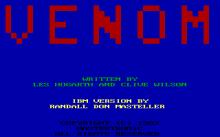 Venom 1987
Like Shard of Inovar and Kobayashi Naru, released in the same year, Mastertronic's Venom is a text-based adventure game that uses a novel cursor interface system instead of the traditional text parser. And, also like the other two games, Venom's interface system is quite innovative in theory but less than...
---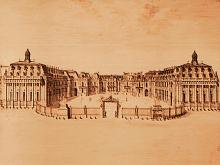 Versailles 1685 1997
In this historical game you are some sort of security guard at the court of Louis XIV. You have to prevent a destruction of such a lovely place as Versailles, where you search for bomb and the person, who want to activate it. Talking with characters, searching for clues and...
---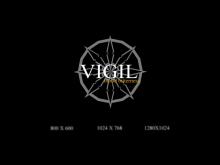 Vigil: Blood Bitterness 2006
Plunge into the dark and disturbing story to reveal the secrets of your ancient civilization's relics and exact revenge on the Evil destroying your universe. Ritualistic killings and blood lust blur the line between your own kind and the Evil you seek to annihilate. Avoid traps, solve puzzles and devour the...
---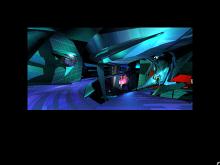 Virtual Nightclub: A Game About Time 1997
The Virtual Nightclub offers a kaleidoscopic swath of London night life in high-resolution computer graphics that will hold hours of interactive leisure reality. It's somewhere between MTV and a video game, a product that combines interactive technology with cutting-edge sounds. The interactive element allows viewers to use a mouse to...
---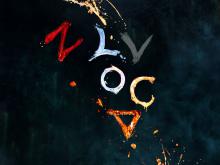 Void, The 2008

---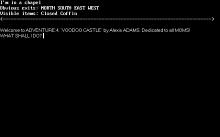 Voodoo Castle 1981
The Count of Monte Cristo was eventually consumed entirely by his drive for revenge. Count Cristo, on the other hand, is merely the victim of a Voodoo curse an enemy hexed him with... an external plague more possible to reverse. Starting the game standing over his coffin, you wander the...
---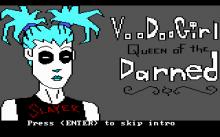 Voodoo Girl - Queen of the Darned 2003
You control Voodoo Girl as she wanders a surreal, idealised mythological Haiti on a shopping errand picking up ingredients for a new recipe her spiritual mentor Mama Houngan is cooking up: nothing out of the ordinary -- just a coconut, some blowfish venom, yellow grave mold, eye of newt, Thorazine,...
---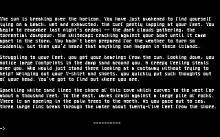 Voodoo Island 1985
Voodoo Island is an Interactive Fiction game with no pictures. The player's task is to destroy the evil plot Dr. Beauvias is preparing. Voodoo Island's text parser is similar to that of another Angelsoft game, Forbidden Castle, but unlike other games by that company, the puzzles here do not need...
---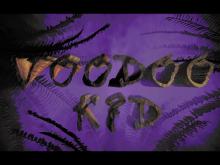 Voodoo Kid 1997
This is a horror adventure game for young gamers (ages 8-15 or so) in which players can choose to play as either a boy or girl, though the game is still the same either way. When the game starts, the protagonist is reading a boring story about Baron Saturday, an...
---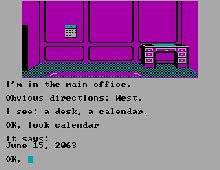 Vortex Factor, The 1985
In mid-1980s, a small company called Mark Data Products released 6 parser-based graphic adventure games similar to early Polarware and Scott Adams titles. While the games are reasonably successful on Tandy's CoCo computer, the IBM PC versions did not achieve the same level of success. While the graphics are quite...
---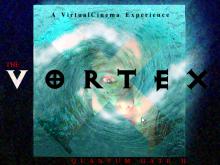 Vortex, The: Quantum Gate II 1994
The original Quantum Gate: The Saga Begins... is based on an unique design concept called VirtualCinema pioneered by HyperBole Studios. VirtualCinema takes full advantage of the multimedia capability of the computer to provide a platform for interactive storytelling. Like its predecessor, The Vortex: Quantum Gate II bills itself not as...
---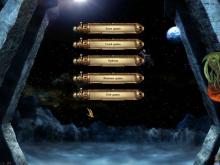 Voyage 2005
Players find themselves precariously orbiting Earth's greatest natural satellite in this adventure game inspired by the 1865 novel De la Terre à la Lune (From the Earth to the Moon), by seminal science fiction writer Jules Verne. In the role of the novel's lead character, scientist Michel Ardan, players will...
---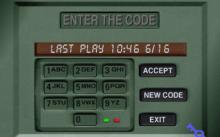 Voyeur 1994
For better or worst, the developer and publisher of Voeyur have raised the question of what constitutes appropriate content in family entertainment with the release of this title. Originally released for CD-I in 1994, the game has generated much controversy with its adult subject matters which no doubt has boosted...
---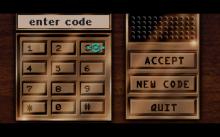 Voyeur II 1996
In Voyeur II you are a photographer who has moved into the wilderness to live in a cabin built on a canyon by your grandfather. Your grandfather used the cabin for hunting purposes until the anti-hunting regulation was passed. He then locked up his prized rifle and gave the cabin...
---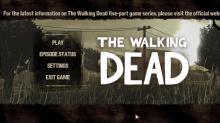 Walking Dead, The 2012
Originally released in five installments by the episodic experts at Telltale Games, The Walking Dead puts players in the middle of a zombie apocalypse based on the popular comic and television show of the same name. Gamers take control of accused murderer Lee Everett as he fights for survival, solves...
---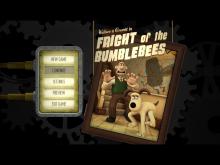 Wallace & Gromit in Fright of the Bumblebees 2009
The developer behind Sam & Max and Strong Bad's Cool Game for Attractive People returns with more episodic adventures, this time starring Britain's beloved claymation duo Wallace & Gromit. Episode 1 -- "Fright of the Bumblebees" finds Wallace's dreams of jump starting his honey business backfire when the huge flowers...
---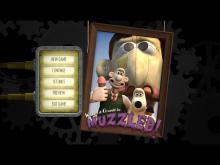 Wallace & Gromit in Muzzled! 2009
Wacky inventor Wallace and his intelligent canine companion Gromit return for another installment in Telltale Games' graphic adventure series in Wallace & Gromit's Grand Adventures: Episode 3 -- "Muzzled!" A new face around town, the mustachioed Monty Muzzle, has decided to hold a gala fundraiser to help rebuild the local...
---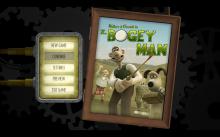 Wallace & Gromit in The Bogey Man 2009
Aardman Animations' brilliant beagle Gromit and his maneless master Wallace hit the links in their fourth comedic adventure from Telltale Games. Episode 4 -- "The Bogey Man" begins with Wallace being admitted to Prickly Thicket, the oldest country club around. But the duo soon become embroiled in a longstanding club...
---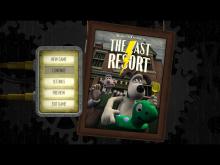 Wallace & Gromit in The Last Resort 2009
Telltale Games returns with another comedic episode in the life of Wallace & Gromit in Episode 2 -- "The Last Resort". Heavy rains ruined the vacation plans of the cheese-loving Wallace and his mute mutt Gromit, but the duo decide to make the best of it by turning their basement...
---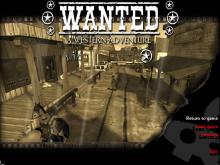 Wanted: A Wild Western Adventure 2003
Wanted: A Wild West Adventure tells the story of a white-hat-wearing cowboy named Fenimore Fillmore. Fenimore must rally local townsfolk to stand up against a wealthy land baron named Starek, who wants to take over the whole town. The lighthearted humor and gameplay style of Wanted may be reminiscent of...
---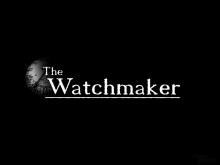 Watchmaker, The 2001
The Italian-produced mystery The Watchmaker is somewhat of an enigma in the realm of graphic adventures. The story is fairly solid, though sci-fi based, and the background and environments are quite beautiful in places, but the voice-acting, pace, gameplay, and interface conspire to set the entire production only slightly above...
---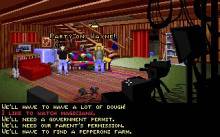 Wayne's World 1993
Wayne's World is an adventure game based on the movie with the same name. The game itself is a classic point and click adventure, and should not be confused with the platform game based on the movie. You play both Wayne and Garth, and you can switch between them at any...
---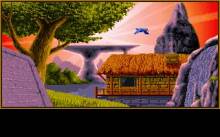 Ween: The Prophecy 1993
This point and click adventure takes a fantasy setting, in which you play a Wizard deemed to be 'good' taking on a less good one. To fulfill the prophecy you have been given in a limited time of 3 days, he must go on 3 quests, solving various puzzles along...
---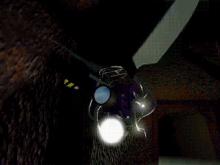 Weird: Truth is Stranger than Fiction 1997
Weird: Truth is Stranger Than Fiction is officially marketed as an adventure game, and contains a few puzzles, but in reality is more of a multimedia encyclopedia of strange phenomena and legends with a Myst-like slide-show presentation. The player starts in a room full of doors, each leading to different places....
---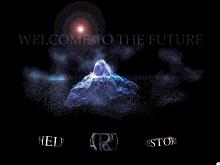 Welcome to the Future 1995
In the footsteps of the hit game Myst comes Welcome to the Future, an ambient first-person adventure game which plunges the player deep into an alternate reality where arcane symbols provide clues to solve puzzles which only lead to more puzzles and more artifacts to examine. Explore surreal mountains, delve deep...
---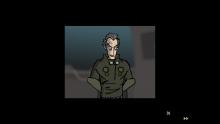 What Makes You Tick: A Stitch In Time 2010

---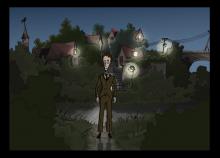 What Makes You Tick? 2007

---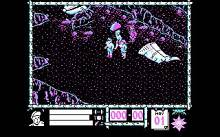 Where Time Stood Still 1987
While flying three members of the same family, your planes crash-lands in an area where it soon becomes clear that time has stood still - dinosaurs still roam the area, and the humans are primitive and carnivorous. Your task is to guide them to safety through the complex isometrically viewed...
---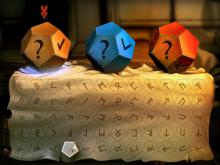 Whispered World, The 2009
The Whispered World is a classically styled point-and-click adventure game in which players guide a 12-year-old clown through hand-painted fantasy environments on a quest to keep his world from crumbling. Young Sadwick is a melancholy sort who dreams of exploring the world, but his family ties and his duties as...
---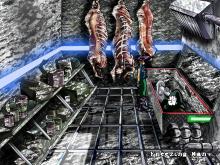 white chamber, The 2005
A young girl wakes to find herself inside a strange glowing coffin, in a dark room. Who is she? What is this place? Why is she here? As she explores the warped environment she finds herself trapped within, she must search for answers, all of which will lead her closer...
---