Adventure Games #17
Search a Classic Game: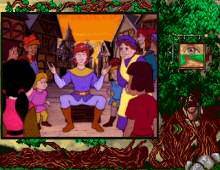 Kingdom: The Far Reaches 1995
In this adventure game, step into the shoes of Lathan Kandor, a young boy, to defeat the evil Black Wizard. Lathan will find help from his mentor, the mighty magician Daelon. Explore the fantasy lands of the Far Reaches and retrieve three of the five pieces of the ancient relic...
---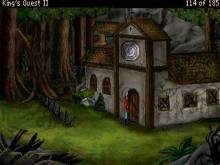 Kings Quest 2: Romancing the Stones VGA 2002
AGD Interactive released the final remake of King's Quest 2 in 2003, the same year that they put the finishing touches to King's Quest 1. The game continues the story of Graham, who has fulfilled the quest given to him by the late King Edward and has been crowned king...
---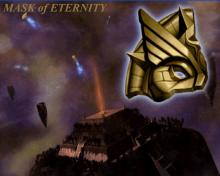 Kings Quest 8: Mask of Eternity 1998
Just when you thought it was safe to play another King's Quest game, designer Roberta Williams decided to change everything with the series' eighth and, perhaps, final installment. Featuring real-time combat, 3D graphics and a hero outside of the series' famous royal family, King's Quest: Mask of Eternity is a...
---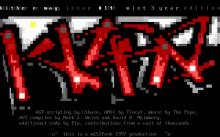 Kithe #14 1997
A vague game lurks in the background of this surreal library-cum-adventure; some articles and some areas convey keywords necessary, as in Beyond the Tesseract, for the nominal "completion" of the game -- but as in any good cave crawl, the reward here is really in thorough exploration. ...
---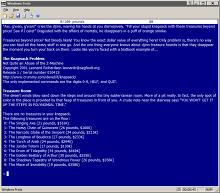 Knapsack Problem, The 2001
A fun Choose-Your-Own-Adventure style entrant in the LOTECHComp, although it's essentially just a clever implementation of a logic puzzle. As Mark Silcox points out, The Knapsack Problem is "...a dressed-up optimization problem rather than a game in any strict sense, this one nonetheless has its charm. You have to figure...
---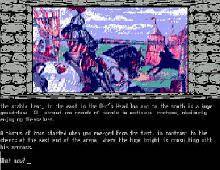 Knight Orc 1987
As Gringleguts the Orc, you swear revenge on all humankind for the treatment of your race. This game plays for real; EACH person and creature goes on about their daily lives as if they would be. So, if your at one area and you come back and that thing or...
---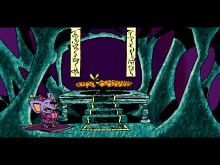 Koala Lumpur: Journey to the Edge 1997
Koala Lumpur: Journey to the Edge is the kind of game to which you must make a commitment. Cancel your plans, drink some coffee, and sit on a comfortable surface, because Koala's journey is not a quick or easy one. Journey to the Edge is filled with hidden clues, torturous puzzles,...
---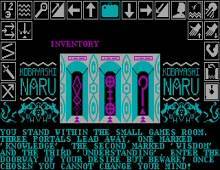 Kobyashi Naru 1987
Split into knowledge, wisdom and understanding sections, the Kobyashi Naru trial must be completed in order to gain immortal status. Collect the required objects from each one in this adventure game. The game offers pictures of each location and significant objects, and a textual description of each location, but beyond this...
---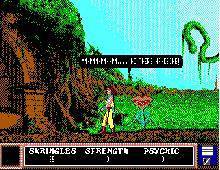 Kristal, The 1989
Become a swashbuckling pirate named Francis Drake and find the fabled Kristal Of Konos and return it to it's rightful resting place. TONS of added side adventures as well! ...
---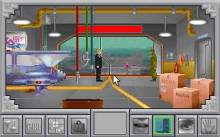 Kronolog: The Nazi Paradox (a.k.a. Red Hell) 1993
Kronolog is a graphic adventure that is based on an alternate world, where the Nazis won world war two and proceeded towards world domination. The world as it is now is crumbling from excess pollution, enviromental problems, etc. and you play the part of Hoffman, a member of the government...
---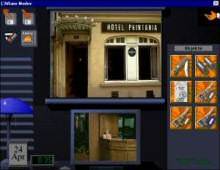 L'Affaire Morlov (a.k.a. Morlov Affair, The) 1996
L'Affaire Morlov is a spy thriller in which you play Paul Keirn, a journalist for the newspaper "Liberation". Your girlfriend Virginie has have been kidnapped and you are famed for a murder. You have 48 hours to clear your name and rescue Virginie. The game takes place from the first-person...
---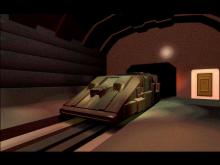 L-Zone 1993
Synergy is a Japanese based company that has designed several acclaimed games for the Macintosh. Following their success, they have decided to release some of their games for the PC market. Among them is L-ZONE, a game set in a strange city by the same name. Built by a mad...
---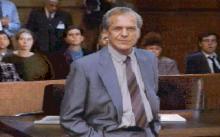 L.A. Law 1992
Based on the Steven Bochco prime-time drama of big-money legal battles and yuppie ennui, L.A. Law: The Computer Game casts players as one of three up-and-coming attorneys: Jonathan Rollins (Blair Underwood), Abbey Perkins (Michele Greene), or Victor Sifuentes (Jimmy Smits). The challenge is to show their character worthy of prestige...
---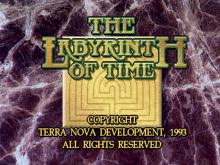 Labyrinth of Time 1993
A point-and-click slideshow game that's pretty long in the tooth... Is The Labyrinth of Time worth going back to? Picture this. An adventure game released waaaay back in 1992/93. A first person point-and-click game with slideshow navigation through a mysterious world which has been threatened by an evil genius. This is...
---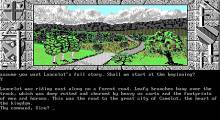 Lancelot 1988
Travel back to the Age of Chivalry when knights were bold, galloping across the countryside and rescuing damsels in distress. This game recreates the time of wizards and the Knights of the Round Table. Lancelot is a three-part interactive fiction adventure, spanning the complete saga from the foundation of the...
---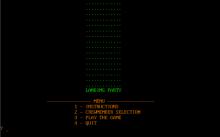 Landing Party 1989
The Starship has depleted all her energy near the orbit of the planet. A decision is made as a last resort to use the remaining bit of energy to teleport 6 members of the crew to the planet surface. As the Captain of the ship you are in charge of...
---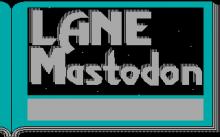 Lane Mastodon vs. The Blubberman 1988
2029, and the evil Blubbermen have invaded earth. Only heroic Lane Mastodon can stop them, in a setting resembling science-fiction of the 1950's. Lane Mastodon vs. the Blubbermen is, along with Gamma Force in Pit of a Thousand Screams and the two ZorkQuest games, a part of the so-called InfoComics. The...
---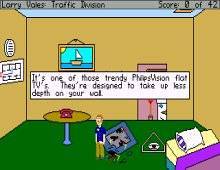 Larry Vales 1: Traffic Division 2000
Larry Vales is an officer in the traffic patrol in a little town in Tennessee. Recently a local insane scientist Professor Semprini invented a machine called "Lovely Rita 4200 Parking Enforcement Cyborg". It was supposed to make people obey the traffic rules, but seemed to have exaggerated quite a bit:...
---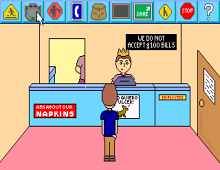 Larry Vales 2: Dead Girls are Easy 2001
In this sequel to Larry Vales: Traffic Division, Larry is still a measly traffic officer while his partner got all the credit for his heroic acts. Larry soon gets fired as well as finds out that his girlfriend killed herself...or not. Larry must investigate his girlfriend's death as a vigilante,...
---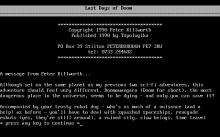 Last Days of Doom 1988
The last and best game in the Doom trilogy, Last Days of Doom once again casts you in a role of the intrepid space explorer who is the only human being known to survive Doomawangara, the most dangerous planet in the universe. This time, though, instead of contending with the...
---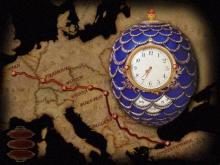 Last Express, The 1997
The exotic and fabled European Orient Express is about to begin its last trip through a world of peace. It's the eve of World War I and this wood and iron train, one of the last of its kind, is about to embark on a journey that will take you...
---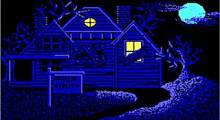 Last Half of Darkness 1989
Last Half of Darkness is an adventure game that takes place entirely in and around a haunted mansion, complete with graveyards, crypts and foreboding swamps. It is considered by some as the forerunner of the Horror genre in adventure gaming, featuring a gloomy atmosphere, spooky music, creepy sound effects, and...
---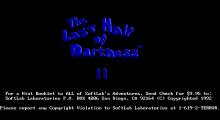 Last Half of Darkness II 1992
Made in 1992, sequel to the first Last Half of Darkness, the game picks off where Part I ended. The player wakes up in a strange room alone, near a dungeon. The girl whom the player saved in the first chapter of the saga is nowhere to be found, and...
---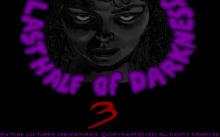 Last Half of Darkness III 1993
This very rare sequel to Last Half of Darkness Part II starts when Part II left off. You find yourself stranded alone on an island inhabited by living dead (which seem to not have vicious or violent intentions) and, again, you have to find the girl you saved in the...
---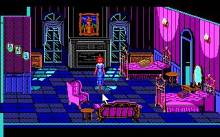 Laura Bow 1989
Using an old-style interactive verb/noun command interface and featuring over a dozen characters to interact with, successful game play in The Colonel's Bequest relies on observation and being in the right place at the right time, as critical events unfold at times and locations outside of your character's presence, requiring...
---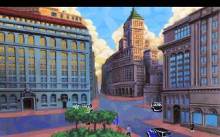 Laura Bow 2: The Dagger of Amon Ra 1992
The Dagger of Amon Ra is the sequel to Laura's previous adventure, The Colonel's Bequest. Laura Bow, fresh out of college, is hired by a New York newspaper and told to investigate a museum theft. The item is a priceless ancient Egyptian artifact, and possible suspects prove plentiful. During a...
---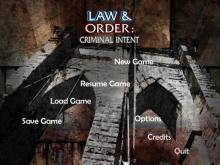 Law & Order: Criminal Intent 2005
This graphic adventure game puts players in the role of Detective Robert Goren, who is faced with four original mysteries to solve. Players must investigate crime scenes, question witnesses and suspects, collect evidence, and piece together a case that will stand up in court. As in Legacy Interactive's home computer...
---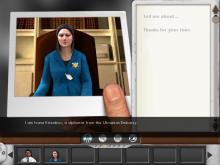 Law & Order: Justice is Served 2004
Players join veteran NYPD detective Lenny Briscoe to solve the case of a slain sports star in Law & Order: Justice Is Served. This third entry in Legacy Interactive's adventure game series based on the popular crime drama once again features 3D re-creations of favorite Law & Order characters, voiced...
---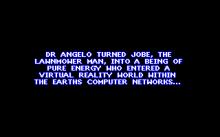 Lawnmower Man, The 1993
Based on the 1992 feature film, The Lawnmower Man is a collection of minigames based on the revolutionary virtual reality sequences seen in the movie. The plot parallels the central conflict - the player controls Dr. Angelo (Pierce Brosnan) as he heads into cyberspace to confront the psychotic digital god...
---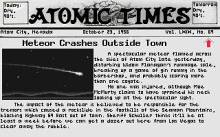 Leather Goddess of Phobos 2 1992
As 1 of 3 different player characters (male, female or alien!) you unravel puzzles to thwart the Pulsating Inconvenience from Planet X to save Earth in the year 1956! ...
---