Adventure Games #24
Search a Classic Game: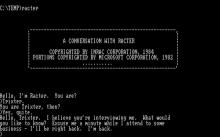 Racter 1984
A more demented version of the conversation program Eliza, Racter would have been called "Raconteur" -- one who excels at storytelling -- if not for the early IBM's lack of long filenames. Racter simulates a conversation with an eccentric individual. In a typical session Racter asks you questions about what...
---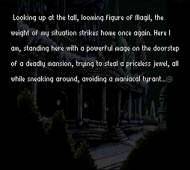 Radical Dreamers 1996
Radical Dreamers is a well-written "sequel" of sorts to Square's famous Chrono Trigger RPG for the SNES system. In contrast to all the other games in the series, this is an "interactive novel" - a genre that is quite popular in Japan, but none of its console-based releases ever made...
---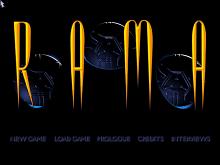 Rama 1996
This atmospheric and immersive puzzle adventure is set aboard a giant cylindrical spaceship which has entered the solar system. A team of astronauts was sent to investigate, but one of them had a tragic accident en route, and you were sent to replace him. ...
---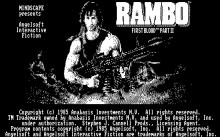 Rambo: First Blood Part II 1985
Take on the role of Sylvester Stallone's machine-gun-toting action hero in this text adventure game adaption (!) of the movie. Your mission is to free prisoners from a POW camp in Vietnam. ...
---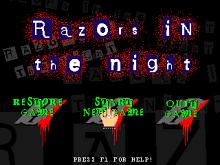 Razors in the Night 2004
Razors in the Night is a fun amateur adventure that offers a fun plot and the length that rivals the best commercial games. You play Knox, a punk member of a local gang who is running from the police after a rough Saturday where Knox and friends may have crossed...
---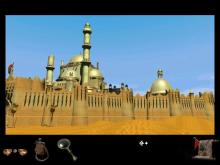 Reah: Face the Unknown 1998
Enthusiasts of visually sophisticated puzzle-adventure games like Myst, 7th Guest and Riven will find a lot to like in LK Avalon's Reah, published on CD and DVD by Project 2 Interactive and distributed by GT Interactive. Spanning 6 CDs (or one double-sided DVD that boasts slightly better graphic resolution), the...
---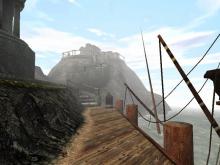 Real Myst 2000
The wondrous world of Myst gets a cosmetic upgrade to take advantage of faster and more powerful computers in realMyst. The features, puzzles and every other detail of the original Myst remain intact, with the exception of a newly added bonus age. From the beginning movie to the letters and...
---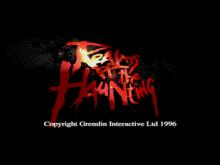 Realms of The Haunting 1997
Realms of the Haunting takes you on a ride of hidden surprises, spirited adventuring, and shrewd, crafty plot development. The game is played from a first-person perspective in a realistic 3D environment and it actually contains a few scenes designed to rattle even the most seasoned gamer. As your character...
---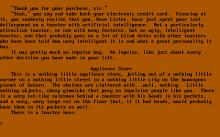 Red Dwarf 1996
Red Dwarf is based on BBC sci-fi comedy series Red Dwarf, which is very popular in Europe. You are the main character: Lister, the last surviving member of the human race who is on board huge (and I mean really *huge*) freighter ship Red Dwarf. With you is a hologram...
---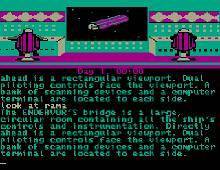 Rendezvous with Rama 1985
Based on Arthur C. Clarke's classic science fiction novel Rendezvous With Rama. After an uncatalogued giant asteroid is discovered approaching Earth, scientists soon realize that it is in reality an alien starship. As commander of the spaceship Endeavor, and being the nearest to the gargantuan ship, it is up to you...
---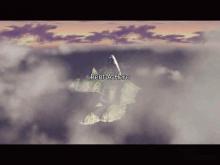 Rent-a-Hero 1998
Rent-A-Hero is an example of adventure game as art. The plot is yet another hackneyed retelling of the ultimate battle between good and evil. You, as Rodrigo, rent out your services to rescue princesses. Unfortunately, there's not much money in it, and the other rental heroes get much better jobs...
---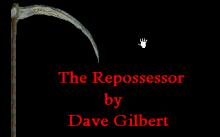 Repossessor, The 2001
The laws of nature have been broken in the town of Reality-on-the-Norm: a dead person has been brought back to life as a zombie. You are Death, the Grim Reaper, who is ordered to come to Reality and return the zombie to being dead. The game is controlled with a...
---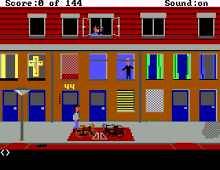 Residence 44 Quest 1999
Residence 44 Quest is a fun fanmade adventure game created with AGI Studios, a program that allows you to create text-parser-with-graphics game in the same style as Sierra's oldie adventures (e.g. King's Quest III, Police Quest 1). The game is based on the authors' real lives as university students in...
---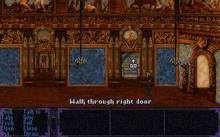 Return of the Phantom 1993
It's a present time (1993), and many people are about to enjoy "The Phantom of the Opera" performance of a long ago made opera, back in 1881. However, that piece of art will soon become covered with blood of an innocent as the great ceiling chandelier will crush down at...
---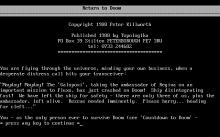 Return to Doom 1988
The planet Doomawangara (*Doom for short*) is a dangerous place. As the only explorer ever to survive it (*'Countdown to Doom'*) you should know! However, an unexpected distress call sends you flying back to Doom in a mission to rescue an ambassador who has been kidnapped by renegade robots. After surviving...
---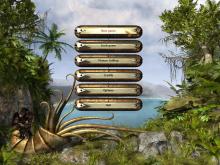 Return to Mysterious Island 2004
Return to Mysterious Island is a graphic adventure based on the Jules Verne novel from which its title is taken. In the role of a modern-day a sailor named Mina who sets out to circumnavigate the globe alone, players find themselves shipwrecked on the mysterious island described in Verne's book....
---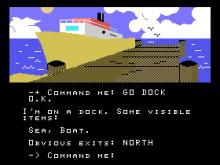 Return to Pirate's Island 1983
Created exclusively for the TI, Return to Pirate's Island was the only Scott Adams adventure which did NOT require the TI Adventure cartridge, available separately. It is still subject to debate whether this is truly #14 in the series or whether it does not count since it was only made...
---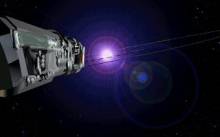 Return to Ringworld 1994
Sequel to the previous Ringworld game based on Larry Niven's "Known Space" series of novels. Once again this game is a point and click adventure/puzzle solving game. After saving the puppeteer race from extermination and uncovering some powerful ancient technology on the first game, Quinn, Seeker of Vengeance and Miranda...
---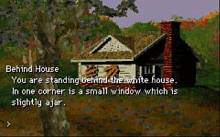 Return to Zork 1993
You are standing behind the white house. There is something in the mailbox. A video message from a wizard informing you that you are the sweepstakes winner to the Valley of the Sparrows... right now, by magic flight. Upon arriving at this mysterious place however, not everything is as it...
---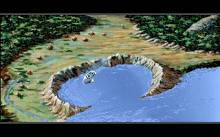 Rex Nebular and the Cosmic Gender-Bender 1992
A priceless vase is lost on a distant planet that doesn't exist! An irate colonel wants the vase back! And only one man is exprienced enough. . .skilled enough. . .And foolish enough to retrieve it! Rex Nebular. . .interstellar adventurer and bungling bachelor extraordinaire! ...
---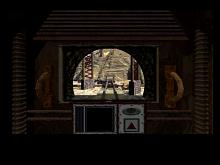 RHEM 2003
Designed by Knut Müller, Rhem is a first person step-through adventure full of mysteries, puzzles, and riddles set in a surreal world with panoramic views and more than 5,000 rendered images. Featuring non-linear gameplay (although many puzzles must be solved to advance to specific locations and accomplish certain tasks), Rhem...
---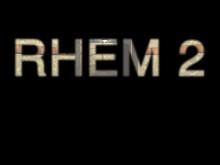 Rhem 2: The Cave 2005
The sequel Rhem 2 is a point-and-click adventure with a non-linear, non-violent storyline, similar in design to the classic Myst. Picking up where the 2003 original left off, players join Kales and the elusive Zetais as they begin to explore a surreal, subterranean city. ...
---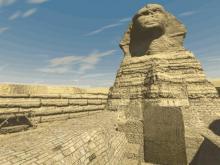 Riddle of the Sphinx: An Egyptian Adventure 2000
Historical games are usually extremely fascinating or incredibly boring. Riddle of the Sphinx: An Egyptian Adventure falls in the first class but only after getting past the initial few puzzles. Playing off the infamous and mysterious curses so prevalent in Egyptian lore, the game, in fact, does not involve any...
---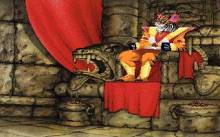 Ringworld: Revenge of The Patriach 1992
A graphical adventure set in Larry Niven's "Known Space" universe. The centerpiece of the Known Space universe is the Ringworld, an artificially created planet that is actually an immense band orbiting a distant star (Halo borrows this idea for its setting). If you aren't familiar with Niven's series, go out...
---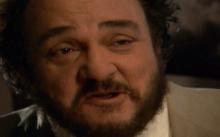 Ripper 1996
A serial killer is on the loose in futuristic New York City. Nicknamed "the Ripper," after the brutal way he leaves his victims, the murder suspect is now contacting you about his grisly deeds. As a reporter for the Virtual Herald, you must investigate crime scenes, speak with law enforcement...
---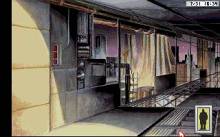 Rise of The Dragon 1990
A futuristic adventure game that borrows graphical elements from Blade Runner (in fact, the title character's name is "Blade Hunter"). You must find out what is killing--by horrible, spontaneous mutation--inhabitants of the city, before it's too late. An oriental cult, drugs, and street informants are among the places you find...
---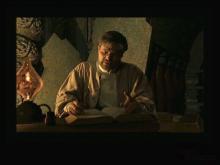 Riven: The Sequel to Myst 1997
Sure, Myst looked nice and I'll credit it for being a fairly original gaming experience, but it lacked substance and made up for it with beautiful artwork. The puzzles were extremely vague, seemingly impossible, even with a walk through or a strategy guide. What little hints the game presented were...
---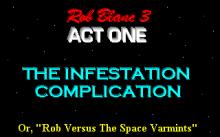 Rob Blanc 3: The Temporal Terrorists 2000
The Rob Blanc games are a very unknown adventure series made by Ben Croshaw. This is the third installment, and undoubtably the best one. The first game was very short, and told the story of how our hero became to be Defender of the Universe. The second game told us...
---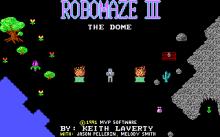 Robomaze III: The Dome 1991
You are a freedom fighter, a member of the resistance, fighting against the tyrannical dictator of your country and his henchman, the mad scientist. In the Robomaze II, you traveled to the mad scientist's tower and battled him and his robots. When you won, you took off in your helicopter in...
---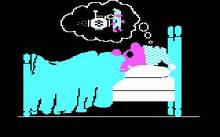 Robot Odyssey 1985
Robot Odyssey is a logic adventure game. You have been taken into Robotropolis, an underground city of robots. To escape, you must program your robot helpers Sparky, Checkers, and Scanner to solve the puzzles and escape. ...
---