Adventure Games #24
Search a Classic Game: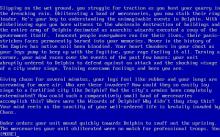 Pentari: First Light 2003
Pentari: First Light is a text-based adventure in the spirit of Infocom's Zork series. Players are challenged to reclaim the city of Delphin from a group of evil wizards, who plan on overthrowing the once peaceful Kingdom of Pentari by capturing its nobles. Yet the quest will not be easy,...
---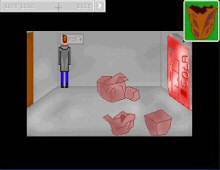 Perils of Poom, The 2003
One of the better and longer amateur adventure games in recent years, The Perils of Poom is a funny, atmospheric, and well-written freeware adventure game. The review at Adventure Gamers does a great job of convincing adventure fans why they should play this game: "Perils of Poom, by Michael "-M-"...
---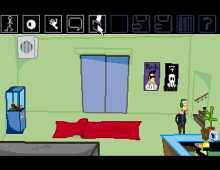 Permanent Daylight 2001
Yet another game coming from the fruitful AGS community. Lately a lot of good games have appeared from this engine-- and this old game is no exception to that. Permanent Daylight is a lighthearted adventure which will please almost every adventure gamer out there. The plot then. The game takes place...
---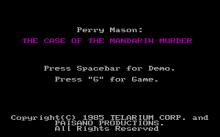 Perry Mason 1985
Interactive text adventure with graphics. Very much influenced by infocom whodunnit type games. A woman is in jail after her rich husband is found dead. Prove her innocence! ...
---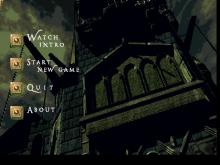 Phantasmagoria 1995
Roberta Williams' Phantasmagoria spans seven CD-ROMs of full-motion video adventuring. Acclaimed for her King's Quest series and a major influence on modern graphic adventures, Williams employs live actors and a dark, disturbing theme throughout this adventure. Through a point-and-click interface, you'll assume the role of Adrienne, who must uncover the...
---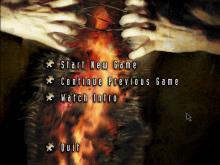 Phantasmagoria 2: A Puzzle of Flesh 1996
Phantasmagoria 2: A Puzzle of Flesh is the second game in the Phantasmagoria series and is part of Sierra's turn to more mature themes in adventure games. Mature themes can be great and releases such as the Gabriel Knight series use them to create very compelling gaming experiences. But, unfortunately,...
---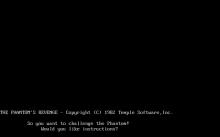 Phantom's Revenge, The 1982
A simple crawl where you have to explore a strange old, mostly abandoned and rumouredly haunted prison to find some presumably fabulous treasure. As with the other Temple Software games, this is a simple text adventure, with most puzzles simply consisting of giving the right item to the right person. You...
---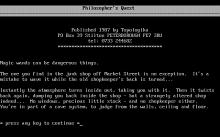 Philosopher's Quest 1982
Philosopher's Quest is a frustrating game. You want to like it because it has some ingenious puzzles and solutions but you'll also be frustrated by the sadistic nature of some of the more difficult ones. Philosopher's Quest's entire construct is nicely mirrored by the first two puzzles. The first is almost...
---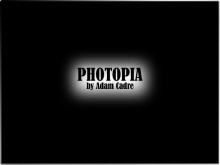 Photopia 1998
Photopia starts off with a short dialogue: "Will you read me a story?" "Read you a story? What fun would that be? I've got a better idea: let's tell a story together." This quote reverberates very strongly throughout the game for a variety of reasons. The game plays itself out through...
---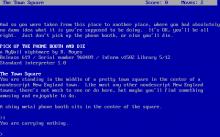 Pick Up the Phone Booth and Die 1996
A paragon of minimalist gaming, this debut piece of interactive fiction compounds the increasingly-popular "one-room game" sub-genre with a further elegant restriction -- the room ("the middle of a pretty town square in the center of a nondescript New England town") contains only a single object, the titular phone booth...
---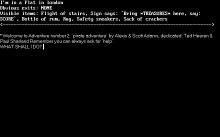 Pirate Adventure 1978
This is adventure #2 in Scott Adam's text adventure series. In this adventure, you shuffle between three locales: an unremarkable (at first) London flat and two islands littered with dangerous critters and people. The goal of the game is to find the two pirate treasures on the treasure island. You...
---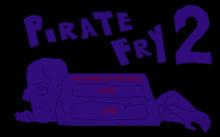 Pirate Fry 2: The Hand of Anturus 2004
Pirate Fry 2: The Hand of Anturus is a funny and well-crafted amateur adventure game that is reminiscent of Monkey Island in many ways, not least of which is the pirate-y setting. Curiously released after Pirate Fry 3, the game is the best in the series, offering solid graphics, plenty...
---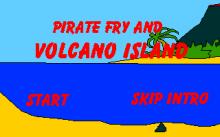 Pirate Fry and Volcano Island 2001
Enter the world of Pirate Fry as you go forth in his journey across the island of Volcano Island to face daring obstacles, new challenges and interesting situations. This is the start of the series of games starring our hero Pirate Fry, so far we can see with the first...
---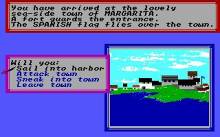 Pirates! 1987
One of Sid Meier's earliest computer games, Pirates! combines role-playing adventure with simulated overtones of sailing 17th century seas. The adventure takes place in the Caribbean and simulates the economics, sea-based technology and politics of the era. You begin the game as a humble seafarer with little in the way...
---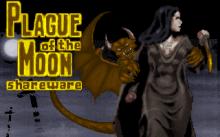 Plague of the Moon 1994

---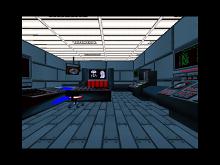 Plague: Maze of the Mind 1996
Earth 2012, and a mutant computer virus has suddenly begun to plague human beings. From deep within the most sophisticated neural network computers, low-level radiation has begun manipulating the genetic codes of the unsuspecting people who stand nearby. The virus cuts off vital neural links, sending all those it affects into...
---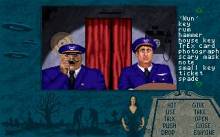 Plan 9 from Outer Space 1992
The movie; Plan 9.....the critics hated it. But, the producer of the film has noticed that it's been stolen by Bela Lugosi's double. Find him. Track him. For God's sake - just keep a straight head when you enter this part of the movie lot and town. Some of the...
---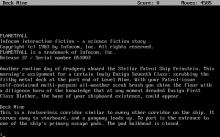 Planetfall 1983
Planetfall is a work of interactive fiction penned by the infamous Infocom Implementor Steve Meretzky. You may have cursed his name once or twice if you have ever played Sorcerer or the Hitchhiker's Guide to the Galaxy (for which you should also be given a medal if you have completed...
---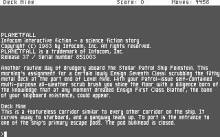 Planetfall [Solid Gold] 1988
In 1982 Steve Meretzky was working as a game tester for Infocom. In 1983 he was putting his name on one of the best selling games in Infocom's history. That game was Planetfall. Meretzky would go on to leave quite a large impression on the adventure gaming genre with such...
---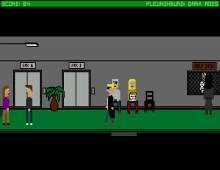 Pleurghburg: Dark Ages 2001
One of the best freeware adventure games I have come across, Pleurghburg: Dark Ages is an outstanding detective point-and-click adventure game that boasts an interesting plot, fun and logical puzzles, and very high gaming value. The plot is a bit cliché, but not bad as far as detective stories go. Here's...
---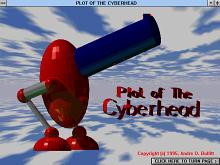 Plot Of The Cyberheads 1995
Early in the 21st century, the world found itself in a precarious state. A war fought be robots over mineral rights erupted in the Arctic, and mechanized soldiers called Walkers and Killerbots terrorized the planet. Special forces trained in anti-robot techniques tried to respond to the menace. When the robots invaded...
---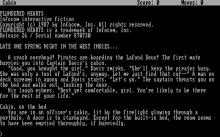 Plundered Hearts 1987
Plundered Hearts has an interesting concept. Not only does it feature a female protagonist, but it's also a romance story. Taken individually, each of these elements can make a game stand out, but combined they make the game one of a kind. The fact you're playing as a female is made...
---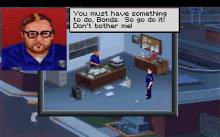 Police Quest 1: VGA remake 1992
George Lucas would be proud. Like one would expect, this VGA remake of one of Sierra On-Line's premiere 3D adventure game title is unarguably superior in the level of graphics, sound, and control, but it also suffers from making changes that shouldn't have been made and from making the age-old...
---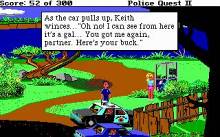 Police Quest 2: The Vengeance 1988
Little time has passed since the events of Police Quest, when Sonny climbed the ranks of the Lytton police department and became the key element in the arrest of Jesse Baines, the notorious Drug Lord. After the trial, Sonny's application to the Homicide division was accepted and proposed to Marie,...
---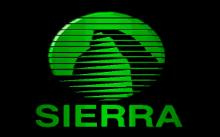 Police Quest 3: The Kindred 1991
Although part of the Police Quest series, Police Quest III: The Kindred was most definately my least favourite adventure of Sonny Bonds. It was mostly the point and click aspect of Police Quest III: The Kindred that totally threw the whole environment of Police Quest games down the stairs. I enjoy...
---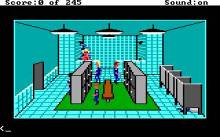 Police Quest: In Pursuit of the Death Angel 1987
The coppers. We all say we hate them. Whether it's getting a speeding ticket or being pelted with tear gas, we bemoan their "necessary evil"-like existence. Yet we have literally dozens and dozens of movies about the police, hundreds of cop shows on television, and thousands of novels about those...
---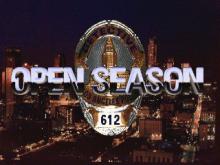 Police Quest: Open Season 1993
Police Quest: Open Season is the fourth installment in the Police Quest series. It abandons the story arc of the previous three games, introducing a new setting and a new protagonist, homicide detective John Carey of the Los Angeles Police Department. Carey finds his best friend and ex-partner, Officer Bob...
---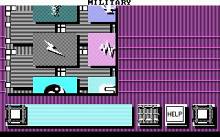 Portal 1986
Portal is a computer novel. Where are all the humans? Upon returning from your 100 year voyage in the milky way, you find earth empty and abandoned. Between the decaying remnants of civilization, you discover a terminal for Worldnet, the global network that recorded all human activities. The answer must lie...
---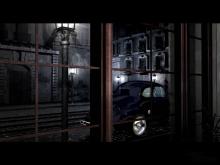 Post Mortem 2003
Post Mortem is a gritty and grim murder mystery set in the first half of 20th century Paris. Players take the first-person perspective role of New York detective Gus McPherson, hired by Sophia Blake to investigate the grisly deaths of Ruby and Regis Whyte, her sister and brother-in-law who have...
---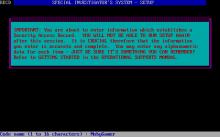 President is Missing 1988
The situation is as follows: the President of the United States is missing. He was last seen on June 6, 1996, before a meeting with the top ten leaders of Europe. What transpired during this meeting is unclear, but the incident happened so quickly that it is believed terrorists are...
---