Adventure Games #22
Search a Classic Game: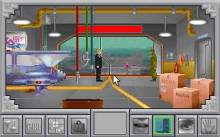 Kronolog: The Nazi Paradox (a.k.a. Red Hell) 1993
Kronolog is a graphic adventure that is based on an alternate world, where the Nazis won world war two and proceeded towards world domination. The world as it is now is crumbling from excess pollution, enviromental problems, etc. and you play the part of Hoffman, a member of the government...
---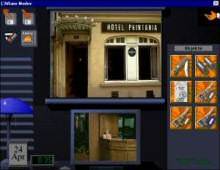 L'Affaire Morlov (a.k.a. Morlov Affair, The) 1996
L'Affaire Morlov is a spy thriller in which you play Paul Keirn, a journalist for the newspaper "Liberation". Your girlfriend Virginie has have been kidnapped and you are famed for a murder. You have 48 hours to clear your name and rescue Virginie. The game takes place from the first-person...
---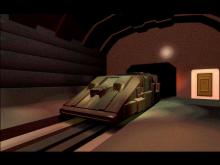 L-Zone 1993
Synergy is a Japanese based company that has designed several acclaimed games for the Macintosh. Following their success, they have decided to release some of their games for the PC market. Among them is L-ZONE, a game set in a strange city by the same name. Built by a mad...
---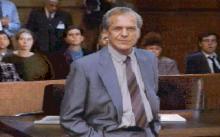 L.A. Law 1992
Based on the Steven Bochco prime-time drama of big-money legal battles and yuppie ennui, L.A. Law: The Computer Game casts players as one of three up-and-coming attorneys: Jonathan Rollins (Blair Underwood), Abbey Perkins (Michele Greene), or Victor Sifuentes (Jimmy Smits). The challenge is to show their character worthy of prestige...
---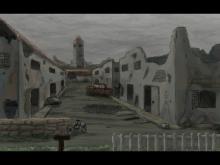 La Croix Pan 2007

---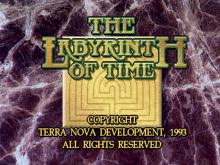 Labyrinth of Time 1993
A point-and-click slideshow game that's pretty long in the tooth... Is The Labyrinth of Time worth going back to? Picture this. An adventure game released waaaay back in 1992/93. A first person point-and-click game with slideshow navigation through a mysterious world which has been threatened by an evil genius. This is...
---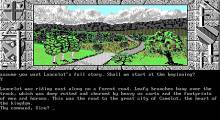 Lancelot 1988
Travel back to the Age of Chivalry when knights were bold, galloping across the countryside and rescuing damsels in distress. This game recreates the time of wizards and the Knights of the Round Table. Lancelot is a three-part interactive fiction adventure, spanning the complete saga from the foundation of the...
---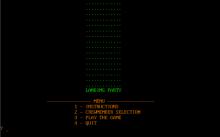 Landing Party 1989
The Starship has depleted all her energy near the orbit of the planet. A decision is made as a last resort to use the remaining bit of energy to teleport 6 members of the crew to the planet surface. As the Captain of the ship you are in charge of...
---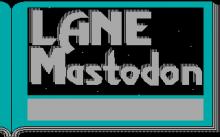 Lane Mastodon vs. The Blubberman 1988
2029, and the evil Blubbermen have invaded earth. Only heroic Lane Mastodon can stop them, in a setting resembling science-fiction of the 1950's. Lane Mastodon vs. the Blubbermen is, along with Gamma Force in Pit of a Thousand Screams and the two ZorkQuest games, a part of the so-called InfoComics. The...
---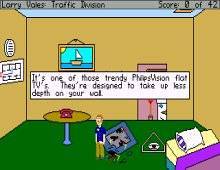 Larry Vales 1: Traffic Division 2000
Larry Vales is an officer in the traffic patrol in a little town in Tennessee. Recently a local insane scientist Professor Semprini invented a machine called "Lovely Rita 4200 Parking Enforcement Cyborg". It was supposed to make people obey the traffic rules, but seemed to have exaggerated quite a bit:...
---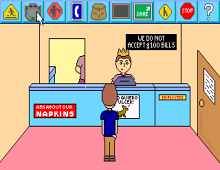 Larry Vales 2: Dead Girls are Easy 2001
In this sequel to Larry Vales: Traffic Division, Larry is still a measly traffic officer while his partner got all the credit for his heroic acts. Larry soon gets fired as well as finds out that his girlfriend killed herself...or not. Larry must investigate his girlfriend's death as a vigilante,...
---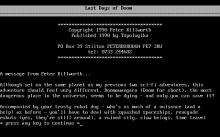 Last Days of Doom 1988
The last and best game in the Doom trilogy, Last Days of Doom once again casts you in a role of the intrepid space explorer who is the only human being known to survive Doomawangara, the most dangerous planet in the universe. This time, though, instead of contending with the...
---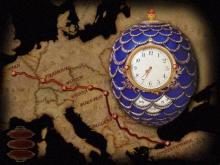 Last Express, The 1997
The exotic and fabled European Orient Express is about to begin its last trip through a world of peace. It's the eve of World War I and this wood and iron train, one of the last of its kind, is about to embark on a journey that will take you...
---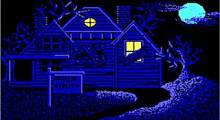 Last Half of Darkness 1989
Last Half of Darkness is an adventure game that takes place entirely in and around a haunted mansion, complete with graveyards, crypts and foreboding swamps. It is considered by some as the forerunner of the Horror genre in adventure gaming, featuring a gloomy atmosphere, spooky music, creepy sound effects, and...
---
---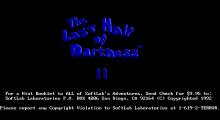 Last Half of Darkness II 1992
Made in 1992, sequel to the first Last Half of Darkness, the game picks off where Part I ended. The player wakes up in a strange room alone, near a dungeon. The girl whom the player saved in the first chapter of the saga is nowhere to be found, and...
---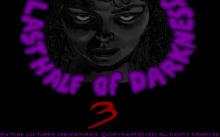 Last Half of Darkness III 1993
This very rare sequel to Last Half of Darkness Part II starts when Part II left off. You find yourself stranded alone on an island inhabited by living dead (which seem to not have vicious or violent intentions) and, again, you have to find the girl you saved in the...
---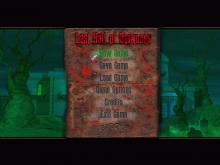 Last Half of Darkness: Shadows of the Servants 2005

---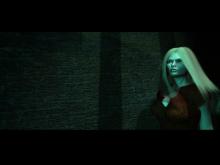 Last Half of Darkness: Society of the Serpent Moon 2011

---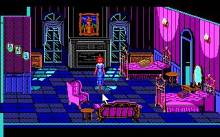 Laura Bow 1989
Using an old-style interactive verb/noun command interface and featuring over a dozen characters to interact with, successful game play in The Colonel's Bequest relies on observation and being in the right place at the right time, as critical events unfold at times and locations outside of your character's presence, requiring...
---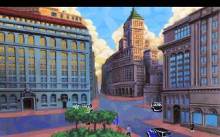 Laura Bow 2: The Dagger of Amon Ra 1992
The Dagger of Amon Ra is the sequel to Laura's previous adventure, The Colonel's Bequest. Laura Bow, fresh out of college, is hired by a New York newspaper and told to investigate a museum theft. The item is a priceless ancient Egyptian artifact, and possible suspects prove plentiful. During a...
---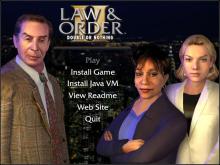 Law & Order II: Double or Nothing 2003
Law & Order II: Double or Nothing follows up Legacy Interactive's original adventure game with a new mystery to solve and a few extra features designed to help those who found the first title frustrating. For the first half of the game, players are once again cast in the role...
---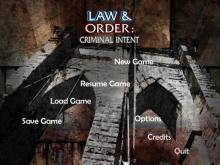 Law & Order: Criminal Intent 2005
This graphic adventure game puts players in the role of Detective Robert Goren, who is faced with four original mysteries to solve. Players must investigate crime scenes, question witnesses and suspects, collect evidence, and piece together a case that will stand up in court. As in Legacy Interactive's home computer...
---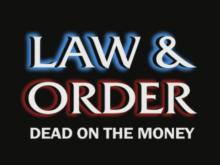 Law & Order: Dead on the Money 2002
"In the criminal justice system, the people are represented by two separate yet equally important groups -- the police who investigate crime and the district attorneys who prosecute the offenders." As stated in the opening of each episode of the long-running ...
---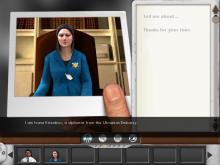 Law & Order: Justice is Served 2004
Players join veteran NYPD detective Lenny Briscoe to solve the case of a slain sports star in Law & Order: Justice Is Served. This third entry in Legacy Interactive's adventure game series based on the popular crime drama once again features 3D re-creations of favorite Law & Order characters, voiced...
---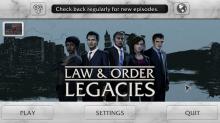 Law & Order: Legacies 2012
The episodic specialists at Telltale Games tackle one of TV's most popular and enduring procedural dramas in Law & Order: Legacies. As in the hit shows, players must combine sound detective skills with legal acumen to charge, arrest, and convict criminal offenders. In Episode 1: "Revenge," a maid is found...
---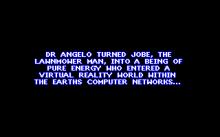 Lawnmower Man, The 1993
Based on the 1992 feature film, The Lawnmower Man is a collection of minigames based on the revolutionary virtual reality sequences seen in the movie. The plot parallels the central conflict - the player controls Dr. Angelo (Pierce Brosnan) as he heads into cyberspace to confront the psychotic digital god...
---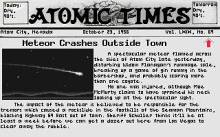 Leather Goddess of Phobos 2 1992
As 1 of 3 different player characters (male, female or alien!) you unravel puzzles to thwart the Pulsating Inconvenience from Planet X to save Earth in the year 1956! ...
---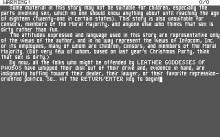 Leather Goddess of Phobos [Solid Gold] 1988
Some material in this story may not be suitable for children, especially the parts involving sex, which no one should know anything about until reaching the age of eighteen (twenty-one in certain states). The story is also unsuitable for censors, members of Moral Majority, and anyone else who thinks that...
---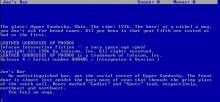 Leather Goddesses of Phobos 1986
In the 1980s, Infocom had cornered the market on interactive fiction (IF), being by far the leading developer and publisher of computer text adventure games. Even so, the company was not content to continue doing what it had always done but sought to diversify its portfolio by making games that...
---