Adventure Games #28
Search a Classic Game: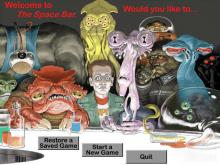 Space Bar, The 1997
Become a psychic space cop to solve a crime of interplanetary industrial espionage in The Space Bar. The solution to the crime sits in a seedy tavern on the edge of the galaxy -- the trick is figuring out which of the strange alien barflies holds the key. Luckily, as...
---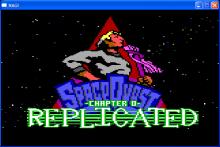 Space Quest 0: Replicated 2003
Space Quest 0: Replicated is an excellent fanmade Space Quest game that in my humble opinion is even more fun than The Lost Chapter, another fanmade SQ game reviewed on this site a few years ago. Set in a time before all SQ games (hence the name Space Quest 0),...
---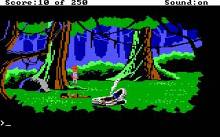 Space Quest 2: Vohaul's Revenge 1987
Sequels are dangerous business. While in movies, the basic idea is to take the expectations of what an audience knows (and loves), and either chooses to repeat them or reverse them...in games, it's a slightly different matter. Yes, you need similar characters, similar tone, and similar difficulty, but you also...
---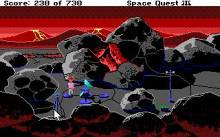 Space Quest 3: The Pirates of Pestulon 1989
Narrowly escaping the events of Space Quest II: Vohaul's Revenge, Roger Wilco's escape pod floats through space. As just another metallic item of junk, it's soon picked up by an interstellar garbage hauler. Waking up in a pile of trash, quite familiar for this janitor-turned-hero, Roger Wilco must somehow escape....
---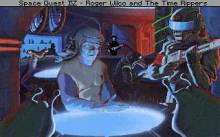 Space Quest 4: Roger Wilco and the Time Rippers 1991
Following his humorous adventures in Space Quest III: The Pirates of Pestulon, Roger Wilco is relaxing at his favorite pub somewhere in time and space when heavily armed soldiers enter the room. Carrying a parting message from Roger's old nemesis, Sludge Vohaul, they plan to get rid of the janitorial...
---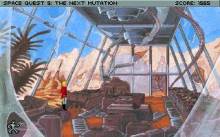 Space Quest 5: The Next Mutation 1993
After travelling back and forth through time on Space Quest 4, Roger Wilco is back in the Starfleet Acadamy, serving as both a cadet and a janitor (so what else is new?). Cheating his way through the Starfleet Aptitude Test, Roger is finally given the rank of captain, his own...
---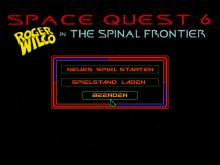 Space Quest 6: Roger Wilco in The Spinal Frontier 1995
Roger Wilco, the brave interstellar janitor who has already saved the universe from many great dangers, is now in a very embarrassing position. His commanders show no respect for his courageous actions in Space Quest 5. Instead, he is being accused of all kinds of violations against the galactic law,...
---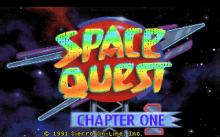 Space Quest I: The Sarien Encounter VGA 1991
In the early 1980s, Sierra On-Line was already a premiere source for graphic adventures, and specialized in fantasy games like Wizard and the Princess, The Black Cauldron, Mystery House, and King's Quest I. When programmers Scott Murphy and Mark Crowe pitched their boss, Ken Williams, on a new sci-fi comedy...
---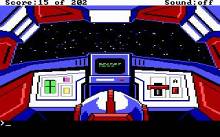 Space Quest: The Sarien Encounter 1986
The first of many Space Quest games by Sierra On-Line, Space Quest 1 introduces you to Roger Wilco, who finds himself as the sole survivor of a vicious alien attack, and the only one who can save the universe. Roger is not a rippling hunk, brave and strong, but just a...
---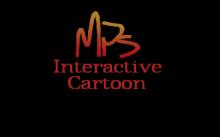 SpaceKids 1996
The Grandpa of Zeet and Deedle is a great explorer, but he hasn't returned to the Moon from his latest destination: the Earth! His grand-children take it upon themselves to follow his trail and rescue him from whatever terrestrial menace has detained him, after interacting with an extensive array of...
---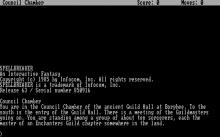 Spellbreaker 1985
Welcome to the world of the Enchanter saga - a world founded on magic, where guilds of magicians have mastered the powers of sorcery; a world now threatened with destruction. You distinguished yourself among the young Enchanters by defeating the evil warlock Krill, whose attempt to subjugate the land was thwarted...
---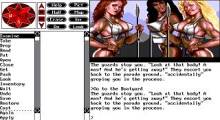 Spellcasting 101 1990
Spellcasting 101 is the first in a series of risque adventures from the mind of Steve Meretzky of Leather Goddesses of Phobos fame. This textual liaison pits you as Ernie Eaglebeak, a student at Sorcerer University who finds himself caught in a possible Doomsday situation. Seduce the women and have fun...
---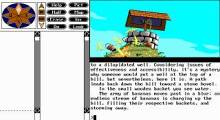 Spellcasting 201 1991
You return, as Ernie Eaglebeak, to Sorcerer University for your Sophomore year. But now, your mind is focused on the ordeal of every SU sophomore: initiation week. Once you have been suitably hazed, you must get down to business and save the entire university. Spellcasting 201 is an interactive fiction game...
---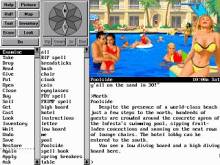 Spellcasting 301 1992
The third and final game in the Spellcasting series, and like its siblings, also from the mind of Steve Meretzky. This time your on Spring Break. Time to party on and get down and seduce the ladies and get your college fraternity to win the annual Spring Break competition. ...
---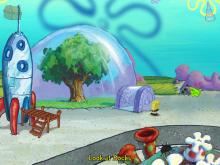 Spongebob Squarepants: Employee of the Month 2002
Get ready to serve up some Krabby Patties at the Krusty Krab -- the lovable sea sponge makes his PC debut in SpongeBob SquarePants: Employee of the Month. Join SpongeBob and the gang in a puzzling adventure to reach Neptune's Pacific Paradise. Destroy a Weather Controlling Thingamajig, explore caves of...
---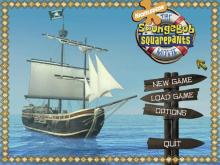 SpongeBob SquarePants: The Movie 2004
Scheduled for release alongside its 2004 cinematic inspiration, The SpongeBob SquarePants Movie is a third-person, mission-driven action game. The absorbent, yellow, porous protagonist and his Bikini Bottom posse become involved in the mystery surrounding King Neptune's missing crown, and they must complete a series of platform challenges to unravel it....
---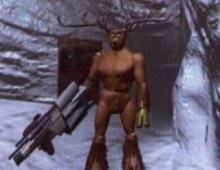 Spud! 1996
Spud! is a point-and-click 3D interactive cartoon adventure. Using "Super-Lookaround-O-Vision" the pre-rendered graphics, animations, and speech take place in all directions around you. The game features over 200 locations to explore, inhabited by wacky characters. ...
---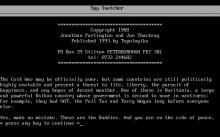 Spy Snatcher 1988
As an agent of MI7 you've to unmask a 'mole'. The plans for the new Sonic Macrothrodule are believed to have been leaked and you've to solve the puzzle within one hour. ...
---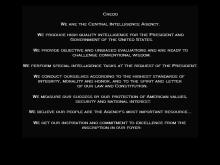 Spycraft 1996
An incredible world of intrigue and suspense. You are in charge of investigations in to the assassination of a Russian president. You have at your disposal: Encryption software, Photo doctoring equipment, Security records and much more that you MUST use to figure out who killed the President. Lots of brilliant...
---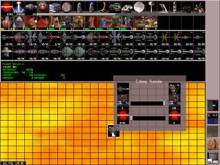 Star Control 3 1996
Since the events in Star Control 2 the Ur-Quan have been pacified and the captain who bravely destroyed the Sa-Matra has had a horrible vision of the future. Suddenly without warning, all Hyperspace travel in the universe has stopped. Top scientists have pinpointed the cause of this disturbance somewhere in...
---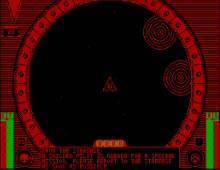 Star Empire 1988
The ultimate goal in Empire! is to build a great galactic empire protected by a huge frontier shield. Before this can be achieved however, players have to complete various missions, trade with starbases and fight off invading aliens.The ship is controlled from a top-down perspective, with four gauges indicating its...
---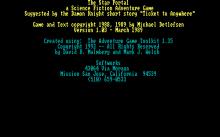 Star Portal, The 1988
The Star Portal is a text adventure created with AGT. The earth is recovering from a time of unrest and the exploration of the solar system has halted. You are the adventuring type, the one that goes of to exotic places and searches for treasures. While having a drink in one...
---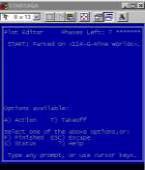 Star Saga: One - Beyond The Boundary 1988
Star Saga One is the first of an innovative role-playing trilogy (yet only two titles were released). It attempts to bring the atmosphere of pen & paper RPG and Choose Your Own Adventure game books to the computer, while the more tedious task of book-keeping are made by the computer...
---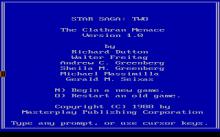 Star Saga: Two - The Clathran Menace 1989
The second entry in Masterplay's "Star Saga", combination science fiction role-playing with a strategy board game. Gameplay allows for up to six players, who assume the role of pre-created characters (dossiers are provided in the game package). A true merging of computerized and non-computerized RPG elements. The package also includes a...
---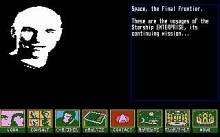 Star Trek TNG: The Transinium Challenge 1989
In this first game based on television's Star Trek: The Next Generation, William Riker must investigate terrorist activities within the Aquila Star System, and in the process, solve a mystery behind a lost civilization. Developed by the team behind Star Trek: The Promethean Prophecy, the Transinium Challenge features a similar...
---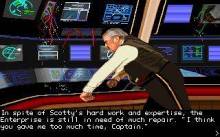 Star Trek V: The Final Frontier 1989
Captain's Log: Stardate 8474.1 We have just received an urgent transmission from the commander of Starfleet detailing the situation on Nimbus III. Once again I find myself with a skeleton crew and a barely functioning ship headed into the Neutral Zone. I have assigned Mr. Scott to pull off...
---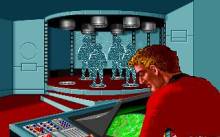 Star Trek: 25th Anniversary 1992
In Star Trek: 25th Anniversary players take on the role of Captain Kirk who must lead the U.S.S. Enterprise and its crew through eight space and land missions. During gameplay users can access photon torpedoes, control phasers, shields, and communications. Some of the voice talents featured in the game include...
---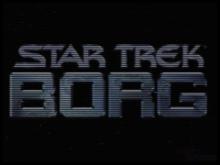 Star Trek: Borg 1996
Star Trek: Borg is mostly about the Borg, but it's also about Q, that supposedly omnipotent superbeing who has served as a guide, aide and gadfly to some of Starfleet's captains. Q is the one who is guiding you through your journey to Wolf 359, and humanity's conflict with the Borg....
---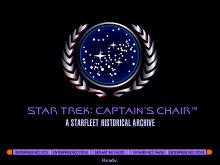 Star Trek: Captain's Chair 1997
Star Trek: Captain's Chair is a simply amazing game. The amount of detail and information contained within are almost on a par with some of the previously released Technical Manuals. To top it off, in contrast with the flat, two-dimensional pictures that are usually a staple of the technical manuals,...
---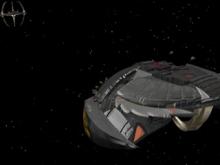 Star Trek: Deep Space Nine: Harbinger 1996
Star Trek: Deep Space Nine Harbinger is an uninspiring attempt to bring the experience of the television hit series Star Trek: Deep Space Nine onto the computer screen. Its poor production and gameplay make playing this title at most a mediocre gaming experience. Unless you are a diehard Star Trek...
---