Adventure Games #32
Search a Classic Game: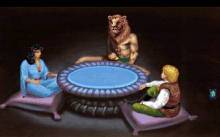 Quest for Glory 3: Wages of War 1992
The third game in Quest for Glory series is set in the Africa-like world of Tarna, where you travel with your new liontaur friends you have met in the second game. Shortly after your arrival, you learn about the conflict between the liontaurs and the neighbor Simbani village, populated by...
---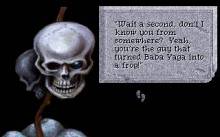 Quest for Glory 4: Shadows of Darkness 1993
Shadows of Darkness is the fourth Quest for Glory game. It is a journey into the land of Mordavia - a setting influenced by Eastern Europe, particularly its Slavic areal. The hero had just begun to enjoy his victory in Tarna, when a spell zapped him into parts unknown, without...
---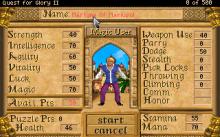 Quest for Glory II: Trial by Fire 2008

---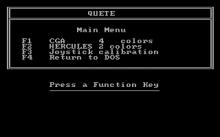 Quest for The Timebird 1989
Based on the graphic novel of the same name, this computer game Quest for the Time-Bird is a marvellous saga whose principal ingredients are action, danger, suspense, fantasy and magic. You have nine days to complete your quest by exploring this vast unknown world of wizards and spells with Roxanna, daughter...
---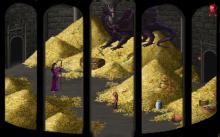 Quest for Yrolg 2008

---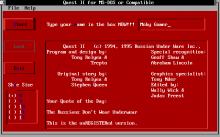 Quest ][ 1995
This is an extraordinary game, replete with a kind of celebratory strangeness that only the young or confirmedly peculiar can muster up. After selecting the player's shoe size, a baffling story is set up pertaining to the rescue of the daughter of a historical would-be knight errant, Trepto -- and...
---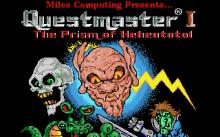 Questmaster 1: Prism of Heheutotol (a.k.a. Dondra: A New Beginning) 1989
You are called forth from this world to another world to defeat the evil Colnar. You'll travel the world of Questmaster to find and defeat him., and find the prism. Along the way are various pitfalls and REAL TIME traps and monsters. The game is cartoon adventure with a text...
---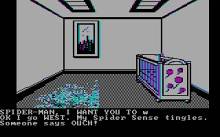 Questprobe featuring Spider-Man 1986
The second Questprobe adventure moves on from the 'verb noun' command interface of The Hulk and allows fuller sentence inputs. The in-game graphics also see some degree of advancement. You play Spider-Man, Peter Parker's crime-fighting alter-ego, as he takes on Mysterio, who can block out Parker's Spidery senses using his...
---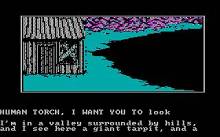 Questprobe featuring The Fantastic Four 1985
The 3rd installment of Questprobe's Marvel Comic book text adventures with graphics. Free Alicia Masters from the evil Doctor Doom by playing the Thing and the Human Torch. You can switch between the 2 characters at any time during gameplay. ...
---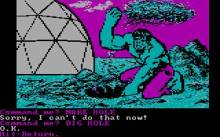 Questprobe featuring The Hulk 1984
1st in the Questprobe Marvel Comics series. Play Bruce Banner and the Incredible Hulk through this interactive fiction game with graphics. You awake as Banner, tied by ropes to your chair in a bunker in the desert; once you free yourself, collect all the gems to escape this hellhol ...
---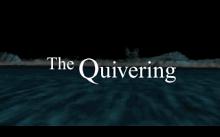 Quivering, The 1998
The Quivering is a first-person point-and-click graphic adventure that comically pays homage to classic horror movies. Players take on the role of Spud, a smart-mouthed teen who travels to the troubled town of Warty Hollow at the behest of his mad scientist uncle, Dr. Franken-Stamp. It seems that the doctor's...
---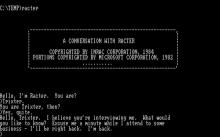 Racter 1984
A more demented version of the conversation program Eliza, Racter would have been called "Raconteur" -- one who excels at storytelling -- if not for the early IBM's lack of long filenames. Racter simulates a conversation with an eccentric individual. In a typical session Racter asks you questions about what...
---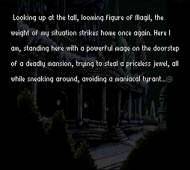 Radical Dreamers 1996
Radical Dreamers is a well-written "sequel" of sorts to Square's famous Chrono Trigger RPG for the SNES system. In contrast to all the other games in the series, this is an "interactive novel" - a genre that is quite popular in Japan, but none of its console-based releases ever made...
---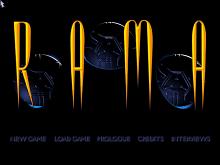 Rama 1996
This atmospheric and immersive puzzle adventure is set aboard a giant cylindrical spaceship which has entered the solar system. A team of astronauts was sent to investigate, but one of them had a tragic accident en route, and you were sent to replace him. ...
---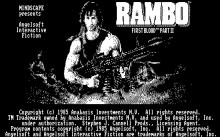 Rambo: First Blood Part II 1985
Take on the role of Sylvester Stallone's machine-gun-toting action hero in this text adventure game adaption (!) of the movie. Your mission is to free prisoners from a POW camp in Vietnam. ...
---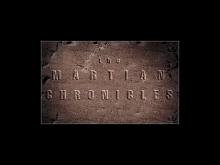 Ray Bradbury's The Martian Chronicles Adventure Game 1996
Based upon Ray Bradbury's "The Martian Chronicles" series of stories, this game puts you on the red planet as a nuclear war is brewing on earth. You are instructed to find an ancient relic hidden in the ancient martian city of Xi, which could mean earth's salvation. Also you must...
---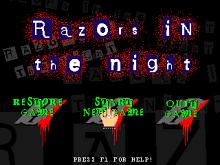 Razors in the Night 2004
Razors in the Night is a fun amateur adventure that offers a fun plot and the length that rivals the best commercial games. You play Knox, a punk member of a local gang who is running from the police after a rough Saturday where Knox and friends may have crossed...
---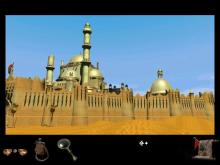 Reah: Face the Unknown 1998
Enthusiasts of visually sophisticated puzzle-adventure games like Myst, 7th Guest and Riven will find a lot to like in LK Avalon's Reah, published on CD and DVD by Project 2 Interactive and distributed by GT Interactive. Spanning 6 CDs (or one double-sided DVD that boasts slightly better graphic resolution), the...
---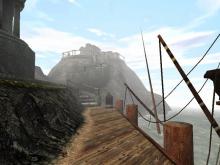 Real Myst 2000
The wondrous world of Myst gets a cosmetic upgrade to take advantage of faster and more powerful computers in realMyst. The features, puzzles and every other detail of the original Myst remain intact, with the exception of a newly added bonus age. From the beginning movie to the letters and...
---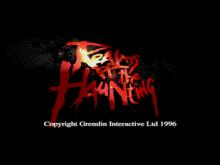 Realms of The Haunting 1997
Realms of the Haunting takes you on a ride of hidden surprises, spirited adventuring, and shrewd, crafty plot development. The game is played from a first-person perspective in a realistic 3D environment and it actually contains a few scenes designed to rattle even the most seasoned gamer. As your character...
---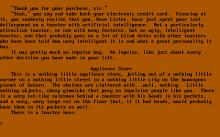 Red Dwarf 1996
Red Dwarf is based on BBC sci-fi comedy series Red Dwarf, which is very popular in Europe. You are the main character: Lister, the last surviving member of the human race who is on board huge (and I mean really *huge*) freighter ship Red Dwarf. With you is a hologram...
---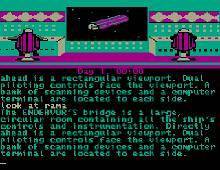 Rendezvous with Rama 1985
Based on Arthur C. Clarke's classic science fiction novel Rendezvous With Rama. After an uncatalogued giant asteroid is discovered approaching Earth, scientists soon realize that it is in reality an alien starship. As commander of the spaceship Endeavor, and being the nearest to the gargantuan ship, it is up to you...
---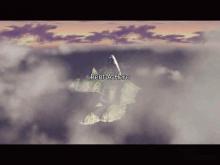 Rent-a-Hero 1998
Rent-A-Hero is an example of adventure game as art. The plot is yet another hackneyed retelling of the ultimate battle between good and evil. You, as Rodrigo, rent out your services to rescue princesses. Unfortunately, there's not much money in it, and the other rental heroes get much better jobs...
---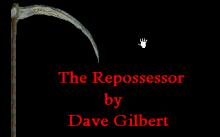 Repossessor, The 2001
The laws of nature have been broken in the town of Reality-on-the-Norm: a dead person has been brought back to life as a zombie. You are Death, the Grim Reaper, who is ordered to come to Reality and return the zombie to being dead. The game is controlled with a...
---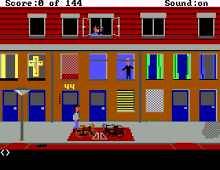 Residence 44 Quest 1999
Residence 44 Quest is a fun fanmade adventure game created with AGI Studios, a program that allows you to create text-parser-with-graphics game in the same style as Sierra's oldie adventures (e.g. King's Quest III, Police Quest 1). The game is based on the authors' real lives as university students in...
---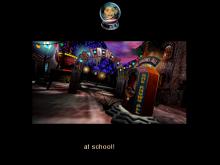 Residents, The: Bad Day on the Midway 1995
The San Francisco avant-garde rock group the Residents has been around for more than 20 years. But consider yourself forgiven if it's passed under your personal pop-music radar. Aggressively conceptual, obscurely witty, so leery of fame that its anonymous band members favor giant eyeball masks in concert, the Residents pretty...
---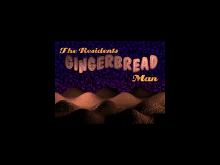 Residents, The: Gingerbread Man 1994
Gingerbread Man is an album by The Residents, released in 1994. It was their first foray into computer graphics. Original versions of the CD were "enhanced" with animations that followed the music when played on a computer. The album explores the personalities of nine characters and their "rather strange outlooks...
---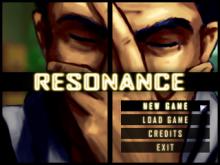 Resonance 2012

---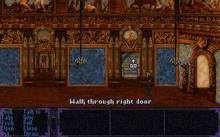 Return of the Phantom 1993
It's a present time (1993), and many people are about to enjoy "The Phantom of the Opera" performance of a long ago made opera, back in 1881. However, that piece of art will soon become covered with blood of an innocent as the great ceiling chandelier will crush down at...
---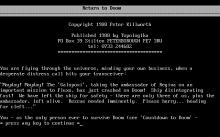 Return to Doom 1988
The planet Doomawangara (*Doom for short*) is a dangerous place. As the only explorer ever to survive it (*'Countdown to Doom'*) you should know! However, an unexpected distress call sends you flying back to Doom in a mission to rescue an ambassador who has been kidnapped by renegade robots. After surviving...
---