Adventure Games #12
Search a Classic Game: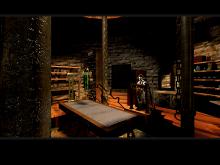 Frankenstein: Through the Eyes of the Monster 1995
It's nice to see game companies trying to push the edge of the computer game industry by trying new approaches and putting new spins on old stories that have been exploited through movies and books. Unfortunately, in the case of Interplay's release of Frankenstein: Through the Eyes of the Monster,...
---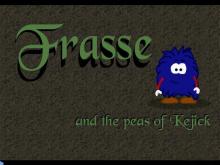 Frasse and the Peas of Kejick 2006
Frasse is a cute, blue, furry monster. One day, Frasse finds a note, saying that the King is looking for the famous peas of Kejick. These magical peas are needed for national security, and the king is offering a reward for them. Being the adventurous monster that he is, Frasse...
---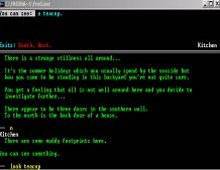 Fred's Backyard 1991
Fred's Backyard is one of the most original text adventures you'll ever come across. The game makes up for its primitive parser and lackluster writing with funny ASCII graphics, sound effects, and best of all dozens of fun mathematical puzzles reminiscent of Sierra's Rama and IF classic The Magic Toyshop. The...
---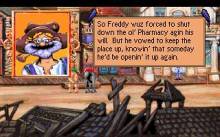 Freddy Pharkas: Frontier Pharmacist 1993
Set in the American West of the 1880s, Freddy Pharkas was one of the fastest guns in the west. However in one particular gunfight with an outlaw named Kenny he was outgunned and Freddy had his ear shot off. This traumatic experience caused Freddy to give up his pistols and...
---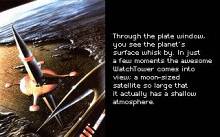 Frederick Pohl's Gateway 1992
Gateway is a text (parser) game by Legend Entertainment Company, in which you will explore strange new worlds and locations in the proverbial boots of a prospector, an explorer sent to places in hopes of finding previously unseen artifacts and installations of an alien race, the Heechee, which seemingly vanished...
---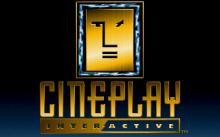 Free D.C.! 1991
With robots now in control of the Earth, the last remaining humans are held in a Zoo. They are alongside key American artifacts, for the entertainment and curiosity of the robot overlords. A wave of killings is taking place, and you have 12 hours to work out who is responsible...
---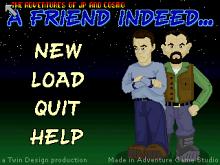 Friend Indeed, A 2004
A Friend Indeed is a short but sweet amateur adventure that is memorable for a unique isometric/overhead perspective, although the puzzles are far too easy and the game is very short - 15-20 minutes is all you need. AGA's nice capsule review for Adventure Gamers explains the pros and cons...
---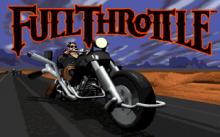 Full Throttle 1995
Poor old Ben the biker has been beaten up, robbed, and thrown in a dumpster behind his local bar. Now, the normally kind-hearted Ben is feeling mean, ornery, and set on revenge. A smarmy, evil tycoon called Adrian Ripburger has stolen something and someone close to the biker's heart and...
---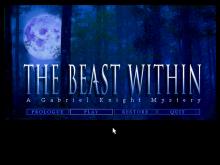 Gabriel Knight 2: The Beast Within 1995
The first Gabriel Knight mystery, Sins of the Fathers, is one of those rare games that leaves you completely satisfied but also hungry for more. Fortunately, its sequel, The Beast Within: A Gabriel Knight Mystery, matches or surpasses the original in almost every area. Once again you play as Gabriel...
---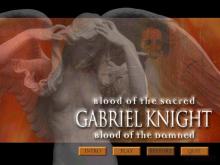 Gabriel Knight 3: Blood of the Sacred, Blood of the Damned 1999
Gabriel and Grace return to your computer screen, once again on the trail of a mystery that will take them to the shadowy world of vampires and dark secrets. Tracking down a kidnapped child, the duo arrives in the isolated small burg of Rennes-le-Château in the hills of France. From...
---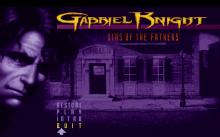 Gabriel Knight: Sins of the Fathers 1993
Gabriel Knight: Sins of the Fathers is the first installment in Sierra Online's popular series of supernatural adventures collectively known as the Gabriel Knight Mysteries. Set against a backdrop of several bizarre ritual murders in the city of New Orleans, Sins of the Fathers is one of the most rich...
---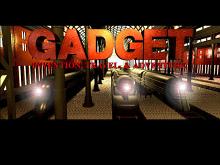 Gadget: Invention, Travel & Adventure 1995
Gadget, when released in 1994, was considered an interactive movie at a time when the term had not really been fleshed out and defined. The game is certainly interactive in that you must interact with all of the various characters you meet throughout your excursion into this cinematically surreal world...
---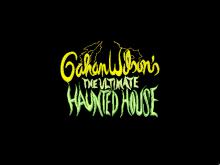 Gahan Wilson's The Ultimate Haunted House 1994
The Ultimate Haunted House from the Microsoft Home series was one package I was glad to get out of alive! Designed by Gahan Wilson, America's master of the macabre, it is a game for 8 to 12 year olds. A multimedia creation that has truly captured the intrigue of an...
---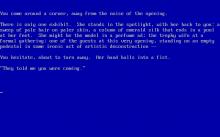 Galatea 2000
The history of non-player character (NPC) interaction in Interactive Fiction is not overly glorious; it says something about the development of this area that the XYZZY Award for Best NPC a few years ago went to a character with whom the PC could only interact by saying "yes" and "no."...
---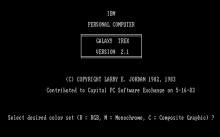 Galaxytrek 1983
Take control of the USS Columbia in an attempt to stop a group of warships from attacking Federation Headquarters. Galaxy Trek is a space battle game where your only goal is to destroy all the warships. The game uses ASCII graphics and can be played using RGB, Mono, or Composite...
---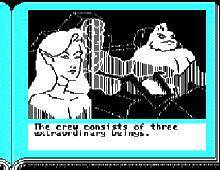 Gamma Force in: Pit of A Thousand Screams 1988
In a dangerous world, individual superheroes are not enough. Even the best of them - a humanoid made of flame, an elf princess with a mean bow, and a musclebound waterbeast - can't do it all themselves. When they come together, they are Gamma Force. Can anybody stop them? This was...
---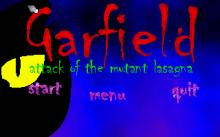 Garfield: Attack of the Mutant Lasagna 2004
Garfield: Attack of the Mutant Lasagna is a great fanmade adventure game about the world's most famous comic strip cat. Accidentally spilled radioactive material has turned harmless vegetables and food into menacing mutants, and it is up to Garfield to save the day. Created with Adventure Game Studio, the game...
---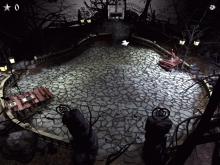 Gast 2002
The game opens with a cutscene in which a narrator intones, "Far far away, an old amusement park awaits you ..." Gast is the caretaker of the magical clock tower that keeps the place happy, and the evil clown Beleseblob ruins the clock and unleashes his evil henchmen on the...
---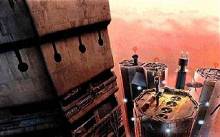 Gateway 2: Homeworld 1993
The sequel to the original Gateway game, this is also a text based (but graphically enhanced) text game, in which you will explore hazardous situations and new worlds, and ultimately find out the fate of the mystic Heechee race. ...
---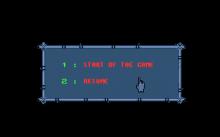 Geisha 1990
Another so-called erotic adventure. A mad scientist kidnapped your girl-friend Eva, and wants to transform her in some sort of futuristic geisha (half machine, half human). You travel to Tokyo to prevent this from happening... The game uses a point-and-click interface (with mouse support) and has several small sub-games included. ...
---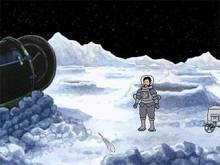 Gene Machine, The 1996
The Gene Machine is a point-and-click 2D adventure game with background images that give the perspective of 3D. The story begins in the 1880s in London. British gentleman Piers Featherstonehaugh (pronounced "fanshaw") and his faithful servant, Mossop, arrive back home to discover a talking cat on their doorstep. The cat tells...
---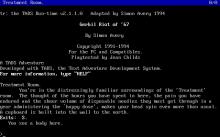 Gerbil Riot of '67 1988
Owing more than a little to Robert Arnstein's TRS-80 escape-from-the-asylum text adventure classic Bedlam, this whimsical romp casts the player as an inmate with second ideas about remaining inside the institution walls. It's not such a strange place, halls and stairways, but to make up for it the nuthouse is...
---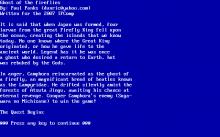 Ghost of the Fireflies 2007
Arguably boasting the most intriguing premise of any Paul Panks game, Ghost of the Fireflies sees the player initially directing the actions of Camphora, a phantom beetle, through the environs of Atsuta Jingu... plotting revenge against Sugawara no Michizane for reasons not initially clear. Navigating this tricky scenario is achieved...
---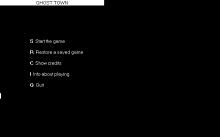 Ghost Town 1981
The old frontier town is long since deserted, but thirteen treasures can still be retrieved from the deceptive stillness of its closed mine and Boot Hill. Uncover secret passages and navigate a certain supernatural undercurrent using your VERB NOUN text parser as best you can while riding a bucking bronco,...
---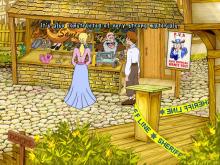 Gilbert Goodmate and the Mushroom of Phungoria 2001
Adventure gamers are invited to embark on a new journey in a classic style inspired by the landmark Monkey Island series. Over four years in the making and developed primarily because of the designer's love of the 2D adventure genre, Gilbert Goodmate is the first game from Sweden's Prelusion. The player...
---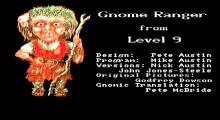 Gnome Ranger 1987
Ingrid Bottomlow stands out from her family of gnomes - she's a gifted student, with a degree from the Institute of Gnome Economics. As a result, they exile her using a teleporting spell, leaving her lost in the forest. It is your job to keep her safe in this interactive...
---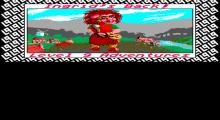 Gnome Ranger 2: Ingrid's Back 1988
Ingrid is Ingrid Bottomlow, the intellectual-but-clumsy gnome we met in Gnome Ranger. Her beloved home village Little Moaning is earmarked for a yuppie-friendly transformation by Jasper Quickbuck of Ridley's Manor. Ingrid has three cunning plans to stop him - producing a petition with everybody's signature, finding a more orthodox prevention...
---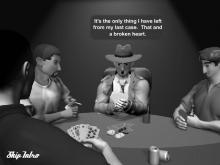 Goat in the Grey Fedora, The 2005
Nick Bounty is back in this sequel to the successful independent adventure game of 2004 called A Case of the Crabs. Staying true to the style of its prequel, the Goat in the Grey Fedora is entirely in black and white, with an atmosphere that will remind you of the...
---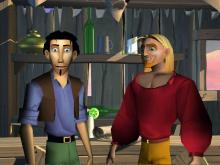 Gold and Glory: The Road to El Dorado 2000
Players guide Tulio and Miguel in their journey from Spain to the New World as they seek the fabled "City of Gold" in Gold and Glory: The Road to El Dorado. This graphic adventure is based very closely on the 2000 Dreamworks movie and features artwork and voice-acting reminiscent of...
---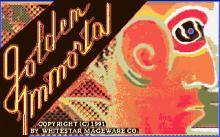 Golden Immortal 1991
An HEROIC ADVENTURE QUEST for adults young and old. This multimedia fantasy captivates your intelligence with 130 megs of stunning graphics and over 60 minutes of CD quality sound. Incorporating film-like sequences of T'ai-Chi and other martial arts, the secrets of ancient powers will be revealed. Sojourn through intricate and...
---