Adventure Games #12
Search a Classic Game: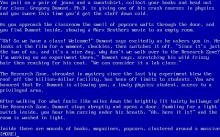 Dr Dumont's Wild P.A.R.T.I. (1999) 1999
You have been transferred into Dr. Dumont's P.A.R.T.I. (Particle Accelerator and Reality Translation Integrator). Have fun trying to get out. This is a greatly expanded and updated version of the original game from 1988. ...
---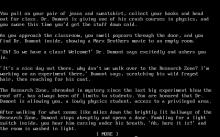 Dr. Dumont's Wild P.A.R.T.I. 1988
So you've decided to become a human guinea pig eh? Well, the professor has a few nice things about his computer that just might make you a little crazy.....everything seems to be real.....until the computer goes mad itself! Travel through a world that has been generated through the mind of...
---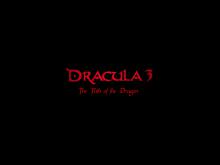 Dracula 3: The Path of the Dragon 2008
Gamers head to Europe and hunt down the world's most infamous vampire in this classically styled graphic adventure from Kheops Studio. Players take on the role of Father Arno Moriani, a priest traveling to Transylvania to find background information about a potential candidate for sainthood. The ensuing journey features a...
---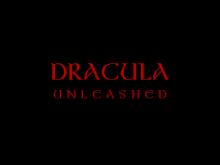 Dracula Unleashed 1993
Dracula Unleashed is an interactive movie in the same vein as Sherlock Holmes: Consulting Detective. Basically, you can choose from several locations to go to, and at each location you are shown different events through live-action video clips. Clues in the videos will point you to where you should go...
---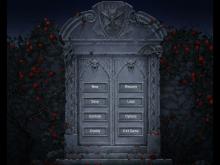 Dracula: Origin 2008
Bram Stoker's Dracula continues to live on, this time in the graphic adventure game Dracula: Origin. Players take on the role of famed vampire hunter Professor Abraham Van Helsing as he unearths the story behind the most notorious vampire in history. It seems that Count Dracula was once a man...
---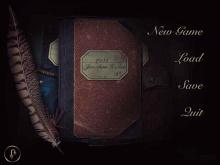 Dracula: Resurrection 2000
Bram Stoker's original novel provides the background and setting for this continuation of the Dracula legend. The story in Dracula Resurrection begins in London where heroes Jonathan and Mina have married and settled, seven years after Dracula's "final" defeat. When Jonathan returns home one day to find a note from...
---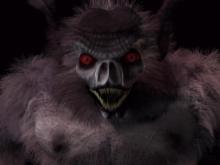 Dracula: The Last Sanctuary 2000
Dracula: The Last Sanctuary is something of a sequel to DreamCatcher's Dracula Resurrection, the graphic adventure released a year earlier. Once again, players will guide the actions of hero Jonathan Harker through thoughtful, sometimes tricky puzzles and challenges set in a gloomy, gothic setting. This graphic adventure allows 360-degree movement...
---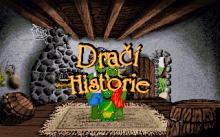 Dragon History 1995
Bert is a young dragon that lives with his parents Berta and Herbert in a magical land, where dragons got civilized, started to wear clothes and live peacefully with humans. One day, Herbert suddenly disappears, with rumors saying the he left his wife and son behind to search for a...
---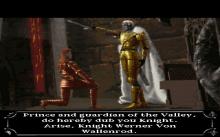 Dragon Lore II: The Heart of the Dragon Man 1996
This is the sequel to Cryo's 1994 action role-playing adventure "Dragon Lore - The Story begins". Once again you are playing Werner von Wallenrod who has been named Knight of the Dragon by the Dragon Prince at the end of part one of the series. Unfortunately a mysterious Lord from the...
---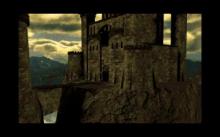 Dragon Lore: The Legend Begins 1994
Dragon Lore is a decidedly mixed bag when individual components such as entertainment, playability and visual aspects are considered. Visually, 3-D effects are used to great advantage. Utilizing two distinct modes of 3-D gameplay, both first-person perspective for interactive scenes as well as third-person views, the game presents a fresh...
---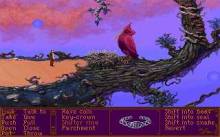 Dragonsphere 1994
Dragonsphere is a graphic adventure with substance. Unlike many games of similar intent, this one delivers a solid punch in terms of player action and decision making. The story is sufficiently evolved to assure meaningful consequences of your characters' impact on the proceedings. It's not enough that he just wanders...
---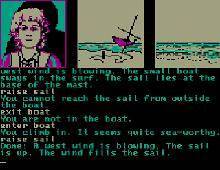 Dragonworld 1984
You have recieved word from a messenger that the "last dragon" has been kidnapped. You hold the scroll in your hand and read that you must travel with a special companion named Hawkwind. Only with him and yourself can you save the "last dragon" from never seeing the light of...
---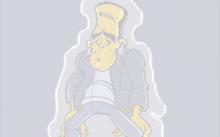 Drascula: The Vampire Strikes Back 1996
Drascula, released toward the end of the adventure boom, is a conundrum from the start. Much like Bandai's Frankenstein game, Drascula has a subtitle that's trying to convince me it's a sequel. In actuality, its relationship to established Dracula lore is unclear. Sometimes it's implied that Drascula is actually the...
---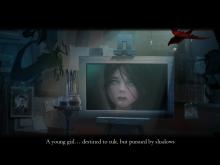 Drawn: Dark Flight 2010

---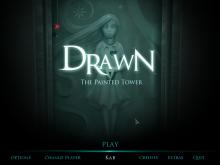 Drawn: The Painted Tower 2009
Drawn: The Painted Tower finds players manipulating a classic point-and-click interface as they slowly ascend through a tower where a magical girl is imprisoned. Everything young Iris draws comes to life, and this blessed ability has been sought out by the forces of evil to advance their own diabolical plans....
---
---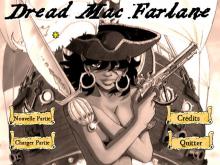 Dread Mac Farlane 2008

---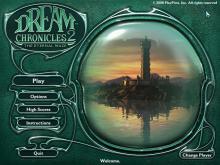 Dream Chronicles 2: The Eternal Maze 2008
Protagonist Faye heads back to the dream world, this time to rescue her husband and daughter from the evil fairy queen Lilith in Dream Chronicles 2: The Eternal Maze. The second entry in the series plays much like the first, combining the gameplay mechanics of hidden object games and the...
---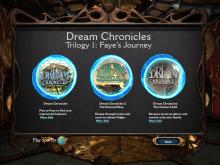 Dream Chronicles: The Book of Air 2010

---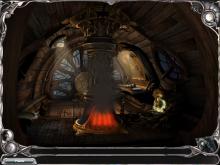 Dream Chronicles: The Book of Water 2011

---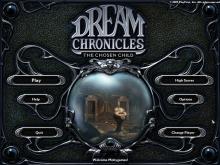 Dream Chronicles: The Chosen Child 2009

---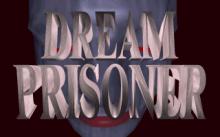 Dream Prisoner 1995
Adopting arbitrary plot conventions from both the text and multimedia adventure game genres it builds on, DP casts the player as an modern-day Dutchman somehow (hey, one rarely recalls the precise circumstances leading up to a dream) stranded in a high-tech building where a fancy dinner party is going on:...
---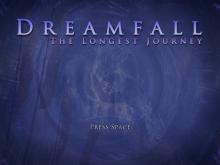 Dreamfall: The Longest Journey 2006
Dreamfall's predecessor, The Longest Journey, was perhaps the last truly great point-and-click adventure of its time -- a bright spot at the end of an era. With the release of Dreamfall six years later, Funcom returns to the twin worlds of Stark and Arcadia, picking up the threads of April...
---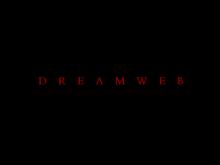 Dreamweb 1994
As a graphic adventure game, DreamWeb ranks near the top in terms of atmosphere seen and felt in most games of the genre. To get the most ethereal experience when playing this one, turn off all the lights, play at night and with earphones on if possible. It's sure to...
---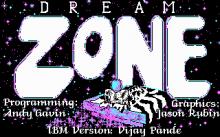 Dreamzone 1988
A mad scientist's elixir has turned your dreams into reality and while in this dream state; you must fight to stay alive and leave this forsaken place and return to the real world. ...
---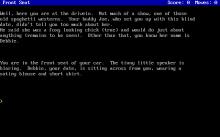 Drive-In 1982
Old software (where adult text adventures are concerned, perhaps second only to Softporn Adventure!) proves to be a gateway to what was a nostalgic experience even then, the heterosexual rite of passage: a night of heavy petting and perhaps "getting to third base" in a parked car at the local...
---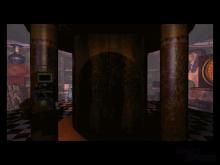 Drowned God: Conspiracy of the Ages 1996
Drowned God makes not a whit of sense. I just thought I'd get all that out of the way right at the beginning. In fact, the story of Drowned God is so unbelievably convoluted that I half expect it was done on purpose by someone just to see if any...
---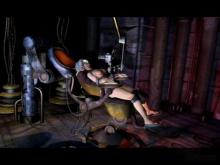 Druuna: Morbus Gravis 2001
Mature gamers enter the dark, erotic world of P. E. Serpieri's Druuna in this adventure from French publisher Microids. Though her body has been trapped in a lifeless, vegetative state, Druuna's brain is linked directly to a computer which provides the only means of interaction with reality. The story is...
---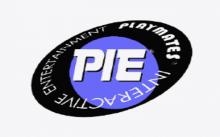 Duckman: The Legend of the Fall 1997
One of the rarest CD-ROM adventure games of all time due to its limited distribution, Duckman: The Legend of The Fall is a great game based on a popular TV cartoon of the same name that airs on USA Network, which in turn was based on the underground comic created...
---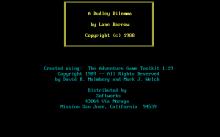 Dudley Dilemma, A 1988
This rather lighthearted text adventure game features you as a Harvard University student living in Dudley House. Your goal is not very evident through most of the game, but, like all text adventures, you must solve a series of puzzles and navigate your way through mazes using nothing but your...
---