Adventure Games #31
Search a Classic Game: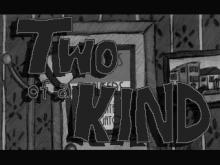 Two of a Kind 2004
Two of a Kind is a fun freeware point-and-click adventure game from Epileptic Fish, a team of talented designers lead by Dave Gilbert. Excerpts from the thorough review by Berian Williams explains why every adventure fan should check out this game: "Two of a Kind was originally intended as an...
---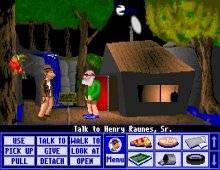 Udoiana Raunes 1997
A great amateur game that is an obvious spoof of LucasArts' Indiana Jones and the Last Crusade, Udoiana Raunes stars the bumbling archeologist professor of the same name who must find a way to escape the students' (!) blockade in a school-wide protest that sent many professors scurrying for cover...
---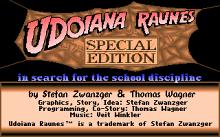 Udoiana Raunes 2: Special Edition 1998
Udoiana Raunes 2 and 3 are two fun sequels to Udoiana Raunes, a great Indiana Jones fan game created by two German programmers.Subtitled "Special Edition," the second game in this series is more of an "in-joke" game created to make fun of (presumably) professors the authors knew in real life....
---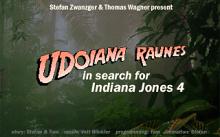 Udoiana Raunes 3: In Search for Indiana Jones IV 2005
Udoiana Raunes 2 and 3 are two fun sequels to Udoiana Raunes, a great Indiana Jones fan game created by two German programmers.Subtitled "Special Edition," the second game in this series is more of an "in-joke" game created to make fun of (presumably) professors the authors knew in real life....
---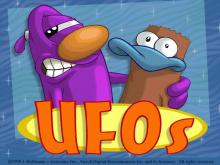 UFOs (a.k.a. Gnap) 1997
UFOs (released as Gnap in Europe) is a fun point-and-click cartoon adventure in the same vein as Toonstruck, except a lot shorter and not as clever. Gordon Aplin's review at Quandary says it all: "Gnap is a one-eyed, purple sausage-like alien who crash lands in a pigpen somewhere in the...
---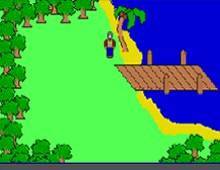 Ultimerr 2001
Ultimerr is a small, but very enjoyable amateur adventure game. It is most of all a parody of the Ultima universe - but isn't restricted to just that. You will, for example, encounter quite a few familiar characters from other well known works, including some from a well known Alfred...
---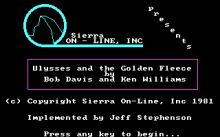 Ulysses and the Golden Fleece 1982
Ulysses and the Golden Fleece is an adventure game where you play the part of Ulysses in ancient Greece. The king has given you the task of finding the golden fleece, a legendary treasure which is protected by the gods. You begin your quest in a small town, and will...
---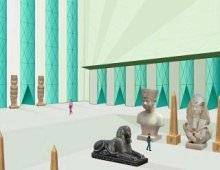 Uncertainty Machine, The 2003
The Uncertainty Machine is a fun freeware sci-fi point-and-click adventure game. Here we have the same hackneyed "dangerous new invention threatens survival of the world" premise seen in countless other games, but the designer Eduardo Campos deserves credit for putting an interesting, real-world physics chrome on top of this underlying...
---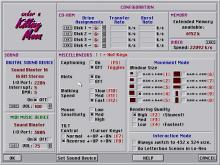 Under a Killing Moon 1994
When the term "interactive movie" was coined in connection with computer gaming, several companies jumped into the fray and created games they claimed met the evolving criteria. Most fell woefully short. Not until Under A Killing Moon did a game hit the market that truly embodies the spirit of an...
---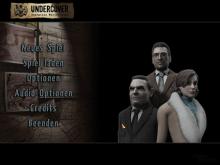 Undercover: Operation Wintersun 2006
When rumors of a German weapon of mass destruction reach the ears of British generals, they send in John Russell, a nuclear physicist to begin Undercover: Operation Wintersun. Russell must infiltrate Nazi Germany to learn about the "Uranium Project." As he explores the environments of London and Berlin, he will...
---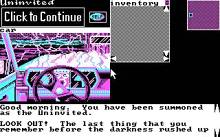 Uninvited 1988
Another game using the graphical adventure interface found in Déjà Vu and Shadowgate, Uninvited comes with a "horror" theme. While driving on a lonely road at night, a strange figure blocks your vision causing you to swerve and crash your car. When you regain consciousness, you find that your brother is...
---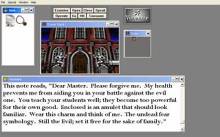 Uninvited (Windows) 1993
As I mentioned in the DOS review of Uninvited, the Windows remake was bound to get a separate entry. Five years separate the two releases, making it easy to spot the changes. While the 1991 NES conversion featured visible alterations to the story and puzzles, this version leaves them untouched,...
---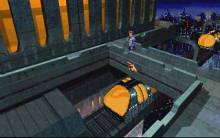 Universe 1994
This is a sci-fi, futuristic adventure game made by Core Design in 1994. It is a LONG game that will require many hours, and a lot of patience to finish. The story is as follows. You are Boris Verne and you are delivering mail to your uncle. After discovering that your...
---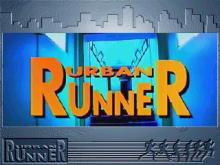 Urban Runner 1996
Perhaps more famous for its brain-teasing Goblins series, French developer Cocktel Vision also produced two FMV adventures that today are almost forgotten. The first one, Lost in Time, was released by Sierra in 1993 to a lukewarm critical reception, and was followed three years later, at the apogee of the...
---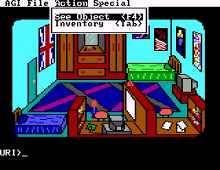 URI Quest 2000
One of the best fanmade, and most obscure, AGI games ever made, URI Quest (short for University of Rhode Island Quest) is a fun game by Jeff Carroll that chronicles his life as an URI undergraduate. The game consists of four chapters, each starring Jeff or one of his roommates:...
---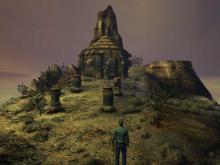 Uru: Ages Beyond Myst 2003
Described as the next chapter in the Myst franchise, Uru: Ages Beyond Myst introduces players to an ancient civilization known as the D'ni. Discovered in the late '80s, the D'ni lived below the earth's surface for 10,000 years practicing the "Art of Writing." This unique ability enabled them to create...
---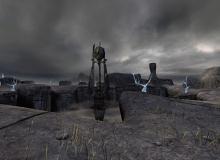 Uru: The Path of the Shell 2004
Path of the Shell players return to the Ages Beyond Myst, for more point-and-click puzzles and first-person adventure. Uru: Path of the Shell is officially the second expansion pack for Cyan Productions' Uru: Ages Beyond Myst (following the free-for-download update Uru: To D'ni, which was released a few months earlier)....
---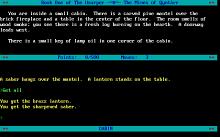 Usurper: Mines of Qyntarr 1989
You're in an unknown and strange world. The Usurper is the one who siezes the rights of others, without question, without authority; one who creates a tale of unfolding tyranny upon the innocent of the land; one who will never renounce his ruthless position to spite the good in all......good...
---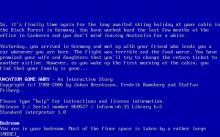 Vacation Gone Awry 2002
You play an Australian on a skiing Vacation in Germany. As you wake up the first morning at the cabin, you find that your family is gone. It will be your task to figure out what happened to them. The game is entirely text-based. ...
---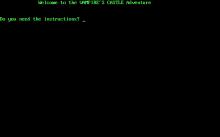 Vampire's Castle Adventure 1988
This short text adventure (written in a mere 181 lines of BASIC code) has the player exploring a vampire's lair in search of the game's "concealed goal." Not surprisingly, room descriptions are extremely terse and there aren't a whole lot of actions to perform. The parser accepts two-word commands (though...
---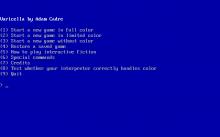 Varicella 1999
Varicella, Adam Cadre's third game, has almost nothing in common with his first two, I-0 and Photopia--which, in turn, have just as little in common with each other. (One wonders how long Adam can go without producing Interactive Fiction that bears any resemblance to anything he's already written.) "Almost" is...
---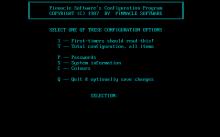 VariTale 1987
VariTale is an early BBS door implementation of Choose-Your-Own-Adventure hypertext, allowing users to read through and extend up to three stories per installation (15 in the registered version!) via an oldschool command-line interface. Unconventionally, the author of a given chapter is not given the option of dictating which options follow...
---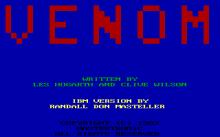 Venom 1987
Like Shard of Inovar and Kobayashi Naru, released in the same year, Mastertronic's Venom is a text-based adventure game that uses a novel cursor interface system instead of the traditional text parser. And, also like the other two games, Venom's interface system is quite innovative in theory but less than...
---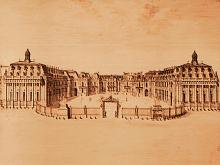 Versailles 1685 1997
In this historical game you are some sort of security guard at the court of Louis XIV. You have to prevent a destruction of such a lovely place as Versailles, where you search for bomb and the person, who want to activate it. Talking with characters, searching for clues and...
---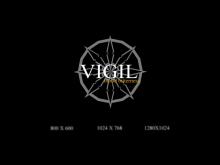 Vigil: Blood Bitterness 2006
Plunge into the dark and disturbing story to reveal the secrets of your ancient civilization's relics and exact revenge on the Evil destroying your universe. Ritualistic killings and blood lust blur the line between your own kind and the Evil you seek to annihilate. Avoid traps, solve puzzles and devour the...
---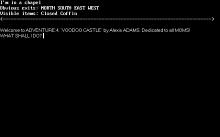 Voodoo Castle 1981
The Count of Monte Cristo was eventually consumed entirely by his drive for revenge. Count Cristo, on the other hand, is merely the victim of a Voodoo curse an enemy hexed him with... an external plague more possible to reverse. Starting the game standing over his coffin, you wander the...
---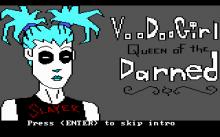 Voodoo Girl - Queen of the Darned 2003
You control Voodoo Girl as she wanders a surreal, idealised mythological Haiti on a shopping errand picking up ingredients for a new recipe her spiritual mentor Mama Houngan is cooking up: nothing out of the ordinary -- just a coconut, some blowfish venom, yellow grave mold, eye of newt, Thorazine,...
---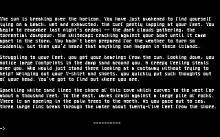 Voodoo Island 1985
Voodoo Island is an Interactive Fiction game with no pictures. The player's task is to destroy the evil plot Dr. Beauvias is preparing. Voodoo Island's text parser is similar to that of another Angelsoft game, Forbidden Castle, but unlike other games by that company, the puzzles here do not need...
---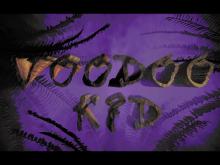 Voodoo Kid 1997
"Voodoo Kid" is a creepy adventure game for the target group between 8 and 15 years from the year 1997 by French developer Infogrames. The splendourful designed original gamebox contains not only the CD and a mirrorfinish manual in color with many screenshots and game graphics, but also a super...
---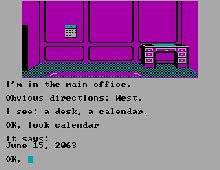 Vortex Factor, The 1985
In mid-1980s, a small company called Mark Data Products released 6 parser-based graphic adventure games similar to early Polarware and Scott Adams titles. While the games are reasonably successful on Tandy's CoCo computer, the IBM PC versions did not achieve the same level of success. While the graphics are quite...
---