Adventure Games #31
Search a Classic Game: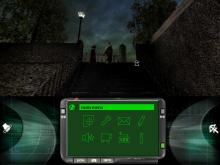 Traitor's Gate 1999
Traitor's Gate is a game best suited for gamers who possess that rare quality -- a wealth of patience! Personally, it felt some of the puzzles in the game had been painstakingly constructed to go beyond "difficult" and approached "insane challenge" level. My first, foremost and most functional recommendation is...
---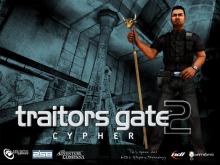 Traitor's Gate 2: Cypher 2003
Traitors Gate 2 presents a future where the world economy is threatened by a computer virus that could shut down all entertainment, security systems, and most of the military. Players, as agent Raven, must find the secret lab where the virus has been developed, copy the virus, destroy the lab,...
---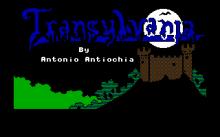 Transylvania 1986
This old classic was released by Penguin/Polarware in 1984 for Apple II, 8-bit Atari, and PC (both 4-color and 16-color versions). In 1997 the former owner of Polarware has given permission to publish Transylvania as freeware. The gameplay is totally text-based. Today, Transylvania has probably no other game value than...
---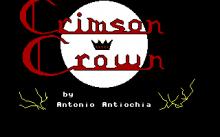 Transylvania 2: The Crimson Crown 1986
In Transylvania we rescued Princess Sabrina, and met Crown Prince Erik. They return upon news of the King John the Good's death, and learn the crown has vanished. The Vampire Lord Drakul tries to uncover its secrets to become King, and threatens its land. As their guide, they accompany you...
---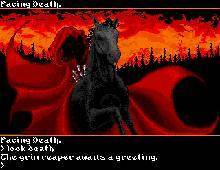 Transylvania 3: Vanquish The Night 1990
The evil Vampire, Lord Drakul had been destroyed and the throne regained in The Crimson Crown. Prince Erik and Princess Sabrina had fled by sailing boat only to be shipwrecked by a giant wave bringing them back ashore. After escaping death, Prince Erik wonders what has become of Princess Sabrina?...
---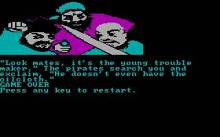 Treasure Island 1985
Jim Hawkins is a young boy working on "Admiral Benbow", his parent's inn. One day a sea captain named Billy Bones takes a room at the inn and stays for several months. A blind man called Pew arrives and shows something to Billy that gives him a heart attack. Jim...
---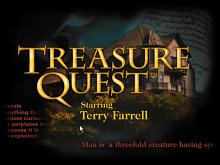 Treasure Quest 1996
Treasure Quest is a gimmick shrink wrapped in a computer game box. The one million dollar prize that is awarded to some extremely tenacious and patient person for solving the mystery which lies at the core of the game will be well earned. Pity all the people in computer land...
---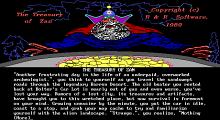 Treasury of Zan 1989
Treasury of Zan is a very obscure shareware graphical text adventure sold via mail order in 1989. The game looks and plays similar to contemporary games from Magnetic Scroll and Level 9: graphics take up the top three quarters of the screen, and the text description and parser occupy the...
---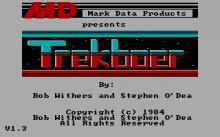 Trekboer 1985
You find yourself in command of the starship Trekboer as your adventure begins. A deadly virus has struck earth and threatens the future of humankind. In this mission you use the starship Trekboer to search the galaxy far and wide for a cure before it is too late. Returning to...
---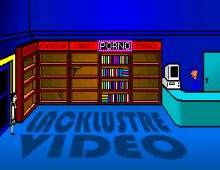 Trials of Odysseus Kent, The 2002
Odysseus Kent, an odd little fellow is searching for the Lost Treasure of Randolph McBoing (all based on a map he got from a shadowy guy at the bus stop). Equipped with a trusty shovel and treasure map, the would-be treasure hunter braves the cold and darkness to the supposed...
---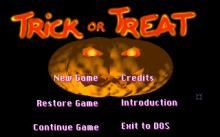 Trick or Treat 1994
Trick or Treat is one of those obscure adventure games, which are hard to find nowadays. It's a true graphical point & click extravaganza that puts you in the shoes of an out of job young guy who has recently got another job as a Care Assistant at an Elder...
---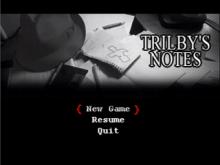 Trilby's Notes 2006
Trilby, the classy, gentleman thief and star of 5 Days a Stranger is back, but this time he is a different man. No longer a burglar, four years after the events of the DeFoe manor, Trilby has become an agent for STP, the Special Talents Project (if you have not...
---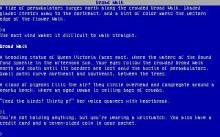 Trinity 1986
You're neither an adventurer nor a professional trill-seeker. You're simply an American tourist in London, enjoying a relaxing stroll through the famous Kensington Gardens. When World War III starts and the city is vaporized moments after the story begins, you have no hope of survival. Unless you enter another time,...
---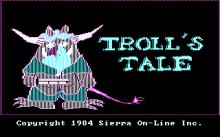 Troll's Tale 1984
An evil troll has hidden all of the treasures of Mark, The Dwarf King. There are 15 treasures hidden throughout the land that you need to help locate. If you locate a treasure, but the troll is on the screen at the time, you will need to come back and...
---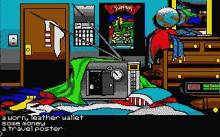 Twilight Zone 1988
Submitted for your approval... An ordinary adventure game player, thrust into fantastic situations. Into a world between dreams and reality. A world existing only within the electronic circuits of a machine. An area where typed commands become reality in a game that is not quite real, not quite fantasy. A game...
---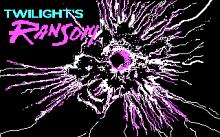 Twilight's Ransom 1988
Paragon Software, maker of the Twilight series of strategy games, takes a diversion in this surprisingly well-written IF set in the Twilight universe. Suddenly discovering that your girlfriend has been kidnapped, you must deal with the kidnappers who have more sinister plans, rescue your girlfriend and-- of course-- save the...
---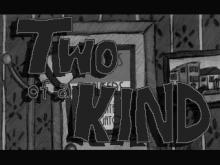 Two of a Kind 2004
Two of a Kind is a fun freeware point-and-click adventure game from Epileptic Fish, a team of talented designers lead by Dave Gilbert. Excerpts from the thorough review by Berian Williams explains why every adventure fan should check out this game: "Two of a Kind was originally intended as an...
---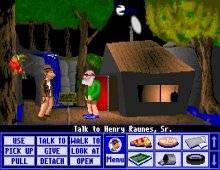 Udoiana Raunes 1997
A great amateur game that is an obvious spoof of LucasArts' Indiana Jones and the Last Crusade, Udoiana Raunes stars the bumbling archeologist professor of the same name who must find a way to escape the students' (!) blockade in a school-wide protest that sent many professors scurrying for cover...
---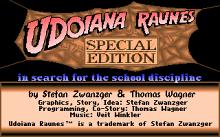 Udoiana Raunes 2: Special Edition 1998
Udoiana Raunes 2 and 3 are two fun sequels to Udoiana Raunes, a great Indiana Jones fan game created by two German programmers.Subtitled "Special Edition," the second game in this series is more of an "in-joke" game created to make fun of (presumably) professors the authors knew in real life....
---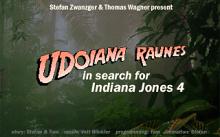 Udoiana Raunes 3: In Search for Indiana Jones IV 2005
Udoiana Raunes 2 and 3 are two fun sequels to Udoiana Raunes, a great Indiana Jones fan game created by two German programmers.Subtitled "Special Edition," the second game in this series is more of an "in-joke" game created to make fun of (presumably) professors the authors knew in real life....
---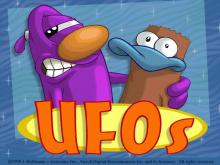 UFOs (a.k.a. Gnap) 1997
UFOs (released as Gnap in Europe) is a fun point-and-click cartoon adventure in the same vein as Toonstruck, except a lot shorter and not as clever. Gordon Aplin's review at Quandary says it all: "Gnap is a one-eyed, purple sausage-like alien who crash lands in a pigpen somewhere in the...
---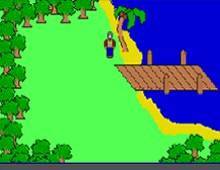 Ultimerr 2001
Ultimerr is a small, but very enjoyable amateur adventure game. It is most of all a parody of the Ultima universe - but isn't restricted to just that. You will, for example, encounter quite a few familiar characters from other well known works, including some from a well known Alfred...
---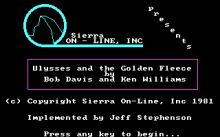 Ulysses and the Golden Fleece 1982
Ulysses and the Golden Fleece is an adventure game where you play the part of Ulysses in ancient Greece. The king has given you the task of finding the golden fleece, a legendary treasure which is protected by the gods. You begin your quest in a small town, and will...
---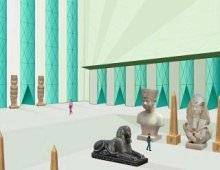 Uncertainty Machine, The 2003
The Uncertainty Machine is a fun freeware sci-fi point-and-click adventure game. Here we have the same hackneyed "dangerous new invention threatens survival of the world" premise seen in countless other games, but the designer Eduardo Campos deserves credit for putting an interesting, real-world physics chrome on top of this underlying...
---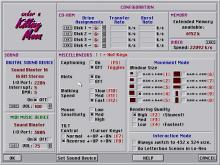 Under a Killing Moon 1994
When the term "interactive movie" was coined in connection with computer gaming, several companies jumped into the fray and created games they claimed met the evolving criteria. Most fell woefully short. Not until Under A Killing Moon did a game hit the market that truly embodies the spirit of an...
---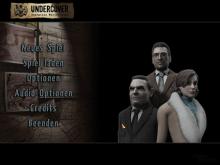 Undercover: Operation Wintersun 2006
When rumors of a German weapon of mass destruction reach the ears of British generals, they send in John Russell, a nuclear physicist to begin Undercover: Operation Wintersun. Russell must infiltrate Nazi Germany to learn about the "Uranium Project." As he explores the environments of London and Berlin, he will...
---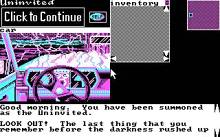 Uninvited 1988
Another game using the graphical adventure interface found in Déjà Vu and Shadowgate, Uninvited comes with a "horror" theme. While driving on a lonely road at night, a strange figure blocks your vision causing you to swerve and crash your car. When you regain consciousness, you find that your brother is...
---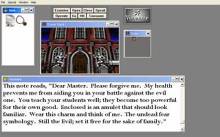 Uninvited (Windows) 1993
As I mentioned in the DOS review of Uninvited, the Windows remake was bound to get a separate entry. Five years separate the two releases, making it easy to spot the changes. While the 1991 NES conversion featured visible alterations to the story and puzzles, this version leaves them untouched,...
---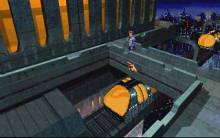 Universe 1994
This is a sci-fi, futuristic adventure game made by Core Design in 1994. It is a LONG game that will require many hours, and a lot of patience to finish. The story is as follows. You are Boris Verne and you are delivering mail to your uncle. After discovering that your...
---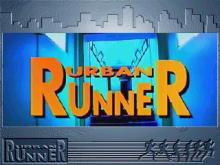 Urban Runner 1996
Perhaps more famous for its brain-teasing Goblins series, French developer Cocktel Vision also produced two FMV adventures that today are almost forgotten. The first one, Lost in Time, was released by Sierra in 1993 to a lukewarm critical reception, and was followed three years later, at the apogee of the...
---