Adventure Games #15
Search a Classic Game: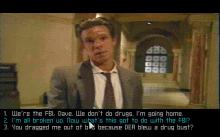 Flash Traffic: City of Angels 1994
This three-disc interactive thriller was created by the same folks who produced the dreadful Man Enough, and like that earlier project, Flash Traffic: City of Angels allows you to choose from one of three lines of dialogue, each of which moves the story in a different direction. The change here...
---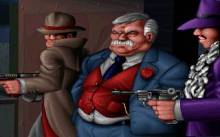 Flight of the Amazon Queen 1995
Joe King is the hero of this point and click adventure. His plane is carrying actress Faye Russell when it crash lands in a remote jungle, and he must battle through 100 screens of adventure and puzzle. The game's feel is influenced by hammy B-movies, and the characters are quite...
---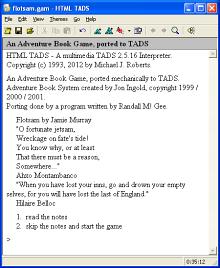 Flotsam 2001
Flotsam is a fun Choose-Your-Own-Adventure game that won third-place winner of the 2001 LOTECHComp. Mark Silcox says it all about this fun old game: "This game charts the mundane tasks and interactions of a student reluctantly employed at an even-nastier-than-the-norm Irish pub, in what I thought was a wonderfully vitriolic and...
---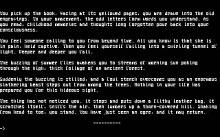 Forbidden Castle 1985
A save-the-princess text adventure in a fantasy world. Emphasis is on determining the function of the magical words and items you come across, with significant character interaction. ...
---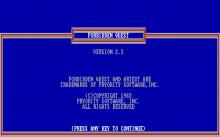 Forbidden Quest 1983
Your one man spaceship crash lands on a barren planet. You must take it upon yourself to look for remnants of any type of civilization on the planet in 103 locations in this text adventure gam ...
---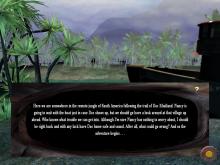 Forever Worlds: Enter the Unknown 2004
Forever Worlds is the story of a missing paleontologist and a mythical tree with incredible powers. Doc Maitland searched for the rumored Amazon tree most of his life, but when he finally found it, he vanished. His partner, Doctor Jack Lanser, and Maitland's daughter Nancy take up the search deep...
---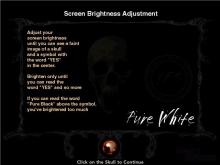 Forgotten, The: It Begins 1999
It's 1930 and you're immersed in the jazzy, colorful life of New Orleans. A famous archaeologist named Richard Haliburton has disappeared and you're here to find him -- at the height of the age of voodoo in this famous city. You are a collector of famous artifacts of unknown origins...
---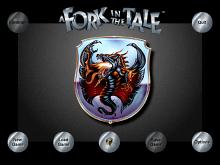 Fork in the Tale, A 1997
Imagine making a simple trip to the store, only to find yourself caught in the middle of a terrible crime. Then imagine a parallel universe, set on an island, teeming with inhabitants that want to see you dead. Finally, imagine that you suddenly find yourself on this island after washing...
---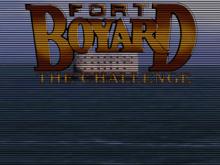 Fort Boyard: The Challenge 1995

---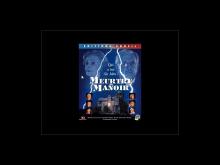 Foul Play: Mystery at Awkward Manor 1998
Themed similarly to Clue, Foul Play: Mystery at Awkward Manor is a murder mystery. Sir John Stiffning invites 6 friends to his 14-room British mansion for dinner and one of them murders him before the meal can be served. It is up to you to find out who killed him,...
---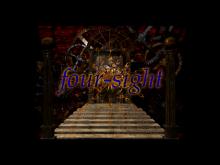 Four-Sight 1995
This is a Myst-like puzzle adventure that seems to have only been released in Japan. Roam the world's magical atmosphere. It's a strange and beautiful and fun place in the world that changes when clicked. ...
---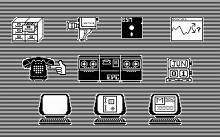 Fourth Protocol, The 1987
This interactive fiction computer game is based on the bestselling Cold War spy novel by Frederick Forsyth released in 1984 by Hutchinson publishing. As the novel's hero John Preston, you have been appointed head of the C1(A), an agency of the British Secret Intelligence Service. You uncover a plot, named...
---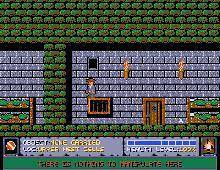 Framed 1995
At first glance, Framed appears to be a low-rent version of platform games like Mappy or Donkey Kong. This first impression is a false one, however, and Framed actually turns out to be a fun game with many twists and turns. Game play is quite good, with many different items to pick up...
---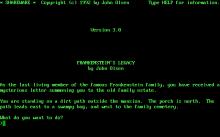 Frankenstein Adventure 1992
As the last living descendant of the storied Frankenstein family, the player has been summoned to the old family estate. In the creepy manor, the player is charged (through messages in envelopes) by no less than the great doctor Victor Frankenstein with a crucial task -- reanimating the monster (in...
---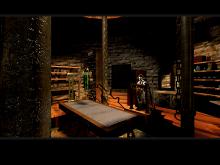 Frankenstein: Through the Eyes of the Monster 1995
It's nice to see game companies trying to push the edge of the computer game industry by trying new approaches and putting new spins on old stories that have been exploited through movies and books. Unfortunately, in the case of Interplay's release of Frankenstein: Through the Eyes of the Monster,...
---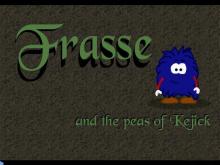 Frasse and the Peas of Kejick 2006
Frasse is a cute, blue, furry monster. One day, Frasse finds a note, saying that the King is looking for the famous peas of Kejick. These magical peas are needed for national security, and the king is offering a reward for them. Being the adventurous monster that he is, Frasse...
---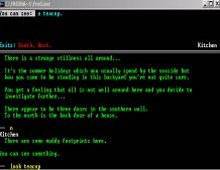 Fred's Backyard 1991
Fred's Backyard is one of the most original text adventures you'll ever come across. The game makes up for its primitive parser and lackluster writing with funny ASCII graphics, sound effects, and best of all dozens of fun mathematical puzzles reminiscent of Sierra's Rama and IF classic The Magic Toyshop. The...
---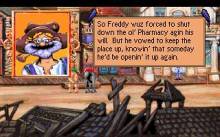 Freddy Pharkas: Frontier Pharmacist 1993
Set in the American West of the 1880s, Freddy Pharkas was one of the fastest guns in the west. However in one particular gunfight with an outlaw named Kenny he was outgunned and Freddy had his ear shot off. This traumatic experience caused Freddy to give up his pistols and...
---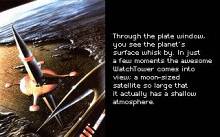 Frederick Pohl's Gateway 1992
Gateway is a text (parser) game by Legend Entertainment Company, in which you will explore strange new worlds and locations in the proverbial boots of a prospector, an explorer sent to places in hopes of finding previously unseen artifacts and installations of an alien race, the Heechee, which seemingly vanished...
---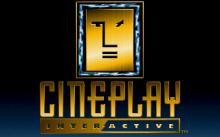 Free D.C.! 1991
With robots now in control of the Earth, the last remaining humans are held in a Zoo. They are alongside key American artifacts, for the entertainment and curiosity of the robot overlords. A wave of killings is taking place, and you have 12 hours to work out who is responsible...
---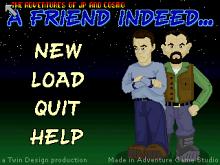 Friend Indeed, A 2004
A Friend Indeed is a short but sweet amateur adventure that is memorable for a unique isometric/overhead perspective, although the puzzles are far too easy and the game is very short - 15-20 minutes is all you need. AGA's nice capsule review for Adventure Gamers explains the pros and cons...
---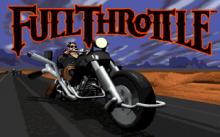 Full Throttle 1995
Poor old Ben the biker has been beaten up, robbed, and thrown in a dumpster behind his local bar. Now, the normally kind-hearted Ben is feeling mean, ornery, and set on revenge. A smarmy, evil tycoon called Adrian Ripburger has stolen something and someone close to the biker's heart and...
---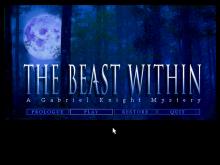 Gabriel Knight 2: The Beast Within 1995
The first Gabriel Knight mystery, Sins of the Fathers, is one of those rare games that leaves you completely satisfied but also hungry for more. Fortunately, its sequel, The Beast Within: A Gabriel Knight Mystery, matches or surpasses the original in almost every area. Once again you play as Gabriel...
---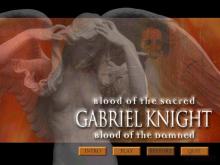 Gabriel Knight 3: Blood of the Sacred, Blood of the Damned 1999
Gabriel and Grace return to your computer screen, once again on the trail of a mystery that will take them to the shadowy world of vampires and dark secrets. Tracking down a kidnapped child, the duo arrives in the isolated small burg of Rennes-le-Château in the hills of France. From...
---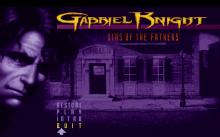 Gabriel Knight: Sins of the Fathers 1993
Gabriel Knight: Sins of the Fathers is the first installment in Sierra Online's popular series of supernatural adventures collectively known as the Gabriel Knight Mysteries. Set against a backdrop of several bizarre ritual murders in the city of New Orleans, Sins of the Fathers is one of the most rich...
---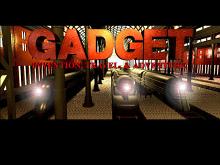 Gadget: Invention, Travel & Adventure 1995
Gadget, when released in 1994, was considered an interactive movie at a time when the term had not really been fleshed out and defined. The game is certainly interactive in that you must interact with all of the various characters you meet throughout your excursion into this cinematically surreal world...
---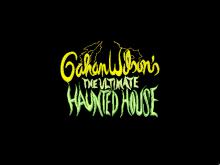 Gahan Wilson's The Ultimate Haunted House 1994
The Ultimate Haunted House from the Microsoft Home series was one package I was glad to get out of alive! Designed by Gahan Wilson, America's master of the macabre, it is a game for 8 to 12 year olds. A multimedia creation that has truly captured the intrigue of an...
---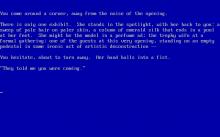 Galatea 2000
The history of non-player character (NPC) interaction in Interactive Fiction is not overly glorious; it says something about the development of this area that the XYZZY Award for Best NPC a few years ago went to a character with whom the PC could only interact by saying "yes" and "no."...
---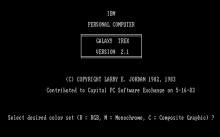 Galaxytrek 1983
Take control of the USS Columbia in an attempt to stop a group of warships from attacking Federation Headquarters. Galaxy Trek is a space battle game where your only goal is to destroy all the warships. The game uses ASCII graphics and can be played using RGB, Mono, or Composite...
---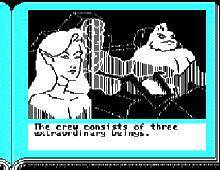 Gamma Force in: Pit of A Thousand Screams 1988
In a dangerous world, individual superheroes are not enough. Even the best of them - a humanoid made of flame, an elf princess with a mean bow, and a musclebound waterbeast - can't do it all themselves. When they come together, they are Gamma Force. Can anybody stop them? This was...
---