Adventure Games #8
Search a Classic Game: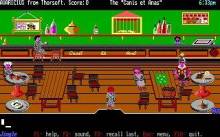 Denarius Avaricius Sextus 1992
Denarius Avaricius Sextus is a text-parser adventure game similar to classic adventure games such as King's Quest I that takes place in the Roman city of Pompeii in 79 A.D., where you play the role of a wealthy Roman citizen Avaricius aka Avvy. Your mission in this game is basically...
---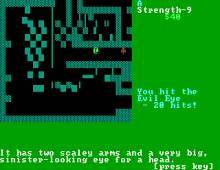 Deranged Wizard's Castle 2005
Deranged Wizard's Castle is a great "retro" adventure game inspired by Kevin Bales' classic Castle Adventure. You play an intrepid adventurer who goes inside the king's castle that has been abandoned except for a lone wizard who hides inside, protecting the secret treasury. Your objective, like in Atari's good old...
---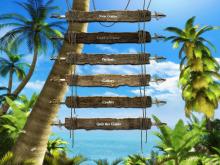 Destination: Treasure Island 2006
Jim Hawkins survived the 1883 novel by Robert Louis Stevenson and grew up to captain his own ship, the Hispaniola. In Destination: Treasure Island, Hawkins begins his adventure locked in the ship's cabin by three pirates seeking revenge. While Hawkins awaits his fate, Long John Silver's parrot visits and provides...
---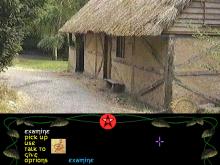 Detritus: The Daemon's Quest 1996
After a nuclear holocaust in 2005 the last survivors of the civilized world formed a sanctuary on a small island in Europe, called Quarea. The island is ruled by demons that are good and bad, but the leader, Arrut Loopaz, is pure evil. He lives in the ruins of an...
---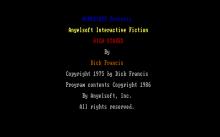 Dick Francis: High Stakes 1986
As Steven Scott; a millionaire - you find out that your trainer and rider for your award winning racehorse has been stealing from you. Now, you must face deceit and danger around every turn to find out why in this interactive text adventure game. ...
---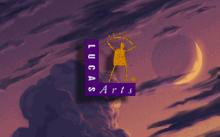 Dig, The 1995
LucasArts' enthralling graphic adventure The Dig begins when an asteroid the size of a small city threatens to collide with Earth. A select group of astronauts and experts is assembled to meet the deadly meteor in space and blast it from its destructive course. As the group reaches the asteroid,...
---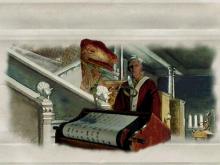 Dinotopia 1995
Dinotopia is an adventure game designed primarily for children which is based upon the books "Dinotopia" and "The World Beneath" by James Gurney. Players take the role of Nathan Drake, a shipwreck survivor. The major objective is to find Nathan's sister, Constance, who he hopes also survived and washed up elsewhere...
---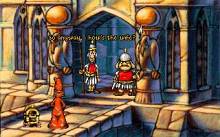 Discworld 1995
With Monty Python and the Flying Circus' Eric Idle lending his voice to the lead character, Discworld is a humorous third-person graphic adventure featuring locations and characters based on Terry Pratchett's series of novels. As a low-level wizard named Rincewind, you must save the lavish town of Ankh-Morpork from a...
---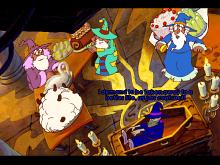 Discworld 2: Mortality Bytes 1996
So what do you do when Death takes a holiday? This interesting premise is the thrust behind DiscWorld II: Mortality Bytes! from Psygnois and Perfect Entertainment. You take the role of Rincewind, arguably the most inept sorceror on the planet as he quests to discover what exactly is going on. And what...
---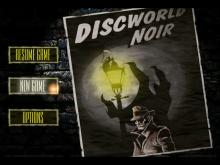 Discworld Noir 1999
Discworld Noir, developed by Perfect Entertainment and published by GT Interactive, is the third game to be based on the novels of that series by Terry Pratchett. The books have a certain dark depth to them, as does this game; the script of the book is used as a backdrop...
---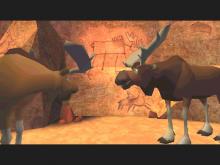 Disney's Brother Bear 2003
Based on Disney's 2003 cinematic release Brother Bear, this PC game allows players to take the role of either Kenai or Koda, both of whom are able to morph into either a wolf, crow, or eagle. Kenai who is a young man, has been transformed into a bear and is...
---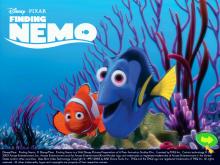 Disney/Pixar's Finding Nemo 2003
Disney/Pixar's Finding Nemo features two main storylines. As in the 2003 animated feature film, the clown fish Nemo is headed for his first day at school when he's captured near Australia's Great Barrier Reef by a scuba diver and winds up in an aquarium in a dentist's office. In the...
---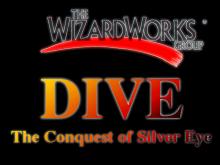 Dive: The Conquest Of Silver Eye 1996
In Dive: The Conquest of Silver Eye, you play the part of a famous archeologist, Professor Frank Foster. After spending years on what appears to others as nothing more than treasure hunting, you've finally located the hideout of the legendary pirate Silver Eye. Through a chance discovery of an underwater entrance...
---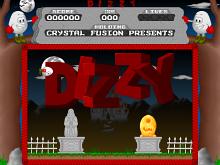 Dizzy Remake 2004
Dizzy Remake is a superb PC remake of Dizzy, a great platformer/adventure hybrid that spawned an entire series on the Amstrad CPC and other 8-bit computers. This first game starring our egg-shaped hero was never released for the PC, so this remake is a welcome addition. The plot and gameplay,...
---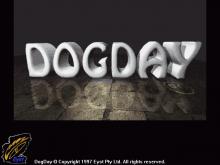 DogDay 1997
I happen to think that a good adventure game tells a good story. A good adventure game story should provide players with some idea of what it is that they are trying to do and back that up with the feeling that what they are trying to do really matters....
---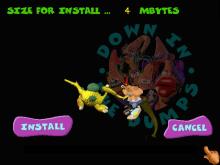 Down in the Dumps 1997
The Blubs are not like your ordinary family next door. As tall as a thumb, with odd looking heads and eccentric behaviors, they are the wackiest extra-terrestrials you have ever seen. But no matter how crazy they look, one thing is certain, these people need your help to return to...
---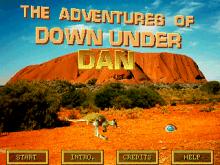 Down Under Dan 1995
Oy, mate! Travel through Australia and experience its culture in this comical adventure as you guide bush pilot "Down Under Dan" after he crash lands his plane in an unknown area. The game takes place in the span of 4 virtual days in which Dan encounters colourful locations, animals and...
---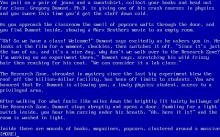 Dr Dumont's Wild P.A.R.T.I. (1999) 1999
You have been transferred into Dr. Dumont's P.A.R.T.I. (Particle Accelerator and Reality Translation Integrator). Have fun trying to get out. This is a greatly expanded and updated version of the original game from 1988. ...
---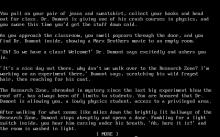 Dr. Dumont's Wild P.A.R.T.I. 1988
So you've decided to become a human guinea pig eh? Well, the professor has a few nice things about his computer that just might make you a little crazy.....everything seems to be real.....until the computer goes mad itself! Travel through a world that has been generated through the mind of...
---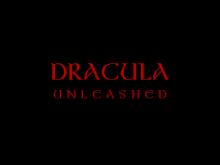 Dracula Unleashed 1993
Dracula Unleashed is an interactive movie in the same vein as Sherlock Holmes: Consulting Detective. Basically, you can choose from several locations to go to, and at each location you are shown different events through live-action video clips. Clues in the videos will point you to where you should go...
---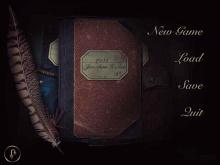 Dracula: Resurrection 2000
Bram Stoker's original novel provides the background and setting for this continuation of the Dracula legend. The story in Dracula Resurrection begins in London where heroes Jonathan and Mina have married and settled, seven years after Dracula's "final" defeat. When Jonathan returns home one day to find a note from...
---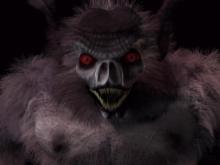 Dracula: The Last Sanctuary 2000
Dracula: The Last Sanctuary is something of a sequel to DreamCatcher's Dracula Resurrection, the graphic adventure released a year earlier. Once again, players will guide the actions of hero Jonathan Harker through thoughtful, sometimes tricky puzzles and challenges set in a gloomy, gothic setting. This graphic adventure allows 360-degree movement...
---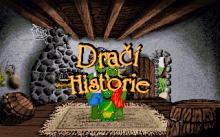 Dragon History 1995
Bert is a young dragon that lives with his parents Berta and Herbert in a magical land, where dragons got civilized, started to wear clothes and live peacefully with humans. One day, Herbert suddenly disappears, with rumors saying the he left his wife and son behind to search for a...
---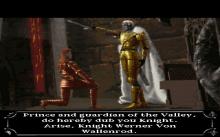 Dragon Lore II: The Heart of the Dragon Man 1996
This is the sequel to Cryo's 1994 action role-playing adventure "Dragon Lore - The Story begins". Once again you are playing Werner von Wallenrod who has been named Knight of the Dragon by the Dragon Prince at the end of part one of the series. Unfortunately a mysterious Lord from the...
---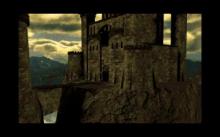 Dragon Lore: The Legend Begins 1994
Dragon Lore is a decidedly mixed bag when individual components such as entertainment, playability and visual aspects are considered. Visually, 3-D effects are used to great advantage. Utilizing two distinct modes of 3-D gameplay, both first-person perspective for interactive scenes as well as third-person views, the game presents a fresh...
---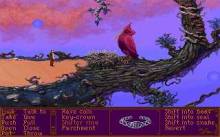 Dragonsphere 1994
Dragonsphere is a graphic adventure with substance. Unlike many games of similar intent, this one delivers a solid punch in terms of player action and decision making. The story is sufficiently evolved to assure meaningful consequences of your characters' impact on the proceedings. It's not enough that he just wanders...
---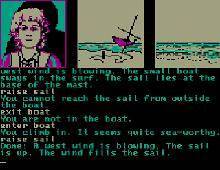 Dragonworld 1984
You have recieved word from a messenger that the "last dragon" has been kidnapped. You hold the scroll in your hand and read that you must travel with a special companion named Hawkwind. Only with him and yourself can you save the "last dragon" from never seeing the light of...
---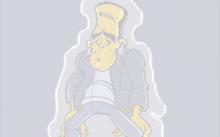 Drascula: The Vampire Strikes Back 1996
Drascula, released toward the end of the adventure boom, is a conundrum from the start. Much like Bandai's Frankenstein game, Drascula has a subtitle that's trying to convince me it's a sequel. In actuality, its relationship to established Dracula lore is unclear. Sometimes it's implied that Drascula is actually the...
---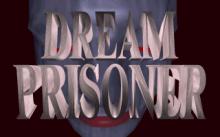 Dream Prisoner 1995
Adopting arbitrary plot conventions from both the text and multimedia adventure game genres it builds on, DP casts the player as an modern-day Dutchman somehow (hey, one rarely recalls the precise circumstances leading up to a dream) stranded in a high-tech building where a fancy dinner party is going on:...
---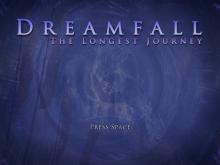 Dreamfall: The Longest Journey 2006
Dreamfall's predecessor, The Longest Journey, was perhaps the last truly great point-and-click adventure of its time -- a bright spot at the end of an era. With the release of Dreamfall six years later, Funcom returns to the twin worlds of Stark and Arcadia, picking up the threads of April...
---