Adventure Games #7
Search a Classic Game: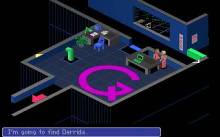 D/Generation 1991
It's hard not to like D/Generation. It presents a cartoonish world of threat and peril, puts a very tried and true premise in front of the player, and accomplishes exactly what it sets out to do. It's a goofy little game, but it's internally consistent, the gameplay is fast and...
---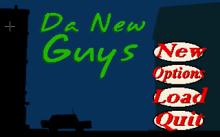 Da New Guys 2005
Da New Guys is a fun adventure game about professional wrestling.The plot, in the author's words, is as follows: "Step into the world of pro-wrestling as Da New Guys, three British underdogs trying to make it big in the U.S. Set over four chapters spanning the course of 24 hours,...
---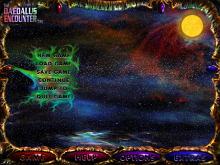 Daedalus Encounter, The 1995
There's a scene near the beginning of The Daedalus Encounter that typifies most of what's right and wrong with this extraterrestrial adventure. Your alter ego is a human brain inside a probe that you launch to investigate an alien ship. After you initiate the proper sequence on an easy-to-use on-screen...
---
Daemonica 2005
Daemonica is a mystery adventure played from an overhead isometric perspective. The game casts players in the role of Nicholas Farepoynt, an investigator in medieval England who possesses an unusual talent: he converses with the dead. Yet in order to tap into this sixth sense, Farepoynt must acquire herbs to...
---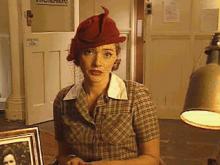 Dame Was Loaded, The 1996
The Dame Was Loaded is an Australian made interactive movie and attempts to recreate the atmosphere of film noir. The game is set in the 1940s and the player takes on the role of private detective Scott Anger who takes on a missing persons case, which leads to a murder mystery...
---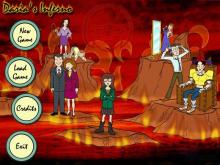 Daria's Inferno 2000
Fans of Daria's Inferno may be happy to see their monotone-voiced heroine featured in a computer game based on the television show, but after playing it any true fan is likely to feel cheated. The game is very short, less than three hours at best, and fails to provide any...
---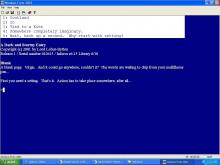 Dark and Stormy Entry, A 2001
My favorite entry in the 2001 LOTECHComp for which it won a respectable second place, A Dark and Stormy Entry is a fun and quite clever Choose-Your-Own-Adventure game which puts you in the role of a struggling writer trying to write his/her newest novel. LoTECHComp organizer Mark Silcox says it...
---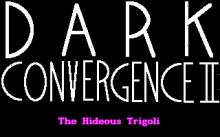 Dark Convergence II, The 1994
This is the sequel to The Dark Convergence and takes place some time after the end of the original game. The player has survived the horrible night, but his mind is deeply scarred by the horrors he had to face. In fact, the player lives as a bum, wandering aimlessly on...
---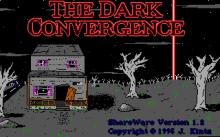 Dark Convergence, The 1993
The Dark Convergence is a very rare horror adventure game from the early '90s. The plot is simple: one night the player and some friends have a car crash on a near-deserted road. The player is sent out to search for some help and stumbles on an abandoned house. Inside it...
---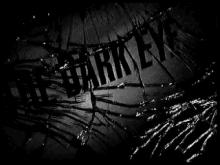 Dark Eye, The 1995
One of the rare games based on literature that "get it" right, The Dark Eyeis not so much a "game" as an electronic novel in the same vein as Portal : it is a melange of Edgar Allen Poe's most famous stories, changing the characters' names to fit an overarching...
---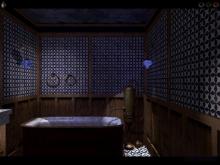 Dark Fall: The Journal 2002
The old railway station in Dorset, England, is the setting for Dark Fall. The station opened in 1880 and closed in 1947, and Dark Fall features an odd amalgam of interior design from intervening 70 years - splendid Victorian wooden moldings and the stark modernism of the 1920s. Players enter...
---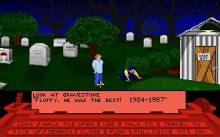 Dark Half, The 1992
Based on Stephen King's popular horror novel, The Dark Half attempts to retell the story of Thad Beaumont's mysterious world of crime via an adventure system reminiscent of Lucasarts' SCUMM interface. In-game, you play Thad Beaumont, a sucessful horror-novelist whose evil twin besets the world with horrific crimes. The game...
---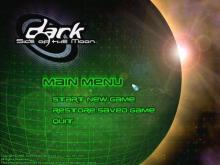 Dark Side of the Moon: A Sci-Fi Adventure 1998
If computer games have eluded you until now and cartoon, polygon or faceless graphics don't appeal to your senses, then Dark Side of the Moon offers you a breath of fresh air. Playing this game is similar to watching a full-length movie but with you in control of the action! From...
---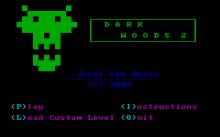 Dark Woods 2 2002
Dark Woods 2 is a simple adventure/puzzle game quite reminiscent of Rogue or Kroz: it uses ASCII symbols to represent the player character, monsters and items. The objective of the game is either to kill all enemies on the current level or, if an exit is present, reach the exit...
---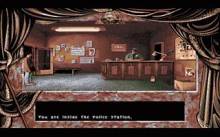 Darkseed 1992
Dark Seed is an adventure game which capitalizes on the drawings of famous horror designer H. R. Giger as a source of background artwork and inspiration. You play Mike Dawson, an ad company manager who, in pursuit of his goal in life to become a writer, purchases a solitary mansion in...
---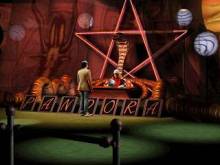 Darkseed 2 1995
BasicsSwiss artist H.R. Giger is known for his extreme creations when it comes to the horrific and macabre. Ever since Aliens and Species, his art has been a household name. In Dec. Of 1995, Cyberdreams Inc. And Destiny Software Inc. decided to monopolize off of his artwork with the H.R. Giger's...
---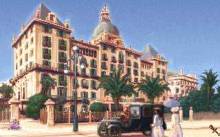 Daughter of Serpents (a.k.a. The Scroll) 1992
Daughter of the Serpent is a graphic adventure game with a point-and-click interface. An exotic, ancient city bustling with life. A strange, unnatural creature. A murder. And you, on a business trip to Alexandria, Egypt, suddenly involved in the case of a mysterious cult that deals with strange forces. Take a...
---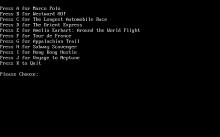 David Ahl's Basic Computer Adventures 1986
David Ahl's Basic Computer Adventures contains 10 text adventure games in a book. Each game includes a description of the game story, instructions on how to play, notes about the source code, and of course the source code. ...
---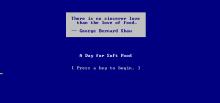 Day for Soft Food, A 1999
The IF competition, if nothing else, seems to foster amusing experiments in point of view: 1996 and 1997 gave us Ralph and A Bear's Night Out, viewed from the perspective of a dog and a teddy bear, respectively, and 1999's A Day for Soft Food continues the trend by giving...
---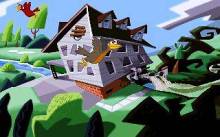 Day Of The Tentacle 1993
Five years after the adventure in the original Maniac Mansion, the purple and green tenacles stop by a stream in back of the Edison mansion. Drinking the mutagen-polluted water makes the purple tentacle grow arms and become an evil genius bent on taking over the world. Meanwhile, Bernard Bernoulli and his...
---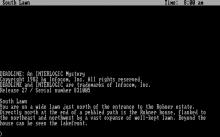 Deadline 1984
Infocom's fascination with film noir-flavored detective stories (also see Suspect and Witness) reached its peak with Deadline, a tough and punishing "expert level" text adventure game giving players just twelve hours to solve a murder. Worse yet, the player is locked into the crime scene, along with six suspects, all...
---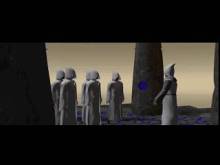 Death Gate 1994
There's good news and there's bad news regarding the graphic adventure game Death Gate. Fortunately, the good news outweighs the bad and even the bad isn't a result of quality but of quantity. The true strength of Death Gate lies in the marvelous original story based on the richly evolved...
---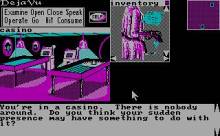 Deja Vu 1: A Nightmare Comes True 1987
Many adventure games have used amnesia as a premise with varying degrees of success. Amnesia is really a cheap way out of some design work since the developers don't have to explain any background story or provide your character with any motivation. Many games developed under these parameters don't turn out...
---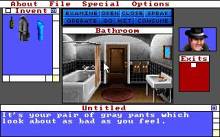 Deja Vu 2 1990
For those who played either the original Déja Vu or the 1993 Windows remake of that game, the best way to describe Déja Vu 2: Lost in Las Vegas is essentially as a bigger game with better graphics and the exact same level of gameplay. This game features the same Windows-based...
---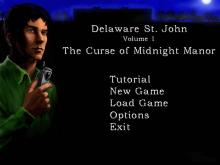 Delaware St. John: Volume 1: The Curse of Midnight Manor 2005
You play the game as Delaware St. John, paranormal investigator. Delaware is prone to being contacted by the dead -- souls in need of help in order to move on to the beyond. With remote assistance from his partner Kelly, Delaware visits the locations of these spirits to investigate the...
---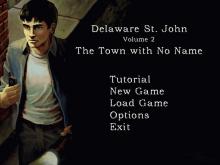 Delaware St. John: Volume 2: The Town with No Name 2005
For those who haven't played the first game or just need a refresher, you play as Delaware St. John, a young man with a bad habit of being contacted by spirits in need of assistance in moving on to the afterlife. At his side, at least remotely, is his partner...
---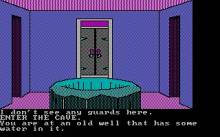 Demon's Forge 1987
For killing four palace guards, the king has banished you to the caverns of Demon's Forge. Now you must fight to stay alive and to find the exit with your life! No prisoner has ever found the exit or exited Demon's Forge! Being the greatest gladiator to ever serve the...
---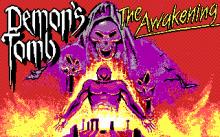 Demon's Tomb: The Awakening 1989
famed archaeologist named Edward Lynton disappears mysteriously. Richard, his teenager son Richard sets out to discover what happened with his father. Unbeknown to him, the evil god Darsuggotha is trying to ascend from his dimension and incarnate on a heathen priest called Tzen. Richard must stop him, as the demon...
---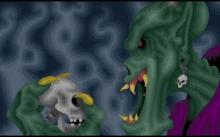 Demoniak 1991
This is a highly original game that unfortunately gets bogged down with extreme non-linearity. You are a superhero who has the special ability to take control of most people you meet by typing "BECOME [someone]" and looking at the world from their perspective. Despite exciting possibilities, solving the game is...
---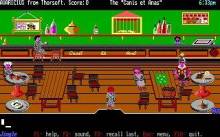 Denarius Avaricius Sextus 1992
Denarius Avaricius Sextus is a text-parser adventure game similar to classic adventure games such as King's Quest I that takes place in the Roman city of Pompeii in 79 A.D., where you play the role of a wealthy Roman citizen Avaricius aka Avvy. Your mission in this game is basically...
---