Adventure Games #11
Search a Classic Game: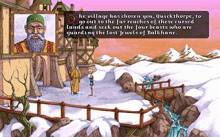 Fable 1996
A classical graphic adventure with hand drawn backgrounds. The hero Quickthorpe must travel through four fantasy worlds (each dedicated to a particular element) in search of four mystic gemstones in order to free his people. ...
---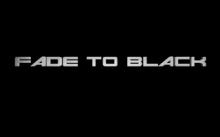 Fade to Black 1995
Fade to Black, the sequel to Flashback, is pretty much the same game as the Sony Playstation counterpart. It picks up 50 years after Conrad made his daring escape from the Morph world and features many of the same elements found in Flashback. For the most part, it made the...
---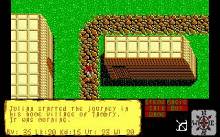 Faery Tale Adventure, The 1989
You take on the role of three brothers wandering through the magical land of Holm. Real-time interaction reminiscent of Ultima 7. An extremely large world, touted at the time as the largest game world ever created, about 17,000 computer screens worth of terrain. ...
---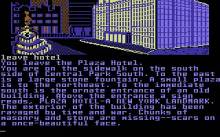 Fahrenheit 451 1984
Based on Ray Bradbury's classic science fiction novel Fahrenheit 451. In a not so distant future, books have become illegal. As Fireman Guy Montag, your role is not to save houses, but to burn them for the books inside. But, you become passionate about books and become a rebel, pursued by...
---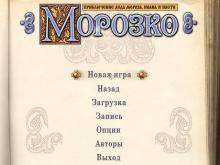 Fairy Tale about Father Frost, Ivan and Nastya 2000
This amusing fairytale adventure game was made in Prague in the Czech Republic and was inspired by traditional Russian fairy tales. According to the developers, it's "pleasant and light" and "strokes your soul and warms your heart" and, indeed, it is ... and it does. It's aimed at a younger audience,...
---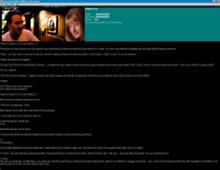 Fallacy of Dawn 2001
Fallacy of Dawn is the latest title from Robb Sherwin, designer of A Crimson Spring, my most favorite old game of the 6th Annual Interactive Fiction Competition, and is undoubtedly his best yet. Like his previous games, Fallacy of Dawn is a very immersive game set in New Haz, a...
---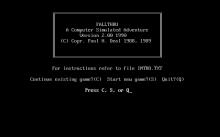 Fallthru 1990
The beautiful vistas of farmlands, forests, mountains and deserts that greet you upon your arrival on Faland does little to calm your nerves about how you arrived at this strange land. Considering how dangerous it is with all the demons, monsters, wild animals and renegades running around you know you...
---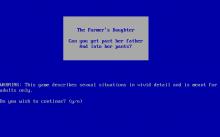 Farmer's Daughter, The 2002
The farmer's daughter is the eternal complement to the traveling salesman in American folklore and humour, practically Jungian archetypes licking their lips and circling each other warily while trying to figure out how to avoid the shotgun wedding neither party wants their hot-blooded fling to result in. Your car broken down...
---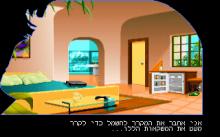 Fascination 1991
Fascination is a mature-themed adventure. The game is about a business man who has invented a chemical drug that increases the sex-drive. Unfortunately he was assasinated, and you accidentally get hold of the drug sample. Your mission is to try to deliver the sample to the right person and avoid...
---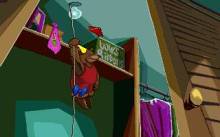 Fatty Bears Birthday Surprise 1993
Fatty Bear's Birthday Surprise is a treat for kids, with lots of things to do and see as Fatty Bear gets ready for Kayla's birthday party. Players start out with a simple mission: Get together the ingredients and items necessary for Fatty Bear to make his birthday cake. Exploring in the...
---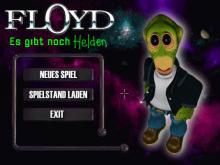 Feeble Files, The 1997
Sci-fi comedy holds an important place in the canon of classic adventure games. Infocom's adaptation of The Hitchhiker's Guide to the Galaxy has become an interactive fiction bestseller, and Sierra On-Line's Space Quest has spawned 6 popular games as a series. A relative latecomer among sci-fi comedy adventures is The Feeble...
---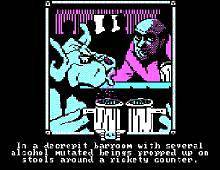 Fellowship of the Ring, The 1986
A J.R.R. Tolkien interactive fiction (with graphics) based game surround the efforts of the Hobbits: Frodo, Pippin and Sam and their quest to bring the ring to Mount Doom. The game is divided into 2 parts (represented by 2 files: DOS version). The first part starts with Frodo at his home...
---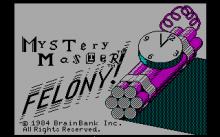 Felony 1984
There is a crime wave in the town of Huxley! As a mystery master, you need to help the police solve 12 different crimes that have taken place. Throughout each of the cases you can interrogate suspects, search for clues at various locations, or use police station resources to analyze...
---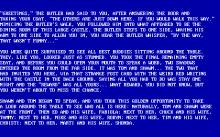 Final Soul 1995
Final Soul is a text adventure game, where you are stuck in the house, and through puzzles and riddles, must find your way out. Through the use of fun, and sometimes, complex puzzles, you have to piece things together to get out of what appears to be a haunted house!...
---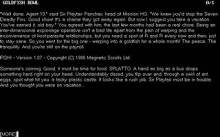 Fish! 1988
Inter-Dimensional Espionage. Inter-Dimensional... because you can "warp" into the body of a living thing in this or any other dimension. Espionage... because there are good guys and bad. And you're a good one... with years under your belt and a multitude of successful missions behind your dark glasses. The payoff?...
---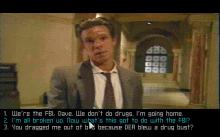 Flash Traffic: City of Angels 1994
This three-disc interactive thriller was created by the same folks who produced the dreadful Man Enough, and like that earlier project, Flash Traffic: City of Angels allows you to choose from one of three lines of dialogue, each of which moves the story in a different direction. The change here...
---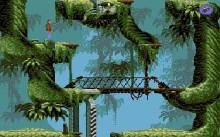 Flashback 1993
The game roars onto the screen with an explosive introduction. A man (you) screams away from captors and his stolen craft is shot down overtop of a jungle. The game picks up right there, fresh after the crash. You find yourself tangled in a web of confusion and action as you...
---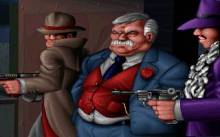 Flight of the Amazon Queen 1995
Joe King is the hero of this point and click adventure. His plane is carrying actress Faye Russell when it crash lands in a remote jungle, and he must battle through 100 screens of adventure and puzzle. The game's feel is influenced by hammy B-movies, and the characters are quite...
---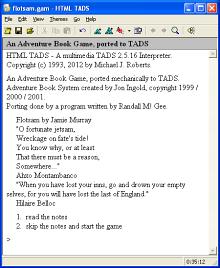 Flotsam 2001
Flotsam is a fun Choose-Your-Own-Adventure game that won third-place winner of the 2001 LOTECHComp. Mark Silcox says it all about this fun old game: "This game charts the mundane tasks and interactions of a student reluctantly employed at an even-nastier-than-the-norm Irish pub, in what I thought was a wonderfully vitriolic and...
---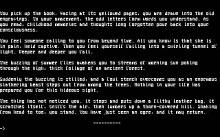 Forbidden Castle 1985
A save-the-princess text adventure in a fantasy world. Emphasis is on determining the function of the magical words and items you come across, with significant character interaction. ...
---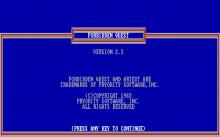 Forbidden Quest 1983
Your one man spaceship crash lands on a barren planet. You must take it upon yourself to look for remnants of any type of civilization on the planet in 103 locations in this text adventure gam ...
---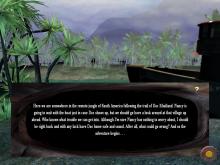 Forever Worlds: Enter the Unknown 2004
Forever Worlds is the story of a missing paleontologist and a mythical tree with incredible powers. Doc Maitland searched for the rumored Amazon tree most of his life, but when he finally found it, he vanished. His partner, Doctor Jack Lanser, and Maitland's daughter Nancy take up the search deep...
---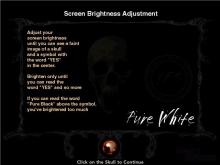 Forgotten, The: It Begins 1999
It's 1930 and you're immersed in the jazzy, colorful life of New Orleans. A famous archaeologist named Richard Haliburton has disappeared and you're here to find him -- at the height of the age of voodoo in this famous city. You are a collector of famous artifacts of unknown origins...
---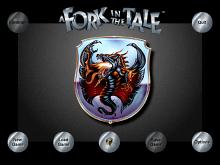 Fork in the Tale, A 1997
Imagine making a simple trip to the store, only to find yourself caught in the middle of a terrible crime. Then imagine a parallel universe, set on an island, teeming with inhabitants that want to see you dead. Finally, imagine that you suddenly find yourself on this island after washing...
---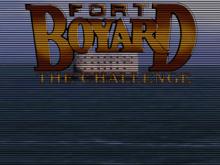 Fort Boyard: The Challenge 1995

---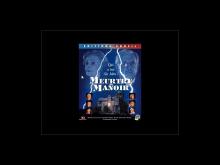 Foul Play: Mystery at Awkward Manor 1998
Themed similarly to Clue, Foul Play: Mystery at Awkward Manor is a murder mystery. Sir John Stiffning invites 6 friends to his 14-room British mansion for dinner and one of them murders him before the meal can be served. It is up to you to find out who killed him,...
---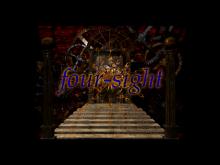 Four-Sight 1995
This is a Myst-like puzzle adventure that seems to have only been released in Japan. Roam the world's magical atmosphere. It's a strange and beautiful and fun place in the world that changes when clicked. ...
---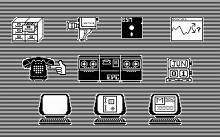 Fourth Protocol, The 1987
This interactive fiction computer game is based on the bestselling Cold War spy novel by Frederick Forsyth released in 1984 by Hutchinson publishing. As the novel's hero John Preston, you have been appointed head of the C1(A), an agency of the British Secret Intelligence Service. You uncover a plot, named...
---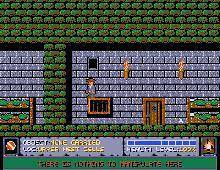 Framed 1995
At first glance, Framed appears to be a low-rent version of platform games like Mappy or Donkey Kong. This first impression is a false one, however, and Framed actually turns out to be a fun game with many twists and turns. Game play is quite good, with many different items to pick up...
---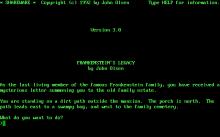 Frankenstein Adventure 1992
As the last living descendant of the storied Frankenstein family, the player has been summoned to the old family estate. In the creepy manor, the player is charged (through messages in envelopes) by no less than the great doctor Victor Frankenstein with a crucial task -- reanimating the monster (in...
---