Adventure Games #44
Search a Classic Game: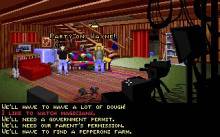 Wayne's World 1993
Wayne's World is an adventure game based on the movie with the same name. The game itself is a classic point and click adventure, and should not be confused with the platform game based on the movie. You play both Wayne and Garth, and you can switch between them at any...
---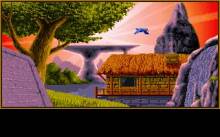 Ween: The Prophecy 1993
This point and click adventure takes a fantasy setting, in which you play a Wizard deemed to be 'good' taking on a less good one. To fulfill the prophecy you have been given in a limited time of 3 days, he must go on 3 quests, solving various puzzles along...
---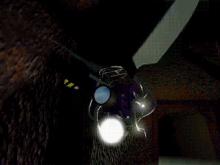 Weird: Truth is Stranger than Fiction 1997
Weird: Truth is Stranger Than Fiction is officially marketed as an adventure game, and contains a few puzzles, but in reality is more of a multimedia encyclopedia of strange phenomena and legends with a Myst-like slide-show presentation. The player starts in a room full of doors, each leading to different places....
---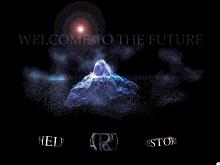 Welcome to the Future 1995
In the footsteps of the hit game Myst comes Welcome to the Future, an ambient first-person adventure game which plunges the player deep into an alternate reality where arcane symbols provide clues to solve puzzles which only lead to more puzzles and more artifacts to examine. Explore surreal mountains, delve deep...
---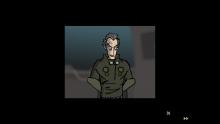 What Makes You Tick: A Stitch In Time 2010

---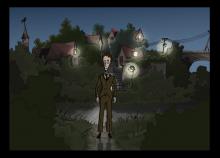 What Makes You Tick? 2007

---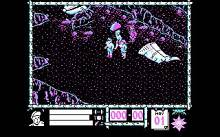 Where Time Stood Still 1987
While flying three members of the same family, your planes crash-lands in an area where it soon becomes clear that time has stood still - dinosaurs still roam the area, and the humans are primitive and carnivorous. Your task is to guide them to safety through the complex isometrically viewed...
---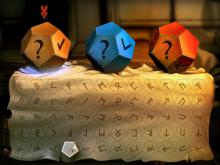 Whispered World, The 2009
The Whispered World is a classically styled point-and-click adventure game in which players guide a 12-year-old clown through hand-painted fantasy environments on a quest to keep his world from crumbling. Young Sadwick is a melancholy sort who dreams of exploring the world, but his family ties and his duties as...
---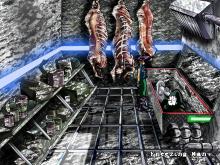 white chamber, The 2005
A young girl wakes to find herself inside a strange glowing coffin, in a dark room. Who is she? What is this place? Why is she here? As she explores the warped environment she finds herself trapped within, she must search for answers, all of which will lead her closer...
---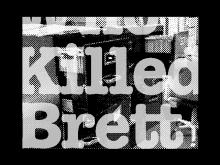 Who Killed Brett Penance?: The Environmental Surfer 1994
An activist surfer is found dead on the beach. It is up to the player to collect evidence and solve the crime. The third installment of the Virtual Murder series (now renamed Murder Mystery) follows the same overall design of the other games. The player has six hours to solve the...
---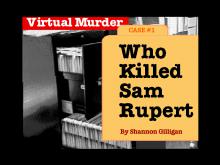 Who Killed Sam Rupert: Virtual Murder 1 1993
I usually don't get into interactive detective games, but Who Killed Sam Rupert? surprised me. The case is interesting, the clues are plenty, and the time limit gives you something to play for. I admit that when I first saw that six-hour time limit on the screen, I thought I would never make...
---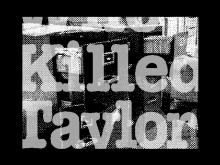 Who Killed Taylor French?: The Case of the Undressed Reporter 1994
The Murder Mystery series is an effort by Creative Multimedia to translate a passive experience of reading a murder mystery to an active multimedia gaming experience. This evolution appears logical and sets a trend for other developers soon to follow. The series has undergone a name change from Virtual Murder...
---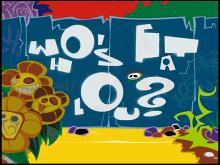 Who's Fat Lou 1996
In Who's Fat Lou?, you're the only person actively fighting the evil dictator El Guapo, who rules Zett City. You must navigate through the maze-like Outtadaway Park and conquer its challenges before you can enter Guapo's Black Castle. Ultimately you must discover the identity of Fat Lou, thus freeing society...
---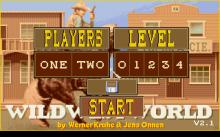 Wild West World 1992
Wild West World is a strategy game in which you build up an economic empire in the old west of the 1800's. Farming, ranching, mining, and hunting, are all methods for generating cash to buy land and build your economic empire. Employees of various trades must be hired, farms, ranches,...
---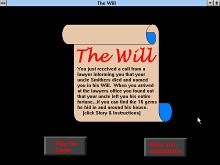 Will, The 1999
Before his death, your uncle hid sixteen gems in and around his house. Find them all and inherit his fortune. ...
---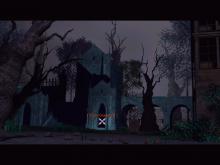 William R. Fisher's Beyond the Spirit's Eye 2007
Last Half of Darkness: Beyond the Spirit's Eye tells the story of a mysterious village whose inhabitants are all beholden to an ancient black jewel known as "The Eye." Classic graphic adventure gameplay finds players exploring this strange town, solving riddles of black magic, uncovering scenes of horror and mystery,...
---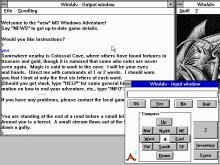 WinAdv 1992
Crowther and Woods' trailblazing treasure-hunting cave-exploring text adventure game ADVENTURE is here presented in a new form. Compiled from early FORTRAN and C sources, this port makes use of its early GUI by presenting a text output window, through which the game communicates to the player, as well as...
---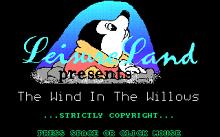 Wind in The Willows 1993
Wind in The Willowsis the second game in Leisuresoft's "Leisureland" series of adventure games aimed at kids ages 5 to 8 who are learning to read. Unfortunately, it suffers from obscure puzzles and annoying random elements that will make it an exercise in frustration for all but the most patient...
---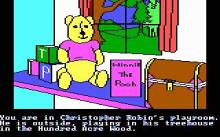 Winnie the Pooh: In the Hundred Acre Wood 1985
Early this morning, a strong wind went through the hundred acre wood and picked up many objects and scattered them about. It is your job to locate all the objects, determine who the proper owners are, and return them. You had better hurry though, before the wind returns again! Along...
---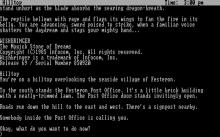 Wishbringer 1985
Although it's not widely realized, Wishbringer takes place in the Zork/Enchanter universe. The Festeron Town Library, where the Legend of Wishbringer book is checked out from is also the source of some of the documentation found in the Zork Trilogy. In Wishbringer, you begin as a mail clerk in the...
---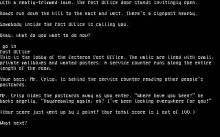 Wishbringer [Solid Gold] 1987
Have you ever made a wish and had it come true? Well, if not, that power is now granted to you in Infocom's 1985 text-based title, Wishbringer. Upon entering this wacky fantasy world you will notice that things are not always as they seem in the quaint little town of...
---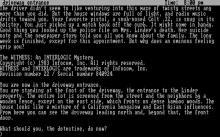 Witness, The 1983
In The Witness, you are a police detective working near Los Angeles. The year is 1938, and on this stormy February night a wealthy but frightened man has asked you for protection. In spite of your best efforts, a death will occur, and you will have twelve hours to solve...
---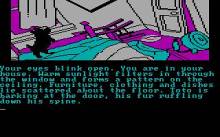 Wizard of Oz 1985
Based on the famous novel by L. Frank Baum, The Wizard of Oz places the player in the role of Dorothy Gale who is transported by a cyclone to the magical world of Oz. Accompanied by her dog Toto, a Scarecrow, a Tin Woodman and a Lion, she tries to...
---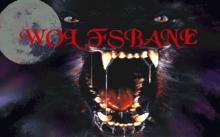 Wolfsbane 1995
In this point 'n click adventure game you play the role of a merchant who is travelling at night, when he gets attacked by a werewolf and survives. But his near escape from death comes at a price, when he finds out he's cursed to turn into a werewolf himself....
---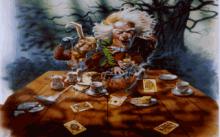 Wonderland 1990
Based on Lewis Carroll's classic novel, Wonderland gives players the opportunity to experience Alice's dream for themselves, in this large and detailed adventure game. ...
---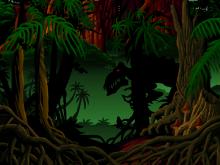 Woodruff and The Schnibble of Azimuth 1995
After a devastating atomic war, the world population was nearly annihilated, and the survivors had to hide deep underground. In the meantime, a peaceful race of human-like creatures, the boozooks, populated the Earth. After the humans ascended to the surface again, they started a bloody war against this race. The...
---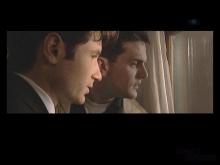 X-Files Game, The 1998
The The X-Files is a really remarkable piece of entertainment software. You play the role of Craig Willmore, an FBI agent assigned with the urgent task of tracking down missing agents Fox Mulder and Dana Scully. The entire game is played via video footage that has the same quality look...
---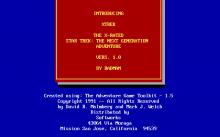 Xtrek 1991
Xtrek is a text adventure that originated from Star Trek-based erotic fan fiction, leading to the emergence of a genre sometimes referred to as "adult interactive fiction" (AIF). The player controls a male Ensign named Marty Stu, a fresh Star Fleet Academy graduate, assigned to temporary duty on board the...
---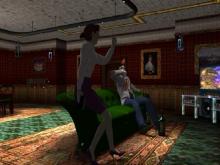 Y2K: The Game 1999
It is December of 1999 and Buster Everyman has just won the lotto. He decides to buy a fully computerized mansion. Apparently he has complete faith that everything will work come 12:01 January 1, 2000. Y2K The Gameopens with Buster and his girlfriend, Candace preparing to celebrate the new year. Busterhas...
---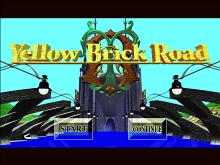 Yellow Brick Road 1996
Inspired by the Oz Books by L. Frank Baum, Yellow Brick Road concerns the player's attempt to thwart an invasion of the Emerald City by the Gnome King. Along the way s/he teams up with the tin man, lion, and eventually the scarecrow. Besides these, other recognizable figures from the...
---