Strategy Games #23
Search a Classic Game: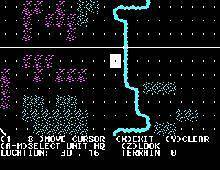 Kampfgruppe 1987
A platoon-level tactical game of armored warfare that encompasses almost all ground weapons used on the Russian Front from 1941-45. The Game puts the player in command of either a German or Russian battle group. Kampfgruppe provides four historical and an infinite number of randomly created scenarios. The historical scenarios: "Meeting...
---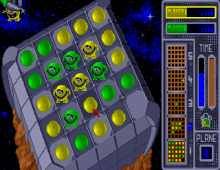 Kengi 1991
A decent puzzle game that is best described as Othello in 3D. In this board game variant, you and the computer player take turn placing Kengi (small aliens) on the game board. Each player scores by placing four or more of his/her Kengis to line up in any direction. The...
---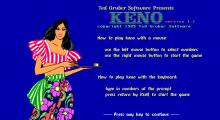 Keno 1989
Keno is a simple, no frills adaptation of the popular casino game. You must pick up to fifteen numbers out of eighty total. Once you've done that, the computer will choose twenty random numbers. If any of the numbers you chose are the same as the ones that came up during...
---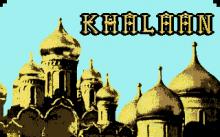 Khalaan 1990
Khalaan is an interesting strategy game of empire building set in the ancient Arabic world. Turn based, it requires you to establish trade, raise armies, and manage your economy to build a strong empire. You can expand your empire through conquest and diplomacy. Turns are seasonal, and military, naval, and...
---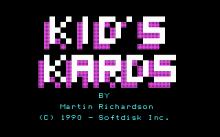 Kid's Kards 1990
This game combines four popular children's card games into one program. For solitaire fun, it offers Memory Match, the classic "flip the cards and look for matching pairs" challenge. For play against a computer opponent, it provides Old Maid, Go Fish and Slapjack. The first two of these barely need...
---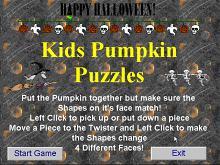 Kid's Pumpkin Puzzles 1998
Put together the pumpkin, but make sure his face matches or the goolies might get you. Full of music, sounds, and animations to put you in the Halloween spirit with 4 different faces. ...
---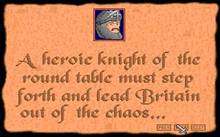 King Arthurs K.O.R.T. Deluxe 1994
From the Manual: "King Arthur's K.O.R.T is an exciting game of conquest for all ages. You are a knight and your task is this: to conquer Britain. You can accomplish this task only if you defeat your 4 opponents. To do that, you'll have to be clever and attack the...
---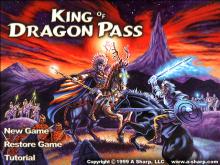 King of Dragon Pass 1999
It's hard to categorize King of Dragon Pass, from publisher A Sharp. On one hand, it has the makings of a strategy title with a blend of resource management, battles, and social interaction. On the other hand, it has a mixture of quests, tribe creation and magic that give it...
---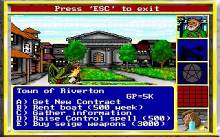 King's Bounty 1990
As a knight, paladin, barbarian or sorceress, amass an army of creatures to take on the local baddies and search for the Sceptre of Order. A turn based game with a time limit that decreases depending on the skill level you play at. Depending on your allegiance, you will initially start...
---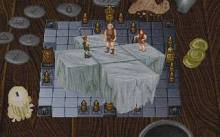 King's Table: Legend of Ragnarok 1993
A version of an old Norse board game called King's Table. The game has black and white teams, like chess, but each team has different pieces and a different raison d'etre. The white team has a total of 13 pieces, the most important one being Odin the King, who starts...
---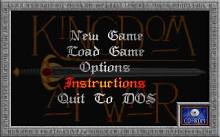 Kingdom at War 1992
Kingdom at War is a turn based strategy game in which you control a medieval country and set out to conquer all other countries. You can raise armies, improve your castle and its defenses, conduct diplomacy, and improve your economy. Set scenarios, and randomly generated maps allow for varied replay...
---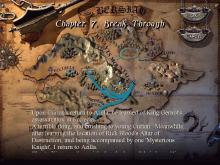 Kingdom Under Fire: A War of Heroes 2001
Kingdom Under Fire: A War of Heroes takes place in the land of Berish, a fantasy realm with a shady past. Rick Miner, a hero who perished in battle against the Black Dragon Nibles (we can only assume it's not pronounced "nibbles"), has been resurrected. But his resurrection is twisted...
---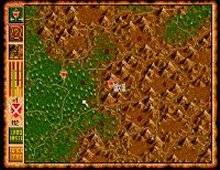 Kingdoms of Germany 1994
Based on the engine of Kingdoms of England, the game represents the same game, but flown now in the German lands. As its predecessor, the game is turn-based medieval strategy game for up to six humans or computer opponents. Each player assumes the role of a Lord in control of...
---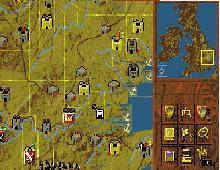 Kingmaker 1994
There's a fine line between strategic prowess and judgmental ability. Kingmaker toes this line head on and proceeds merrily down the path towards a satisfying mix of cunning, luck, opportunity and historical (although not always strictly accurate) perspective. In part, this is due to the fact that the game is...
---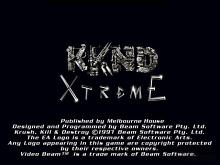 KKnD Xtreme 1997
KKnD Xtreme is a great "expanded edition" of KKnD, one of the most underrated - and funny - real-time strategy games ever made. The official site explains why KKnD fans should get this version: " We've taken KKnD and rebuilt it for Windows '95, also adding new game modes and...
---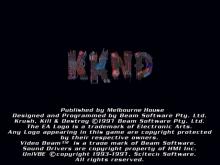 KKND: Krush, Kill 'N' Destroy 1997
The game play is set in real time, similar to Dune 2 or Command and Conquer, were wasteland warriors lead futuristic tanks and mutated beasts in an attempt to destroy enemy bases and units. Play takes place in individual missions, each with it's own agenda and goal. The missions offer...
---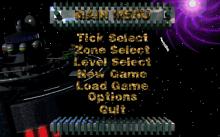 Klondike Moon (a.k.a. Luna Ticks) 1997
Klondike Moon (later released as Luna Ticks in Australia only) is a lackluster real-time strategy game that features some innovative units, but poorer-than-average gameplay hampered by a cumbersome interface. Set in the future, you play a spacefaring enterpreneur who must grow a mining business on various moons to repay a...
---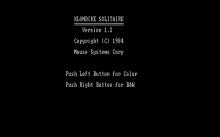 Klondike Solitaire 1984
A mouse-only game for DOS, Klondike Solitaire is a simulation of its namesake. Using the mouse to click cards, you move cards of alternate suits onto each other in an effort to move them off the tableau. Cheating is technically allowed, but doing so will get you "yelled at" by...
---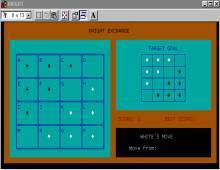 Knight Exchange 1988
Knight Exchange is a fun and quite unique board game based on concepts similar to chess. In this game, the board is a four by four grid. Twelve markers, each representing a chess knight, are placed on the board, with six white markers placed in the lower right of the...
---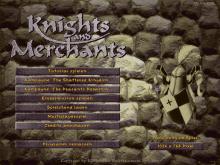 Knights and Merchants: The Peasants Rebellion 2001
Knights and Merchants is a strategic economy simulation with real-time strategy military elements. In the "Shattered Kingdom" campaign, players control the last remnants of a king's forces, and must defend the city from oncoming attacks. In the "Peasants Rebellion" campaign, players will defend existing settlements against angry mobs of medieval...
---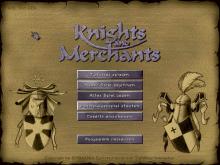 Knights and Merchants: The Shattered Kingdom 1998
Knights and Merchants is based in the Anglo-Saxon period around 1200 AD and puts players in the role of engineer, commander, and mayor. The player must build up what is left of the king's last province and turn it into a bustling center for commerce by constructing the appropriate buildings....
---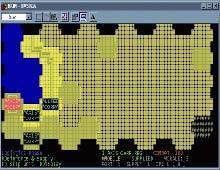 Knights of The Desert 1983
Knights of the Desert is the operational level simulation of Rommel's famous North African Campaign of WWII. The game begins in March 1941 and ends in February 1943 in 12 turns each representing 2 months. Both players goals are the same. That is to sweep across the northern coast of...
---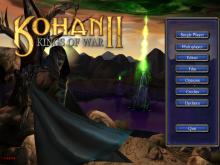 Kohan II: Kings of War 2004
Return to the war-torn fantasy realms of Khaldun in this full sequel to one of the most innovative and acclaimed strategy games of 2001. Kohan: Kings of War is designed to retain and enhance the distinctive mix of gameplay elements that won so many fans of the original, while implementing...
---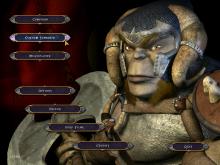 Kohan: Ahriman's Gift 2001
Kohan: Ahriman's Gift is a prequel to Kohan: Immortal Sovereigns. Although it could have been just an expansion, you won't be disappointed with the new units and maps. As Roxanna Jovidan, part of the Ceyah, you've been trapped in an amulet for six long ages, continuously waiting and becoming angrier...
---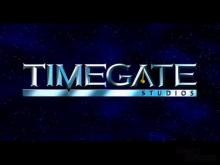 Kohan: Immortal Sovereigns 2001
Kohan: Immortal Sovereigns is about gameplay. The between-mission storyline is merely charming; grand in scope but understated in presentation. The interface is almost perfectly appropriate for the tasks at hand, though certainly not revolutionary in any particular way. Every rudiment of gameplay -- each interaction designed to challenge you in...
---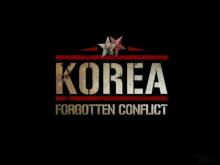 Korea: Forgotten Conflict 2003
While many younger Americans may have learned most of what they know about the Korean War from watching reruns of *M*A*S*H, this tactics-oriented war game is designed to offer PC gamers a deeper perspective on the conflict -- and to ensure that it is not "forgotten" after all. Korea: Forgotten...
---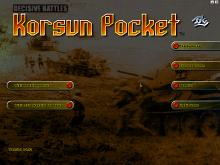 Korsun Pocket 2003
Using an improved version of The Ardennes Offensive engine, Korsun Pocket takes place on the Russian Front, along the Dnepr River in the early months of 1944. It was here that the German forces made their last, desperate attempt to escape the circling forces of the Russian army. Players assume...
---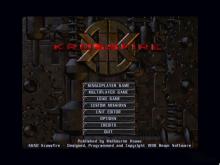 Krush, Kill & Destroy: Krossfire 1998
The sequel to Beam Software's KKND this is a 2D real-time strategy game that features 51 single player missions and 20 multiplayer maps. Players have three sides to choose from, the Survivors, the Evolved, and the Series 9 Robots. The standard real-time strategy game units are included -- ground-based, aerial,...
---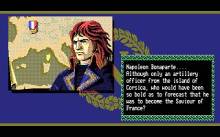 L'Empereur 1991
L'Empereur is a military strategy game. The game takes place during the violent aftermath of the French Revolution and follows the rise and fall of Napoleon Bonaparte who became one of the most popular and charismatic leaders of France. Gameplay You start as an officer in charge of the military and local...
---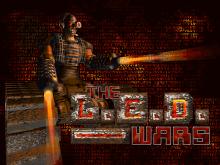 L.E.D. Wars 1997
L.E.D. Wars is an above-average real-time strategy game that in the end plays like a low-cost alternative to Westwood's famous Command & Conquer series. The plot: in the 21st century cyberpunk world, people can't survive without liquid evolution drugs, or L.E.D. Your job is to secure your megacorporation's production of...
---