Strategy Games #29
Search a Classic Game: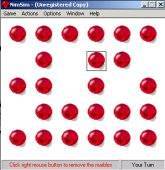 NimSim 2001
NimSim is a fun PC version of Nim, one of the oldest mathematics-based 2-player games. The game of Nim is thought to originate in China, and has been the subject of interest for mathematicians and computer scientists for years (the first Nim-playing 'computing machine' was created back in 1940). A...
---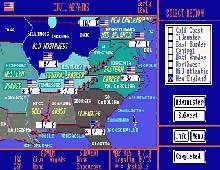 No Greater Glory 1991
No Greater Glory puts you in the shoes of Abraham Lincoln or Jefferson Davis during the American Civil War. You make the great strategic, political, and economic decisions that will determine the fate of the American people for centuries to come. You will lead the government, mobilize the armies, pick...
---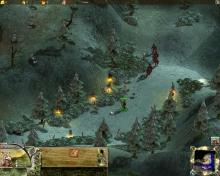 No Man's Land 2003
No Man's Land introduces the struggle for North America; players can choose from six civilizations -- British, Spanish, two tribes of Native Americans, patriots, and settlers -- and play through six stories across three campaigns. Users can choose from traditional tactics, such as open war, or more subversive strategies like...
---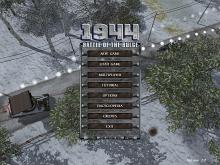 No Surrender: Battle of the Bulge 2005
Lead either the Axis or Allied forces to victory in this real-time simulation of World War II's Ardennes Offensive. More than 85 units are available to command, including artillery, tanks, rifleman, and air support. As the battles rage on, players can pause the game at any time to issue multiple...
---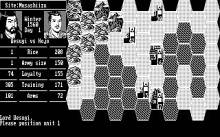 Nobunaga's Ambition 1 1988
In the 16th century, Japan's Sengoku ("Warring States") period divided the nation into numerous feudal states, each ruled by a daimyo. These daimyos would often go to war with each other. Many dreamt of conquering the land, becoming the Shogun and ruling the entire country. One of those daimyos was...
---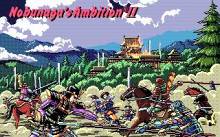 Nobunaga's Ambition 2 1989
Nobunaga's Ambition II is the sequel to Nobunaga's Ambition. The setting is 16th century feudal Japan, a period when ruthless daimyo (feudal lords) contended with each other for dominance. Ultimately, the winner in this struggle will become Shogun and hold actual power over the islands, while being nominally subject to...
---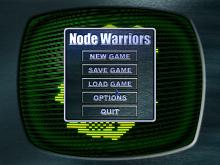 Node Warriors 2002
Node Warriors is an excellent fanmade version of Wizard of the Coast's addictive board game RoboRally. The official plot goes as follows: "it is the year X002. The internet as we know it is now known as the Intercyberweb (ICW). You are a protector of the ICW: a Nodewarrior. Your...
---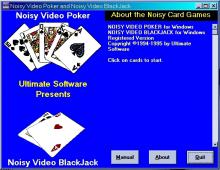 Noisy Video Poker and Blackjack 1995
Noisy Video Poker and Blackjack for Windows is similar to the video machines found in casinos. Originally, Noisy Video Poker and Noisy Video Blackjack could be purchased separately or together. If bought together (on one disk), both games are accessible within all of the games by clicking your mouse on...
---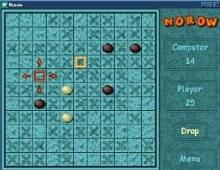 Norow 1997
Norow is a unique boardgame where you must occupy as much squares on the board as possible without having more then two squares in a row. The official rules: "...the game itself is very simple: you and the computer alternately drop chips on the board but you can't put more...
---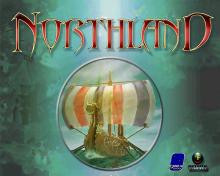 Northland 2002
Northland is the third game in the Cultures series, picking up where Cultures 2 ended. Having been banned by Odin, Loki -- a Nordic god known for lies and plotting against his colleagues -- is searching for a way back into Asgard. His latest plan involves making use of four...
---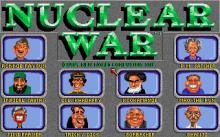 Nuclear War 1989
In Nuclear War you have to blow the opposition to smithereens - you have four opposing factions. You can either drop the bomb on them using a bomber, fire a missile, or try to lure their population using propaganda. Ocassionally a random event occurs, for example aliens would land on one...
---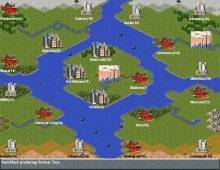 Nuclear War 3: Ground Zero 2001
Nuclear War 3: Ground Zero is an excellent fanmade remake of New World Computing's Nuclear War. The game is the third installment in RC Software's line of Nuclear War remakes that dates from 1997. Game rules closely mirror NWC's classic with some tweaks: Nuclear War is a turn-based "world domination"...
---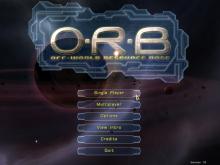 O.R.B.: Off-World Resource Base 2002
In this real-time strategy space-based war between the Malus and Alyssian factions, players fight for resources in the mineral-rich fields of an asteroid belt by researching and developing technologies in the areas of energy, materials, construction, explosives, electronics, and academics. Strategic elements of O.R.B.: Off-World Resource Base include scanning asteroids...
---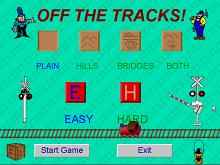 Off the Tracks 1998
This kid's game teaches your children about mapping, using one of their favorite subjects - trains! You have to build a set of tracks to get the train to its shed, while avoiding mountains and crossing bridges. The game is easily mouse-driven for pre-readers. There are four different sets of...
---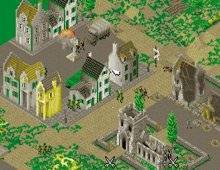 Offensive 1996
Offensive is an RTS/Wargame, that put you at the battlefields of World War 2. As an axis or allies commander, play through 20 various scenarios, from Normandy invasion to the capture of Berlin. Control 15 different types of units, including armor, tanks, trucks, guns and infantry. Game uses isometric graphic engine...
---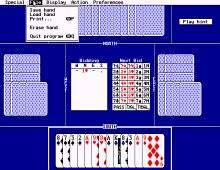 Omar Sharif on Bridge 1992
This Bridge game has built-in tutorial mode which makes it easy for novice players to start enjoying the game right away. Omar Sharif himself will guide you through the rules, and the sample hands show you the best bid or play to make in a variety of situations. For the more...
---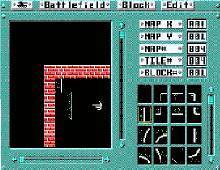 Omega 1989
Omega is a new direction in game design. The plot is innocent enough: futuristic tanks battling. There is a twist, however: the tanks are controlled by computers. It's your job, as the player, not to control the tanks in real time, but to learn a programming language designed for the...
---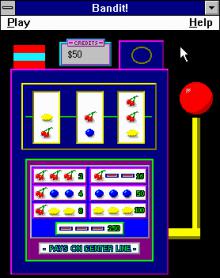 One Armed Bandit 1991
One Armed Bandit is a very simple slot machine simulation program. You start with 50 credits; each play costs one credit. Every time you pull the lever by pressing Space, Alt + P or selecting "Play" with your mouse, you'll have a chance to win more credits. Unlike most slot machines,...
---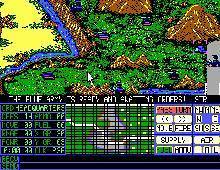 Operation Com*bat 1990
Lead your troops to victory in Operation COM-BAT: Computer Battle Game. Pit your military might against the computer or a human opponent (via modem) on six different battlefield terrain maps including Rocky Canyon, Jungle Ruins, Desert Dunes, River Meadow, Marshland Bog and Archipelagos. Each terrain has 12 scenarios. Game pieces...
---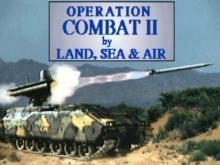 Operation Combat II: By Land, Sea and Air 1993
Operation Combat II: By Land, Sea and Air is an isometric timed turn-based wargame strategy, similar to Perfect General or Modem Wars. You choose one of six available battle terrains and face off against an opponent with only one objective - annihilate the enemy's headquarters. You can play against computer or...
---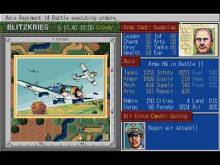 Operation Europe 1994
The game is an historical simulation of the European and North African theaters of World War II. The game allows up to two players to role-play as Army commanders for either the Axis or Allied forces. This game emphasizes the military aspects of the war and leaves diplomacy to the...
---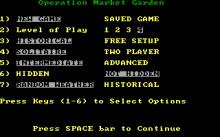 Operation Market Garden 1985
Operation Market Garden is a recreation of the largest daylight airborne operation in history on September 17, 1944. As commander of the Allied forces you will direct the American 82nd and 101st Airborne Divisions, the British 1st Airborne Division and the 30th Corps to their historical objectives. The Allied player...
---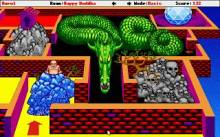 Origamo 1994
Origamo creates an electronic-itch that puzzle gamers, once hooked, feel they must scratch. In the guise of a computer game, Origamo, sad to say, is really nothing more than a gimmick game in the same category and tradition as such action puzzlers as Tetris and Pipe Dream. Basically, the entire...
---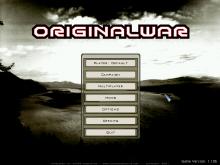 Original War 2001
Original War takes place in both the future and the far distant past. The prehistoric-era combat reflects the first large-scale battles ever seen on planet Earth, but are spawned by resource hungry nations of the future, the US and Russia. Unfortunately, this tired and frustrating game is also stuck in...
---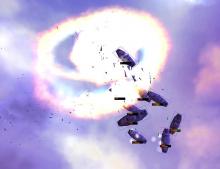 Outforce, The 2000
This real-time strategy is set in space and involves three warring races. Battles take place in a 3D arena where futuristic weapon fire shines through dark voids and colorful nebulae. Graphics are presented in full 3D, though most ship movement takes place on a single plane to simplify strategy. The...
---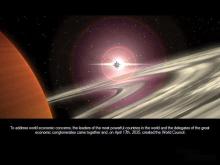 Outlive 2001
Outlive is set in a very near future, when greedy governments and rampant overpopulation have left the resources of Earth scarce and difficult to control. As soon as the nations of Earth form the World Council alliance to seek possible solutions to these problems, a counter organization develops to protest...
---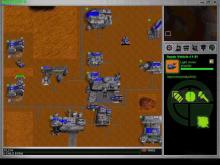 Outpost 2: Divided Destiny 1997
It seems as if this ill-fated (perhaps star-crossed?) title from Sierra is going to remain the bane of the company's reputation. After the disastrous release of the terribly incomplete original title, a redone version 1.5 (available on both CD-ROM and 3.5" formats) was released that fixed most of the significant...
---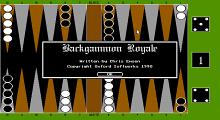 Oxford Games 1991
Oxford Games is a collection of three early games from Oxford Softworks: Bridge 2,000, Backgammon Royale, and Chess Player 2150. They are all solid releases compared to their peers at that time, and strong AI - the company's hallmark - is already evident in all three games. All three games...
---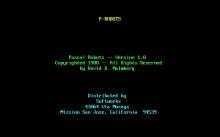 P-Robots 1988
P-ROBOTS ("pee-robots") is a game based on computer programming in PASCAL. The concept and framework was inspired by C-ROBOTS (the same concept, except using the C language). The object of the game is to design and program a "robot" that can triumph over similar robots designed and programmed by others in...
---
P.T.O. II 1995
PTO II is a KOEI game that depicts the conflict between the USA and Japan during World War II. The player takes control of the Navy forces of both nation, and tries to outsmart each other. ...
---