Strategy Games #6
Search a Classic Game: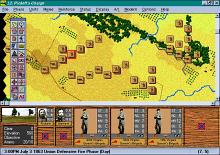 Battleground: Ardennes 1995
Battleground: Ardennes is the first of the Battleground Series of war games focusing on specific significant military confrontations. This title concentrates on the Battle of the Bulge from late 1944 to early 1945, presented through more than two dozen scenarios with specific attention given to three major battles. Gameplay is...
---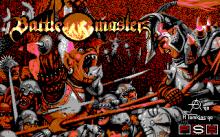 Battlemaster 1991
An early squad based combat strategy game set in a medieval style fantasy world. The player decides which race they want to play (Human, Orc, Dwarf or Elf) each with their own strengths and weaknesses. It is then a matter of clearing out areas of opponents and finding items to enhance...
---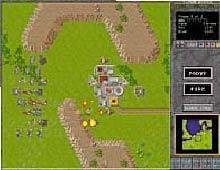 Battles in Time 1995
Battles in Time is QQP's latest offering to the combat simulation genre. The plot is simple enough: in the far future, man has eliminated the need for war. When Earth is faced with an alien threat that can only be countered by force, a leader has to be selected to...
---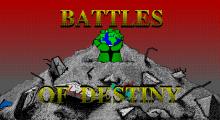 Battles of Destiny 1992
A futuristic game of risk, but, with MANY more twists. Production and professions. Much more than meets the eye. Even the decline and rise of certain metals and resources. Start out with a small town-like fort; build up into an empire. Spaceships, water craft and more. Take over the world...
---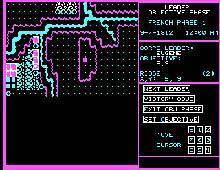 Battles of Napoleon 1989
Battles of Napoleon, released in 1988, is a cut above many war games published for the genre in the years when the home computer was relatively new. The game stands out when compared to others because of the clarity of components and straightforward command controls. While still reminiscent of the...
---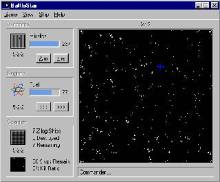 Battlestar 1996
BattleStar is basically a Battleship-variant for one player. The player controls a space ship which needs to kill all Zilog ships on the 8x8x8 game field. The game shows only one perspective at the time but by using one of the three scanners the perspective shifts and it also says...
---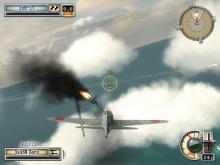 Battlestations: Midway 2007
Taking its title from the strategically crucial atoll in the middle of the Pacific Ocean, Battlestations: Midway is a naval warfare game featuring both action and strategy set during World War II. The game's main campaign begins with the attack on Pearl Harbor and follows major engagements in the Pacific...
---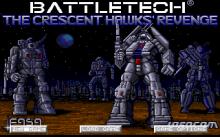 BattleTech 2: The Crescent Hawk's Revenge 1990
Battletech: The Crescent Hawk's Revenge continues the story of Jason Youngblood from the point where its predecessor, Battletech: The Crescent Hawk's Inception, ends. The game opens with the Crescent Hawks being dropped on the Kell Hounds' home planet and takes players through the Battletech universe's timeline. Players will fight House...
---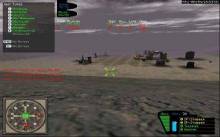 Battlezone (1998) 1998
If you miss the romance and intrigue of the Cold War but are looking for something a little more high-tech than campy James Bond-style gadgetry (e.g., cigarette rocket launchers), Battlezone may be worth a look. It's a golden opportunity to exorcise those residual capitalist/communist tensions in your psyche, only this...
---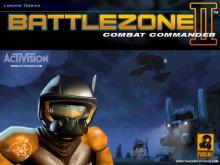 Battlezone 2: Combat Commander 1999
The original Battlezone game, released in the mid-1990s, was a truly original and innovative breakthrough in computer gaming. It combined the addictive adrenaline rush of a first-person perspective shoot-'em-up with the stealth and planning of a real-time strategy campaign; and, although it won the hearts and trigger fingers of fans...
---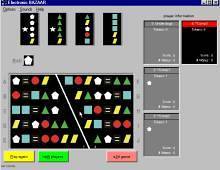 Bazaar 2002
Bazaar is an excellent freeware (formerly shareware) PC version of Sid Sackson's outstanding board game of the same name. Bob Claster, maintainer of the Internet's best website about this prolific game designer, says it all about this wonderful board game that is unfortunately not as famous as Computer Acquire, Sackson's...
---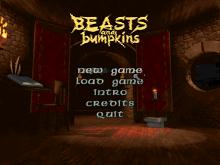 Beasts & Bumpkins 1997
Beasts and Bumpkins is a great Settlers-style gem that is one of the very few games from software giant Electronic Arts that were released very quietly without any marketing hype, and only in Europe. And that's a shame, because in contrast to many hyped-but-horrible games EA put out, BNB is...
---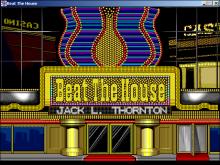 Beat the House 1995
Beat the House teaches players how to win at various casino gambling games by explaining several methods of strategy, including card counting. Games include craps, poker, roulette, blackjack, and video poker. A large manual (Beat the House Companion), packed full of tips from well-known casino player Avery Cardoza, is part...
---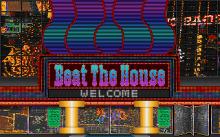 Beat the House 1992
Beat the House teaches players how to win at various casino gambling games by explaining several methods of strategy, including card counting. Games include craps, poker, roulette, blackjack, and video poker. A large manual (Beat the House Companion), packed full of tips from well-known casino player Avery Cardoza, is part...
---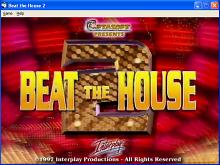 Beat The House 2 1997
The sequel Beat the House 2 is a simulation/tutor that teaches gamers the fine art of gambling. This package includes several variations of blackjack, craps, mini-baccarat, roulette, Sklansky's poker challenge, slot machines, and video poker. In addition to graphical and interface improvements over the original, this title offers a more...
---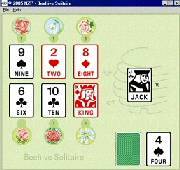 Beehive Solitaire 2005
Beehive Solitaire is a solid PC implementation of an original solitaire game by NZP. From the official blurb: "This good and little-known solitaire is easy to play, and can be won reasonably often. But it's not unusual for a game to get blocked just when you least expect it! In...
---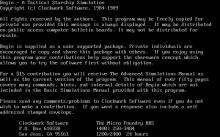 Begin: A Tactical Starship Simulation 1989
Simulating the struggle between the nations of the Star Trek universe, Begin: A Tactical Starship Simulation puts you in charge of a fleet or a single ship against adversaries of your choosing. Four nations are available for the player to choose from; Federation, Romulan, Klingon, and Orion. After selecting who...
---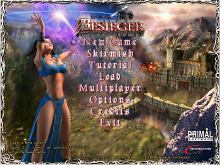 Besieger 2004
Fantastical battles between Vikings and Cimmerians are brought to life in this territorially focused real-time strategy game. Set in a Northern Europe of long ago, Besieger features fictional creatures and peoples of legend. In addition to the armies of rival nations, players will also face ogres, werewolves, centaurs, and other...
---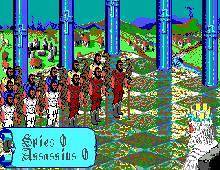 Betrayal 1990
Betrayal is a manager type strategy game. You try to gain control over various regions in order to supply your men with the necessary resources to defeat your enemies. As the game title says, the game has a main focus on illegal and secret operations in order to weaken your opponents. ...
---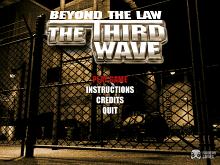 Beyond the Law: The Third Wave 2003
Magnum Games enters the PC gaming market with Beyond the Law: The Third Wave, a squad-based strategy-shooter. Players find themselves responsible for choosing among 50 paramilitary specialists in order to create a super group -- one designed to operate beyond the law. Merciless mobsters have gathered in New York City,...
---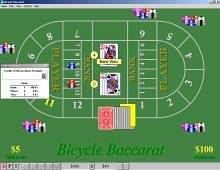 Bicycle Casino 1995
Players sign into the guestbook at a simulated Las Vegas hotel, grab some chips, and head out for the games of chance that lure in so many unsuspecting people year after year. A selection of the most popular casino games is available for play, including craps, slot machines, roulette, blackjack,...
---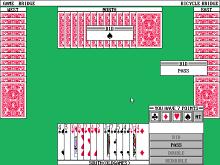 Bicycle Limited Edition 1994
Bicycle Limited Edition contains an excellent group of card games that the true card game enthusiast can appreciate. It offers Solitaire, Poker, Cribbage, and Bridge; each is run independently, but with the advantage of a simple, but well-rendered, common interface. Each game has the same intuitive menu interface, and you can...
---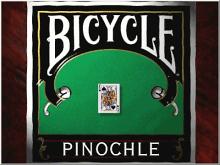 Bicycle Pinochle 1997
A value-priced title featuring the Bicycle card company license, Bicycle Pinochle is a card game based on tricks and melds. Players attempt to score the most points before the end of the game, and points are scored by winning tricks and melding. Six varieties of play are offered, including 2/3/4...
---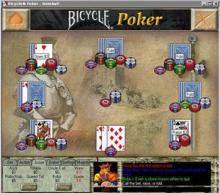 Bicycle Poker 1996
Bicycle Poker offers a wide variety of game options, tutorials, animated opponents, narration, and an option for online play. Environments (e.g., winter and summer), multiple front and back card designs (size and font), and sound themes (five different soundtracks) are designed to bring the game of poker to life. Game options...
---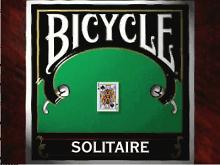 Bicycle Solitaire 1996
Bicycle Solitaire, the classic American card game, has over 50 different versions of Solitaire, including favorites like Klondike, with varying skill levels: Hard, Medium, Easy, Favorites and Kids. No need for a scratch pad to keep your score, Bicycle Solitaire tracks all scores with a click of a mouse. Bicycle Solitaire allows...
---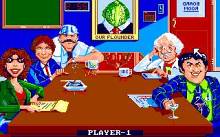 Big Business 1990
As CEO of a company the player's main goal will be making business decisions to stay ahead of the competitors and increase shareholder value. A plus for this game is the comic-style graphics. ...
---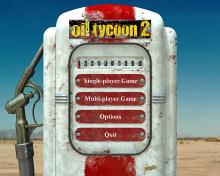 Big Oil 2005
As its title makes clear, this business-building strategy game is all about the oil industry, challenging players to turn a profit throughout a campaign that follows the history of fossil fuel through the 20th century and beyond. Big Oil: Build an Oil Empire delivers 17 scenarios in which single players...
---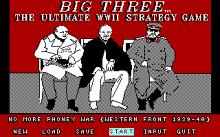 Big Three, The 1989
The Big Three is a grand strategic-level wargame set in World War II that covers the entire Europe, Northern Africa, and Eastern Russia. You can play as one of the "Big Three" (US, UK, or Russia) and coordinate combined arms attacks with the other 2 superpowers. Each side gets some...
---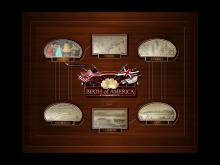 Birth of America 2006
Experience the Birth of America as you take control of American soldiers between the years 1755 and 1783, and then lead them through the French and Indian War and the American Revolutionary War. Repel the redcoats in New England, Florida, Quebec, and Mississippi by drafting forces, building forts and depots,...
---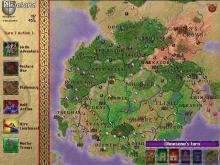 Birthright: The Gorgon's Alliance 1997
The first in a planned trilogy of games based on TSR's popular AD&D franchise, Birthright challenges you to unite the divided kingdoms of Anuire. It won't be an easy task, because an enemy called the Gorgon is systematically killing the kings of the land and consuming their bloodlines. Playing the...
---