Strategy Games #34
Search a Classic Game: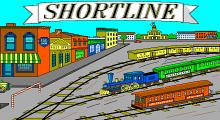 Shortline Railroad 1992
Shortline is an excellent beer-and-pretzel realtime railroad management game that eschews complicated financial aspects (as in A-Train) and all realistic factors in favor of the pure joy of creating a miniature railroad. You goal is to assure an uninterrupted collision-free passage of different trains to target points, and your success...
---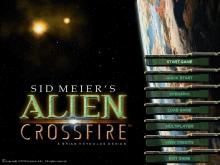 Sid Meier's Alien Crossfire 1999
Sid Meier's Alpha Centauri, the game for which this expansion is designed, is an incredibly complicated strategy title with an extremely steep learning curve that requires mastering a dictionary's worth of world-class techno-babble. As such, approaching the expansion, Sid Meier's Alien Crossfire, is enough to give one pause since quite...
---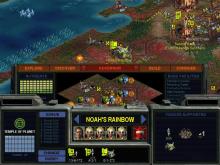 Sid Meier's Alpha Centauri 1999
With his latest title, it isn't so much that Sid Meier has done it again, but rather he's done more. And more of a good thing it is indeed. Sid Meier's Alpha Centauri is an excellent sequel to Civilization and Civilization II with the colonization ship arriving on a strange...
---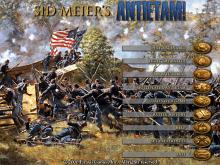 Sid Meier's Antietam! 1999
Sid Meier's Gettysburg! was a combination of challenging strategy and attention to detail. Now, with the follow up title Sid Meier's Antietam!, fans of the genre can expect more of the same with this 3D real time war strategy game, Firaxis' second Civil War installment. The attention to detail will likely...
---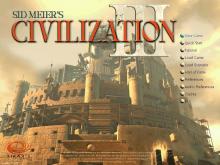 Sid Meier's Civilization 3 2001
For over 20 years, master game designer Sid Meier has produced a steady stream of titles shaping the landscape of the gaming world, and now Sid Meier's Civilization III gives you the opportunity to shape a virtual world as you see fit. The third installment in the famous Civilization series...
---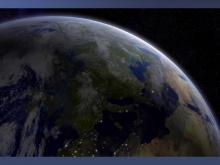 Sid Meier's Civilization IV 2005
From humble beginnings as a prehistoric tribe of hunters and gatherers, to a far-flung future of extra-terrestrial colonization, players lead their people to dominate Earth and beyond in this era-spanning game of empire-building. A true living legend of computer game design, Sid Meier invites strategists to conquer the world all...
---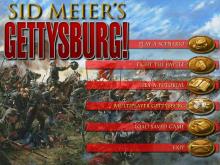 Sid Meier's Gettysburg! 1997
Sid Meier's Gettysburg! manages to do what many similar takes on the great conflict have failed to do -- take the events of the battle and present them with epic grandeur yet keep them simple to play without getting bogged down with too many rules. The actual gameplay is set in...
---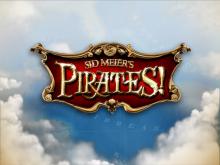 Sid Meier's Pirates! 2004
Led by renowned developer Sid Meier, Firaxis reprises one of the most universally acclaimed titles of the early days of computer gaming. This 2004 version of Sid Meier's Pirates! follows the multi-genre design of the 1987 original, while updating both presentation and gameplay with contemporarily cutting-edge technologies. Players take the...
---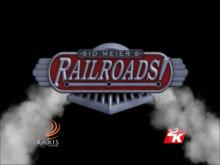 Sid Meier's Railroads! 2006
Make tracks and deliver the goods to become a powerful adversary and businessperson in a reincarnation of the classic game, Sid Meier's Railroads! Much like the original, this edition of Sid Meier's Railroads! features the challenge of creating a railroad empire by making something out of nothing during a time...
---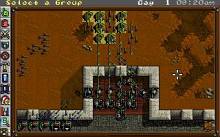 Siege 1992
Once upon a time in the land of Gurtex, the Forces of Darkness rose up in defiance of the Children of Light. This gruesome horde of evil-doers besieged four castles/fortresses in an attempt to throw the world into an era of darkness and chaos. By pillaging villages, destroying the countryside,...
---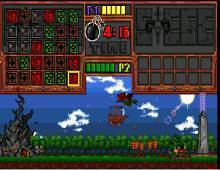 Siege (Freeware) 2001
Siege is an excellent and unique puzzle/strategy game from Fallen Angel Industries. The review at Total Klik says it all about this underrated gem: "Siege blends the strategy and puzzle game genres to create something exceptionally unique. Using 1 of 6 generals you war with each other with 20 unit types...
---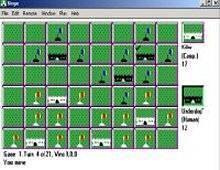 Siege! (a.k.a. Freedom Under Siege) 1992
Siege! is an interesting and unique board game that plays like a more 'real-world' version of Checkers. Your objective in the game is to control the most territory on the board after a given number of turns. The game revolves around placing four kinds of structures and use their 'spheres of...
---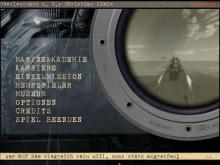 Silent Hunter III 2005
The SSI's classic submarine sim series returns to take players beneath the dangerous waters of World War II. Ubi Soft's Silent Hunter III runs on a new 3D game engine, designed for realistic water modeling and detailed cabin surroundings. This third game's interface is intended to be more intuitive and...
---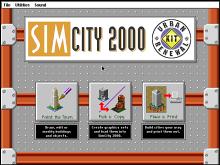 SimCity 2000: CD Collection 1994
SimCity 2000 is the successor to the ground breaking city simulation game Sim City. You are once again the mayor, but this time you can fully customize the terrain before building your city. The graphics are isometric, whereas the original had graphics displayed in a top-down fashion. This title adds numerous...
---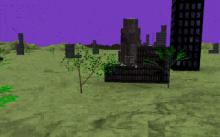 SimCity Enhanced CD-ROM 1993
The original Sim City game was a revelation to thousands of computer gamers. It was a game where you could really affect the outcome of the game by the way you built your city, and was the forerunner of simulation games to come. Since then, the franchise has been expanded with...
---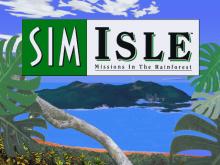 SimIsle: Missions in the Rainforest 1995
Unlike SimEarth, SimTower, or SimCity, SimIsle -- subtitled "Missions in the Rainforest" -- allows you to take over the development of any number of islands in a long chain. Many of them have missions. Five small islands comprise a tutorial that teaches the things you need to know to play...
---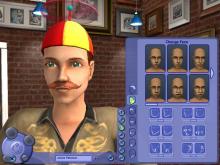 Sims 2, The 2004
The world's most successful "people simulator" gets a new lease on life in The Sims 2, the first full sequel to Maxis best-selling original. This 2004 release updates nearly every aspect of the Sims experience, from opening presentations to deep-down gameplay. The sequel features full 3D graphics, extensive new building...
---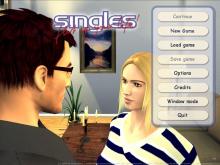 Singles: Flirt Up Your Life! 2004
Singles: Flirt Up Your Life is a personality simulation game that revolves around the development of a romantic relationship between two everyday characters, who begin as mere acquaintances sharing an apartment. As in Maxis' The Sims, players spend their time managing their character's day-to-day activities (such as going to work,...
---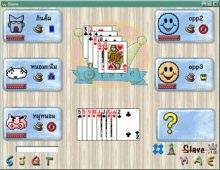 Slave 2001
Slave and JubMoo ("catch the pig" in English) are two most popular parlor card games in Thailand. The games are similar in that each player's moves depend on the previous player's move, and both good memory and planning skill is required to win. One reason both games are very popular...
---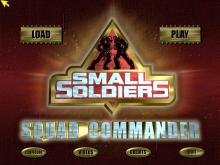 Small Soldiers: Squad Commander 1998
Red Alert Junior Addition? Not quite, but that is the general premise of Dreamworks Interactive's Small Soldiers game, Small Soldiers: Squad Commander. This games is basically a no frills real time strategy game, and Small Soldiers is geared towards the under 12 crowd. As per typical RTS games, you can choose...
---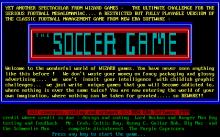 Soccer Game, The 1989
Take the role as team manager of a UK football (soccer) team in The Soccer Game. Choose from one hundred teams and utilize a database of 1270 players and hundreds of support staff from assistant managers to physiotherapists. Playing from charts and graphs manage the team well enough to move...
---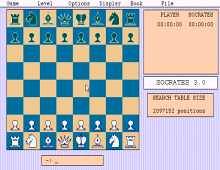 Socrates 1993
One of the most famous computer chess engines ever created, Socrates 3.0 is the engine behind EA's underrated Kasparov's Gambit and was, in mid '80s, THE engine commonly considered the best chess AI ever created. Although it has since been eclipsed by more modern programs such as Deep Blue, this...
---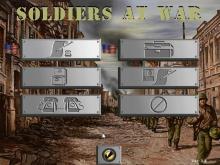 Soldiers at War 1998
Soldiers at War is a turn-based squad-level WWII combat game. Lead your squad of eight men through eighteen linked scenarios that will test your commando skills to the fullest. Try your hand at D-day, Anzio, or take out a V-2 rocket site. Fight it out with real opponents using four-player...
---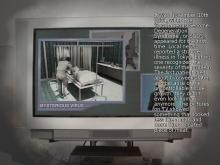 Soldiers of Anarchy 2002
Soldiers of Anarchy offers players a future where a genetically engineered virus has eliminated most of civilization. The aftermath, the anarchy, is a terrifying place where armed hoodlums rule the world, people are enslaved, and the creeps who designed the virus are roaming free. Gameplay involves controlling small groups of...
---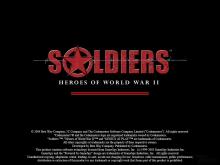 Soldiers: Heroes of World War II 2004
Soldiers: Heroes of World War II is a real-time strategy game with objective-based missions. Instead of simply needing to conquer the opposition, game levels often pose specific challenges to the player's squad of soldiers, such as rescuing prisoners, capturing enemies, destroying supply lines, and other guerrilla-style goals. Players can take...
---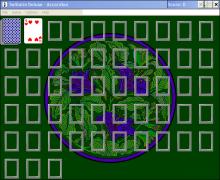 Solitaire Deluxe 1996
Solitaire Deluxe is a greatly updated version of Solitaire Royale. Designed for Windows, this solitaire collection contains 24 different games, ranging from popular games such as Golf and Klondike, to lesser-known games such as Calculation, Forty Thieves, Four Corners, Draw, and Upside-Down Pyramid. Released on CD-ROM, the game offers excellent...
---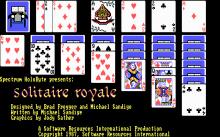 Solitaire Royale 1987
This was an early commercial instance of Card Solitaire. There are 8 different solitaire games, including Klondike, Calculation, and Three Shuffles and a Draw. You can also play "Aunt Anne's Tour" where you play all 8 in row, trying for the highest combined score, and 3 children's games. In addition,...
---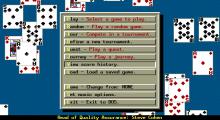 Solitaire's Journey 1992
For most of us with a PC, the notion of computer solitaire is a guilty pleasure. On the one hand, we don't want to admit to other people that we actually are too lazy to shuffle the cards ourselves. On the other hand, computer solitaire is addictive. It's very hard...
---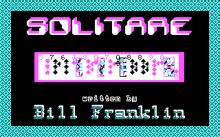 Solitare 1985
Solitare (sic) is a simulation of Klondike Solitaire with some variations in gameplay. Up to 5 players can play, and the computer can be one of those players. Since a "score" is kept, you can also pit each player against each other by forcing all players to start with the...
---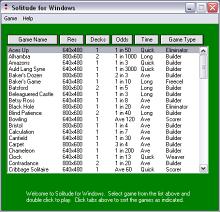 Solitude for Windows 1999
Solitude for Windows is a superb freeware collection of 91 solitaire card games for Windows. The games include many familiar favorites like Klondike, Yukon, and Poker Solitaire. But the highlights are modern or rare solitaire games that are rarely found in most solitaire programs, including the excellent version of Bowling...
---