Strategy Games #34
Search a Classic Game: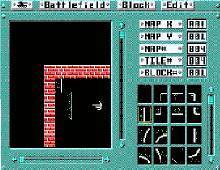 Omega 1989
Omega is a new direction in game design. The plot is innocent enough: futuristic tanks battling. There is a twist, however: the tanks are controlled by computers. It's your job, as the player, not to control the tanks in real time, but to learn a programming language designed for the...
---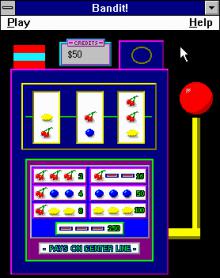 One Armed Bandit 1991
One Armed Bandit is a very simple slot machine simulation program. You start with 50 credits; each play costs one credit. Every time you pull the lever by pressing Space, Alt + P or selecting "Play" with your mouse, you'll have a chance to win more credits. Unlike most slot machines,...
---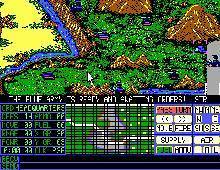 Operation Com*bat 1990
Lead your troops to victory in Operation COM-BAT: Computer Battle Game. Pit your military might against the computer or a human opponent (via modem) on six different battlefield terrain maps including Rocky Canyon, Jungle Ruins, Desert Dunes, River Meadow, Marshland Bog and Archipelagos. Each terrain has 12 scenarios. Game pieces...
---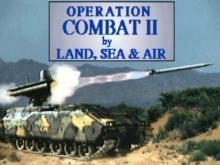 Operation Combat II: By Land, Sea and Air 1993
Operation Combat II: By Land, Sea and Air is an isometric timed turn-based wargame strategy, similar to Perfect General or Modem Wars. You choose one of six available battle terrains and face off against an opponent with only one objective - annihilate the enemy's headquarters. You can play against computer or...
---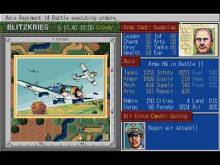 Operation Europe 1994
The game is an historical simulation of the European and North African theaters of World War II. The game allows up to two players to role-play as Army commanders for either the Axis or Allied forces. This game emphasizes the military aspects of the war and leaves diplomacy to the...
--- Operation Flashpoint: Red River 2011
Operation Flashpoint: Red River enlists players to lead a hostile force in a remote land, surrounded by serene mountains and deadly serious mission objectives. Building upon Dragon Rising, the series' high-def generation debut, additions in Red River include refinements to squad and enemy AI, a more accessible inventory system, and...
---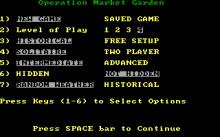 Operation Market Garden 1985
Operation Market Garden is a recreation of the largest daylight airborne operation in history on September 17, 1944. As commander of the Allied forces you will direct the American 82nd and 101st Airborne Divisions, the British 1st Airborne Division and the 30th Corps to their historical objectives. The Allied player...
---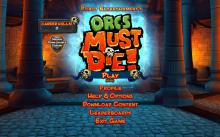 Orcs Must Die! 2011

---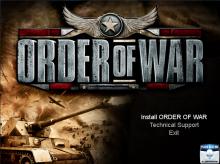 Order of War 2009
Order of War is a World War II strategy game featuring distinct campaigns on the Eastern and Western Fronts. Taking place during the summer of 1944, the game will have you guiding both the Americans against the Germans and the Germans versus the Russians across multiple missions and objectives. Unlike...
---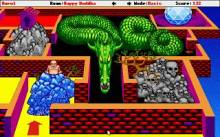 Origamo 1994
Origamo creates an electronic-itch that puzzle gamers, once hooked, feel they must scratch. In the guise of a computer game, Origamo, sad to say, is really nothing more than a gimmick game in the same category and tradition as such action puzzlers as Tetris and Pipe Dream. Basically, the entire...
---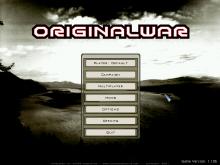 Original War 2001
Original War takes place in both the future and the far distant past. The prehistoric-era combat reflects the first large-scale battles ever seen on planet Earth, but are spawned by resource hungry nations of the future, the US and Russia. Unfortunately, this tired and frustrating game is also stuck in...
---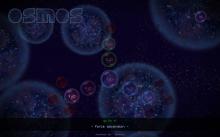 Osmos 2009

---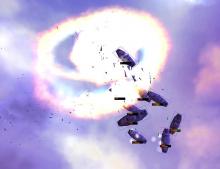 Outforce, The 2000
This real-time strategy is set in space and involves three warring races. Battles take place in a 3D arena where futuristic weapon fire shines through dark voids and colorful nebulae. Graphics are presented in full 3D, though most ship movement takes place on a single plane to simplify strategy. The...
---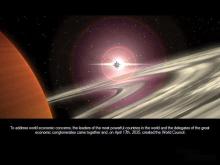 Outlive 2001
Outlive is set in a very near future, when greedy governments and rampant overpopulation have left the resources of Earth scarce and difficult to control. As soon as the nations of Earth form the World Council alliance to seek possible solutions to these problems, a counter organization develops to protest...
---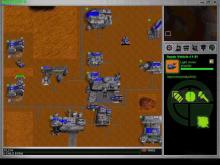 Outpost 2: Divided Destiny 1997
It seems as if this ill-fated (perhaps star-crossed?) title from Sierra is going to remain the bane of the company's reputation. After the disastrous release of the terribly incomplete original title, a redone version 1.5 (available on both CD-ROM and 3.5" formats) was released that fixed most of the significant...
---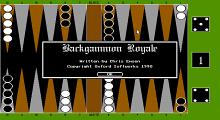 Oxford Games 1991
Oxford Games is a collection of three early games from Oxford Softworks: Bridge 2,000, Backgammon Royale, and Chess Player 2150. They are all solid releases compared to their peers at that time, and strong AI - the company's hallmark - is already evident in all three games. All three games...
---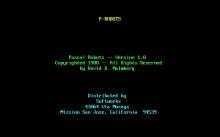 P-Robots 1988
P-ROBOTS ("pee-robots") is a game based on computer programming in PASCAL. The concept and framework was inspired by C-ROBOTS (the same concept, except using the C language). The object of the game is to design and program a "robot" that can triumph over similar robots designed and programmed by others in...
---
P.T.O. II 1995
PTO II is a KOEI game that depicts the conflict between the USA and Japan during World War II. The player takes control of the Navy forces of both nation, and tries to outsmart each other. ...
---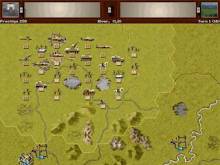 Pacific General 1997
*Pacific General is like a sister game to @SSI's *Allied General and *Panzer General, the original 5 Star Series games that created the powerful engine, with some Far Eastern refinement and improvements. This military epic allows players to command the allied forces, including the Americans, English or Chinese, or those...
---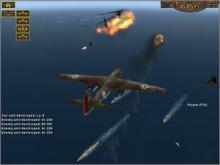 Pacific Storm: Allies 2008
Strategically lead naval units and fighter planes through the Pacific against the enemy while also balancing diplomatic measures in Pacific Storm: Allies, the sequel to Pacific Storm. Players can once again take control of the United States, U.S.S.R., Holland, Germany, or Japan, as well as the newly added playable nation...
---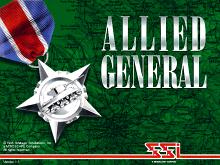 Pacific War 2005

---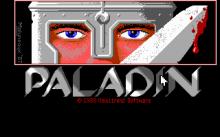 Paladin 1 1988
The Paladin is the ultimate warrior on the battlefield, he leads forces and is the master of swordsmanship. But Paladins are not born with these abilities. They must be trained and tested in many missions to obtain knighthood. Paladin is an overhead turn-based strategy game played on various tiles. Players take...
---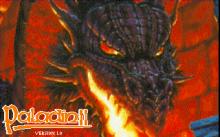 Paladin 2 1992
The Order of Paladins are called upon at various times to undertake all sorts of tasks. As the young apprentice to the order, Brandon, it will be your job to lead a party of brave warriors through several unique and different quests on a variety of objectives. Characters may be imported...
---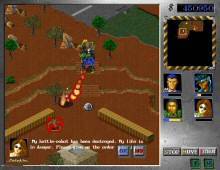 Panic Soldier 1997
In 2045 terrorists conquer a island in the Pacific Ocean and declare it an independent state. Because the whole world is afraid of these terrorists they send a mercenary group named Panic Soldiers on the island to drive them away. The game is a real-time strategy game which emphasizes on...
---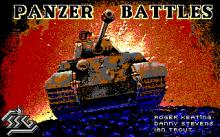 Panzer Battles 1990
Panzer Battles is a hex board game style WWII war game. The game is based on the same engine originally used in Battlefront. The included Scenario package has forces and battles involving Soviet, German, British, American forces. You command corps of units in an effort to achieve the objectives laid...
---
---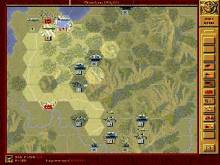 Panzer General 1994
It is 1939, and you, a newly promoted general with a pitifuly small command, await the final ok to begin the Second World War. Starting in Poland, Panzer General is a turn based military simulation that puts you in control of a core group of units that can, if lead...
---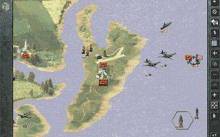 Panzer General 2 1997
Panzer General II is a very graphically pleasing game. The battlefield maps are not only beautifully rendered but are also true to the actual battle fields that they represent. The units are also well done (SSI calls them photo realistic) and are easily distinguishable on the terrain and from each...
---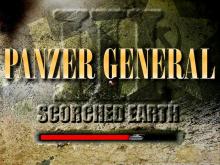 Panzer General 3: Scorched Earth 2000
It's several years now since the original "Panzer General" blitzkrieged its way on to the PC gaming scene, opening up the turn-based wargame to a whole new audience. Previously the domain of the hardcore gamer and table-top generals, wargames had never been so sexy. Cross Of Iron But then came the inevitable...
---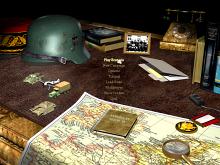 Panzer General 3D Assault 1999
Panzer General 3D Assault simulates the horrors of World War II without all the bloodshed. With elements of chess and football, the game teaches you harsh lessons about strategy, strength, and sacrifice. Don't expect to jump into the game and win immediately, as doing so will require practice and a...
---