Strategy Games #44
Search a Classic Game: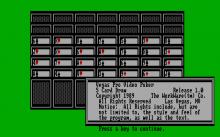 Vegas Pro Video Poker 1989
Utilizing simple graphics Vegas Pro Video Poker simulates the popular video poker machines found in Las Vegas. The type of game played here is Five-Card-Draw where five cards are dealt to the player and he/she must choose from these which they would like to discard and re-draw as by default...
---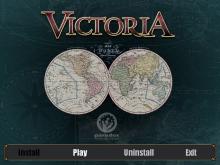 Victoria: An Empire Under the Sun 2003
Victoria: An Empire Under the Sun presents turn-based strategists with nearly a century's worth of world history, to follow faithfully or change as they see fit. Transported to the time of Queen Victoria's reign of the English empire, players must build up their chosen nation in an effort to obtain...
---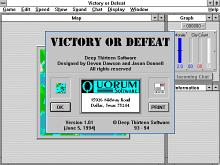 Victory Or Defeat 1995
Rule the world or get blow to oblivion! Whether fighting across the European continent in a re-enactment of World War II, or plotting the domination of a distant world you have just created, Victory Or Defeat will provide hours, weeks and months of entertainment. As the first high-resolution "real-time" modem compatible...
---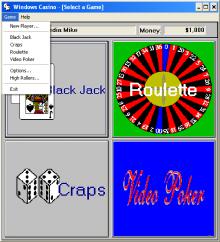 Video Casino Games 1994
Video Casino Games is a collection of casino-type games written in Microsoft Visual Basic. The included casino games are a Blackjack game; a Roulette simulation with a non-spinning yet roughly 3D-drawn wheel; a Craps table; and a video poker simulation. ...
---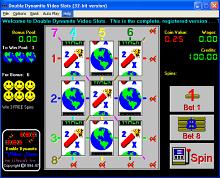 Video Slots Pack 1997

---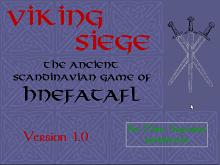 Viking Siege 2001
Viking Siege is a great DOS version of hnefa-tafl (literally "King's table"), a great Scandinavian board game that was immensely popular across northern Europe in the dark ages. The game is similar to chess in that planning and tactical considerations are required, although the rules are simpler. The most interesting...
---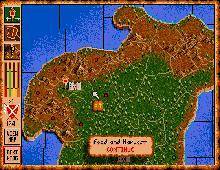 Vikings: Fields of Conquest 1993
The sequel to Kingdoms of England is turn-based medieval strategy game for up to six humans or computer opponents. Each player assumes the role of a Lord in control of a Kingdom with up to twenty armies to command in an attempt to become Sole Ruler and King of Medieval...
---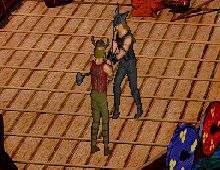 Vikings: The Strategy of Ultimate Conquest 1996
Vikings is a strategy game with a dash of action. Deep down it feels like the classic Pirates! set a few thousand years back. You take the role of a viking ruler. Its up to you whether you decide to stay and rule over your province (good for...
---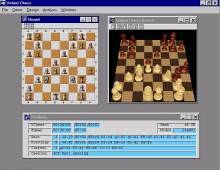 Virtual Chess for Windows 1995
Virtual Chess is a feature-rich computer chess simulation that especially prides itself on a 3D, rotating chess board and pieces, complete with limited lighting techniques. By default, the game shows you a flat 2D board with a 3D game board next to it. The 3D board can be dragged and...
---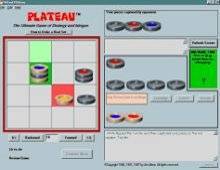 Virtual Plateau 1999
Virtual Plateau is a great freeware PC version of Plateau, a fun and unique board game designed by Jim Albea. The object of this interesting game is to either make a stack of pieces six tall, or capture and hold six enemy pieces. Game Cabinet contains a good description and...
---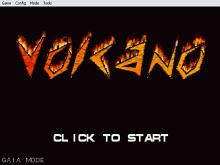 Volcano 2001
Volcano is a very fun and unique real-time "god game." You play a god who could be benevolent (Gaia) or malicious (Thanatos); who either prevent villagers from deadly lava that is flowing from an erupting volcano, or kill them all. The gameplay is very easy to learn: the only thing you...
---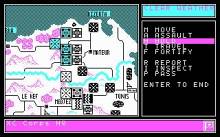 Vulcan 1988
Vulcan is a third entry in R. T. Smith's World War II trilogy, including Arnhem and Desert Rats. It simulates the Tunisian Campaign in 1942-43 from the arrival of the 'Torch' Task Force and their race for Tunis, to the final battle of 'Operation Vulcan'. There are 5 armies (3...
---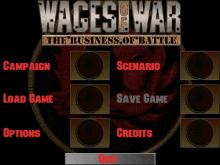 Wages of War: The Business of Battle 1996
With constant conflicts in the Middle East only escalating by the year 2000, it's hardly surprising that a limited nuclear war would totally destroy the world's most important source of oil. This shortage, by limiting military strength and technological development, led to economic conflicts, partial military collapse and severe oil...
---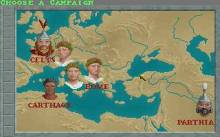 Walls of Rome 1993
In many ways, Walls of Rome is similar to a previous Mindcraft game Siege but more importantly the focus should be on the many important improvements the developers have incorporated in this title. Up to four Barracks are now available to the attacker to place on his battlefield from which...
---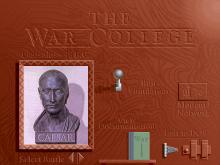 War College, The (a.k.a. Universal Military Simulator 3) 1995
The War College is the third and final installment in Ezra Sidran's Universal Military Simulator series of tactical war games. The simulation's core principle is a departure from traditional turn-based, hex tile mechanics towards real-time rendering of unit movement on accurately recreated topographical maps of historical battlefields. The presentation remains highly...
---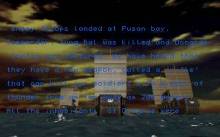 War Diary 1997
War Diary is a real-time strategy game which uses the 16th century Korea as background. There two rival armies fight about the supremacy. The economic system is based on three resources - food, wood and metal - which are used to construct buildings or troops. These can also be purchased...
---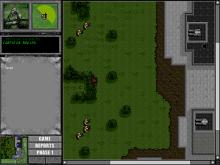 War Engine, The 2001
Released as a sequel to Shrapnel Games and Boku Strategy's Armies of Armageddon: WDK 2K, this product provides serious strategy enthusiasts with a shell upon which to build 2D turn-based games from their own imaginations. By allowing the amateur designer to adjust essentially all statistic-based aspects of play, this package...
---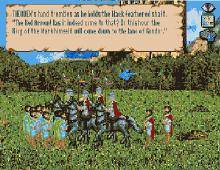 War in Middle Earth 1988
Simultaneously a medieval war strategy game and a roleplaying game, this one covers all of Middle Earth pretty definitively. Play alternates between overhead maps where the player controls strategic forces in real time, and scrolling wilderness screens where combat between characters and monsters can take place. ...
---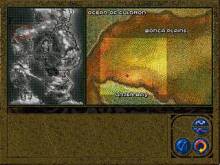 War Wind 1996
War Wind is a real-time strategy game created by Strategic Simulations Inc. It was an interesting attempt, but failed in a few regards and never gained the popularity that SSI was hoping for in order to break into the real-time strategy market. Set upon the distant planet of Yauvan where humans...
---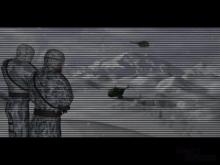 War Wind II: Human Onslaught 1997
War Wind II: Human Onslaught is a great sequel to one of the most underrated RTS games of all time. PC Gameworld summarizes the game's strengths and its unfortunate treatment by the gaming public in a nice, comprehensive review: "SSI's War Wind series just can't seem to catch a break. When...
---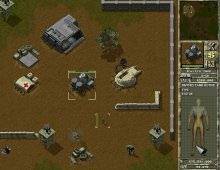 War, Inc. 1997
War Inc. is a real time strategy game, featuring tech research for components used to build your own combat units. Set in the future where private security forces have evolved into a corporate world police force, you run the company 'Granite'; one of the leading such mercenary corporations. The game...
---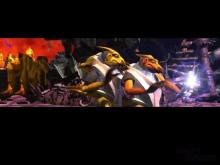 WarBreeds 1998
If you have been to a video game store within the last few months, then you will have noticed the many, many different real-time strategy games out on the market. There's enough choices to make your head spin, but you won't go wrong by picking up one of the best...
---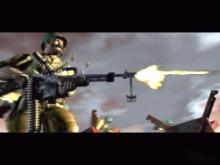 WarCommander 2001
This conventionally styled 2D real-time strategy is set during the June 1944 D-day Allied invasion at Normandy. Players take command of an American infantry unit right in the thick of it all, to guide them through two historically based campaigns of 12 missions each. Factors such as 11 different character...
---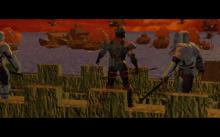 Warcraft 2 1995
Get ready for another round of war between humans and orcs as the epic struggle for control of Azeroth continues in WarCraft II: Tides of Darkness, a real-time strategy game from Blizzard Entertainment. The same protagonists last seen in the original WarCraft: Orcs and Humans go at it again but...
---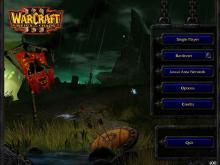 Warcraft 3: Reign of Chaos 2002
WarCraft III: Reign of Chaos is a game for everyone. For the serious strategist, it offers a fine blend of complexity and efficiency. For the novice, it offers friendly tutorials and a personalized learning curve. For the high-end PC player, it offers a long and challenging campaign that makes decent...
---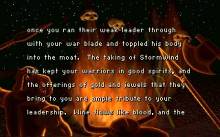 Warcraft: Orcs & Humans 1994
Warcraft: Orcs and Humans is a ground breaking game which created the real-time strategy war-gaming craze. It is easy to see why this game was chosen as Best Game of the Year, and one of the Best All Time Games. As with most games that allow multi-player play, Warcraft is...
---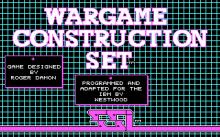 Wargame Construction Set 1986
Wargame Construction Set is a fun little scenario editor and wargame. But though it's touted as recreating any battle from prehistory to the present day, it really should have been called the World War II Construction Set. No matter what period you set your battle in, it's curiously dominated by...
---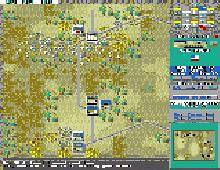 Wargame Construction Set 2 1994
When you take a war game that has nice looking graphics (or at least as nice as war game icons can look), is easy to learn and play, has a scenario editor with such a wide database behind it that you can create nearly any 20th century combat scenario you'd...
---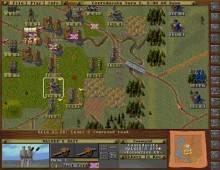 Wargame Construction Set 3 1996
Age Of Rifles: 1846-1905 encompasses eight classic campaigns, including: The American Civil War, the Austria-Prussian/Six Weeks War, the Franco-Prussian War, the Mexican American War, Russo-Japanese War, as well as a complete campaign of the masters of the Victorian Era's Empire building, the English Soldiers of the Queen campaign. Within these...
---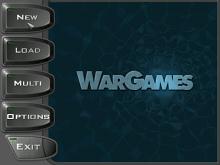 WarGames 1998
Back in the 80's, before the days of computer illiterate "hacking movies" that make me want to puke (i.e. The Net, Hackers), one of the greatest "computer" movies, Wargames, was filmed. It featured realistic hacking such as wardialing and phreaking in their more primitive states, and wasn't really "dumbed down"...
---