Strategy Games #44
Search a Classic Game: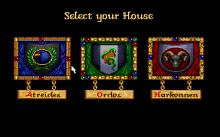 Super Dune 2 1994
Super Dune is based on the popular and revolutionary real-time strategy game that created a completely new genre and cleared the road for later games such as Command & Conquer and Red Alert. Super Dune wasn't developed by Westwood that was behind Dune 2 but made by a group of...
---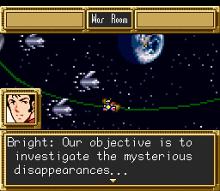 Super Robot Wars 3 1993
Virtually unknown outside Asia, Banpresto's Super Robot War is a popular series of video wargames that began on the NES way back in 1990. The series is based on Banpresto's wide range of "mecha" franchises including Gundam, Magaziner, and Eva to name the more famous ones. SRW also features Cybuster,...
---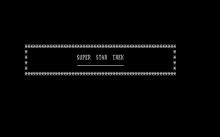 Super Star Trek 1982
Super Star Trek is an adaptation of the Star Trek mainframe game from the 1970's and features similar gameplay. As captain of the Starship Enterprise, the player's mission is to destroy the Klingon battle force (usually consisting of around 17 battle cruisers). There is a time limit for this mission...
---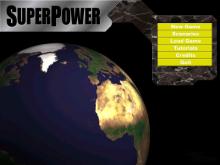 SuperPower 2002
SuperPower takes the turn-based world political simulation to new heights by letting you direct any of 140 countries, with total control ranging from the level of ore production or taxes levied to which countries to sabotage or ravage with an all-out nuclear assault. While some strategy games give you control...
---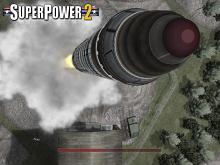 SuperPower 2 2004
This political simulation sequel gives players control of their favorite world-power country to pursue political, economic, and military goals, in cooperation or competition with other nations of the world. As in the original SuperPower, this follow-up runs on a complicated model of dynamic, interrelated factors, and AI that has each...
---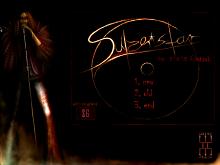 Superstar 2002
"So you want to be a rock and roll star?" sang the Byrds, "Then listen now to what I say: Just get an electric guitar and take some time and learn how to play..." (writing credits and copyright whatnot go to by R. McGuinn and C. Hillman I think... no...
---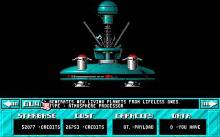 Supremacy 1990
Overlord is a real-time strategic warfare game where the player must manage large standing armies, economic capital, and political stability throughout a number of extra-dimensional star systems. As the dictatorial ruler of the Epsilon Galaxy, the player has obtained complete, indisputable authority. However, during a scientific experiment in hyperdrive technology,...
---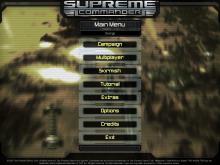 Supreme Commander 2007
Supreme Commander says it's time to bring some real strategy to real-time strategy gaming. The sci-fi war game is laid out to let players see and control any and all of the fighting, from isolated skirmishes between single squadrons to the coordinated maneuvers of all allied forces across an entire...
---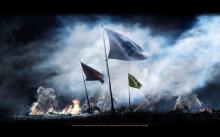 Supreme Commander 2 2010
Gas Powered Games' futuristic strategy title returns with a new campaign mode, customizable armies, and an assortment of other enhancements. Set 25 years after the conclusion of the first game's "Infinite War," Supreme Commander 2 has you playing as the commander of one of three conflicting factions: the United Earth...
---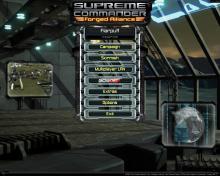 Supreme Commander: Forged Alliance 2007
A standalone expansion to 2007's Supreme Commander, Forged Alliance introduces a new playable race, more units for the original game's three factions, and additional maps to master. The Seraphim has amassed a powerful alien armada and is planning a full-scale invasion on the United Earth Federation. Its goal: the complete...
---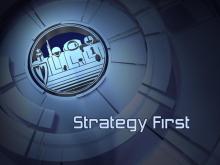 Supreme Ruler 2010 2005
Supreme Ruler 2010 is a strategy game where the goal is world domination. In the year 2010, the world's greatest nations have been reduced to bickering economic and military regions. The United Nations has disappeared, replaced by "The World Market." With the world in disarray, regions are at war with...
---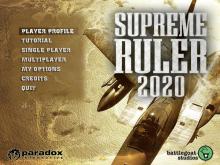 Supreme Ruler 2020 2008
Developer BattleGoat Studios makes a decennial return to world domination with a kinder (but not gentler!) follow-up to 2005's Supreme Ruler 2010. Once again, the world is the arena, and diplomacy the weapon of choice. In full command of their chosen country's military and economic resources, players vie to control...
---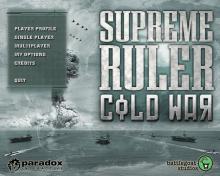 Supreme Ruler: Cold War 2011
Paradox Interactive and Battlegoat Studios send strategy gamers back to relive one of the most geopolitically tumultuous periods of the 20th century in Supreme Ruler: Cold War. In the Campaign mode, players choose to represent the United States or the Soviet Union as they navigate their way through the Korean...
---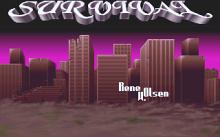 Survival 1995
Survival is an obscure post-apocalyptic strategy game from InterActive Vision that deserves to be much better known. Set in a bleak post-nuclear war world, your job is to take a band of ragtag survivors out from the bunkers and forge a living from the desolate landscape, while dealing with other...
---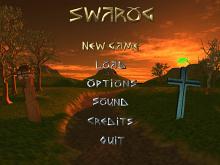 Swarog 2001

---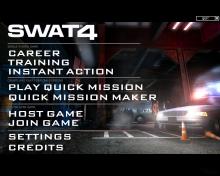 SWAT 4 2005
SWAT 4 is a 3D action game that puts players in command of a squad of special weapons and tactics police, and challenges them to solve tense, dangerous situations with discretion and responsibility befitting an elite officer of the law. The game's selection of authentically designed weapons includes several non-lethal...
---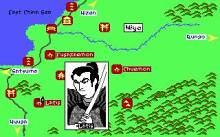 Sword of the Samurai 1989
All of you who were born in a wrong time and country, here's your chance to still rise and shine. Sword of the Samurai lets you crawl into the body of a Samurai with one goal only - to become Shogun of Japan. Starting out, you can choose the province...
---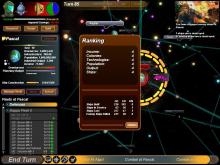 Sword of the Stars 2006
It is the 25th century and Humans are now exploring space and discovering they are not alone. In Sword of the Stars, players will colonize space as one of four races: Humans, Hivers, Tarkas, and Liir, each with their own language, ships, and technologies to guide them through the adventure....
---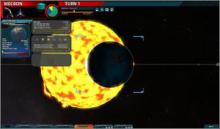 Sword of the Stars II: Lords of Winter 2011
After three expansions and a collector's bundle, Paradox Interactive and Kerberos Productions team up once again to release a full-fledged sequel to their space-themed 4X strategy title in Sword of the Stars II: Lords of Winter. Gamers can choose from six playable factions, including the ancient and meddlesome Suul'ka, and...
---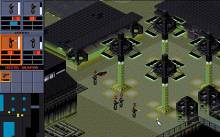 Syndicate 1993
Syndicate, despite a few minor flaws, is a unique and thoroughly enjoyable action strategy game. The highly addictive gameplay is Syndicate's main selling point. Levels have pre-set goals but the way you go about achieving them is entirely up to you. Blast your way into an assassination target's lair with...
---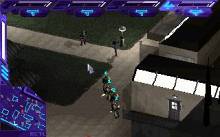 Syndicate Wars 1996
Syndicate Wars, Bullfrog's follow-up to their prior bestseller Syndicate, allows you to take control of a four-man squad of EuroCorp Syndicate enforcers, or disciples of the Church of the New Epoch, in a real-time, mission-based excuse for all-out death and destruction. Featuring a 3D engine, a fully-destructible and rotatable environment and...
---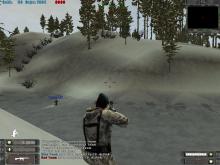 Söldner: Secret Wars 2004
Söldner: Secret Wars is a military-based shooter set in the year 2010. Warfare is now fought using teams of Special Forces operatives who travel the world looking to quell potential hotspots. As commander of a Special Forces team, players have control over fellow squad members as well as helicopters, Harrier...
---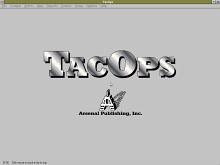 TacOps 1997
Regarded by many wargamers as the BEST complex wargame ever made, TacOps is a simulation of modern tactical combat between US Army/US Marine Corps/Canadian Army and Russian equipped "opposing forces" (OPFOR). Most vehicles, unit organisations and weapons featured, both real and hypothetical, are meticulously researched. There are 64 scenarios, each...
---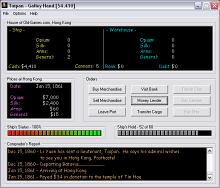 Taipan for Windows 2002
Taipan for Windows is a great fanmade remake of Taipan!, a classic historical trading game for Apple II based on James Clavell's best-selling novel of the same name. This version is extremely faithful to the original - it even includes the notorious "negative debt" bug from the original game, which...
---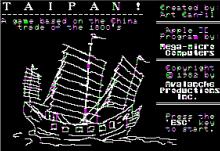 Taipan! 1982
Taipan! hands players a 19th century cargo ship and a decision. You can start the game with cash (and an interest accruing debt), or with no cash and no debt (which requires winning a fight or two with pirates). Later, you buy additional guns, increase the boat's cargo space, and...
---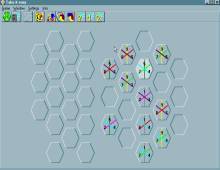 Take It Easy 2000
Take It Easy is a solid PC version of a little-known board game of the same name that is published by FX Schmid in Germany. In the game, up to four players (any one of which can be computer-controlled) take turns placing hexagonal tiles on the board to compete for...
---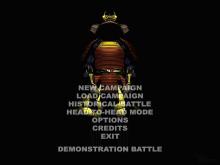 Takeda 2001
Takeda is based on the exploits of Takeda Shingen, a real 16th century Daimyo (a man with land capable of producing more than 10,000 koku of rice) who lived in feudal Japan. The country is experiencing violent civil war and Takeda struggles to carve a place for himself and his...
---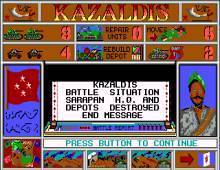 Tank Attack 1990
Tank Attack requires you to use a board game playing with the computer. It is a fold out map which features a hex map presented in war-gaming style. It is split into four countries with a variety of terrains. There are four armoured divisions comprising of four armoured cars and eight...
---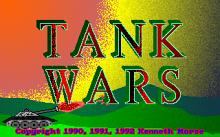 Tank Wars 1992
This is pretty much a game of strategy. I first got this game in 1992 ( i think ) for my birthday from a guy who was my best friend, and he still is after all these years. Anyway, the object of the game, simply is to blow up the...
---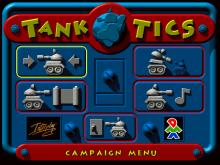 Tanktics 1999
I always like it when a game can surprise me with a clever story or a unique fashion in which it is played. There have been quite a few examples of this in the past, such as EVO: The Search for Eden on the Super NES with its great story...
---