Strategy Games #32
Search a Classic Game: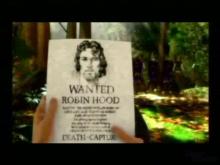 Robin Hood: Defender of the Crown 2003
After a ten-year hiatus, developer Cinemaware marks its return to the industry with the release of Robin Hood. Essentially an enhanced remake of the company's first game, 1986's Defender of the Crown, Robin Hood features a variety of play styles to fit the many talents of its titular hero. Players...
---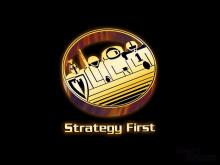 Robin Hood: The Legend of Sherwood 2002
Robin Hood, Maid Marion, Friar Tuck, and Little John join forces when Robin of Locksley returns from his foreign adventures. With Richard the Lionhearted fighting in the Crusades, England suffers under the cruel hands of the evil Prince John. Robin and his friends will scurry around Sherwood Forest, Nottingham Castle,...
---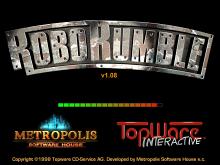 Robo Rumble 1998
RoboRumble's 3D action pits you against three human opponents over a LAN or the Internet, or lets you be the best you can be at 30 missions in two solo-player campaigns. The UN has selected two arms manufacturers as finalists in the race to build high-tech robotic weapons to fend...
---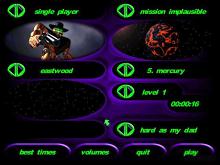 Robosaurs versus the Space Bastards (a.k.a. Space Bastards: Sudden Justice) 1999

---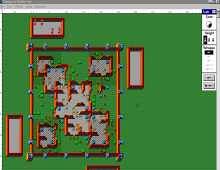 Robosport for Windows 1991
This fast and fun futuristic tactical strategy game is among the best "beer and pretzel" multiplayer games ever made. Despite a disappointing single-player mode (where entering commands for robots takes forever), the game is a lot of fun in multiplayer, where up to 4 players compete in various modes (e.g....
---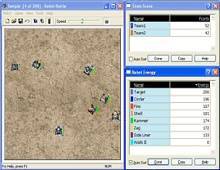 Robot Battle 2004
Robot Battle is a great programming game in the footsteps of Apple II classic Robot War. From the official website: "Your goal is to create robots or teams of robots to compete in tournaments against friends and other players from around the world. Robots fight in a rectangular arena, attempting...
---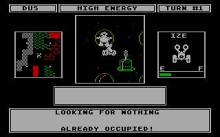 Robot Rascals 1987
Control a Robot Rascal in a turn-based scavenger hunt that mixes strategy, action and board-game elements. The game included a set of physical cards, which told you what you needed to hunt for in the field or Laustenfownd. The first to find all the objects in their hand of cards wins. Luck...
---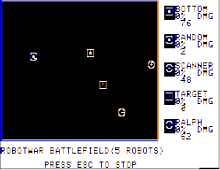 RobotWar 1981
One of the best games ever made in any genre, RobotWar is a strategy/puzzle/simulation hybrid masterpiece by Silas Warner, creator of Castle Wolfenstein for MUSE Software. The game is best described as a cross between two later games: Origin's OMEGA and Maxis' RoboSport: your task is to design robots, and...
---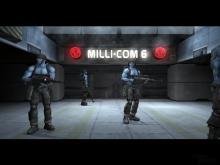 Rogue Trooper 2006
Rebellion invites comics fans and action gamers back to the future with this video game adaptation of 2000AD's Rogue Trooper. Players take the role of Gerry Finley-Day and Dave Gibbons' genetically enhanced super-soldier, to fight for revenge in the disturbingly futuristic Nu Earth. The game plays like a third-person shooter,...
---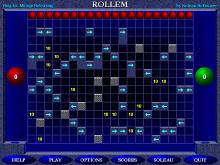 Rollem 1997

---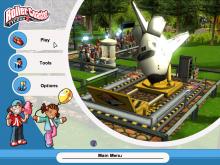 RollerCoaster Tycoon 3 2004
This third full RollerCoaster Tycoon game runs on a graphics engine that moves the series from 2D to 3D. RollerCoaster Tycoon 3 is designed to make good use of its new technology with numerous gameplay improvements and aesthetic additions, such as gradual day and night cycles, customizable fireworks displays, weather...
---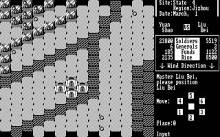 Romance of The Three Kingdoms 1 1989
Based on the events of the Three Kingdoms era in China (3rd century), and on Luo Guanzhong's famous novel Sanguo Yanyi, you take command of one of the many warlords rivaling for control after the Yellow Turban Rebellion. This strategy/RPG game introduces hundreds of historically real characters of the Three Kingdoms...
---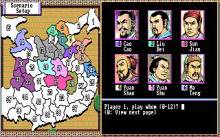 Romance of The Three Kingdoms 2 1991
The sequel to Romance of the Three Kingdoms. The game concept is still the same, though they did improve a lot of features that one may consider 'disturbing' from RTK I (e.g. Generals dying easily due to disease, etc.). RTK can be said to be much more 'stable' where players...
---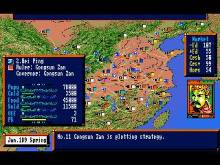 Romance of the three Kingdoms 3 1993
Romance of the Three Kingdoms III: Dragon of Destiny is another strategy game by Koei. The concept is the same here as in Koei's other wargames: conquer all you can! In this case the historical setting is ancient China. The country is under the control of one Emperor, but all of...
---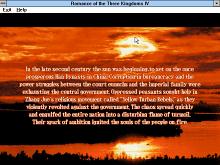 Romance of The Three Kingdoms 4: Walls of Fire 1996
The last game in KOEI's acclaimed Romance of The Three Kingdoms series to be released in English, Romance of The Three Kingdoms IV: Walls of Fire ends in a disappointing note for long-time fans of the series, although still packing enough punch to entice newcomers to KOEI's unique blend of...
---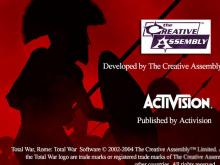 Rome: Total War 2004
Players stake claim to one of the greatest empires Earth has ever known in this third PC strategy game from The Creative Assembly. After winning critical success with its Shogun: Total War and mainstream popularity with its Medieval: Total War, the developer visits the age of Caesar with this third...
---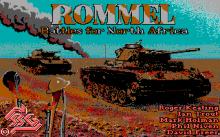 Rommel: Battle for North Africa 1989
The battles in North Africa, 1941-1943, were like no other , up to that point ,in the 2nd World War. It was fought almost entirely in the hot, humid desert. SSG brought the best simulation of that period (Although Decision in the Desert by Microprose comes close!) I can remember...
---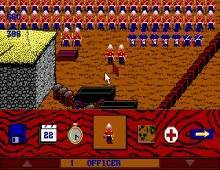 Rorke's Drift 1990
This game recreates the battle in 1879 where a British outpost at Rorke's Drift manned by 137 men managed to repel an attack by force of over 4,000 Zulu warriors. This is a real-time strategy game where the player can pause the game and issue orders during a command mode, after...
---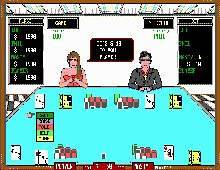 Ruckus Poker 1992
"What's all the ruckus about?" It's about Ruckus Poker! Okay, well maybe not. Ruckus Poker is an interesting little poker game, just for the selection of computer players. It reminds me of Sierra's Hoyle series of card games. From the graphics it looks like this was a predecessor or they...
---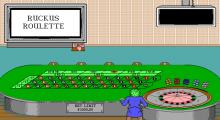 Ruckus Roulette 1993
Ruckus Roulette is an electronic version of the gambling game Roulette. The player joins the table with a certain amount of money in cash and starts to play. Up to four additional computer players can join the table. The player places various types of Inside and Outside bets against the...
---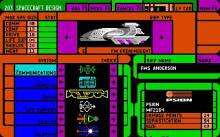 Rules of Engagement 1 1991
A mouse-driven starship command simulation, with a user interface known as LYCAR, and similar to the LCARS system from the TV show Star Trek: The Next Generation . First of all you have create yourself as Fleet Commander and assign a mission, with previously adjusted Star System, Ships, Captains, and Aliens...
---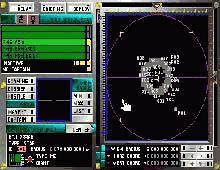 Rules of Engagement 2 1993
Rules of Engagement 2 is a mouse-driven starship command simulation in which the player assigns ships and captains to task forces under his/her command, while maintaining direct control of a flagship. The user interface is something like a functional version of the LCARS system from the TV show Star Trek:...
---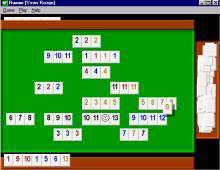 Rummi 2000
Rummi is an excellent freeware computer version of Rummikub, one of my most favorite multiplayer board/parlor games and currently the third best-selling board game in the world according to Lemada, the official publisher (the game is marketed in the U.S. by Pressman Toy). In addition to being Israel's #1 export...
---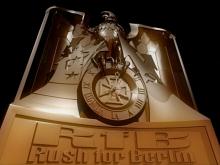 Rush for Berlin 2006
Rush for Berlin is a real-time strategy game that trains its sights on an oft-overlooked war in video games: World War II. Okay, so World War II isn't exactly an original take on a genre struggling to reinvent itself. Yet Rush for Berlin earns a salute for at least attempting...
---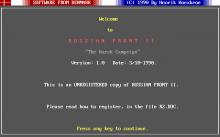 Russian Front II: The Kursk Campaign 1990
A shareware game, based freely on Avalon Hill & Co's board game "Panzerblitz". If you know this game, or any similar game, like Panzer General, all the Panzer Campaign games etc, you will immediately recognize the style of this game, and should have no trouble understanding the rules. The map is set...
---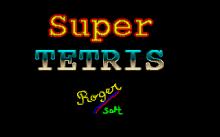 S-Tetris 1991
The object of this Super Tetris game, as in others like it, is to turn and drop various shaped blocks into spaces in a box, filling up as many rows as possible before the top row is reached. Eliminate rows by filling up all of the empty space as quickly...
---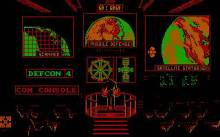 S.D.I. 1987
S.D.I. takes place in the year 2017 of an alternate timeline, in which the Soviet Union continued to exist and pose a threat to the countries of the free world. USA launched another Strategic Defense Initiative, its commander-in-chief being General Sloan McCormick. A Soviet extremist group consisting of KGB members...
---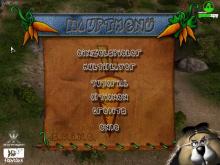 S.W.I.N.E. (a.k.a. Strategic Warfare In a Nifty Environment) 2001
For years, cartoons and videogames have delved into age-old interspecies relations, such as Tom and Jerry (cat vs. mouse), Sylvester and Tweety (cat vs. bird), or even bird vs. coyote in Roadrunner conflicts. S.W.I.N.E., the RTS offering from Fishtank, continues the tradition, exploring the tongue-in-cheek war between pigs and rabbits,...
---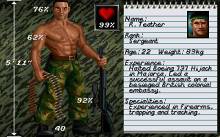 Sabre Team 1994
A Sabre Team is a squad of four elite soldiers charged with some of the toughest hostage-rescue, building-storming and the like that Western forces have ever attempted. In this turn-based strategic simulation you must choose a team of four of these from the 8 available, and take them to victory...
---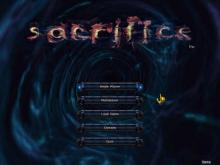 Sacrifice 2000
Kept under wraps with a wink and a smirk, Sacrifice is a welcome hybrid of genres melding real-time strategy (RTS) conventions with intense action and, believe it or not, a little Magic: The Gathering on the side. As with their earlier titles Earthworm Jim and MDK 2, Shiny Entertainment's game...
---