Strategy Games #17
Search a Classic Game: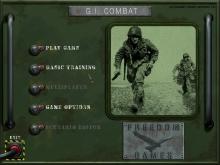 G.I. Combat: Episode 1 - Battle of Normandy 2002
G.I. Combat: Episode I, Battle of Normandy is a real-time strategy game featuring 3D environments constructed from terrain maps of Normandy. Psychology figures prominently, as it does in real warfare, and all eight different psychological states affect strategy and tactics. Scenarios are based the actual combat conditions in June 1944...
---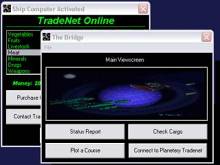 Galactic Capitalism 1995
Trade stuff in the universe. This is a Windows platform game. ...
---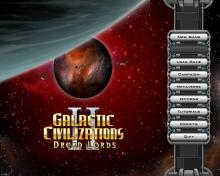 Galactic Civilizations II: Dread Lords 2006
The sequel to one of the best space "4X games" (Explore, Expand, Exploit, Exterminate) to grace the PC, Galactic Civilizations II: Dread Lords has a lot to live up to. Galactic Civilizations took the basic template for a space 4X game laid out in Master of Orion and greatly expanded...
---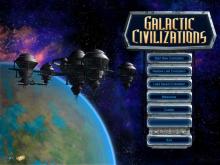 Galactic Civilizations: Ultimate Edition 2003
Lead your people to galactic conquest in this strategy title from Stardock Corporation. Along the same parsec as Shrapnel's acclaimed Space Empires IV and the popular Master of Orion games, Galactic Civilizations challenges strategists to conquer an entire galaxy, turn by turn. Players begin with little more than a colony...
---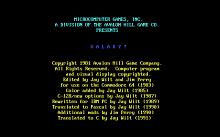 Galaxy 1991
Galaxy is a superb fan-made remake of a classic Avalon Hill game of the same name, designed by Tom Cleaver and released for the Commodore Business Machine (CBM) 8000 in 1981. In this simpler precursor to SSG's classic Reach for The Stars, you vie against computer players for control of...
---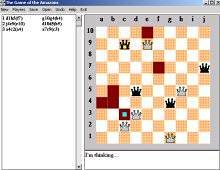 Game of the Amazons, The 1995
The Game of the Amazons is an excellent PC version of "El Juego de las Amazonas," an original, chess-based board game invented in 1988 by Walter Zamkauskas of Argentina. In this two-player game, each player controls four amazons which move like chess queens. From the official blurb: "After [the queen]...
---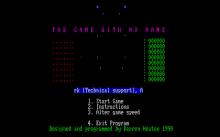 Game With No Name, The 1990
You have crashed your spaceship on a strange alien world and must collect diamonds on ten levels to power it up and get home. This platform/puzzle game is very difficult and, at times, frustrating, as the slightest mistake can (and will) take you right back to the beginning. In fact,...
---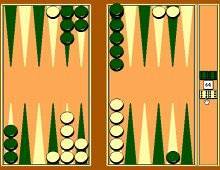 Games People Play, The 1990
The title pretty much says it all, a game package featuring two card games (Gin and Cribbage) and two board games (Checkers and Backgammon). Gin and Cribbage have personality based A.I. advisors and opponents. The checkers program is endorsed by the American Checker Federation and includes official play rules such...
---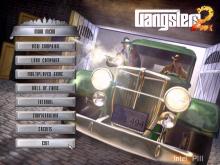 Gangsters 2: Vendetta 2001
Players again take the role of a prohibition era mob boss in this real-time strategy sequel to Hothouse Creations' Gangsters. Gangsters 2: Vendetta is designed to improve upon the original by enhancing the game interface and incorporating a more detailed, involving storyline, all while retaining the basic real-time combination of...
---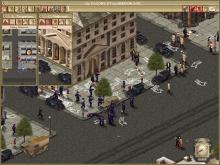 Gangsters: Organized Crime 1998
Gangsters: Organized Crime seats you behind the desk of a crime lord, dispatching goons and mercenaries to do your dirty work for you. As you rattle the mom and pop businesses for chump change, your intimidation will rise with your position in the underground. Operate your business fronts to hide...
---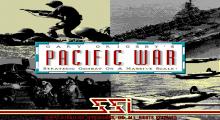 Gary Grigsby's Pacific War 1992
The complexity of Gary Grigsby's Pacific War will test the fighting spirit, tenacity and patience of any veteran wargamer brave enough to tackle it. With that in mind, any novice or weekend warrior is forewarned to enter at your own risk. The time spent learning every aspect of this game...
---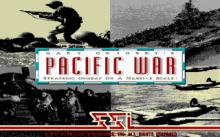 Gary Grigsby's Pacific War (2000) 2000
The classic 1992 wargame has been completely revamped with new artwork, new units, new everything! Every single unit, every single plane, every single ship, gun, tank, etc. are accounted for in this game! Play against the computer or watch computer play both sides. Do hotseat multiplayer, or conduct play by e-mail...
---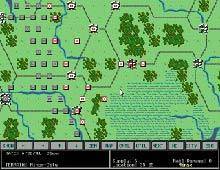 Gary Grigsby's War in Russia 1993
If you plan to play Gary Grisby's War in Russia, be prepared to stay awhile as getting a handle on this mountain of detail is going to require a considerable time investment. When playing a war game having many details is just fine. In fact, most veteran wargamers would tell...
---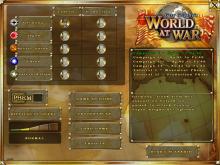 Gary Grigsby's World At War 2005
Players endeavor to wrap their minds around the myriad factors that shaped the outcome of World War II in this comprehensive turn-based strategy simulation by Gary Grigsby and 2by3 Games. Choosing one of five playable forces -- Germany, Japan, the Soviet Union, the Western Allies, or China -- players take...
---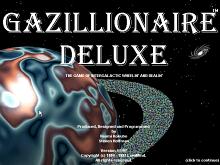 Gazillionaire Deluxe 1996
It's not too often that a game is released that cheerfully ignores all the tried and true formulas for success that have served as a blueprint for similar games of the genre. But, the designers of the entertaining, offbeat intergalactic trading game Gazillionaire have done exactly that and managed to...
---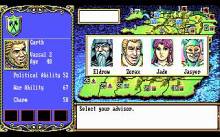 Gemfire 1992
Koei made an incursion into the fantasy worlds of magic with this game. Six magicians, each trapped inside a magical gem, are liberated from the crown Gemfire by Princess Robyn, daughter of the tyrannical ruler of Ishmeria, King Eselred. Fleeing across the length and breadth of the island nation, they each...
---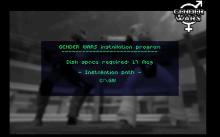 Gender Wars 1996
After eons of fighting between the genders, men and women have broken into separate factions, each using genetic engineering to create new followers, and waging terrible war upon each other. Upon selecting the side you wish to play (depicted as either clueless blondes who can't drive, or beer-swigging lazy oafs), you...
---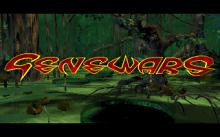 Gene Wars 1996
Designed by the creators of Populous, Gene Wars is a real-time strategy game that challenges you to promote ecological growth across 30 planets. Of course, you'll inevitably encounter a number of hostile creatures during your colonization, which must be dealt with as part of your objectives. Your primary goals are...
---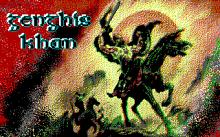 Genghis Khan (Positive) 1991
Genghis Khan is basically a strategy game, but not just. A very important part of your ability as governor will depend on your arcade experience when it comes to conquering the territories surrounding Mongolia. You mission will be to invade the Chinese Empire, and for that you must tear down...
---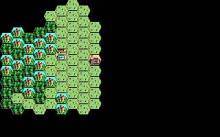 Gengkhis Khan 1 1989
In a few words: Conquer all you can. You have two options: Mongol conquest or World conquest. In the first campaign as Temujin (later known as Genghis Khan), you must unite all the little tribes of Mongolia. You can use force or diplomacy. In the second campaign, you can be...
---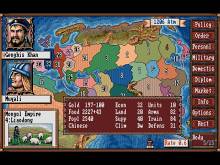 Gengkhis Khan 2 1993
As in the first part you could participate in two conquests: Mongol conquest and world conquest. In the first you must unite all the little tribes of the country. The world conquest is more complex: You must use all your senses to make the world as you wish. ...
---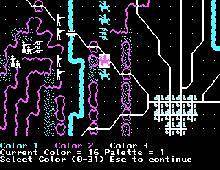 Gettysburg: The Turning Point 1986
Gettysburg: The Turning Point is a grand tactical simulation of the most famous, well known and arguably the most decisive battle of the Civil War fought at the little town of Gettysburg, Pennsylvania from July 1 to July 3, 1863. The game uses a refined version of SSI's Antietam game system...
---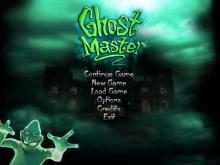 Ghost Master 2003
In the "spirit" of movies like Beetlejuice and games such as Haunting Starring Polterguy, Ghost Master has players in the role of an afterlife civil servant charged with the task of scaring away humans from their homes and workplaces. Ordered by the Haunter Committee to remove the townsfolk of Gravenville,...
---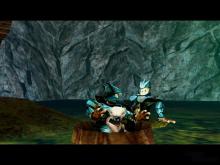 Giants: Citizen Kabuto 2000
Giants: Citizen Kabuto blends classic elements of real-time strategy and 3D action in an interactive, organic environment. Violent power struggles take place on over 25 island settings. Both first- and third-person views are available, as well as special camera angles like Kabuto's "mouth-cam." Gamers can choose to play one of...
---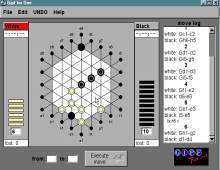 Gipf for One 1998
Gipf for One is an excellent PC version of GIPF, a fascinating abstract board game invented by Kris Burm in 1997. Like the board game, the objective of Gipf for One is to be the last player to add a piece to the board. The game at first glance looks...
---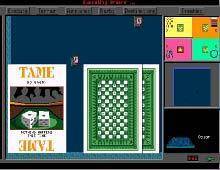 Global Conquest 1992
Global Conquest is a board game of world domination by Dan Bunten. The goal of the game is to explore and dominate the world - which is inhabited by natives - before the other three players do so. You can play against computer players, or play your friends through modem link. You...
---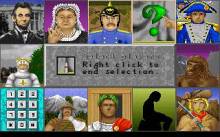 Global Domination 1993
Impressions gets high marks for creating a power-struggle game that is intended to provide both strategy and tactical maneuvering. Unfortunately, Global Domination succeeds nicely on only one of the two fronts. It's almost as if there are two separate games, each with it's own specific control mechanisms, and they've been...
---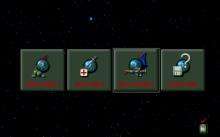 Global Effect 1992
Essentially similar to The Settlers AKA Serf City, Global Effect involves building up a sound local economy before going out to attack other nations and rule the world. Cities must contain housing, food sources and power supplies, which is where it gets complicated. You can choose the environmental settings of...
---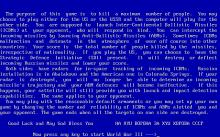 Global Thermonuclear War 1988
The purpose of this game is to kill a maximum number of people. You may choose to play either for the US or the USSR and the computer will play for the other side. You are supposed to launch Inter-Continental Ballistic Missiles (ICBMs) at your opponent, who will respond in...
---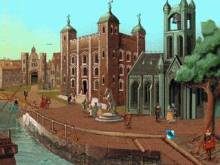 Gloriana (a.k.a. Elisabeth I) 1996
Gloriana. is a management game set in the year 1550 AD, when Elisabeth becomes Queen of England. The player is cast as the owner of a small trading company with the goal to gain wealth and influence, through the international trading of goods and accumulation of luxury items, until they achieve...
---